Almerimar is a town in the province of Almerìa. Almerimar is a modern built town with a lot of holiday homes and apartments. It is located on the coast of El Ejido. The town of Almerimar is built between dry and barren land, like an oasis.
'Ensenada San Miguel' is the official name of Almerimar. The town was founded by a famous businessman Agustín González Mozo. This region is famous for the greenhouse fruits and vegetables.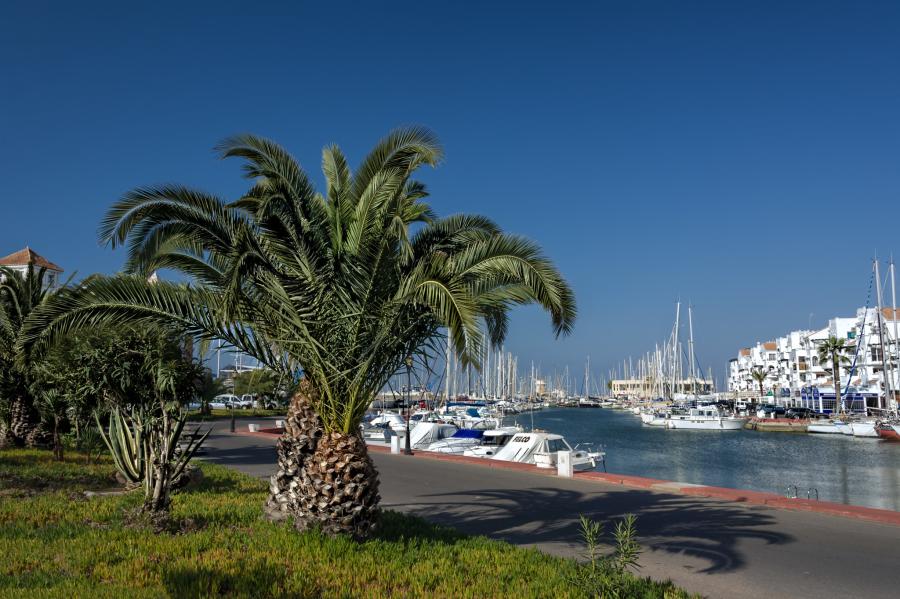 Why should people stay in Almerimar during the winter?
Like the rest of the Mediterranean region, the temperature of Almerimar stays pleasant throughout the year. Winters are mostly dry, with just a little rain once in a while. Almerimar gets a high score for most(ly) sunny days. In the winter it is a quiet place, do not expect a lot of activities.
Climate
Almerimar has pretty pleasant weather in winters although it gets a bit chilly in the evenings. Average temperature of the region is around 18°C (64°F). Due to the colder evenings and nights heating in your residence is advised.

Things to see in Almerimar
Almerimar has some places that are worth visiting:
Playa de Almerimar: It is one of the magnificent beaches.
Campo de Rugby Almerimar: A park alongside the beach. You can enjoy the breezy air while relaxing around the greenery.
Almerimar Port: The beach is a kilometer long. It has clear sand and shallow waters.
Charcon de Punta Entinas: It is a natural preserve with a lake. It's surrounding are rocky and is a nice place for walking. You can also walk to the beach from there.
Lago Victoria: It is a natural reserve park with several activities depending on the season.
Castillo De Guardias Viejas: It was built in 1769 and is a must-visit place.
Things to see not far from Almerimar
There are several things you can do from Almerimar. Here is a small selection:
The Alhambra Palace and Guadix: It is a castle located nearly at a 2-hour distance from Almerimar. It is also called the red castle, one of the finest architecture you will see. You can book tickets at https://tickets.alhambra-patronato.es/
Cave Hotels: You can stay in real caves but with the comfort of home. It is located in Guandix. https://www.andalucia.com/guadix/accommodation/cave-houses.htm
Alcazaba in Almería: It is an ancient site with incredible history and extravagant architecture.
Lankester Gardens: It is located 22 km (14 Miles) from the east of Almerimar. It is a garden with thousands of varieties of flora.
Castillo de Malvera: It is an archaeological museum located 11 km (7 Miles) from Almerimar.
El Palmeral Park: A nice park located 11 km (7 Miles) from Almerimar. It is like an oasis with waterfall and palm trees.
Activities in Almerimar in the winter
Almerimar is quit in the winter, but that doesn't mean there is nothing to do:
Carnaval: The carnival that takes place in February is amazing with lots of activities and exuberant colors.
Día de San José: This festival is held in the Honor of St Joseph and is also known as Father's day. At night there is live music and celebrating.
Yoga classes: A lady named Ogla provides yoga services. She has set up her studio in her own house. Her facebook id is https://web.facebook.com/SiriGaitri/?_rdc=1&_rdr . There are other spas and wellness centers in Almerimar as well.
Bird watching: There are several spots where you can do Bird Watching as there are many incredible species of birds that fly by. You can get the details of sites and bird species available here http://www.sanjosespain.com/webdocs/docs/twitchingalmeria.pdf.
Sailing: You can enjoy the water currents of the Mediterranean Sea even in the winter in Almerimar. There are many companies that offer you a trip into the sea at reasonable prices.
Cycling and walking: There are proper tracks made especially for walking and cycling. There is a walking trail called "GR7" which crosses through the Sierra Nevada and continues towards Alpujarra. There are signposts all along the trails and books and guides are also available for the ease of visitors.
Boats Trips and Excursions: If the weather is nice, take a boat trip and excursion from Almerimar harbor. Almerimar has a proper yacht club where you can rent boats.
Golf: Amerimar has its own 18-course gold course.
Fitness: If you like to keep fit you can find gyms with group training in English.
Horse Riding: You can book Horse rides at the Hotel Cortijos del Sotillo. You can ride into the beaches of Genoveses and Mónsul.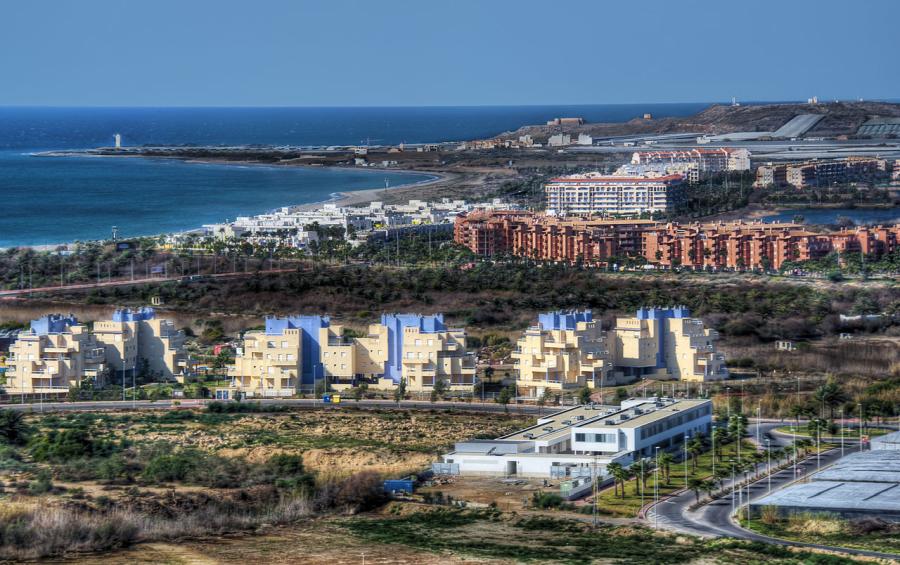 Shopping + Restaurants. Are they open in the winter?
Many of the shops and restaurants in Almerimar will be closed in the winter, or are only open on weekends.
Almerimar several supermarkets that are also open in the winter. Like:
Mercadona: Supermarket
Lidl: Super market
Victor Fernandez Center: Fishmarket
Transport
The nearest airport is in Almeria, around 60 km (37 Miles) from Almerimar. By bus it will take you around 3 hours (https://www.rome2rio.com/s/Almeria-Airport-LEI/Almerimar). By car you can take the A-7 to get to Almerimar and it will take around 40 min. With a taxi it will take you less than 1 hour to reach Almerimar and will cost around €60 (approx. $71, £53, $92 CAD, $97 AUD).
There is a bus in Almerimar that will bring you to the different parts of the town or nearby locations. You can check https://www.checkmybus.com/almerimar for some of the routes. Expect a less-frequent timetable during the low season. There is no train station in Almerimar. The nearest train station is in Almeria.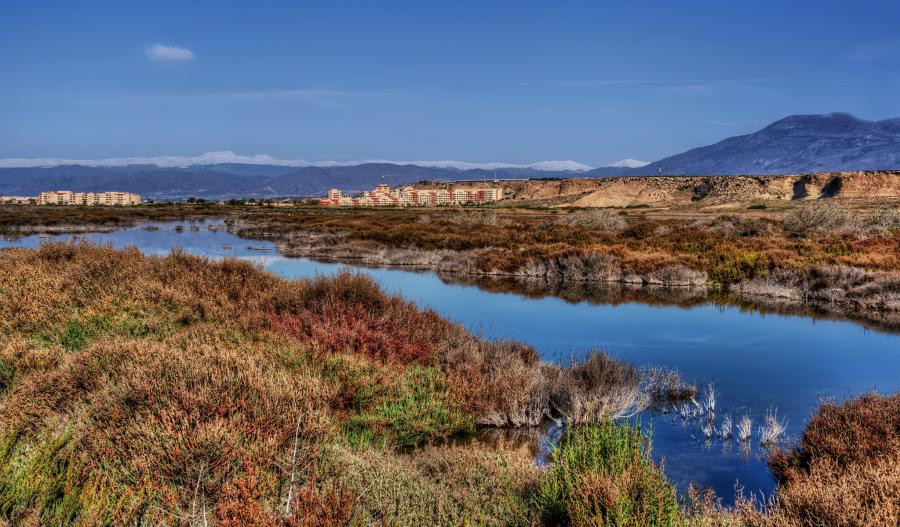 Health
Almerimar just has one medical center, area servicio andaluz de salud almerimar. The nearest hospital is not far in El Ejido, from Almerimar. You can expect that there will be English speaking staff to help you. http://www.ephpo.es/.
There are a few dental clinics options in the region with a good history of satisfied customers like:
Accommodation
There are enough apartments and rentals in Almerimar for a (long) winter stay.
You can get a smaller studio apartment or flat from €350 (approx. $415, £312, $541 CAD, $567 AUD) per month. Prices may vary according to facilities.
You can get a small house, fully equipped and furnished starting from €650 (approx. $771, £581, $1006 CAD, $1054 AUD) per month.
You can also visit Idealista for some good options. www.idealista.com
Winter Camping
Almerimar does not have a camping close to the city. We found one camping 10 km (6 Miles) away.
Camping Mar Azul: There is 3 type of plots (small, large and extra-large), prices vary according to the plot size and start from €15 (approx. $17, £13, $23 CAD, $24 AUD) per night. http://www.campingbalerma.com/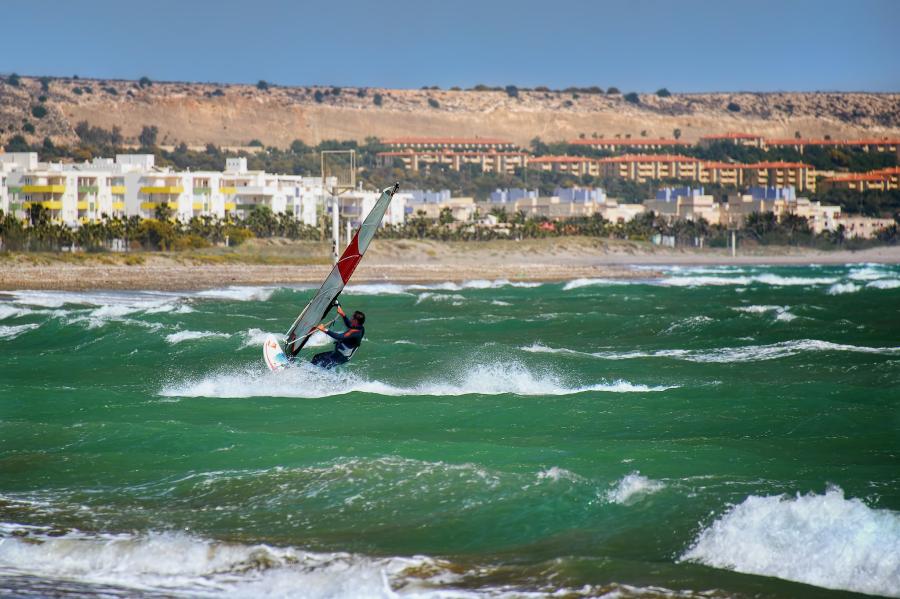 RV/Campers/Motorhome
If you have a Camper or Motorhome there are 2 locations in Almerimar where you can park your motorhome and also get facilities.
Puerto Deportivo Almerimar: pitches available for motorhomes, camping and all with all the facilities. You can visit www.campercontact.com for more details regarding this place.
Parking Almerimar: there are 20 pitches available with all the facilities and some are for free. You can get a spot from €10 (approx. $11, £8, $15 CAD, $16 AUD) per night. www.parkingalmerimar.com
Packing List
Weather: The winter weather in Almerimar (Spain) will normally be warm during the day and can be cold during the night. You have to pack accordingly.

Warm clothing: Even when you go to a warm location like Almerimar (Spain) you should not forget to take some things with you for your trip back home. When you return you are adapted to the warmer weather and need something to protect you from your hometown temperatures.

Consider the Weather: Always look at the type of weather in Almerimar (Spain). Things like humidity, wind, and rain do not show up in the temperature graph but can have a great impact on your wardrobe. There are several sites with long term forecasts and climate information. Is there often a short afternoon downpour like in the tropics, you maybe need to take a strong umbrella and shoos that can cope with the rain. If there is often a lot of wind you might need a more wind-resistant coat.

Check the local Shopping options: Try to find information about the local shopping options near your location in Almerimar (Spain). Are there stores where you can buy all your daily supplies, or are some things difficult to get? For some more remote locations, the options can be limited. If a certain item is really important for you might need to take it with you.

Look at the Local Culture: The local culture in Almerimar (Spain) can impact your wardrobe. If most activities are in more upscale locations you might take some more appropriate clothes with you. Or travelling if you travel to certain countries women need to cover themselves in certain areas.

Amenities: Know what's Included in your house or apartment. Is there a coffee maker, a toaster, a washer and dryer, an iron, what is in the kitchen, what kind of towels are there? Things that are there means you do not have to take them with you. A furnished apartment or house can mean something from a few pieces of furniture to a well-stocked place with all the things you have at home. But most of the time your rental will not be stocked.

Mix and match: Wear layers so you can use your wardrobe more efficiently. And do not worry about wearing something more often, probably only you will notice this.

Important for you: If there is something that is really important for you that you want to have present in your house or apartment, take it with you. This can be something like a special knife for the kitchen, or a small mirror that you use in the morning. You can also purchase it locally if it is not that expensive.

Pet supplies: If you take your pet with you don't forget to take supplies for a few days with you. And enough medication, vitamins, or other supplies if you can not purchase them in Almerimar (Spain) locally.

Food: Don't take a lot of food with you. Only when there is something you really can not live without you, and it is not too heavy you could consider taking it with you.

Towels: Not all locations include bigger towels for the swimming pool or a visit to the beach. If you have to take them and don't have a lot of room you can buy some big thin towels.

Office supplies: Normally you will not find any office supplies in your house or apartment. If you think you will use them you could pack some supplies like a scissor, notepaper, envelopes, some pens, and more depending on your needs.

Limit yourself: Don't take too many shoes and jackets, you will not need them that often.

Best-fitting: Bring your favorite and best-fitting items that can multi-function

Washer: Do you have a washer and dryer onsite, you don't need to pack a lot of clothes
Clothing
Basics
Casual
Smart
Footwear
Toiletries
Beauty
Hygiene
Clothing
Basics
Casual
Outdoor
Footwear
Accessories
Toiletries
Medicine
Miscellaneous
Other
Toiletries
Beauty
Hygiene
Hair
Other
Medicine
Miscellaneous
Technology
Travel and Free time
Travel
Free time
Important
Documents
Money