La Paz, which translates to "The Peace" is a beautiful city in Baja California Sur. It is surrounded by the Sea of Cortez and the Pacific Ocean in addition to being the most populous city in the state and also its capital. La Paz is one of the most secure areas in Mexico and it sees a large number of people migrating there from other parts of the world thanks to the city's high standard of living and educational facilities.
Although La Paz is often used as a jump-off point to other locations in the nearby areas, there is a lot this peaceful city has to offer snowbirds. It has an old-world charm, alluring restaurants, waterfront, and local natural attractions are enough to make you sink your toes in its sands for the entire winter. La Paz is also an incredible spot to get an authentic Mexican holiday experience without the overly commercialized feel that some other towns have.
Why should people visit in the winter?
La Paz is one of the best cities in Mexico to spend your winter in as it has an unspoiled old town charm even though it is the capital of the state. Its people are friendly and this slow-paced town is perfect for snowbirds who are not after the fast-paced touristy lifestyle some other cities have. The weather is extremely pleasant and the town's location at the seaside means it has a ton of pristine beaches you can pass time at. The town is very much lived in and you can see people going about their daily activities with a smile on their face. La Paz also has one of the top marine biology university departments in the world with a number of marine life natural attractions such as the stunning whales, sea lions and whale sharks that inhabit its waters.
Climate
The climate in La Paz during the winter is usually pleasant and mild enough for you to enjoy its many attractions. The town has a dry desert climate with year-round warm weather. The average temperature of La Paz is around 17°C - °C (63°F - 32°F). It usually drops to around 21°C (70°F) during the winter which is balmy enough to dress lightly in. It can get a lot colder than that at night so packing extra layers would be great to help you sleep comfortably.

Safety
A few years ago, La Paz was in the news for various danger concerns but more recently, the news has changed. As the name connotes, La Paz is a peaceful place where tourists can enjoy their stay in Mexico without fear of safety. Snowbirds are however advised to exercise high caution while in the area as there are incidences of criminal activities and even violent crime. Although most of the time these activities aren't targeted at tourists. Be advised to keep your personal effects safely and refrain from drawing unwanted attention to yourself by flashing cash or wearing expensive jewelry.
Communication
The major language spoken in La Paz is Spanish. This is great news for snowbirds who wish to expand their Spanish vocabulary or begin learning the language. Many of the locals also speak English very fluently has the town is a major commercial center for travelers and students alike. While staying in La Paz, we do not advise you to roam your home sim as this can sometimes be extremely expensive. A better alternative is to purchase a local sim and have it registered and activated. You can either purchase a sim at the international airport located in La Paz or buy a SIM card from any of the outlets in town. SIM cards cost around $3 (approx. €2.47, £2.2, $3.81 CAD, $3.89 AUD).
Things to see in La Paz, Mexico
Cathedral of La Paz – this beautiful colonial building has stood in the town for years. You can admire the inside and out of the baroque style building also known as the Our Lady of Peace Cathedral. The church is also popular for weddings and features in many family photos.
Playa Balandra – one of the most stunning beaches in Mexico, the beach is blessed with clear blue waters, soft pristine beaches, and interesting rock formations. The surrounding area is also beautiful and can be an interesting addition to your pictures.
Espiritu Sanctu – these clusters of inlets with surrounding pale pink cliffs are part of the treasures of La Paz. The caves are a UNESCO heritage site as well with over 200 smaller beaches.
Malecón Pavillion – this boardwalk provides an interesting opportunity for people watching as you observe the local everyday life. There are also restaurants dotting the area and vendors selling treasures like sculptures.
Santuario de la Virgen de Guadalupe – one of the most religious attractions in San Felipe is the 12m tall grandiose statue.
Things to see not far from La Paz, Mexico
Todos Santos – this beach paradise is one of the most gorgeous beaches in the world so snowbirds can bow visit for the stunning beaches and its surrounding restaurants and cafes.
Cabo San Lucas – usually the main draw for tourists to this area, a day trip to this location would also be another way to explore the town while you stay in La Paz. There are lots of Spa's, restaurants and other attractions visit.
Activities in La Paz, Mexico in the winter
Visit the local market – the markets in La Paz are usually bustling with activities. There are tons of goods to purchase such as healthy organic foodstuff, bread, and cheeses.
Learn about pottery – Ibarra's pottery offers you a glimpse into how ceramics are made in a well-known workshop that has been functional since 1958.
Visit the beaches – beaches are the ultimate form of relaxation and there is no shortage of beaches in La Paz.
Nature watching – the marine life in La Paz is very interesting, to say the least. You can take part in whale watching as well as spotting sea lions too.
Shopping + Restaurants. Are they open in the winter?
La Paz has some of the most interesting dining experiences in Baja California. There are tons of restaurants that serve local delicacies most times with their own spin on it. There are also many restaurants that serve international dishes as part of their menu. Shopping in La Paz is decent as there are plazas and malls with some stores you may recognize as well as local brands. You can also shop for handcrafted items in love markets or you may visit with your host to the arts and crafts village.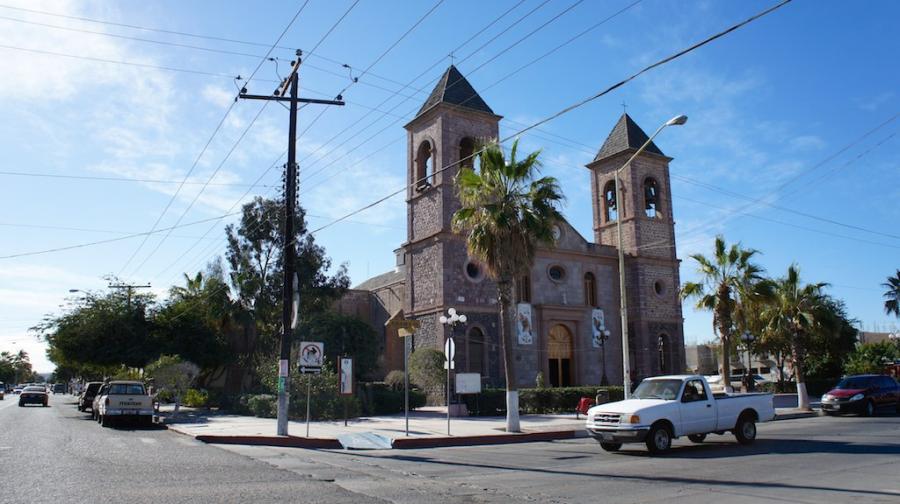 Transport
There is an airport n La Paz however, there aren't many direct flights that land here. So you may need to land in Guadalajara, or Mexico City first before heading into La Paz's airport. The airport is located 16 km (10 Miles) away from the town's center.
There are bicycle lanes which were created recently to encourage clean and sustainable means of transport. Riding around town or walking is another means of transport that is popular around here.
Taxis are also available so you can simply flag one down on the street, agree on where you are headed to, and a price before accepting to get into the car because they are not metered. Shared taxis that pick up multiple people going the same direction can also be found in the town.
Local buses are also a good way to make it out of and around the city. They are also pretty affordable but the downside is that they may be slow or unreliable.
Ferries are also used to get to other islands and waterlogged areas.
Another favored option for getting around La Paz is by rental car. A small car can be rented for as low as $7 (approx. €5, £5, $8 CAD, $9 AUD) for a day.
Health
Healthcare in La Paz is the best in the area. More of the time serious cases in the area surrounding the town are brought here to receive proper treatment. There are many medical centers in the town including specialist departments in various fields. There are also private clinics you can go to if you want to skip the wait time however they are more expensive. The doctors are qualified, very well trained and most of them are bilingual. Snowbirds are strongly advised to travel with insurance to help with medical bills should they ever need it.
Accommodation
Getting accommodation in La Paz is usually easy as there are several short stays and short let apartments available for you to rent. A furnished apartment in an expensive area will cost about $555 (approx. €456, £406, $705 CAD, $719 AUD) a month. Rent in an inexpensive area costs around $307 (approx. €252, £224, $390 CAD, $398 AUD).
Packing List
Weather: The winter weather in La Paz (Mexico) will normally be warm during the day, but can be chilly during the night. You have to pack accordingly.

Warm clothing: Even when you go to a warm location like La Paz (Mexico) you should not forget to take some things with you for your trip back home. When you return you are adapted to the warmer weather and need something to protect you from your hometown temperatures.

Consider the Weather: Always look at the type of weather in La Paz (Mexico). Things like humidity, wind, and rain do not show up in the temperature graph but can have a great impact on your wardrobe. There are several sites with long term forecasts and climate information. Is there often a short afternoon downpour like in the tropics, you maybe need to take a strong umbrella and shoos that can cope with the rain. If there is often a lot of wind you might need a more wind-resistant coat.

Check the local Shopping options: Try to find information about the local shopping options near your location in La Paz (Mexico). Are there stores where you can buy all your daily supplies, or are some things difficult to get? For some more remote locations, the options can be limited. If a certain item is really important for you might need to take it with you.

Look at the Local Culture: The local culture in La Paz (Mexico) can impact your wardrobe. If most activities are in more upscale locations you might take some more appropriate clothes with you. Or travelling if you travel to certain countries women need to cover themselves in certain areas.

Amenities: Know what's Included in your house or apartment. Is there a coffee maker, a toaster, a washer and dryer, an iron, what is in the kitchen, what kind of towels are there? Things that are there means you do not have to take them with you. A furnished apartment or house can mean something from a few pieces of furniture to a well-stocked place with all the things you have at home. But most of the time your rental will not be stocked.

Mix and match: Wear layers so you can use your wardrobe more efficiently. And do not worry about wearing something more often, probably only you will notice this.

Important for you: If there is something that is really important for you that you want to have present in your house or apartment, take it with you. This can be something like a special knife for the kitchen, or a small mirror that you use in the morning. You can also purchase it locally if it is not that expensive.

Pet supplies: If you take your pet with you don't forget to take supplies for a few days with you. And enough medication, vitamins, or other supplies if you can not purchase them in La Paz (Mexico) locally.

Food: Don't take a lot of food with you. Only when there is something you really can not live without you, and it is not too heavy you could consider taking it with you.

Towels: Not all locations include bigger towels for the swimming pool or a visit to the beach. If you have to take them and don't have a lot of room you can buy some big thin towels.

Office supplies: Normally you will not find any office supplies in your house or apartment. If you think you will use them you could pack some supplies like a scissor, notepaper, envelopes, some pens, and more depending on your needs.

Limit yourself: Don't take too many shoes and jackets, you will not need them that often.

Best-fitting: Bring your favorite and best-fitting items that can multi-function

Washer: Do you have a washer and dryer onsite, you don't need to pack a lot of clothes
Clothing
Basics
Casual
Smart
Footwear
Toiletries
Beauty
Hygiene
Clothing
Basics
Casual
Outdoor
Footwear
Accessories
Toiletries
Medicine
Miscellaneous
Other
Toiletries
Beauty
Hygiene
Hair
Other
Medicine
Miscellaneous
Technology
Travel and Free time
Travel
Free time
Important
Documents
Money