Top 3 Best European Winter Sun Destinations in March
Snowbirds and 50+ visitors looking for the perfect winter sun destination will be pleased to know that Europe offers a fair share of warm locations in March. Typically, winter begins easing off around this time, and there are few tourists, with most people preferring to head to the tropics. Overall, flights, accommodation, and activities are priced lower as the tourist season is yet to kick in.
These are the results from our survey where we asked our visitors for the top 3 best European winter sun destinations in March.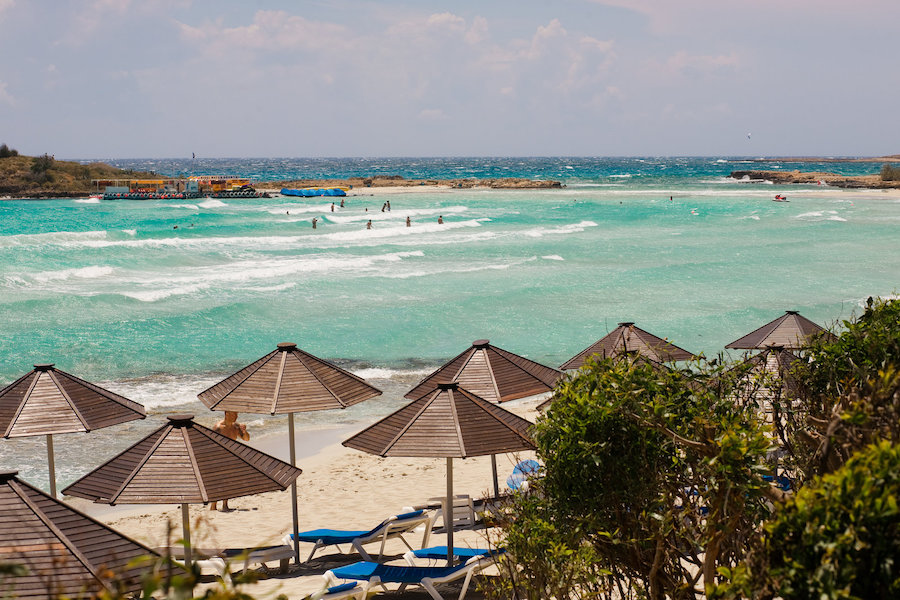 We set our sights on Cyprus, the Canary Islands, and Malta. Expect to find a rich history, ancient wonders, spectacular natural phenomena, and a broad array of diverse activities in each of these locations.
#1. Paphos, Cyprus, Winter Sun Destination in March
Paphos is an ancient resort city steeped in history. A former capital, it remains a cultural center and attracts numerous visitors annually, all drawn by its historical attractions, stunning coastline, and enchanting, timeless villages. The fascinating destination also sports exceptional beaches and natural landscapes for those looking to explore.
Paphos is located in Cyprus, a Mediterranean island south of Turkey.
Why Stay in Paphos?
Paphos offers snowbirds and other visitors seeking escape from winter complete calm and relaxation. And since Cyprus ranks highly as one of the warmest European destinations, it makes perfect sense to choose Paphos, with its unspoiled landscapes and abundant tourist attractions.
In Paphos, March weather is warm and sunny, averaging around 19°C (66.2°F). However, nighttime temperatures can dip to 9ºC, so carry a few warm items.
What to See in Paphos
March's pleasant spring weather and superb nature trails bursting with gorgeous wildflowers
invite you to explore delightful Paphos, which is like one big museum – most buildings fall under UNESCO protection. Key attractions include tombs, sculptures, and monuments, most within walking distance from the harbor.
Paphos is also known for its luxury hotels and upscale restaurants and might be slightly more expensive than locations in Greece or Spain. Nevertheless, it's still cheaper than most European destinations.
Sight-seeing opportunities include:
Paphos Old Port: This must-see attraction sports rocky coves and captivating bronze statues and sculptures. The iconic medieval fort, Paphos Castle, stands tall, exuding timeless glory. Wander through the harbor and gaze at crowded cafes, charming traditional fish taverns, vibrant fishing boats, and catch stunning views of the Mediterranean atop the fort. There are also restaurants serving delicious seafood.
Historical attractions: Paphos contains several archaeological treasures. The ancient ruins include the Kato Paphos Archaeological Site, with the remains of villa Dionysos, Theseus, Aion, and Orpheus showcasing well-reserved mosaic floors. Others are Tombs of The Kings, the Basilica of Chrysopolitissa, and the Church of Agia Kyriaki.
Aphrodite's Rock: A little way off Paphos lies Petra Tou Romiou, a scenic rock formationwhich, according to folklore,is the birthplace ofAphrodite, the Greek Love goddess.
Paphos Old Town: The streets' rustic charm beckons you to explore. They are dotted with old workshops, stylish boutiques, local handicrafts, bronze statues, incredible street art, and locals playing old board games.
The EDRO III Shipwreck: This above-water shipwreck on Paphos coastline provides an excellent spot for a sunset photoshoot.
Activities in Paphos
Paphos offers an assortment of fun outdoor activities, with the primary snowbird-appropriate activities revolving around cycling, fishing, hiking, leisurely walks, and outdoor excursions.
Excursions. Excursions and walks provide excellent opportunities to experience nature in Paphos. Popular spots include Akamas Peninsula, an expansive nature reserve teeming with rare flora and fauna, Paphos Forest, Paphos marina, and the Diarazou River.
Coumandarie villages: Explore the cobbled-stoned alleys of these time-stuck villages inhabited by highly hospitable people. Behold the amazing Cypriot architecture and taste the delicious, Commandaria wine that dates back to the 12th century.
Road trips: Venture further afield and drive along the coastline. The roads are typically devoid of much traffic, making a drive relaxing. Soak in panoramic views of striking bays, forts, sea caves, monasteries, and ancient streets in mountain villages. Also, check out Mount Olympus, Troodos Mountains, Kykkos Monastery, and Lara Bay for turtles – it's a turtle conservation station.
Akamas Peninsula Park: This national park with spectacular views and hiking trails lies west of Paphos and is home to the must-see Blue Lagoon Cove.
Indulge in Cypriot cuisine: Enjoy tasty treats like meze, which features an assortment of snacks, including sauces, meat, fish, and salads, plus meat delicacies like meat moussaka and kleftiko. While fewer restaurants are open in March compared to summer, you will find dinner taverns open. Besides, you could always tour Cypriot farms for homemade meals washed down with local wine.
Sunbathing on sandy blue flag beaches: The spring sun is gentle, making the weather perfect for this activity. However, the sea is rather cold, and swimming might be uncomfortable for some. Beaches include Paphos Beach, with calm waters ideal for paddling, and nearby hotels, restaurants, bars, and shops. Coral Bay, north of Paphos, is famous for its shallow waters, soft sand, and spellbinding scenery.
Boat trips: Cruise the Mediterranean from Paphos and explore shipwrecks and sea caves, snorkel, or swim in the warm, crystal-clear waters of Blue Lagoon.
Aphrodite Water Park: Cool down at this fun spot after your excursions.
Accessing Paphos
Paphos is accessible via plane from most major airports. Upon arrival at Paphos international airport, you can use the airport bus to get to Paphos town (it's only 15km).
Getting around Paphos is easy – you can walk, take a bus, taxi, hire a car or join an organized bus tour.
Your Safety While in Paphos
Paphos is safe. You can walk around in the evening or at night, and the locals are friendly and accommodating. Still, petty crimes like pickpocketing are not uncommon, so keep valuables out of sight.
Healthcare is readily available and affordable. Doctors are well-trained, and the medical facilities (government-run clinics, hospitals, and private clinics) are modern. Pharmacies are widely available too.
Overall, the medical standards are the same as in the US. Additionally, there's clean running water, and vaccinations are not necessary. Nevertheless, it's advisable to get comprehensive medical insurance to cover any emergencies.
#2. Gran Canaria, Canary Islands, Winter Sun Destination in March
Gran Canaria is known for its amazing beaches, beautiful coastline, mountainous regions, and rugged volcanic interior. It offers the perfect beach holiday in March as temperatures range between lows of 14ºC and highs of 21ºC (57.2 – 69.8°F)
What To See and Do in Gran Canaria Over Winter
A top choice for winter sun in the Canary Islands, Gran Canaria's diverse landscape has something unique to suit most snowbirds and 50+ visitors. You can take your pick from the following attractions and activities:
Las Palmas de Gran Canaria Festival: This vibrant festival occurs in March over several days and nights. Large crowds take to the streets, and there's lots of partying.
Maspalomas: Explore amazing diverse landscapes, including pine forests, sand dunes, mountain peaks, and the Atlantic coastline. The tourist resort also features a beautiful beach, nature reserve, lighthouse, and Palmitos Botanical Park, among others.
Dolphin-watching: Take a boat trip and sail along the southwest coastline seeking bottlenose dolphins, flying fish, green turtles, and pilot whales.
Explore beach life: Swim and sunbathe to your heart's content. The best beaches include Playa del Ingles and Playa de Mogan.
Puerto de Morgan Market: Buy souvenirs and wander the lovely streets, admiring the flowery balconies.
Las Palmas de Gran Canaria: Visit this large city to see Poema Del Mar, an incredible aquarium hosting 350 +marine species. Great bars and an exciting food scene await you too.
#3. Valletta, Malta, Winter Sun Destination in March
Valletta, the capital city of Malta, is another excellent location for winter sun-seeking snowbirds. It is a peninsula smack in the middle of the Mediterranean. Referred to as the "sunniest city in Europe," it has a gentle pace of life, and its central location makes movement around the island quick and easy.
March signals the end of winter in Malta, and there are minimal tourists. Expect warm, sunny days and blue skies with temperatures at an average of 18ºC (64.4°F). While cold, grey days are not unheard of, they are a rarity in March.
Among the top attractions are cultural events, museums, and historical sites. Meanwhile, outdoor activities include beach strolls, walks, and hikes.
What To See and Do in Valletta Over Winter
Feast of St Joseph: On March 19th, join the locals in this traditional celebration marked by colorful fireworks and a Maltese festa featuring a nougat and marching band.
Freedom Day: March 31st is a national holiday celebrating Malta's freedom from colonialism. Join in and lay flowers at the Vittoriosa monument in remembrance.
Visit the beach: Malta beaches boast some of the cleanest bathing waters, but the best ones are a bus drive/boat tour away from Valletta. Enjoy a leisurely stroll or picnic at one of these picturesque sandy beaches; Golden Bay, Mellieha Bay, or Ghajn Tuffieha.
City tour: Valletta's streets follow a grid system, making getting lost almost impossible. Immerse your senses in the beautiful baroque architecture and famous balconies. A visit to the 16th Century St John's Co-Cathedral is a must. It sports magnificent Caravaggio paintings and attractive marble/gold leaf interiors.
Upper Barrakka Gardens: A spectacular public garden with terraced arches, monuments, statues, and sweeping views of the shipyard and Grand Harbour.
Wine tasting: Get a taste of Maltese wine and dive deep into the wine-making culture at the Three cities; Cospicua, Senglea, and Vittoriosa. You can join a bus tour or take the ferry to get to these historic fortified cities.
Sun basking: Most cafes, bars, and restaurants offer outside seating. Relax, enjoy a cool drink or meal as you take in the golden-hued beauty of Valletta.
How this Top 3 list was made
The top 3 list was derived from a survey where we asked about their top destination for a particular month and region. From these results, we made each month a top 3 for North America, the Caribbean, Middle/South America, Europe, and Asia (including the Middle East). Sometimes, we have combined several individual destinations from a single country into the country itself.