What to do in July in Mesa, Arizona - 2023
Mesa is a city in Maricopa County, in the U.S. state of Arizona. It is a suburb about 20 Miles (32 km) east of Phoenix in the East Valley section of the Phoenix Metropolitan Area.
Before we have a look at what you can do in Mesa, let's first look at the weather you can expect in July.


July weather in Mesa Arizona
To get a good overview of the type of weather you can expect in July in Mesa Arizona, we will look at the day and night temperature, and if July is comfortable or humid
Generally, July in Mesa Arizona will be really hot. Historical data shows that you can expect an average temperature of around 105°F / 41°C. As the humidty is low, it will feel very comfortable. During the night, it will cool down to around 75°F / 24°C. Many will prefer a location with air conditioning due to the night temperature.
Mesa Arizona does not have a lot of rainy days in July. You can expect around 3 rainy days, with on average 0.2 inches / 5 mm of rain during the whole month.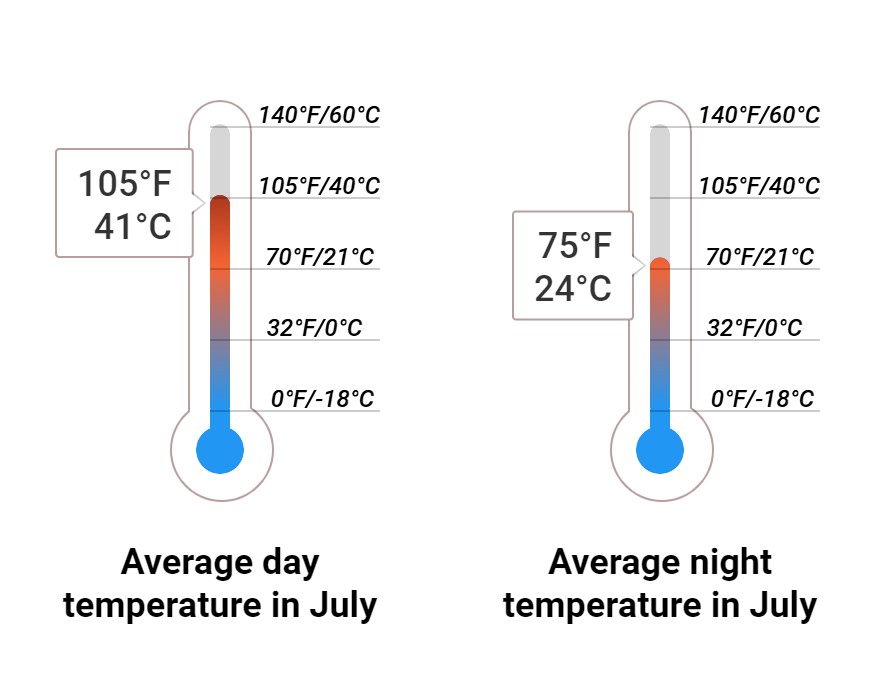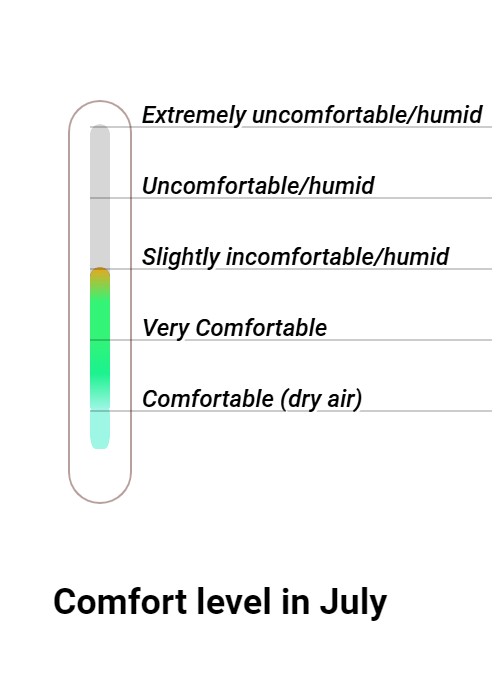 The forecast for July 2023 is based on historical data and are averages. They will give a good indication what you can expect, but the daily temperature and rain will fluctuate during the month.
Things to see and do in Mesa
Mesa has many things to soo. With help from our visitors we have dived a list of things to see in. If you have any sugestions or improvements for this list, please let us know.
Mesa Arts Center
There are shows and exhibitions held in Mesa Arts Center. Check the local events calendar before your arrival to know which events you are interested in.
Usery Mountain Regional Park
Usery Mountain Regional Park is ideal for camping and hiking.
Sloan Park
Sloan Park is a baseball court great for those looking for a chance to exhibit their athletic skills.
Riverview Park
Riverview Park is ideal for fishing, photography, and filming.
Commemorative Air Force Museum
Museum
Throughout the Year
Commemorative Air Force Museum has a large number of aircraft parked making it ideal for kids and adults alike.
Hohokam Stadium
Hohokam Stadium is suitable enough to organize any sports match of any level and size. With comfortable seating and enough quantity of lighting, it provides the best experience of comfort and thrill.
Orange Patch
At Orange Patch, you can pick some fresh citrus fruits. Moreover, the chirping of birds and sprinkling of water gives a deep sense of happiness.
Mesa Amphitheatre
Various concerts are held at Mesa Amphitheatre. It is spacious, well-ventilated, and comfortable.
Mesa Market Place Swap Meet
At Mesa Market Place Swap Meet, you can find numerous local products at cheap prices.
Arizona Museum of Natural History
Museum
Throughout the Year
Arizona Museum of Natural History is an indoor museum. The images, pottery, statues, and other antique collections make it an ideal place to spend half day.
Shopping in Mesa
Mesa has multiple shopping centers and there are also local farmers' markets that sell fresh products, like
bread, and much more.
baked goods,
jam,
Mekong Plaza
vegetables,
honey,
cheese,
Mesa Grand Shopping Center
Mesa Riverview
fruits,
Activities in Mesa
Walking
Explore the city and some of its many parks.
Festivals
You can experience a variety of events during the winter period. One of the most beautiful experiences is the lantern festival.
Day trips to other areas
there are several areas outside Mesa that will make a great day trip.
Theater
you can watch comedy, dance, ballet and many other live performances at the theaters.
Kayaking
You can go kayaking in the gentle streams of the Salt River.
Golf
you can find some of the top golf courses in and around the city. Some also have other amusement activities like a pool.
Hot air balloon
You can take a hot balloon ride during sunset and enjoy incredible views of the city.
Fitness and Yoga Retreats
You can find some top-class fitness and yoga retreats in Mesa to stay mentally and physically healthy.
Music
There are many small and stadium-sized venues.
Shopping
Mesa has a lot of shopping options around the city.
Fishing
you can go fishing on the Sal River.
Art classes
Join an art class and learn how to paint, draw, or do some pottery.
Cooking
Always wanted to improve your cooking? Join a cooking class and learn how to cook something special.
Restaurants in Mesa
There are a few restaurants around the city, they offer mostly Italian cuisine. We recommend:

Alessia's | Ristorante Italiano
Kokobelli Bagel Cafe
Filiberto's Mexican Food
Sinaloa Restaurant
Vito's Pizza & Italian Ristorante
More things to see in Mesa
Mesa Arts Center
It is a multidisciplinary art center with 4 theaters, fiver art galleries, and 14 art studios. It offers live performances, exhibits, exhibitions and several kinds of festivals are also held here.
Arizona Museum of Natural History
It is one of the premier natural history museums and it has several displays of dinosaurs. You can also see the history of Sonoran Desert people and there is a Mexico and Central America hall (Mayas and Aztecs).
True Garden Urban Farm
It is one of the highest tech greenhouse project in the US. Here crops that ordinarily won't grow in hot temperatures are produced. You can also witness the vertical aeroponic farm.
Usery Mountain Regional Park
You can take a walk or go hiking, and experience the beauty of the Sonoran desert. There are different trails available based on the level of difficulty. If you get to the top of the mountain you will have an incredible view and you can also watch the sunset.
Mesa Grande Cultural Park
It is considered to be a gem in Arizona. The Mesa Grande temple mound was constructed by The Hohokam, the ancestors of the Akimel O'odham (Pima). It dates back to AD 1100.
Arizona Commemorative Air Force Museum
It is a 55,000 square feet area that is dedicated to historic wartime aircraft, World War 2 artifacts, and memorabilia. You can see the Arizona desert from the cockpit of a Stearman.
More information about Mesa Arizona
What to do in Mesa Arizona in other months
Weather in Mesa Arizona for each month