What to do in June in Malaga, Spain - 2023
With over half a million inhabitants, the city of Malaga is Spain's sixth largest city by population. The city is the cultural and economic capital of the Costa del Sol.
It is a very active city even in winter with its museums, cultural points of interest, restaurants and many other amenities staying open all year round.
Before we have a look at what you can do in Malaga, let's first look at the weather you can expect in June.


June weather in Malaga Spain
To get a good overview of the type of weather you can expect in June in Malaga Spain, we will look at the day and night temperature, minimum and maximum water temperature, and if June is comfortable or humid
Generally, June in Malaga Spain will be really nice. Historical data shows that you can expect an average temperature of around 86°F / 30°C. As there is not a lot of humidity, it will feel comfortable. During the night, it will cool down to around 64°F / 18°C. Many will prefer a location with air conditioning due to the humidity level.
Malaga Spain does not have a lot of rainy days in June. You can expect around 3 rainy days, with on average 0.4 inches / 11 mm of rain during the whole month.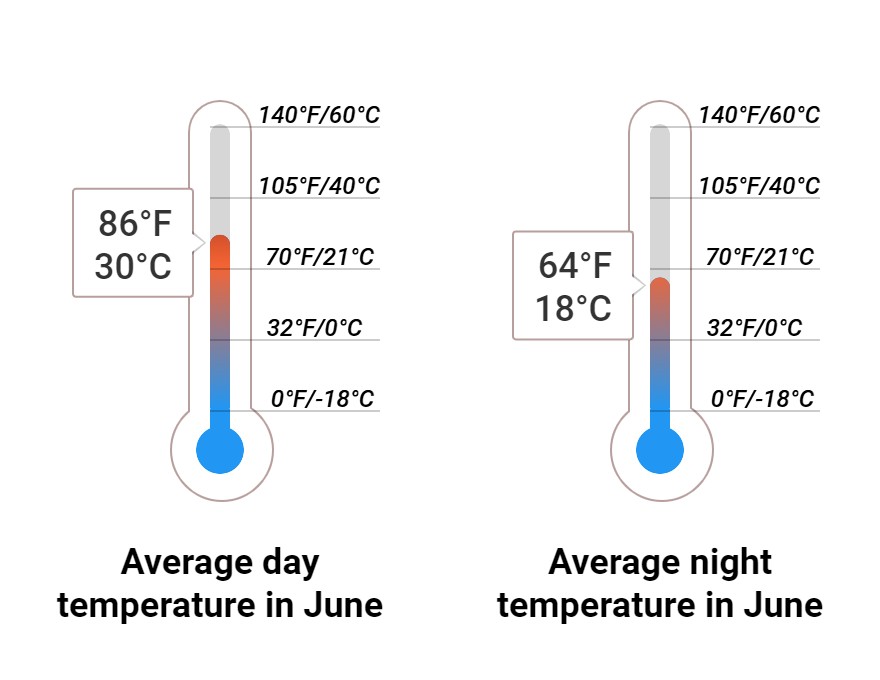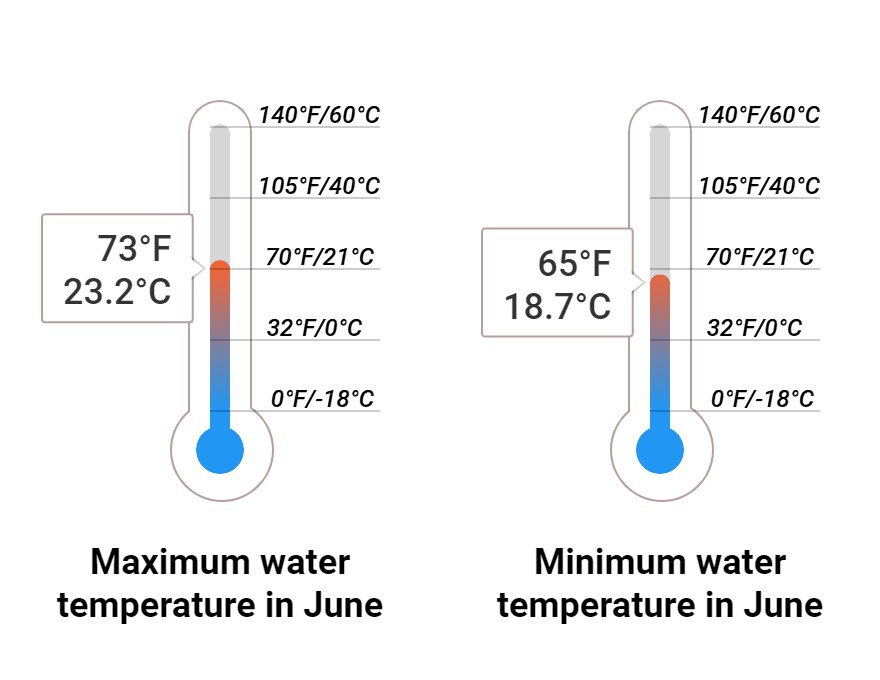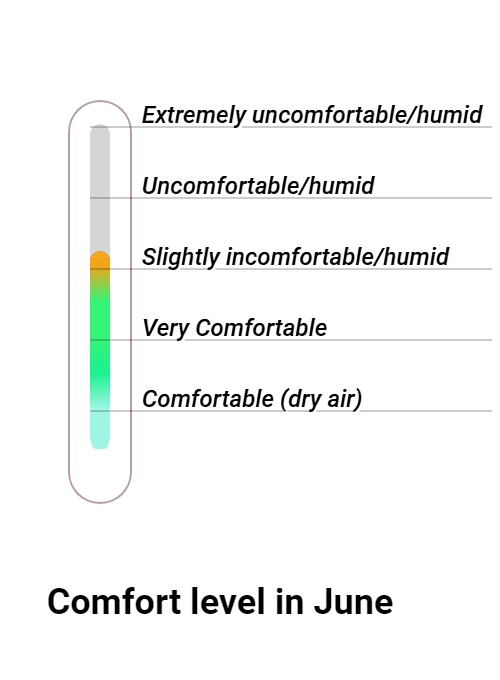 The forecast for June 2023 is based on historical data and are averages. They will give a good indication what you can expect, but the daily temperature and rain will fluctuate during the month.
Things to see and do in Malaga
Malaga has many things to soo. With help from our visitors we have dived a list of things to see in. If you have any sugestions or improvements for this list, please let us know.
Castillo de Gibralfaro
Cultural
Throughout the Year
Castillo de Gibralfaro has lookout towers sharing the story of how battles were fought in the olden days.
Málaga Cathedral
Cultural
Throughout the Year
Málaga Cathedral has a North tower and a Southtower both telling their own story.
Parque de Málaga
Parque de Málaga is ideal for walking and sightseeing.
Roman Theatre
Cultural
Throughout the Year
Roman Theatre was rediscovered some decades ago in an undamaged state.
La Alcazaba
Event/Festival
Throughout the Year
La Alcazaba is a building of the 8th century showcasing the Islamic era.
Shopping in Malaga
There are many malls and small stores where you can shop. In this city you will find everything you need, even in winter time!
Activities in Malaga
Walking
There are many walking routes available throughout the region. These routes are long and adventurous and you get to see incredible sights along the way.
Hop on a bus
Go site seeing around the city on a double-decker hop-on hop-off bus. It is a guided tour with food tastings as well.
Golf
Real Guadalhorce club de golf dates back to the 18th century. It is a 17 hole course with the most exquisite and dramatic views.
Yoga Retreats
You can find some fitness and yoga retreats in Málaga so that you can stay healthy.
Day trips to other cities
there are many places worth visiting outside Málaga. You can visit the nearby preserves as well.
Fishing
Fishing is a year-round option in Málaga. You can hop onto one of the fishing boats and spend an entire day fishing or visit the coast on your own.
Festivals
Christmas parade and Malaga Carnival are some of the must-see festivals in Malaga.
Hammam Al Ándalus
This traditional Arabian Thermal Bath is one of the specialties of Málaga. It is a luxurious spa with warm water and massages.
Flamenco
While you are in Spain you cannot miss out on the most eminent dance of the Spanish region.
Swimming
There are a lot of options in Málaga where you can go swimming. You can go to the sea, a lake, any of the natural pools or clubs.
Historical tour of the city
You can book a guided tour or just stroll around the city to explore the history of Málaga.
Restaurants in Malaga
Restaurants are open all year round and they offer a variety of cuisine including Spanish, Italian, Arabic, Japanese, Indian and American. Enjoy your meal at:

Taperia de Sybaris,
El Refectorium Catedral,
Tinto y Tapincho.
More things to see in Malaga
Vamos a la Playa de la Malagueta
It is the main beach of the city. It is very close to the town and it is very sandy. Relishing the beach is one of the finest things that you can look forward to in Malaga. The water is clear, there are many activities that you can take part in and the restaurants are nearby.
Pablo Ruíz Picasso Foundation Birthplace Museum
A must-visit attraction for the passionate lovers of modern art. In the Old Town, this museum resides in the house where Pablo Picasso was born and it exhibits 233 pieces of art by the artist. The assortment represents the complete span of Pablo Picasso's life and his art career, starting from his most primitive studies to his groundbreaking artistic innovations.
El Castillo De Gibralfaro
Historically, the castle is distinguished for a three-month barricade by Catholic emperors which came to accept the surrender of the underfed Malagueños. Dating back to the 10th century, it is a Moorish Palace. It overlooks the city of Málaga. Although now generally in ruins, the castle is appreciated for its spectacular panoramas and historical worth.
La Concepcion Jardin Botanico
In 1855, La Concepcion Botanical Gardens were fashioned in by the Marchioness and Marquis of Loring. These gorgeous grounds are filled with vivacious, subtropical, Mediterranean, and tropical flora. Flora species found in the botanical gardens come from around the world.
Alcazaba de Málaga
Throttlehold of the Moorish kings, this prehistoric Moorish castle was constructed in the 19th century, on the remnants of a Roman bastion. In this castle, Alcazaba houses the Museum comprises of two museums: The Provincial Museum of Fine Arts and The Archaeology Museum. It also has an ancient Roman Theatre nearby.
More information about Malaga Spain
What to do in Malaga Spain in other months
Weather in Malaga Spain for each month