Can you leave an inflatable hot tub outside in winter? Expert opinion
An inflatable hot tub is an alternative to traditional hot tubs. They are less expensive, easier to set up, and perfect for the occasional spa user. An inflatable hot tub is not meant for heavy use or for families with children. They are more vulnerable to damage, both from usage, objects falling on it, and the weather.
Can you leave an inflatable hot tub outside in winter:
You can leave an inflatable hot tub outside in winter, but it is not recommended. If the temperature drops below 40F, drain, disassemble and store your inflatable hot tub. If you want to use it during winter, ensure that the heater works well and the power outlet can deliver enough power. Add insulation to minimize heat loss, and keep in mind that cold plastic is less flexible and is more prone to damage.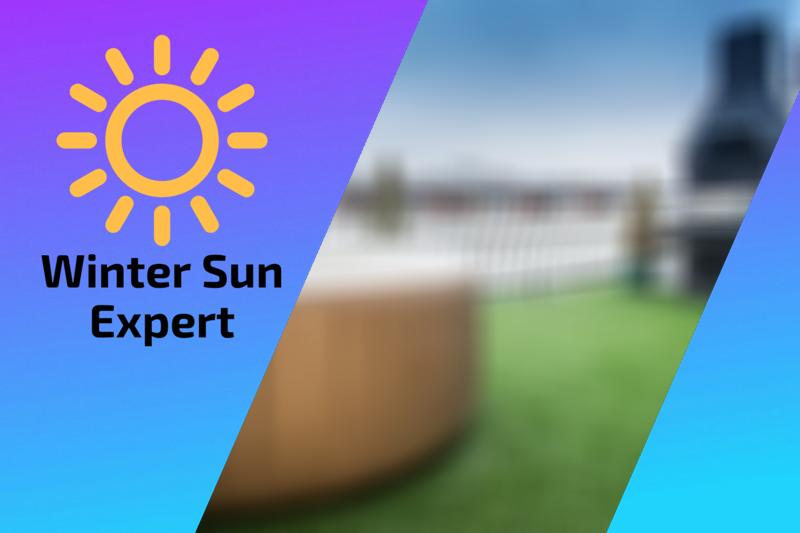 In this blog post, I will further explain the problems that an owner of an inflatable hot tub will face during the winter. How cold is too cold for it, and how you can keep it warm in winter.
Can you leave an inflatable hot tub outside in winter
Generally, I do not recommend leaving an inflatable hot tub outside in winter. Particular if the temperature gets below 40F. It can easily damage the tub if the proper precautions are not taken.
Generally, a tub full of water will not freeze into a giant iceberg at this temperature. The main issue is the water inside the pipework and pumps of the tub. When water trapped in these parts freezes, it breaks them. Replacing these parts for an inflatable hot tub can be challenging.
Some of the companies which manufacture those cheap inflatable tubs are notorious for their poor customer service. Unlike high-end hot tubs, inflatable tubs are not meant for extended usage. Due to this, suitable spare parts for inflatable tubs are not readily available. Consider these factors and be proactive to protect your inflatable hot tub in strong winters.
– Drain and disassemble an inflatable hot tub below 40F
The best way to reduce winter damage to an inflatable hot tub is to drain, disassemble and store it until the winter is over.
Ensure that you completely dry the hot tub before storing it. Remove all excess water from the pipes and pumps. This will keep them in excellent condition when spring arrives.
– Keep the heater on when leaving an inflatable hot tub outside in winter
If you are left with no options other than leaving the hot tub outdoors in strong winter, ensure that the tub's heater keeps running. If it stops due to power failure, it will gradually cause the water to start freezing as the outdoor temperature dips.
Inflatable hot tubs are targeting the lower segment of hot tub consumers. Most people who own one do not want to invest a lot in a hot tub and expect to use it for years. So the shell, cover, and other parts of an inflatable hot tub are not as sturdy as the parts of other high-end hot tubs in the market. Due to this, entry-level inflatable tubs from Intex or Lay-Z-Spa need additional care if you place them outdoors during the winter.
To avoid water freezing, you should keep the tub running all the time during the winter. It is essential on days when the temperature nose-dives.
Generally, winter is the perfect time for you to enjoy a hot tub soak in the tub because of the bad weather conditions. Keeping it on will make the tub ready for use at any time. However, it will also mark a spike in your electricity bills.
– Check that the power outlet you use is strong enough
Check that your power outlet is strong enough to keep the heater and pump working simultaneously and for a prolonged time. Check the rating of the pump and heater. If you have a 13 amp supply, this cannot be enough for some models.
If you use an extension cord, ensure that it is rated for the needed power and always fully extend it. Please do not keep it partly wounded, as heat could be build up there.
How cold is too cold for an inflatable hot tub?
When temperatures in your area only sparsely go below 40F during the night, you do not have much to worry about if you have an outdoor inflatable hot tub. Similar if you have some occasional snow. Ensure that you have covered your spa, and take good care of it to avoid the water freezing.
Always understand that the material that is used to make an inflatable hot tub is less flexible with lower temperatures. It will be more prone to damage. I do not recommend unfolding and inflate a spa below 50F. If you already have a hot tub installed outdoors, ensure that the spa heater runs once the outdoor temperature hits 40F.
Managing an outdoor inflatable hot tub during the winter is challenging in certain US and Canada due to severe winter. If the temperature falls well below 40F, I do not recommend using your inflatable hot tub. It is better to drain the spa before winter starts to store it until the temperature rises again.
Heat loss from the tub water will be rapid at low temperatures, even if the spa is on. Water in the pumps and pipes can start to freeze if the water temperature dips further. Particular in combination with the wind. This will cause damage to your tub.
How do I keep my inflatable hot tub warm in the winter?
To ensure that your inflatable tub does not get damaged during high winters, you need to keep it warm. It is done by keeping the tub on and by cranking up the temperature. Also, insulate the hot tub as well as possible to minimize heat loss.
Using high-quality accessories is essential. A quality spa lid will insulate the hot tub efficiently. It helps to sustain the temperature of the tub water in cold weather.
The ground on which the tub sits works like a huge heat sink during the winters. It is problematic if the tub sits on a thin pad above the ground. The temperature of the ground dips once the winter kicks in. It will draw the heat from the water in the tub if the bottom of the tub is not insulated well.
Due to this issue, the bottom of an inflated hot tub will be a cold zone even if the water on top is warm. Cold zones in outdoor hot tubs also happen during winters if the circulation pumps are not running.
– Insulate the inflatable hot tub to minimize heat loss
To avoid heat loss due to cold surroundings in winter, you need to insulate the hot tub well. In high-end hot tubs, the thick shell and the build-quality of the tub help bring down heat loss during wintertime. However, the shell and the base of an inflatable hot tub are not this efficient. It needs additional insulation.
For this purpose, cover the outside of inflatable tubs with tarps, bubble wraps, or yoga mats. Yoga mats or thick foam sheets are very efficient in insulating the bottom of the spa. But always keep in mind the high weight of the hot tub filled with water and persons.
Use yoga mats or rubber gym mats underneath the inflatable hot tub
For example, place the tub on an inch thick interlocked rubber gym mat; it will retain heat better than sitting on 8 mm foam mats. You can also install the tub on a raised deck, with some insulation under it, to reduce heat loss. Tarps and silver bubble wraps are also useful as additional insulation layers to the tub to decrease heat loss.
Cover the outside of an inflatable hot tub with bubble wrap
Bubble wrap is a cost-effective and excellent choice to cover the outside of your inflatable hot tub. Ensure that it covers all the parts as much as possible. Do not use bubble wrap under the hot tub. The weight will crush it, and it will lose its insulating properties.
– Use a good cover for your inflatable hot tub
To keep your outdoor inflatable hot spa warmer during winters, you need to make sure that the tub cover is placed properly. Keeping the spa closed with a lid or cover is essential to keep the water from cooling down.
However, many lower-range inflatable hot tubs come with low-quality spa lids, which are not a big help for minimizing heat loss. I recommend purchasing a better-quality spa cover for this purpose. During winter, keep the lid on as much as possible. Leaving the spa open will quickly lose a lot of heat.
– Add insulation to pipes and the pump from your inflatable hot tub
Apart from using an insulating spa lid and additional insulations on the spa, ensure that the heating unit and the pipes are also covered with warmer insulation like a blanket or foam or yoga mats to help them stay defrosted. Just like adding insulation, keeping it away from windways will help it retain heat better.
– Use a better heater if needed
Besides optimizing insulation, spa users also use cheaper measures to keep the tub water warmer. This includes using supplementary heaters which use propane or other fuels. It will bring down the increased electricity consumption by the hot tub during winters.
If you use an electric heater, always check that the outlet you use can simultaneously supply the power for both the heater and the pump. Some models need more power than a 13 Amp outlet can supply.
– Keep the jets off
Tweaking the functioning of the spa also helps you to keep it warm for a longer time. For instance, keeping the jets on will cause the water to lose heat faster. The air vents which create the bubbles draw cold air from outside, effectively dipping the water temperature. So to keep the tub warmer, keep the jets off.
– Ensure that the heater and pumps keep working nonstop
Some inflatable spa models come with a default setting that turns the spa off for a while after a prolonged period (like 48 hours) of use. It is essential to manually override this setting during the winter to keep the water heated, so it does not freeze when the spa turns off itself.
– Protect the inflatable hot tub from animals
Keeping the outdoor spa hotter may attract rodents to its vicinity because it is warmer than the surroundings. Keep an eye for rabbits and rats making colonies under the tub or inside its insulating wraps, primarily if your place is known to have rodent menace in the past.
Do inflatable hot tubs use a lot of electricity?
To keep an outdoor inflatable hot tub warm enough, it needs to keep the heater running. Depending on the brand and model, an inflatable hot tub uses 1200 W or more. How long the heater and pump need to run depends on the hot tub size, the ambient temperature, the tub water temperature, and the heat loss. Expect a monthly cost of $50 or more.
In general, an inflatable hot tub is not well insulated and uses around 20% to 30% more energy than a regular hot tub. Of course, this depends on the climate, time of year, size, and many other factors. But it is going to cause an uptick in your electricity bills. Generally, hot tubs are notorious for their energy consumption. It worsens during winters.
An outdoor inflatable hot tub trying to keep its water warmer when its surroundings are nose-diving to sub-zero temperatures will use a lot of electricity. Expect an uptick of more than $100 in your utility bills for the winter month.
– Reduce the electricity cost by insulating the inflatable hot tub
For instance, placing the tub on a 2 inch thicker rigid rubber sheet instead of a skimpy foam sheet will help bring down the heat loss and the power consumption of the tub. Similarly, adding insulation and screening around the hot tub will increase the insulation. It will reduce your electricity bill. The savings will be even more when it is windy, and the energy loss would be even higher.