Top 3 Best Caribbean Winter Sun Destinations in November
Are you trying to find a great Caribbean Winter sun destination to visit in November and aren't sure where to begin? Your search ends here. I've done the heavy lifting and narrowed down your options to three top destinations.
These are the results from our survey where we asked our visitors for the top 3 best Caribbean winter sun destinations in November.
The top 3 best Caribbean winter sun destinations in November are Aruba, Barbados, and Antigua. These three islands are some of the safest in the Caribbean. They also have good healthcare systems, beautiful landscapes and beaches, cultural attractions, and great food.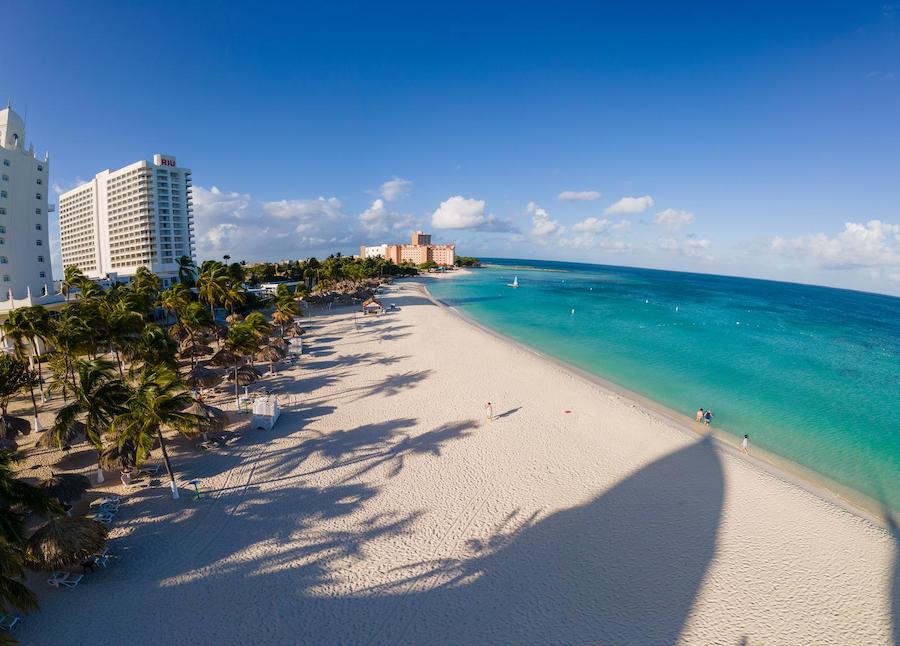 Read on for an insightful discussion as I explain what makes each of these islands a great November winter sun destination, particularly for snowbirds and 50+ visitors.
1. Aruba
Aruba is an Island in the Caribbean Sea. It's about 15 miles (24km) off the coast of Venezuela and is one of the four constituent countries that make up the Kingdom of The Netherlands.
Aruba has all kinds of attractions, from beautiful sandy beaches with crystal-clear waters to stunning landscapes and spectacular golf courses. However, that can be said for many other Caribbean islands.
So, what makes Aruba special?
What really sets Aruba apart is the weather in November. In fact, this is precisely why it takes the number one spot on today's list. If it were down to sheer beauty and beaches, I'd have gone for the likes of Barbados for the top spot.
When I talk about Aruba having better weather than many popular Caribbean travel destinations in November, I'm not referring to the temperature. Temperatures on this Island range from 30°C (86°F) to 32°C (90°F) throughout November, which is pretty much the norm in most popular Caribbean travel destinations around this time of the year.
Put otherwise, the cold isn't an issue in the Caribbean islands. The rain is what you need to be worried about, and this is where Aruba edges out other popular destinations in the region. Aruba's desert-like climate allows it to stay nice and dry in November, a time when some other Caribbean islands are still experiencing their rainy season.
The average rainfall in Aruba throughout November is about 40mm (1.6 in.). To give you some perspective, this is a lower figure than the average rainfall throughout November in popular destinations such as Barbados, Belize, and Bonaire.
Now that you understand why I think Aruba is the best Caribbean winter sun destination in November, let's take a look at the other reasons that helped me arrive at that conclusion.
Aruba is One of the Safest Caribbean Travel Destinations
Safety should be at the top of your priorities when choosing a Caribbean destination because most countries in this region have alarming crime rates. Fortunately, Aruba is one of the few places without that problem.
Don't get me wrong; there are still isolated cases, but they're not as frequent as in other Caribbean Islands. According to Word Bank estimates, Aruba has a homicide rate of 2 incidents for every 100,000 people, a number well below the global average. This beautiful island also has practically non-existent rates of violent crime.
Crime isn't the only safety concern for travelers looking to spend quality time in the Caribbean islands in November. This time of the year is part of the peak season for hurricanes and tropical storms, and Aruba has fewer instances of these natural safety threats than other Caribbean destinations.
Aruba Has Good Healthcare Facilities
Making sure that there are good hospitals in your travel destination is one of the best things you can do as far as emergency preparedness goes. This is particularly important if you're managing a specific condition and need to refill your prescription frequently.
Aruba might not have the best hospitals in the Caribbean, but it has enough to cover illnesses, injuries, and any prescriptions you might need to top up while on vacation. The island has four medical centers:
Dr. Horacio Oduber Hospital in Oranjestad.
The Centro Medico Rudy Engelbrecht in San Nicolas.
The MedCare Clinic in Noord.
The private Urgent Care Clinic in Noord.
If you plug the names of these medical centers into Google Maps, you'll notice that they're spread throughout the island. This is important, as it makes it easier to access one of them in an emergency.
Speaking of emergencies, you'll have the option of getting airlifted if it's a serious one. Emergency services can be accessed through 911. They're usually quick to respond, and the medical teams come prepared to provide on-site patient care if needed.
In addition to the above health centers, there are countless drug stores in Aruba. And depending on where you stay, your hotel may have a licensed medic. Most hotels have a medic as part of their staff to help with minor medical emergencies.
Aruba Has Countless Attractions
Most people aren't looking to visit the Caribbean for its weather, safety, and healthcare. These are all important considerations, but so is having fun on your winter travels. I understand that older people's definition of fun is a bit different from the younger generation, so I'll be focusing on locations with attractions for both age groups when making recommendations.
Here's a table showing my recommendations for the best things to do and see in Aruba:
| | |
| --- | --- |
| Type of fun. | Best places to enjoy it. |
| Beach activities. | Palm Beach and Eagle Beach. |
| Exploring natural wonders. | |
| Taking a Jeep Safari. | Aruba's countryside. Be sure to make a stop at the California Lighthouse and the Natural Bridge. |
| Exploring Oranjestad, the capital city of Aruba. | The city's bustling markets, colorful Dutch colonial architecture, the waterfront, and historical sites such as the Archaeological Museum and Fort Zoutman. |
| Going on a sunset cruise. | Aruba's coastline. |
| Golfing. | Tierra del Sol Golf Course and The Links at Divi Aruba |
| Exploring Aruba's culinary scene. | Local dine-in restaurants such as Papiamento Restaurant, Gasparito Restaurant, and The Old Cunucu House.Local BBQ Spots.ZeeroversTraditional Aruban restaurants and local seafood spots in Downtown Oranjestad.Local Food Stands and Trucks: |
| A spa day. | Mandara Spa at Marriott's Aruba Ocean Club and Marriott's Aruba Surf ClubEforea Spa at Hilton Aruba Caribbean Resort & CasinoOkeanos Spa at Renaissance Aruba Resort & Casino |
2. Barbados
Some people call it the "Gem of the Caribbean Sea," while others refer to it as the "Jewel of the Caribbean." Personally, I prefer "picture-perfect paradise" because that's exactly what sprung to mind the first time I visited this beautiful Island.
Barbados has a lot to offer people looking for a November escape. But before we get to that pretty-long list, let's talk about the most important consideration for anyone visiting the Caribbean at that time of the year: the weather.
Despite seeing more rain than Aruba in November, Barbados has good enough weather to allow visitors to enjoy most of its attractions.
According to Weatherspark.com, daytime and nighttime temperatures average 29°C (85°F) and 26°C (78°F), respectively. The average rainfall ranges between 51mm (2 in.) and 71mm (2.8 in.). While that's still a significant amount of rain, I still believe this is a great winter sun destination because most days see at least 10 hours of sunlight with no rain.
What's more, Barbados rarely gets hit by hurricanes in November, thanks to its location near the south of the Caribbean island chain.
Some of Barbados's top attractions include:
Harrison's Cave.
Barbados wildlife reserve.
St. Nicholas Abbey
Carlisle Bay
Bathsheba Beach
Cherry tree hill
Garrison historic area
Mount Gay Rum Distillery
The Barbados Museum
Last but not least, this island is one of the safest in the Caribbean. It also has an established healthcare system with several hospitals, clinics, and medical facilities.
3. Antigua
Rounding up our list of top 3 Caribbean winter sun destinations is an island that's part of the dwarf island state of Antigua and Barbuda. This is the place to be if you're looking for a laid-back atmosphere.
November is a particularly great time to visit because it's the start of the dry season on this island. Temperatures average highs of 29.5°C (85.1°F) and lows of 23.7°C (74.7°F), and most days are sunny with clear skies. Occasional showers are to be expected, but they won't keep you holed up inside for long.
Another reason why November is a great time to visit Antigua is that this is the island's off-season. Put otherwise, there aren't as many people traveling to the island as in the peak months (between December and April). That means you're more likely to save money on accommodation, travel, and entry fees for various attractions.
Speaking of attractions, Antigua is known for its laid-back atmosphere and beautiful beaches. Add to that the fact that there are fewer crowds in November, and you've got the perfect destination for winter visitors seeking tranquility and relaxation.
Of course, there's more to the Island than beautiful beaches and a peaceful setting. Some of the top attractions include:
Shirley Heights.
Nelson's Dockyard.
The Devil's Bridge.
The Great Bird Island.
Betty's Hope.
The above list is just the tip of the iceberg; there are many more attractions on and around this beautiful island for people of all ages. To learn more about them, check out Tripadvisor's comprehensive list of Antigua's attractions.
How this Top 3 list was made
The top 3 list was derived from a survey where we asked about their top destination for a particular month and region. From these results, we made each month a top 3 for North America, the Caribbean, Middle/South America, Europe, and Asia (including the Middle East). Sometimes, we have combined several individual destinations from a single country into the country itself.