What to do in April in La Palma, Spain - 2023
La Palma is the most north-westerly island of the Canary Islands. Like the other islands of the Canary Island archipelago, is a volcanic ocean island.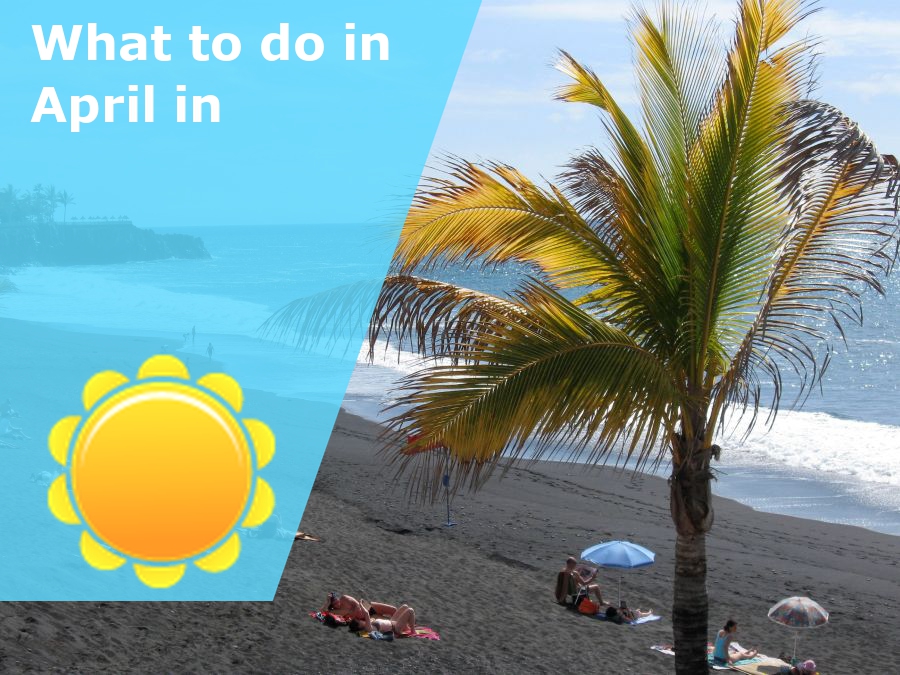 Before we have a look at what you can do in La Palma, let's first look at the weather you can expect in April.


April weather in La Palma Spain
To get a good overview of the type of weather you can expect in April in La Palma Spain, we will look at the day and night temperature, minimum and maximum water temperature, and if April is comfortable or humid
Generally, April in La Palma Spain will be slightly on the colder side. Historical data shows that you can expect an average temperature of around 64°F / 18°C. During this month the air is quite dry. During the night, it will cool down to around 62°F / 17°C.
La Palma Spain does not have a lot of rainy days in April. You can expect around 2 rainy days, with on average 0.1 inches / 3 mm of rain during the whole month.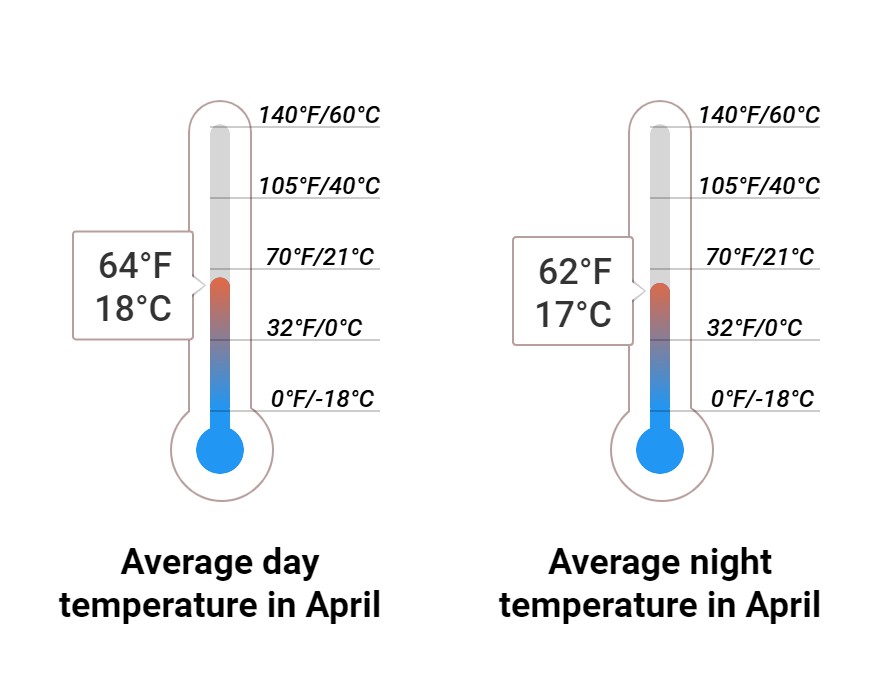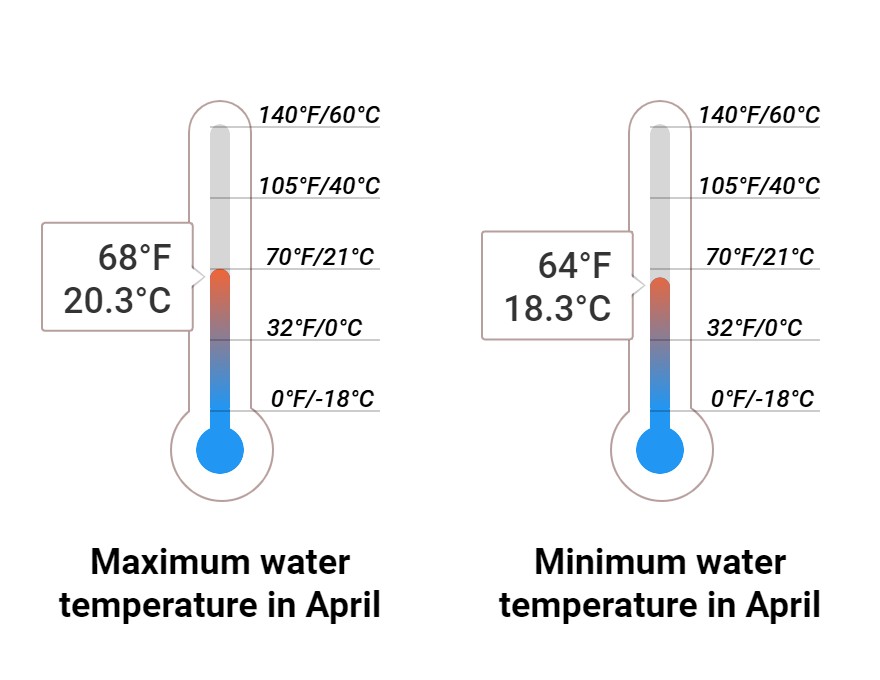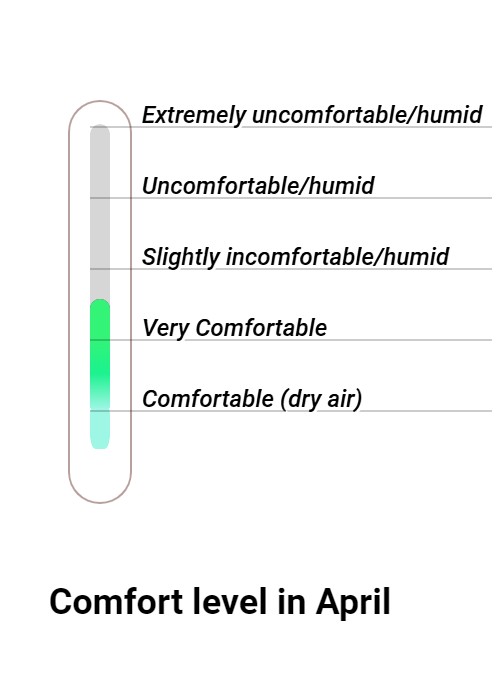 The forecast for April 2023 is based on historical data and are averages. They will give a good indication what you can expect, but the daily temperature and rain will fluctuate during the month.
Things to see and do in La Palma
La Palma has many things to soo. With help from our visitors we have dived a list of things to see in. If you have any sugestions or improvements for this list, please let us know.
La Cumbrecita
Nature/Wild Life
Throughout the Year
La Cumbrecita is located in Caldera de Taburiente National Park.
Holy Week (Semana Santa)
Event/Festival
March, April
Holy Week (Semana Santa) is the week just before Easter. Easter is celebrated in mid-April. There are traditional meals get-togethers, many outdoor activities, and floats with displays of flowers.
Shopping in La Palma
The island's highest concentration of shopping spots is found, beyond doubt, in the capital of Santa Cruz Items worth bringing home with you include

local crafts such as jewellery and blown glass.
organic foods, and
Canarian wines,
cigars,
locally distilled rum,
Activities in La Palma
Dolphin and whale watching
One of the best places to spot whales and dolphins, there are several open ocean water tours, including glass-bottomed boat tours.
Beaches
La Palma is famous for its black sanded beaches. There are several beaches to choose from with warm ocean water for swimming.
Restaurants in La Palma
La Palma is an island whose cuisine relies on marine products, with fish, shrimp, shellfish, and octopus featured prominently on the restaurant menus. Meat is another local favorite:

Restaurante El Pulpo
papas arrugadas, small potatoes boiled in a salty water in their skin.
Restaurante San Pancracio
Restaurante Chipi-Chipi
Cabra (older goat, usually stewed). Very famous are
Cabrito (young goat, usually fried) and
Restaurant El Lagar
More things to see in La Palma
Colonial towns
Most of La Palma's architecture is still old-timey and unspoiled. The capital city Santa Cruz de la Palma, has some of the most beautiful colonial structures you have ever seen. The cobbled streets lead to a range of modest or palatial colorful homes.
Astronomical observatory
You can catch a glimpse of the observatory's stars and other heavenly bodies if you are lucky to visit them during when they are open. Stargazing in this location is among the top experiences in the world as light pollution is very low. The observatory is located at the top of the Roque de Los Muchachos.
National park Caldera de Taburiente
The National park Caldera de Taburiente is located within the stratovolcano of Caldera de Taburiente. There are magnificent views of the island from within the park as well as other interesting things to see, like a colorful waterfall and miles of trees.
La Geria
Wine lovers can expect to have a nice time exploring the vineyards in La Geria for a glimpse into the winemaking process.
Volcanoes
Well-known is the 2021 eruption on the island's west side. For many months lava flowed over houses and created new land. The ground will stay hot for many years to come. But also, the southern part of the island is lined with active but dormant volcanoes called the Cumbre Vieja. Climbers and hikers can have fun reaching the summit, but if you prefer not to hike, you can still enjoy views of the volcanoes from the ground.
More information about La Palma Spain
What to do in La Palma Spain in other months
Weather in La Palma Spain for each month