What to do in April in Orlando, Florida - 2024
Orlando is a city in the U.S. state of Florida and is the county seat of Orange County.
Before we have a look at what you can do in Orlando, let's first look at the weather you can expect in April.


April weather in Orlando Florida
To get a good overview of the type of weather you can expect in April in Orlando Florida, we will look at the day and night temperature, minimum and maximum water temperature, and if April is comfortable or humid
Generally, April in Orlando Florida will be really nice. Historical data shows that you can expect an average temperature of around 80°F / 27°C. But due to the moderate humidity it can feel slightly uncomfortable for some. During the night, it will cool down to around 59°F / 15°C. Many will prefer a location with air conditioning due to the high humidity level.
Orlando Florida has rainy days in April. You can expect around 8 rainy days, with on average 1.3 inches / 34 mm of rain during the whole month.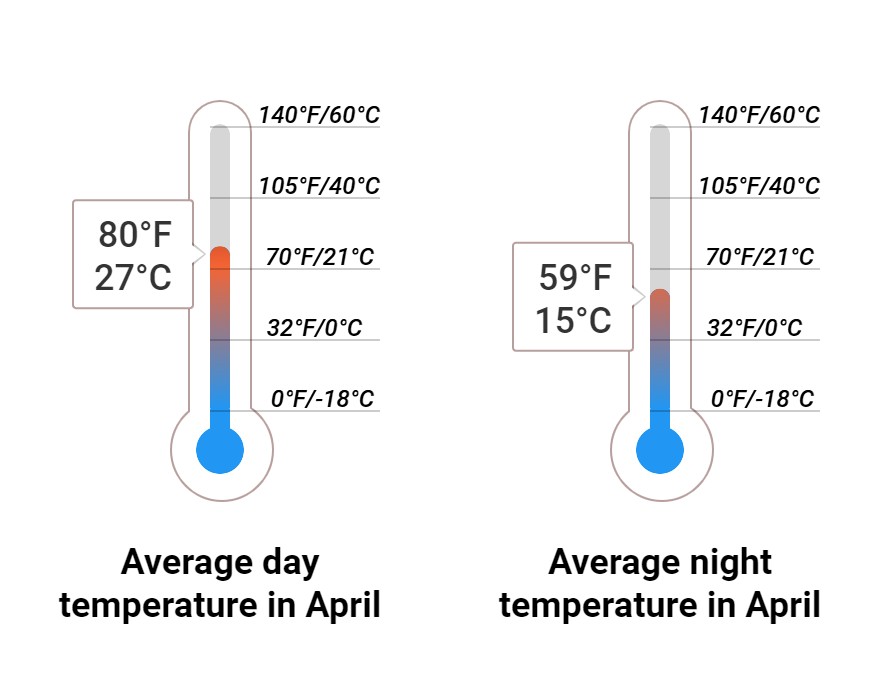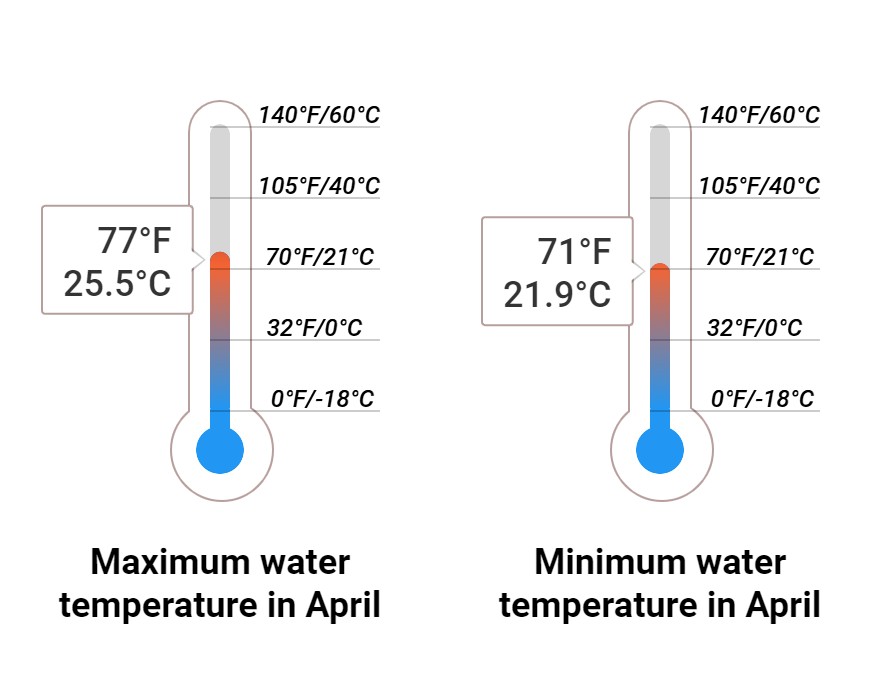 The forecast for April 2024 is based on historical data and are averages. They will give a good indication what you can expect, but the daily temperature and rain will fluctuate during the month.
Things to see and do in Orlando
Orlando has many things to soo. With help from our visitors we have dived a list of things to see in. If you have any sugestions or improvements for this list, please let us know.
Rock Springs at Kelly Park
Rock Springs at Kelly Park has a cold stream for kayaking.
Giraffe Ranch
Nature/Wild Life
Throughout the Year
This is the state's second-largest ranch where you can feed Giraffes.
Shopping in Orlando
Orlando has big and good outlet stores and malls and it is very popular for luxurious high-end designer products. There are also many grocery stores around the city.

Winter Park Village
SODO Shopping Center
Colonial Plaza
Orlando Farmers Market
Orange Avenue Shopping Center
iFresh Market
Market at Southside
Fashion Square Mall
Activities in Orlando
Beaches
A lot of popular beaches are easily accessible from Orlando. Your days can be spent enjoying activities at these well-equipped beaches.
Christmas celebrations at Theme Parks
The mood of celebration and festivities are at an all-time high during the Christmas season from November to January. A lot of fun activities are available to celebrate Christmas at all the Theme Parks in Orlando.
Play Golf
Orlando is home to world-class golf resorts like Reunion Resort, Champions gate and many others, here you also get the unique opportunity to play golf at golf courses designed by champions.
Enjoy Nature and Wildlife
Orlando is a heaven for nature lovers. It gives you the unique opportunity of enjoying marine animals at SeaWorld and Discovery Cove and it is also home to a lot of beautiful lakes and parks including wildlife parks.
Shopping Malls
Orlando provides you with amazing opportunities to enjoy the perfect shopping experience.
Visit Museums
The museums in Orlando are also worth visiting with a variety to choose from according to the visitor's preference.
Theme Parks
The theme parks are the life of Orlando and one of the main reasons it gets so many visitors. With so many options to choose from, there is something to interest everyone.
Restaurants in Orlando
In Orlando many restaurants offer different varieties of cuisines, such as American, Spanish and Mexican to satisfy every palate.

Reyes Mezcaleria
Maggiano's Little Italy
Kres Chophouse
Bulla Gastrobar
The Tap Room at Dubsdread
More things to see in Orlando
Theme Parks
Known as the Theme Park Capital of the world, Orlando has many world-class options to choose from like SeaWorld, Universal Studios, Discovery Cove and Disney World
Museums in Orlando
Orlando also has a variety of museums to visit. Among the popular ones are Orlando Science Centre, Orange County Regional History Center, Madame Tussauds, Cornell fine arts, Wonder Works, Ripley's believe it or not, and The Holy Land Experience.
Parks in Orlando
Orlando is a paradise for nature lovers, with many parks with lakes to spend your day in with Lake Eola park, Mead Botanical garden, Harry P Leu Gardens, and Dezerland Park to name a few.
Gatorland
Also known as the Alligator capital of the world, it's a unique and exciting experience for nature lovers.
The Wheel at Icon Park
With a height of
400 feet (122 meter)

, this is the best place to visit if you want to experience breathtaking views of the whole of Orlando city.
More information about Orlando Florida
What to do in Orlando Florida in other months
Weather in Orlando Florida for each month