What to do in April in Puerto Morelos, Mexico - 2024
Puerto Morelos is a town and seaport in Quintana Roo, Mexico's easternmost state, on the Yucatán Peninsula. The town is located in the northeast of the state, about 36 km (22 Miles) south of the resort city of Cancún, and about 30 km (19 Miles) north of the city of Playa del Carmen.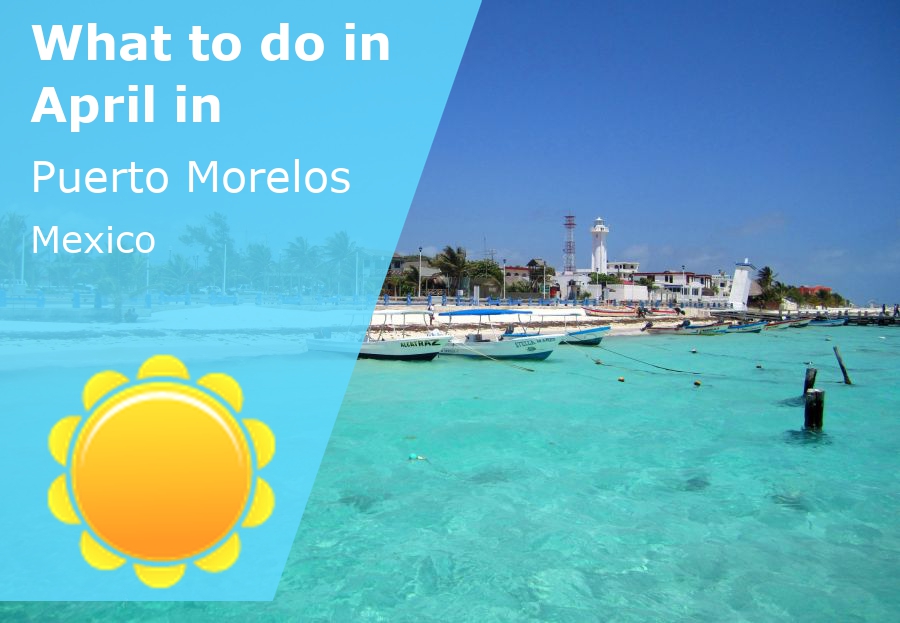 Before we have a look at what you can do in Puerto Morelos, let's first look at the weather you can expect in April.


April weather in Puerto Morelos Mexico
To get a good overview of the type of weather you can expect in April in Puerto Morelos Mexico, we will look at the day and night temperature, minimum and maximum water temperature, and if April is comfortable or humid
Generally, April in Puerto Morelos Mexico will be really nice. Historical data shows that you can expect an average temperature of around 86°F / 30°C. But due to the very high humidity, it can feel very uncomfortable. During the night, it will cool down to around 73°F / 23°C. Many will prefer a location with air conditioning due to the night temperature, and the high humidity level.
Puerto Morelos Mexico has rainy days in April. You can expect around 7 rainy days, with on average 0.7 inches / 18 mm of rain during the whole month.
The forecast for April 2024 is based on historical data and are averages. They will give a good indication what you can expect, but the daily temperature and rain will fluctuate during the month.
Things to see and do in Puerto Morelos
Puerto Morelos has many things to soo. With help from our visitors we have dived a list of things to see in. If you have any sugestions or improvements for this list, please let us know.
National Reef Park
National Reef Park is ideal for diving and snorkeling.
Croco Cun Zoo
Nature/Wild Life
Throughout the Year
Croco Cun Zoo is a wildlife sanctuary. Children and adults alike enjoy meeting different species of animals and plants here.
Tequila Factory Cancun and Villas
Tequila Factory Cancun and Villas is a distillery. You can learn about fermentation and taste some samples.
Jardín Botanico
Jardín Botanico is a garden that has a large variety of plants.
Cenote La Noria
Pool/Water Park
Throughout the Year
Cenote La Noria is an interesting water body.
The Yucatán peninsula
The Yucatán peninsula is great for diving.
The Leaning Lighthouse
The hurricane destroyed the building of the Leaning Lighthouse. But it is still accessible today.
Puerto Morelos Artisans market
Shopping/Eating
Throughout the Year
At Puerto Morelos Artisans market, you will find some local products.
Isla Mujeres
Isla Mujeres is ideal for swimming with sharks.
La Ruta De Los Cenotes
Nature/Wild Life
Throughout the Year
At La Ruta De Los Cenotes, you can cycle among the wildlife.
Mesoamerican Barrier Reef
Mesoamerican Barrier is a beautiful reef ideal for snorkeling and diving.
Boca del Puma Cenote
Pool/Water Park
Throughout the Year
Boca del Puma Cenote is a natural pool. People love to swim here on a sunny day.
Suspended Boardwalk Bridge
Suspended Boardwalk Bridge has three-century-old trees and waterfalls.
Shopping in Puerto Morelos
In Puerto Morelos you can find small stores, where you can buy local crafts or local clothing stores. Of course, you will also find places where you can buy food.
For big brand shopping you have to go to bigger cities.
Activities in Puerto Morelos
A visit to the farmers market located to the west of the town square beside the church on Avenida Tulum. The market offers to produce, baked goods, homemade meals, and local artisans. The sellers change weekly and the market mostly operates between the hours of 8.00 am to 1.00 pm
Sunset sails
Cenotes
snowbirds can find cenotes such as Cenote 7 Bocas and Verde Lucero Cenote. (Cenotes are natural pits or sinkholes, resulting from the collapse of limestone bedrock that exposes groundwater underneath. They can be termed as 'natural wonder').
Monkey jungle tour
Festival of life and death
takes place usually between October/November. This intriguing festival is to celebrate the time-honored tradition; Day of the Dead for people of Mexican heritage. As a spectator, you get to see vibrant cultural plays and dances. It normally takes place at Xcaret Park.
Yoga and Pilates
Snorkeling and Dolphin market tours
Restaurants in Puerto Morelos
For a small town, Puerto Morelos has an array of fantastic restaurants; the majority with English-speaking staff. The variety of cuisine in Puerto is excellent. This is a fishing town, so you will find deliciously fresh seafood at a number of places.

Pelicanos - Rafael E. Melgar Manzana 2, 77580 Puerto Morelos
Los Che-itza - Javier Rojo Gomez 284, 77580 Puerto Morelos
El Pesquero - Rafael E. Melgar Sn, 77580 Puerto Morelos
More things to see in Puerto Morelos
Rodeo Arena
snowbirds visiting at Christmas should know that each year locals hold a bullfight in this arena while parading the status of Guadalupe around.
The Old Market Di-Flea
here, snowbirds are exposed to shopping for local and authentic Mexican souvenirs.
Golf
Snowbirds golf lovers and even learners will be pleased to know that there is a celebrated golf course in the area. E.g. The Nicklaus Design Golf Course.
Gardening/Nature & Parks
The Botanical Gardens of Dr. Alfredo Barrera Marín is home to a vast array of plants and more than 220 animal species, making for a great educational outdoor adventure. The gardens are named after the scientist who devoted his life to the conservation of the Yucatan natural environment and the preservation of Mayan traditions. Snowbirds can also visit the Croco Cun Zoo and the National Reef Park of Puerto Morelos.
Bookstore
Alma Libre Bookstore has a variety of books to satisfy the snowbirds who are book lovers. It is located at #2 Avenue Tulum, Puerto Morelos, Quintana Roo, Mexico.
The Leaning Lighthouse
This lighthouse has become an iconic symbol of the city. It has been found that snowbirds can't visit this gorgeous town without getting a picture next to it.
The Beaches
The stunning, long, flat beach at Puerto Morelos offers easy access to the sea, as well as being just a short walk to the convenience of the several blocks that make up the nearby section of town. The beaches in Puerto Morelos are wide, sandy, uncrowded, and groomed every single morning.
More information about Puerto Morelos Mexico
What to do in Puerto Morelos Mexico in other months
Weather in Puerto Morelos Mexico for each month