Puerto Morelos is a peaceful town on the Mayan Riviera, with a friendly and laid-back feel. It makes an excellent base if you're looking for someplace quieter than glitzy hotspots like Cancun and Playa del Carmen. The pier in the center of town hosts snorkel and sport fishing boats while yachts dock in a man-made harbor just south of town. It is both a fishing village and a snorkeling-diving destination featuring the world's second-largest barrier reef.
(Quick disclaimer): If you are a "Spring Breaker" or are looking for a party scene, Puerto Morelos IS NOT the place for you. That does not mean it is boring though-it surprisingly has a lot of activity and plenty to do. It's just that if snowbirds are looking to escape the hustle and bustle of city life or just escape from their own thoughts and anxieties, Puerto Morelos is absolutely perfect for them!
Puerto Morelos is located almost exactly between Cancun and Playa del Carmen, and literally right off the highway. Staying in Puerto means snowbirds get the advantages and the amenities that Cancun and Playa offer, but none of the crowds and needless noise.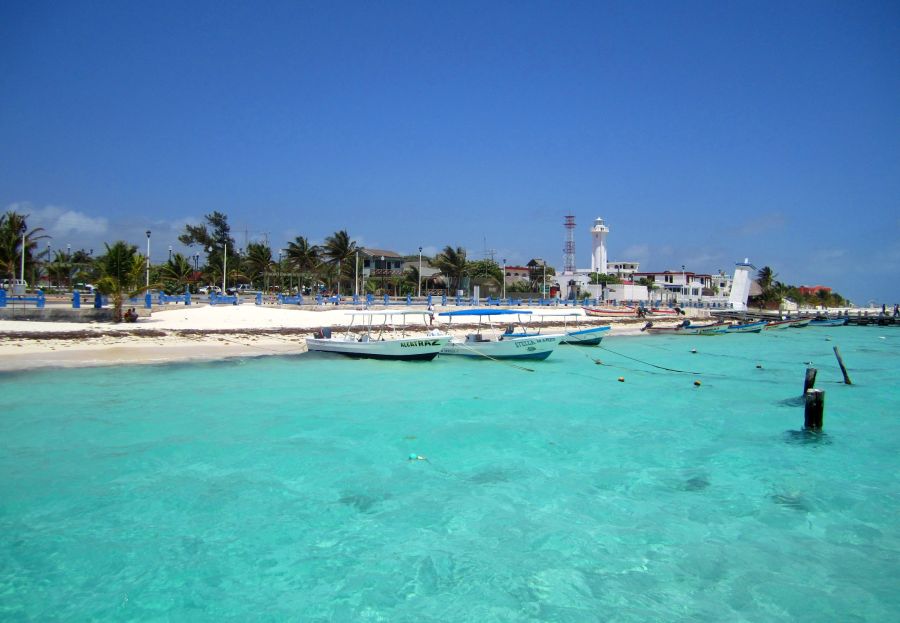 Why should people visit during the winter?
The winter period has been pegged as the best time to visit the area. The weather is perfect this time of year in Puerto Morelos to be enjoyable for warm weather snowbirds. On average, it rains or snows an insignificant amount: consistently 0 times per month. These times of year are the busiest with tourists. Puerto Morelos is a good place especially if snowbirds are into snorkeling, hiking, biking, gardening, relaxation/yoga, serenity as well as fishing. Puerto Morelos stands as one of the favorite places to visit in Mexico; boasting of its ability to give snowbirds all the peace and quiet they desire away from the crowded noise they are used to.
Climate
Winter is typically warm, but sometimes, from mid-November to mid-March, there can be some cooler and windy days, when the wind from the United States (el Norte) blows.
The temperature can drop to 50°F - 54°F (10°C - 12°C) at night, and it can remain around 68°F - 72°F (20°C - 22°C) during the day. From June to November (but with a higher probability from August to October), there is the risk of hurricanes.
The climate of Puerto Morelos is tropical, hot all year round, with a muggy, rainy season from May to October and a cooler, relatively dry season from November to April. However, also in the latter season, rainfall may occur, in addition to wind and cloudiness, especially in December and January.

Safety
Puerto Morelos is a very safe place. Snowbirds will feel comfortable walking its streets at any time of day or night. The local townsfolk are very friendly and always looking to help wherever they can. However, snowbirds should be aware, petty theft does still exist here, as it does nearly everywhere. Personal possessions should not be left unattended.
Communication, internet, and cellphone in Puerto Morelos, Mexico
English is by far the most spoken language besides Spanish. For phones/sims it is advised to buy a local sim card as roaming cost can be high. Once winter visitors get a local SIM card, it is quite cheap to phone or text (data is also pretty cheap). Snowbirds who are staying for a relatively short period of time can just get an Amigo SIM and pay as they go. The Amigo Sin Frontera Sim plan, on the other hand, is geared toward snowbirds that:
Use their Mexico phone while in Mexico to also call the U.S. and Canada,
and/or travel with their Mexico phone and use it while in the U.S. and Canada.
There are also internet cafes around town that offer services such as sending a fax and receiving one, making phone calls on a landline, making copies and printing out things.
Things to see in Puerto Morelos, Mexico
Puerto Morelos has notable places that are worthwhile visiting:
The Beaches: The stunning, long, flat beach at Puerto Morelos offers easy access to the sea, as well as being just a short walk to the convenience of the several blocks that make up the nearby section of town. The beaches in Puerto Morelos are wide, sandy, uncrowded, and groomed every single morning.
Gardening/Nature & Parks: The Botanical Gardens of Dr. Alfredo Barrera Marín is home to a vast array of plants and more than 220 animal species, making for a great educational outdoor adventure. The gardens are named after the scientist who devoted his life to the conservation of the Yucatan natural environment and the preservation of Mayan traditions. Snowbirds can also visit the Croco Cun Zoo and the National Reef Park of Puerto Morelos.
The Leaning Lighthouse: This lighthouse has become an iconic symbol of the city. It has been found that snowbirds can't visit this gorgeous town without getting a picture next to it.
Golf: Snowbirds golf lovers and even learners will be pleased to know that there is a celebrated golf course in the area. E.g. The Nicklaus Design Golf Course.
Rodeo Arena: snowbirds visiting at Christmas should know that each year locals hold a bullfight in this arena while parading the status of Guadalupe around.
The Old Market Di-Flea: here, snowbirds are exposed to shopping for local and authentic Mexican souvenirs.
Bookstore: Alma Libre Bookstore has a variety of books to satisfy the snowbirds who are book lovers. It is located at #2 Avenue Tulum, Puerto Morelos, Quintana Roo, Mexico.
Activities in Puerto Morelos, Mexico in the winter
Snorkeling and Dolphin market tours
Monkey jungle tour
Yoga and Pilates
Cenotes: snowbirds can find cenotes such as Cenote 7 Bocas and Verde Lucero Cenote. (Cenotes are natural pits or sinkholes, resulting from the collapse of limestone bedrock that exposes groundwater underneath. They can be termed as 'natural wonder').
A visit to the farmers market located to the west of the town square beside the church on Avenida Tulum. The market offers to produce, baked goods, homemade meals, and local artisans. The sellers change weekly and the market mostly operates between the hours of 8.00 am to 1.00 pm
Sunset sails
Festival of life and death: takes place usually between October/November. This intriguing festival is to celebrate the time-honored tradition; Day of the Dead for people of Mexican heritage. As a spectator, you get to see vibrant cultural plays and dances. It normally takes place at Xcaret Park.
Shopping + Restaurants. Are they open in the winter?
Since temperatures only drop a few degrees during the winter in Puerto Morelos, a vast majority of the restaurants and shops in Puerto Morelos stay open during the season. There are a variety of wonderful places to eat in Puerto Morelos. Long, lingering, lazy meals will be one of the highlights snowbirds will enjoy where they will find a range from cheap local places to world-class cuisine. Puerto Morelos is a native fishing village so when the menu states "Catch of the Day," it really is! Local Cuisine includes Fresh Seafood, Italian, Argentinean, European, American, Asian, Mexican, Yucatan Specialties, and Vega.
The restaurant owners, who take much pride in their establishments, are usually behind the stove or in some way overseeing your meal for that personal touch making your dining a genuine treat. Snowbirds do not need to dress-up- it's strictly casual scenery. Snowbirds should also take note that the waiters will not bring the bill until you ask for it as it is considered rude and simply not done in Mexico so, ask to remember to request for the bill.
You can also shop for souvenirs like jewelry, art, and baskets at local markets to mention a few. Stores like Casa Martín, Multiplaza Puerto Morelos, and Super AKI are major stores where snowbirds can find everything they need during their stay. From souvenirs to food for everyday life, snowbirds can find whatever they need at any given moment all at affordable prices.
There are also various designer shops with luxury items like Grand Via (Luxury avenue), SOHO, Pandora, Buriful, La Casa del Habano Cancun amongst others.
Transport
The nearest airport is Cancun international airport, around 30 min from Puerto Morelos.
Comprising little more than two principal streets, walking and bicycling are the perfect means of transportation for snowbirds to get around the compact Puerto Morelos. There are many local taxis around, they gather at a taxi stand on the west side of the main square in Puerto Morelos. Bicycling is an excellent way to get around town, and they can be rented at a number of places in town. There is also a local car rental agency in the main town on the highway.
Snowbirds should always make sure they find out the price of a taxi ride before getting in to avoid disagreements. At the car rental place, they can bargain for a cheaper rate. The nearest major airport is in Cancún International Airport CUN). It is 20 km (12 Miles) from Puerto Morelos.
Health
Snowbirds can find doctors that speak English as well as other languages. It is very easy to receive a look-at from a doctor; same hour service and cheap as most resorts have an on-site doctor. However, for more serious injuries and emergencies, it is best to head to a hospital in Cancún which is about 15-20mins drive from Puerto Morelos.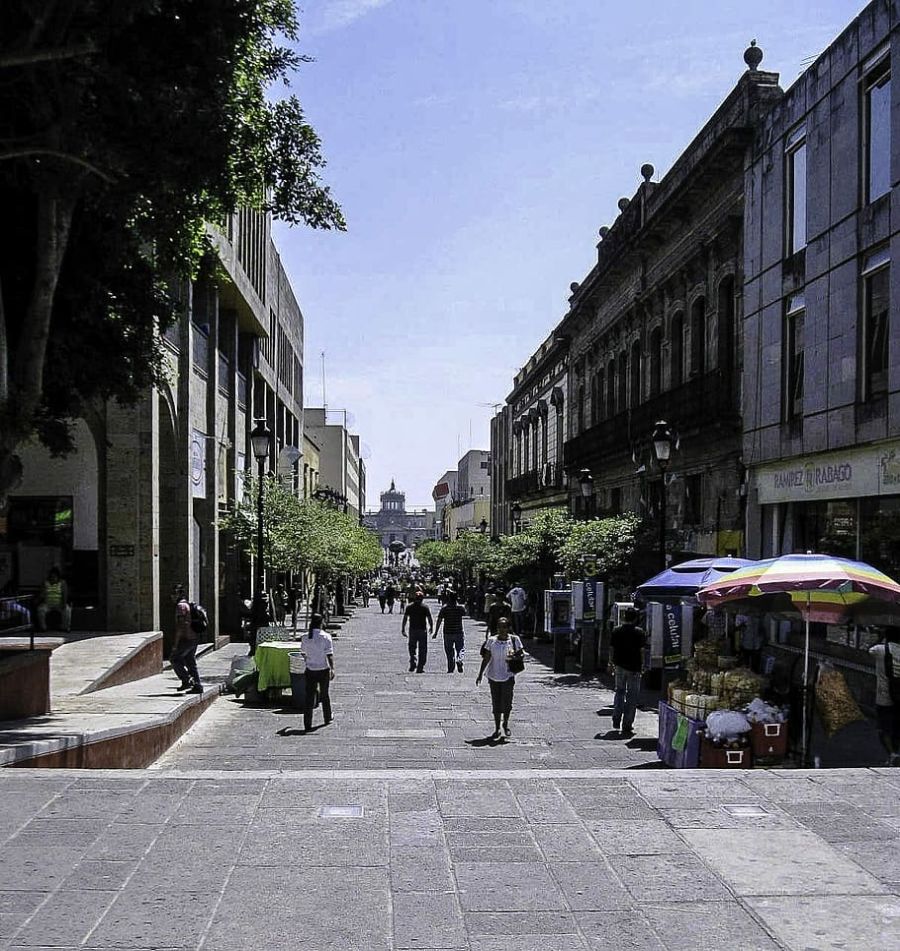 Accommodation
There are a fair number of resorts, hotels, short-let apartments available for rent in Puerto Morelos. The houses are usually well equipped with basic amenities and furnished. The best places to stay are most importantly- the beachside. Accommodation prices range from €56 (approx. $66, £50, $86 CAD, $90 AUD) per night.
Motorhomes/RV/Campers parks in Mérida
Seeing as Puerto Morelos is a very small and compact town, it's major camping place is Acamaya Reef campground. As the winter period is usually a busy period, it is advisable to make a reservation ahead of time.
The place can hold as many as 3 people up to 50 people, and if snowbirds are traveling with a big group, they can make a reservation in advance to get a discount. The price for camping is: $15 USD per person per night $15 (approx. €12, £11, $19 CAD, $20 AUD)
Cenote Elvira La Casita is located in between Cancún and Playa del Carmen. It gives snowbirds a tropical and tranquil feeling. Acamaya Reef RV parks is just north of Puerto Morelos 20 Miles (32 km).
The Rainbow Maya RV Park has been there for many years. However, its poor condition causes the park to sit empty most of the time. It is roomy, but not well-maintained and is surrounded by new commercial development. It cost about $17 (approx. €14, £12, $22 CAD, $23 AUD) per night.
Packing List
Weather: The winter weather in Mexico will normally be warm during the day and warm during the night. You have to pack accordingly.

Warm clothing: Even when you go to a warm location like Mexico you should not forget to take some things with you for your trip back home. When you return you are adapted to the warmer weather and need something to protect you from your hometown temperatures.

Consider the Weather: Always look at the type of weather in Mexico. Things like humidity, wind, and rain do not show up in the temperature graph but can have a great impact on your wardrobe. There are several sites with long term forecasts and climate information. Is there often a short afternoon downpour like in the tropics, you maybe need to take a strong umbrella and shoos that can cope with the rain. If there is often a lot of wind you might need a more wind-resistant coat.

Check the local Shopping options: Try to find information about the local shopping options near your location in Mexico. Are there stores where you can buy all your daily supplies, or are some things difficult to get? For some more remote locations, the options can be limited. If a certain item is really important for you might need to take it with you.

Look at the Local Culture: The local culture in Mexico can impact your wardrobe. If most activities are in more upscale locations you might take some more appropriate clothes with you. Or travelling if you travel to certain countries women need to cover themselves in certain areas.

Amenities: Know what's Included in your house or apartment. Is there a coffee maker, a toaster, a washer and dryer, an iron, what is in the kitchen, what kind of towels are there? Things that are there means you do not have to take them with you. A furnished apartment or house can mean something from a few pieces of furniture to a well-stocked place with all the things you have at home. But most of the time your rental will not be stocked.

Mix and match: Wear layers so you can use your wardrobe more efficiently. And do not worry about wearing something more often, probably only you will notice this.

Important for you: If there is something that is really important for you that you want to have present in your house or apartment, take it with you. This can be something like a special knife for the kitchen, or a small mirror that you use in the morning. You can also purchase it locally if it is not that expensive.

Pet supplies: If you take your pet with you don't forget to take supplies for a few days with you. And enough medication, vitamins, or other supplies if you can not purchase them in Mexico locally.

Food: Don't take a lot of food with you. Only when there is something you really can not live without you, and it is not too heavy you could consider taking it with you.

Towels: Not all locations include bigger towels for the swimming pool or a visit to the beach. If you have to take them and don't have a lot of room you can buy some big thin towels.

Office supplies: Normally you will not find any office supplies in your house or apartment. If you think you will use them you could pack some supplies like a scissor, notepaper, envelopes, some pens, and more depending on your needs.

Limit yourself: Don't take too many shoes and jackets, you will not need them that often.

Best-fitting: Bring your favorite and best-fitting items that can multi-function

Washer: Do you have a washer and dryer onsite, you don't need to pack a lot of clothes
Clothing
Basics
Casual
Smart
Footwear
Toiletries
Beauty
Hygiene
Clothing
Basics
Casual
Outdoor
Footwear
Accessories
Toiletries
Medicine
Miscellaneous
Other
Toiletries
Beauty
Hygiene
Hair
Other
Medicine
Miscellaneous
Technology
Travel and Free time
Travel
Free time
Important
Documents
Money