What to do in August in Anguilla - 2024
Anguilla is a British Overseas Territory in the Caribbean Sea, a few miles north of Saint Martin. Anguilla also has many attractive coral reefs which provide habitats for a vast array of tropical fish and marine wildlife and are great for snorkeling. English is the official language, spoken everywhere.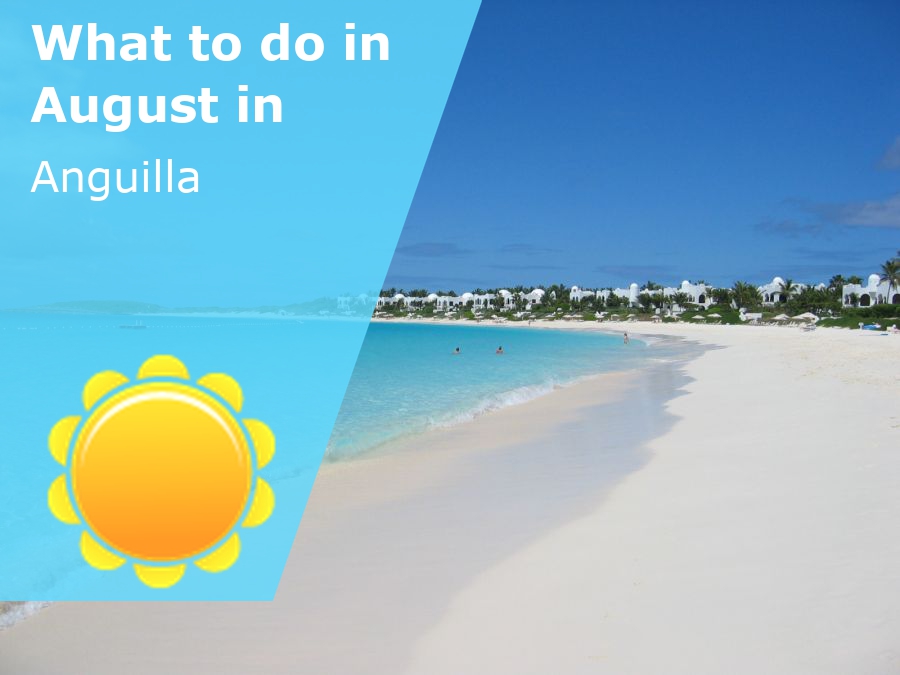 Before we have a look at what you can do in Anguilla, let's first look at the weather you can expect in August.


August weather in Anguilla
To get a good overview of the type of weather you can expect in August in Anguilla, we will look at the day and night temperature, minimum and maximum water temperature, and if August is comfortable or humid
Generally, August in Anguilla will be really nice. Historical data shows that you can expect an average temperature of around 82°F / 28°C. But due to the extreme humidity it can feel extremely uncomfortable. During the night, it will cool down to around 80°F / 27°C. Many will prefer a location with air conditioning due to the night temperature, and the high humidity level.
Anguilla has its share of rainy days in August. You can expect around 19 rainy days, with on average 4 inches / 101 mm of rain during the whole month.
But remember that rain can be short and heavy for many tropical locations, particularly during the rainy season. It means that the number of days with rain and the amount of rain can be high, but you will still see many lovely days with a short period of heavy rain.
The forecast for August 2024 is based on historical data and are averages. They will give a good indication what you can expect, but the daily temperature and rain will fluctuate during the month.
Things to see and do in Anguilla
Anguilla has many things to soo. With help from our visitors we have dived a list of things to see in. If you have any sugestions or improvements for this list, please let us know.
Maundays Bay Beach
Maundays Bay Beach offers a view of Saint Martin located offshore. It is a popular wedding destination.
Shoal Bay East
Shoal Bay East has a carol garden and no crowds of tourists. The beach furniture rental is available.
Meads Bay Beach
Meads Bay Beach is ideal for swimming, cooking, and walking.
Anguilla Summer Festival
Anguilla Summer Festival has beach parties, street parades, music, and dance.
Sandy Ground Village
Sandy Ground Village is the best spot to hire a ferry to visit the nearby islands.
Island Harbour
Nature/Wild Life
Throughout the Year
Island Harbour has Big Spring National Park. Festival Del Mar is held in Island Harbour.
Stoney Bay Marine Park
Cultural
Throughout the Year
Stoney Bay Marine park is an award-winning underwater park where a ship drowned in the 18th century.
Rendezvous Bay Beach
Rendezvous Bay Beach has shallow water, making it great for kids to swim and learn to surf, snorkel, and dive.
Shopping in Anguilla
In this island you can have the opportunity to go shopping. We can give you some examples:

Limin' Boutique offers unique and authentic Anguilla and Caribbean souvenirs handmade in the region.
Tranquilitee: Anguilla T-shirts. These custom made soft and relaxed Anguilla T-shirts bring you Caribbean calm 24/7.
Soaps and various Caribbean products: Handcrafted soaps made on the island, scented candles and a full range of body care products, Caribbean Soaps & Sundries products are sweet and special gifts and souvenirs.
Activities in Anguilla
Heritage Trail
Go on a tour through the Heritage Trail and visit beautiful old churches and interesting historical features of the island.
Horse-riding
Would you like to go Horseback Riding on the beach in Anguilla? Ride a beautiful horse along a deserted beach or go swimming on horseback in a tropical location? There are several options like https://www.seasidestablesanguilla.com/
Heritage Collection Museum
Visit the Heritage Collection Museum and learn about Anguilla history and about the British cannon and much more.
Fountain Cavern National Park
Visit Fountain Cavern National Park with the most famous attraction of Anguilla, the cave. You have to enter Fountain Cavern by claiming down a 20m steel ladder.
Attend late the Festival Del Mar in late March. It is a two-day "celebration of the sea," with a mix of entertainment, competitions, food, music, activities, and (of course) a fishing contest. Take a 3-minutes trip by boat from Island Harbour to the small private island of Scilly Cay.
Birdwatching
If you like birdwatching, join a Birdwatching & Wetland Tour.
Water sports
Anguilla has many locations for water sports like Sailing, Snorkeling, Swimming, Suba Diving, or Kayaking.
Saint Bartholemy
Make a day trip to Saint Bartholemy (St. Barts), which sits just south of Anguilla,
Fishing
If you like fishing, join one of the sea fishing tours.
Sandy Island
Take a round trip to Sandy Island, a small cay off of Anguilla, on a boat shuttle.
Golf
Play golf on the only Anguilla golf course, Aurora International Golf Club. It provides an intimate, extraordinary escape from sunrise to sunset. https://www.auroraanguilla.com/
Sea Caves
Explore the Sea Caves of Scrub Island
Anguillian drinks
Have a taste of an Anguillian drink. Rum punches are the best.
Beach
Spend a Day On The Beach, and enjoy the sun and water.
Boat excursion
Explore The Shoreline From The Sea on the Tiger boats
Wallblake House
Explore the Wallblake House, a plantation home built-in 1787.
Dolphins
If you like Dolphins, visit Dolphin Discovery Anguilla
Scilly Cay
Take a 3-minutes trip by boat from Island Harbour to the small private island of Scilly Cay.
Scrub Island
Make a trip to Scrub Island with a beautiful beach on its western side. It offers great snorkeling oppertunities.
Painting
Paint by the beach and create your very own Anguilla souvenir.
Anguilla National Trust
Tour the Anguilla National Trust, with exhibits on the island's natural and cultural history.
Restaurants in Anguilla
You can taste in the numerous and elegant restaurants of the island the local cuisine characterized by an evident creole influence, rich of fishes and crustaceans, often spiced. Many are the Italian and French restaurants of course they are open in winter.
More things to see in Anguilla
Golf
Anguilla has one main luxury golf course which is the CuisinArt's Golf Course. The island's only current golf course delivers a five-star experience and has been named one of the top golf courses in the Caribbean
The Beaches
Shoal Bay East, Meads Bay Beach, Rendezvous Bay Beach, Maundays Bay Beach.
Tennis
Hit some balls at the Anguilla Tennis Academy
Uninhabited offshore islands
The largest of which are Dog, Scrub, and Sombrero islands and the Prickly Pear Cays.
Museum
Heritage Collection Museum
Nature & Parks
Fountain Cavern National Park, East End Pond wildlife conservation site, and Dolphin Discovery Anguilla.
More information about Anguilla
What to do in Anguilla in other months
Weather in Anguilla for each month