What to do in August in Charleston, South Carolina - 2023
Charleston is the largest city in the U.S. state of South Carolina.
The city is a major port on the eastern seaboard of the U.S. and a popular destination for domestic and international tourists.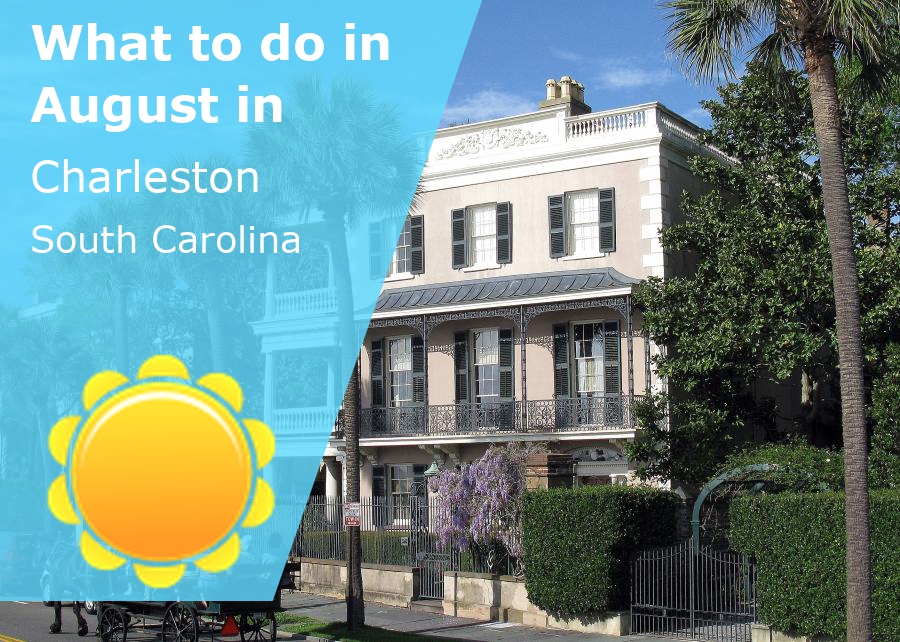 Before we have a look at what you can do in Charleston, let's first look at the weather you can expect in August.


August weather in Charleston South Carolina
To get a good overview of the type of weather you can expect in August in Charleston South Carolina, we will look at the day and night temperature, minimum and maximum water temperature, and if August is comfortable or humid
Generally, August in Charleston South Carolina will be quite hot. Historical data shows that you can expect an average temperature of around 87°F / 31°C. But due to the moderate humidity it can feel slightly uncomfortable for some. During the night, it will cool down to around 75°F / 24°C. Many will prefer a location with air conditioning due to the night temperature, and the high humidity level.
Charleston South Carolina has its share of rainy days in August. You can expect around 18 rainy days, with on average 3.9 inches / 99 mm of rain during the whole month.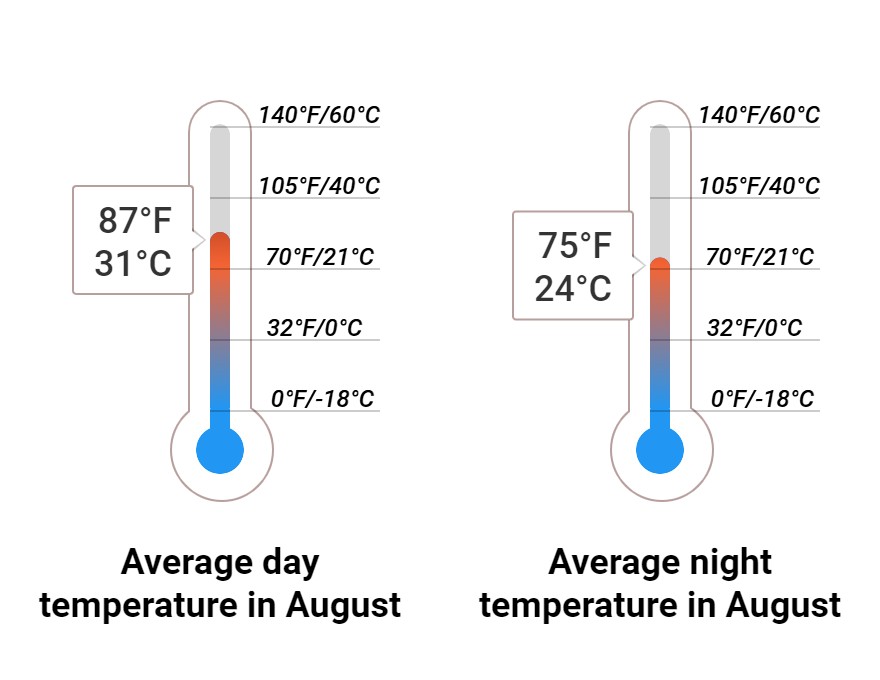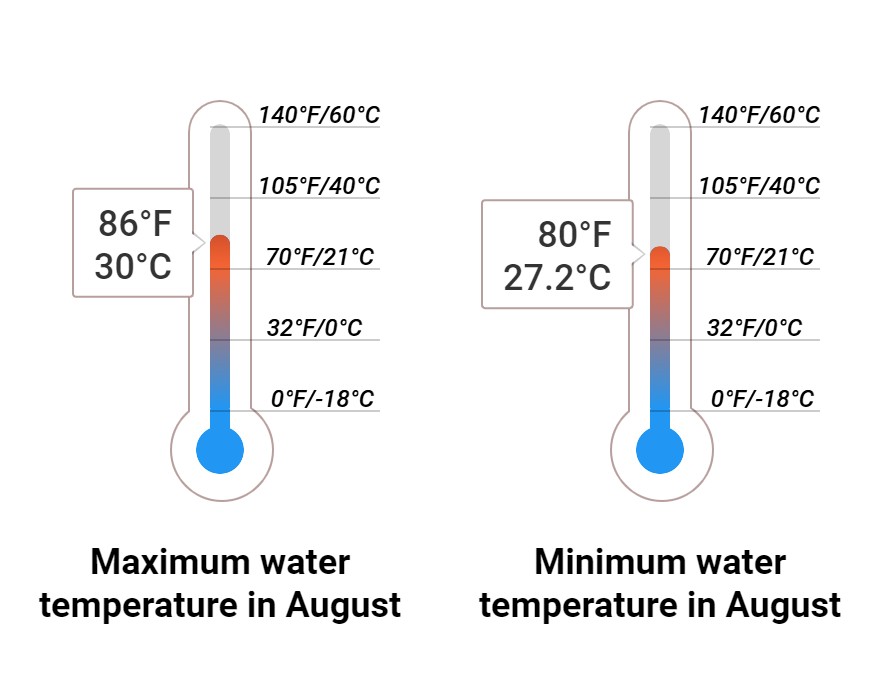 The forecast for August 2023 is based on historical data and are averages. They will give a good indication what you can expect, but the daily temperature and rain will fluctuate during the month.
Things to see and do in Charleston
Charleston has many things to soo. With help from our visitors we have dived a list of things to see in. If you have any sugestions or improvements for this list, please let us know.
Waterfront Park
Waterfront Park has a pineapple fountain, benches, swings and many flowers all facing the ocean where boats and ships sail all the time.
Fort Sumter National Monument
Cultural
Throughout the Year
Fort Sumter National Monument shows the history of the war that took place at this location some decades ago.
SC Reggae Jerk & Wine Festival
SC Reggae Jerk & Wine Festival has art and craft sales, music concerts, chili-eating contests, cooking demos, and tasting sessions.
Middleton Place Plantation
Middleton Place Plantation is the country's oldest garden. There are magnificent terraces, galleries, evergreen blooms, and pools all around.
USS Yorktown and Patriots Point
Cultural
Throughout the Year
USS Yorktown and Patriots Point have maritime, submarine, and aircraft exhibitions.
Magnolia Plantation & Gardens
Magnolia Plantation & Gardens are a couple of centuries-old sites open to the public. There is a mini zoo, exhibitions, and boat tours.
Shopping in Charleston
If you love to do shopping in Charleston you'll find local product stores, malls and food stores open year-round:

South Windermere Center
St. Andrews Center
The Shops at Charleston Place,
A Belmond Hotel, Charleston
Harris Teeter
Merchants Village
Activities in Charleston
Golf
You can play golf at one of the most exquisite golf courses, Wild Dunes Resort Golf. It has 36-course ground with amazing amenities.
Parasailing
you can enjoy parasailing along with other water sports. Many companies operate on the beaches of Charleston.
Walk around the city
The best way to explore Charleston is on foot. It is rich in history and nature that you would not want to miss out on anything.
Yacht excursion
you can enjoy excursions on private yachts. You can also enjoy good food and music while exploring the Atlantic coasts.
Festivals
You can also be a part of exciting winter festivals like annual Christmas lightening or dickens dinner.
Seaplane tours
You can enjoy seaplane tours of Charleston. You will enjoy the aerial view of Charleston. Prices vary according to duration.
Events
You can be part of some incredible events in winter such as solving a murder mystery or enjoy stand up comedy.
Fishing
There are many preserves and beaches in the area where you can go fishing.
Crafted Brewery tours
It is a 4-hour tour during which you can taste brewery from nearly all of the Charleston's distilleries.
Yoga Retreats
You can find some top-class fitness and yoga retreats in Charleston so that you can stay healthy.
Day trips to other cities
there are many places worth visiting outside Charleston. Small islands and preserves as well.
Restaurants in Charleston
There are many restaurants in Charleston open all year round and offering a large variety of cuisines to please everyone.

The Darling Oyster Bar
Poogan's Porch
Virginia's On King
Coast Bar & Grill
Stella's
More things to see in Charleston
Helena Fox Fine Art
Located South of Broad in Historic Charleston, SC, Helena Fox Fine Art specializes in fine American representational art. The varied collection of work mingles with nationally and internationally renowned contemporary American artists.
McLeod Plantation
due to Charleston's rich history of slaves, McLeod Plantation is a must-visit. It is a 36-acres area that boasts of a riverside pavilion with an avenue of oak trees. You can visit the factory and also see the antique houses.
City Market
It is often referred to as the "Slave Market" because it was here that slaves purchased food for the plantation. Today, the market is filled with residents and visitors, perusing stalls loaded with toys, clothes, leather goods, and regional souvenirs.
Cypress Gardens
It is a very beautiful and incredible place to visit because of its naturally beautiful and serene environment. If you visit this garden, you will recognize it from the scenes of the film: "the notebook" and "the patriot". It was reopened to the public on April 13, 2019.
The Charleston Museum
Founded in 1773, The Charleston Museum, America's First Museum, has been discovering, preserving, interpreting, celebrating, and sharing ever since. The collections, exhibitions, educational programs, and events are designed to inspire curiosity and conversation.
More information about Charleston South Carolina
What to do in Charleston South Carolina in other months
Weather in Charleston South Carolina for each month