Spend your fall, winter, or spring in Charleston, South Carolina: Is Charleston a good snowbird location?
Charleston is located on an inlet to the Atlantic Ocean called Charleston Harbor. In 1670, the first expedition of English settlers sailed up the picturesque tidal channel and stepped ashore at what is now known as Charles Towne Landing State Historic Site, which includes 664-acres filled with majestic oak trees. Charleston has a very rich history that can clearly be seen in the older buildings and the city museum.
Why should people visit during the fall, winter, or spring?
People are attracted to Charleston because of its exclusive lifestyle and entertainment. The town is open all year round with all sorts of activities and places for people of all ages. Enjoy the history of many of its buildings. The climate and weather are pleasant in the winter and encourages walking.
Climate
Charleston has mild weather during the winter, the temperature rarely goes below 43°F (6°C) or above 75°F (24°C). There will be more than enough sunny or partly sunny days, and rainfall is minimal.

Things to see in Charleston, South Carolina
Charleston is an important tourist location and has many places worth a visit:
Cypress Gardens: It is a very beautiful and incredible place to visit because of its naturally beautiful and serene environment. If you visit this garden, you will recognize it from the scenes of the film: "the notebook" and "the patriot". It was reopened to the public on April 13, 2019.
McLeod Plantation: due to Charleston's rich history of slaves, McLeod Plantation is a must-visit. It is a 36-acres area that boasts of a riverside pavilion with an avenue of oak trees. You can visit the factory and also see the antique houses.
Helena Fox Fine Art: Located South of Broad in Historic Charleston, SC, Helena Fox Fine Art specializes in fine American representational art. The varied collection of work mingles with nationally and internationally renowned contemporary American artists.
The Charleston Museum: Founded in 1773, The Charleston Museum, America's First Museum, has been discovering, preserving, interpreting, celebrating, and sharing ever since. The collections, exhibitions, educational programs, and events are designed to inspire curiosity and conversation.
City Market: It is often referred to as the "Slave Market" because it was here that slaves purchased food for the plantation. Today, the market is filled with residents and visitors, perusing stalls loaded with toys, clothes, leather goods, and regional souvenirs.
Things to see not far from Charleston, South Carolina
There are several neighboring towns and places that are worth a visit:
Folly Beach: It is located 12 Miles (19 km) from Charleston. After exploring Charleston's historic sites, you can take some time to relax and enjoy the Southern sun. Overlooking the massive stretch of coastline makes for a great day trip away from the hustle and bustle of city life.
Sullivan's Island: It is located 10.3 Miles (17 km)

from Charleston. It has to be accessed by the boat. It is a little island where you can enjoy your time, free from all the business of the city. It is composed of soft palmetto logs. It withstood a nine-hour battle in 1776 when nine warships were advancing on Charleston.

Edisto Island Museum: It is located 33 Miles (53 km)

from Charleston. Over the years, EIHPS continued to expand the Museum and its collections as well as working to preserve the island's history outside of the Museum. The Museum has installed an exhibit on the Edisto Indians, a local tribe that long ago vanished from this island.

ACE Basin National Wildlife Refuge: It is located 27 Miles (43 km)

from Charleston. The natural values found on the refuge today are here because past private landowners tended the area wisely. Undeveloped and unpolluted, the habitat remains diverse and extremely productive.
Activities in Charleston, South Carolina in the winter
When it comes to finding a good activity to entertain yourself, Charleston has many available options:
Crafted Brewery tours: It is a 4-hour tour during which you can taste brewery from nearly all of the Charleston's distilleries.
Fishing: There are many preserves and beaches in the area where you can go fishing.
Walk around the city: The best way to explore Charleston is on foot. It is rich in history and nature that you would not want to miss out on anything.
Yacht excursion: you can enjoy excursions on private yachts. You can also enjoy good food and music while exploring the Atlantic coasts.
Seaplane tours: You can enjoy seaplane tours of Charleston. You will enjoy the aerial view of Charleston. Prices vary according to duration.
Parasailing: you can enjoy parasailing along with other water sports. Many companies operate on the beaches of Charleston.
Events: You can be part of some incredible events in winter such as solving a murder mystery or enjoy stand up comedy.
Festivals: You can also be a part of exciting winter festivals like annual Christmas lightening or dickens dinner.
Yoga Retreats: You can find some top-class fitness and yoga retreats in Charleston so that you can stay healthy.
Golf: You can play golf at one of the most exquisite golf courses, Wild Dunes Resort Golf. It has 36-course ground with amazing amenities.
Day trips to other cities: there are many places worth visiting outside Charleston. Small islands and preserves as well.
Shops & Restaurants. Are they Open in winters?
Charleston has several smaller and bigger shopping centers. You will find most major stores present. Charleston Farmers Market is one of the best farmer's markets in the area. It provides an open space for over 100 local vendors to install their shops. You can find fresh produce like fruits and vegetables along with locally baked items and organic honey. You can also find a lot of souvenir shops around the city as Charleston is filled with old history. The best places for souvenirs are the basket people in the City market. They have handcrafted antiques.
Charleston Is full of history, some dishes are popular because they describe Charleston. These dishes are Pilau, Gumbo, Hopping John, Madeira wine, Oysters, Fried whiting and red rice, She-Crab soup, shrimp and grits, Mustard base BBQ, Fried and garlic crabs, and triggerfish. All of these dishes have a close history with Charleston.
Transport
Charleston has its own Charleston International Airport which is located just outside the city. Traveling to and from the airport is very convenient and cheap. You can take metro rail, metro bus, airport shuttle, or taxi from the airport to your destination. Having a car can be convenient during your stay. You can rent one at the airport easily, but there are also numerous other locations if you do not want to rent one all the time.
Bus services are great in Charleston. There are many bus companies in the city on different routes. There are more than 27 bus stops and bus stations in the city. You can also catch an intercity bus at these bus stops if it suits your schedule. CARTA is the transport authority of Charleston that overlooks the system of bus schedules and routes.
Charleston has both, a train station and a metro rail service. For inter-city travel, railway trains are a good option. Amtrak operates in Charleston. You can check the schedule and pre-book your travel through the Amtrak website. Metro rail is one of the cheapest ways to move around the city but it only has two tracks. There are multiple metro rail transfer stations available throughout the city.
If you want to use public transport, an easy way to find the best route is to use Google Maps. Find the directions from your starting point to the destination, and click on transit. It will then show you the public transport options.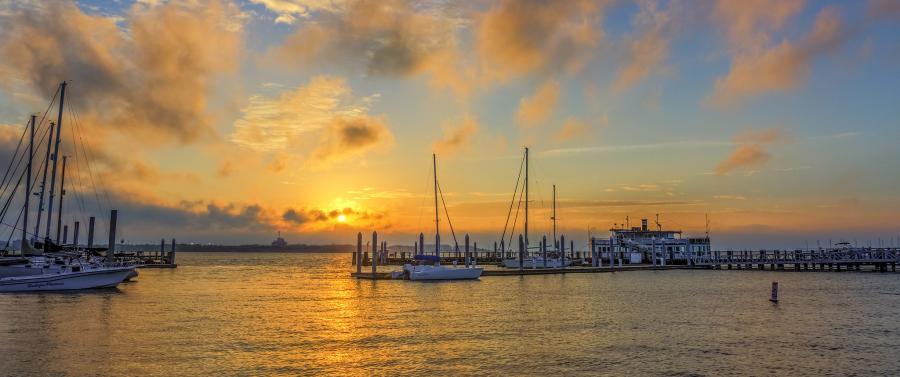 Health
Charleston is a high-tech city, and you can find incredible care and treatment in both private and public hospitals in Charleston. Clinics with separate services are also available. All the hospitals have 24/7 emergency and departments to treat every kind of illness:
Accommodation
There are several real estate companies in Charleston. You can rent accommodation according to your needs. Some major operators in Charleston are:
In Charleston, you can also find a 1-bed apartment for $850 (approx. €809, £701, $1161 CAD, $1334 AUD) if you research diligently.
RV/Campers/Motorhome
There are many RV sites available within the city but most of them do not have a website. The nearest parking spaces with a favorable environment are:
Packing List
Weather: The fall, winter, and spring weather in Charleston (South Carolina) will normally be chilly during the day and cold during the night. Of course in the fall and spring it will be warmer than in the winter. You have to pack accordingly.

Warm clothing: Even when you go to a warm location like Charleston (South Carolina) you should not forget to take some things with you for your trip back home. When you return you are adapted to the warmer weather and need something to protect you from your hometown temperatures.

Consider the Weather: Always look at the type of weather in Charleston (South Carolina). Things like humidity, wind, and rain do not show up in the temperature graph but can have a great impact on your wardrobe. There are several sites with long term forecasts and climate information. Is there often a short afternoon downpour like in the tropics, you maybe need to take a strong umbrella and shoos that can cope with the rain. If there is often a lot of wind you might need a more wind-resistant coat.

Check the local Shopping options: Try to find information about the local shopping options near your location in Charleston (South Carolina). Are there stores where you can buy all your daily supplies, or are some things difficult to get? For some more remote locations, the options can be limited. If a certain item is really important for you might need to take it with you.

Look at the Local Culture: The local culture in Charleston (South Carolina) can impact your wardrobe. If most activities are in more upscale locations you might take some more appropriate clothes with you. Or travelling if you travel to certain countries women need to cover themselves in certain areas.

Amenities: Know what's Included in your house or apartment. Is there a coffee maker, a toaster, a washer and dryer, an iron, what is in the kitchen, what kind of towels are there? Things that are there means you do not have to take them with you. A furnished apartment or house can mean something from a few pieces of furniture to a well-stocked place with all the things you have at home. But most of the time your rental will not be stocked.

Mix and match: Wear layers so you can use your wardrobe more efficiently. And do not worry about wearing something more often, probably only you will notice this.

Important for you: If there is something that is really important for you that you want to have present in your house or apartment, take it with you. This can be something like a special knife for the kitchen, or a small mirror that you use in the morning. You can also purchase it locally if it is not that expensive.

Pet supplies: If you take your pet with you don't forget to take supplies for a few days with you. And enough medication, vitamins, or other supplies if you can not purchase them in Charleston (South Carolina) locally.

Food: Don't take a lot of food with you. Only when there is something you really can not live without you, and it is not too heavy you could consider taking it with you.

Towels: Not all locations include bigger towels for the swimming pool or a visit to the beach. If you have to take them and don't have a lot of room you can buy some big thin towels.

Office supplies: Normally you will not find any office supplies in your house or apartment. If you think you will use them you could pack some supplies like a scissor, notepaper, envelopes, some pens, and more depending on your needs.

Limit yourself: Don't take too many shoes and jackets, you will not need them that often.

Best-fitting: Bring your favorite and best-fitting items that can multi-function

Washer: Do you have a washer and dryer onsite, you don't need to pack a lot of clothes
Clothing
Basics
Casual
Smart
Footwear
Toiletries
Beauty
Hygiene
Clothing
Basics
Casual
Outdoor
Footwear
Accessories
Toiletries
Medicine
Miscellaneous
Other
Toiletries
Beauty
Hygiene
Hair
Other
Medicine
Miscellaneous
Technology
Travel and Free time
Travel
Free time
Important
Documents
Money
Other locations close to this location:
Travelers' Map is loading...
If you see this after your page is loaded completely, leafletJS files are missing.
If you have any additions, or comments on the content on this page, please use our contact form to let us know.
Detailed weather during the year for Charleston South Carolina
What to do during the year in Charleston South Carolina