What to do in August in Pawleys Island, South Carolina - 2024
Pawleys Island is a city and barrier island in the Grand Strand region of South Carolina's northern coast.
Before we have a look at what you can do in Pawleys Island, let's first look at the weather you can expect in August.


August weather in Pawleys Island South Carolina
To get a good overview of the type of weather you can expect in August in Pawleys Island South Carolina, we will look at the day and night temperature, minimum and maximum water temperature, and if August is comfortable or humid
Generally, August in Pawleys Island South Carolina will be quite hot. Historical data shows that you can expect an average temperature of around 87°F / 31°C. But due to the moderate humidity it can feel slightly uncomfortable for some. During the night, it will cool down to around 75°F / 24°C. Many will prefer a location with air conditioning due to the night temperature, and the high humidity level.
Pawleys Island South Carolina has its share of rainy days in August. You can expect around 17 rainy days, with on average 4 inches / 101 mm of rain during the whole month.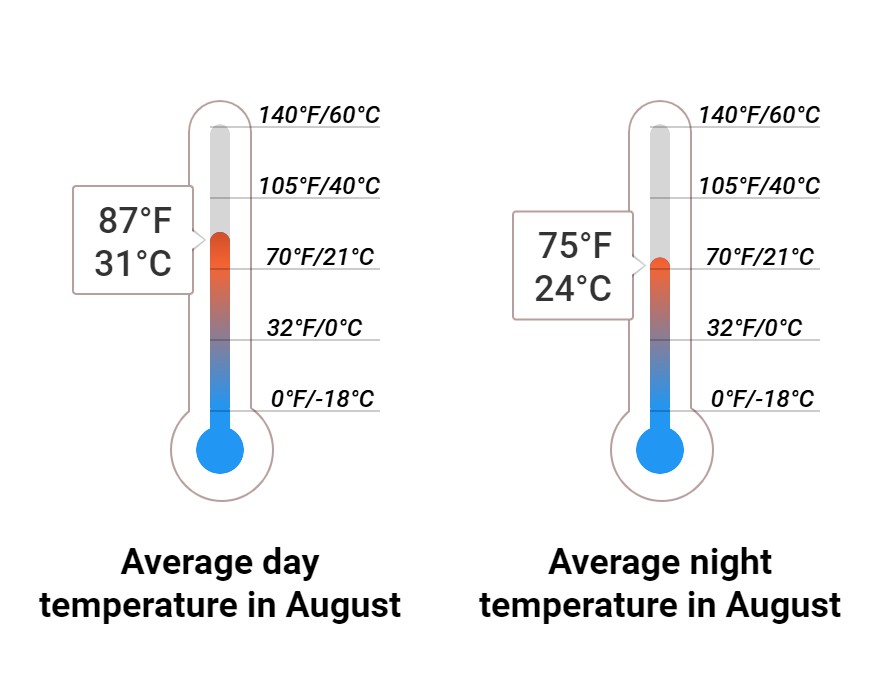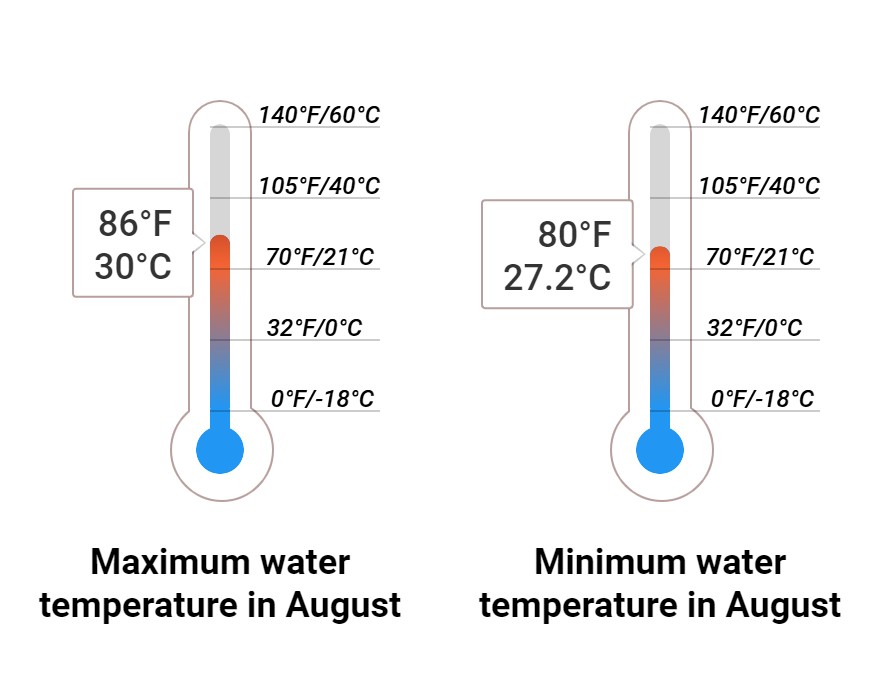 The forecast for August 2024 is based on historical data and are averages. They will give a good indication what you can expect, but the daily temperature and rain will fluctuate during the month.
Things to see and do in Pawleys Island
Pawleys Island has many things to soo. With help from our visitors we have dived a list of things to see in. If you have any sugestions or improvements for this list, please let us know.
Shopping in Pawleys Island
We have selected these places for you to visit if you love shopping. There are also food shops where you can go:

Hammock Shops Village
T.J. Maxx
The Fresh Market Commons
Publix Super Market at Pawleys Island Plaza
Activities in Pawleys Island
Pier Fishing
Fishing the traditional way of standing on the public piers is an authentic local experience for visitors when visiting this region.
Bird Watching
There are some good aviaries in Huntington state park and other wildlife parks and preserves nearby Pawleys Island which is excellent for bird watching.
Nature and Wildlife tours
Some good tour operators offer canoeing, fishing, paddle boarding, kayaking, and other nautical activities on the beautiful South Carolina waterways.
Golfing
Golf is an iconic part of Sothern California and there are many golf resorts in and nearby Pawleys Island.
Crabbing
The warm waters of South Carolina are home to the blue crab and visitors can enjoy a lesson in crabbing.
Walking and hiking
Both are good and healthy ways to explore and appreciate nature.
Horse riding
During the winter months some stables near the town of Pawleys Island offer guided horseback riding tours for visitors to enjoy the coastline and natural landscape.
Restaurants in Pawleys Island
Gastronomy in this region includes fresh and delicious seafood and shellfish as well as restaurants with international cuisine:

Pawley's Raw Bar
Gios Italian Kitchen Pawleys Island
Yagi Sushi and Hibachi
Pawleys Island Tavern
More things to see in Pawleys Island
Pawleys Plantation Golf & Country Club
Pawleys Plantation Golf & Country Club is home to a signature course that is a delight for avid golfers and even those who are learning the sport.
Pawleys Island Nature Park
Pawleys Island Nature Park is a small and peaceful green area that is ideal for walking, picnic, shell collection, and bird watching. With amazing views and fewer crowds, it is a relaxing place at Pawleys Island.
All Saints' Episcopal Church
All Saints' Episcopal Church dates back to the 1700s. The cemetery outside has a lot of historical burials, including the founder George Pawley. It is an interesting place to visit.
Brookgreen Gardens
Brookgreen Gardens is ranked as one of the best gardens in the US. It has a beautiful sculpture garden, a wildlife preserve, a zoo, and trails for hiking.
Pawleys Island Historic District
Pawleys Island Historic District is a glimpse of the past, and it refers to a small portion of the island consisting of multiple historic homes and venues dating as far back as the 1700s.
More information about Pawleys Island South Carolina
What to do in Pawleys Island South Carolina in other months
Weather in Pawleys Island South Carolina for each month