What to do in December in Alanya, Turkey - 2023
Alanya is a seaside town, center of the district of the same name, on the southern coast of Turkey.
The Mediterranean climate, natural attractions and historical heritage make Alanya a popular destination for tourism, and it actually accounts for nine percent of Turkey's tourism industry.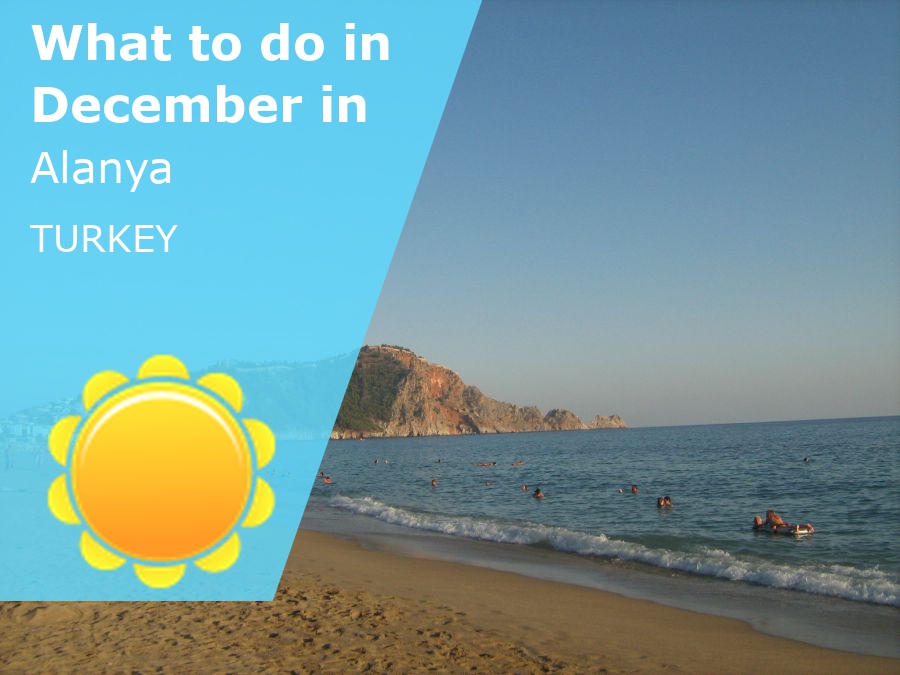 Before we have a look at what you can do in Alanya, let's first look at the weather you can expect in December.


December weather in Alanya Turkey
To get a good overview of the type of weather you can expect in December in Alanya Turkey, we will look at the day and night temperature, minimum and maximum water temperature, and if December is comfortable or humid
Generally, December in Alanya Turkey will be slightly on the colder side. Historical data shows that you can expect an average temperature of around 60°F / 16°C. During this month the air is quite dry. During the night, it will cool down to around 48°F / 9°C.
Alanya Turkey has rainy days in December. You can expect around 9 rainy days, with on average 5 inches / 127 mm of rain during the whole month.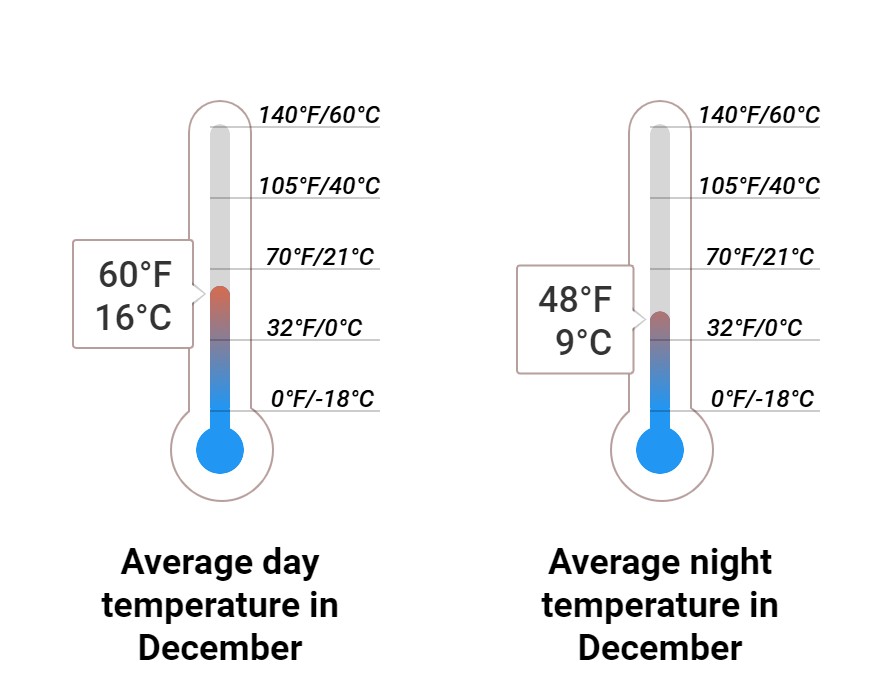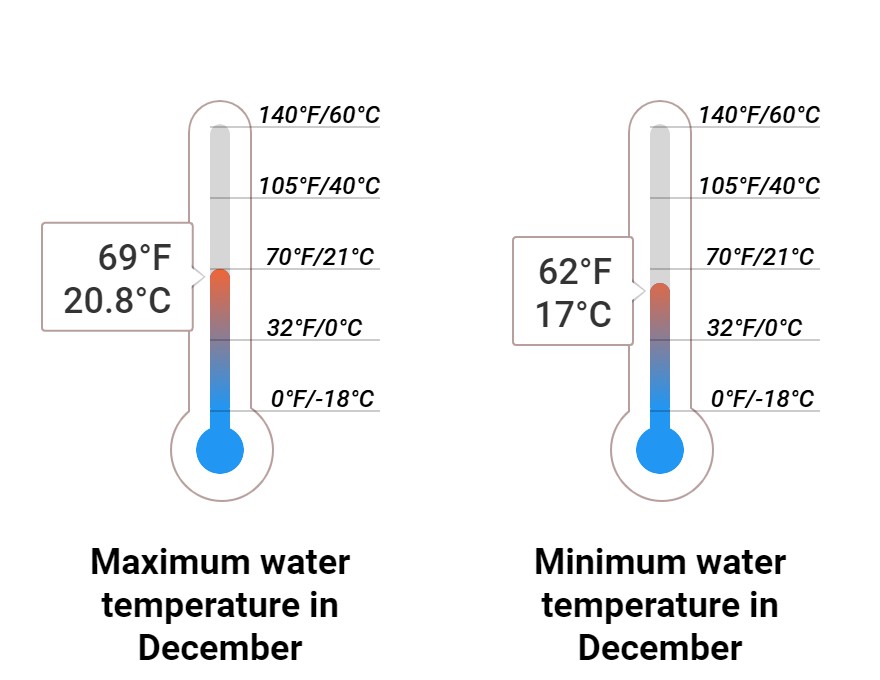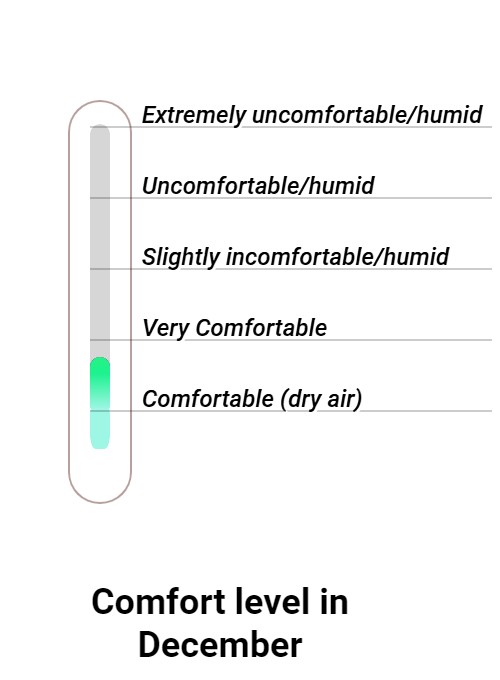 The forecast for December 2023 is based on historical data and are averages. They will give a good indication what you can expect, but the daily temperature and rain will fluctuate during the month.
Things to see and do in Alanya
Alanya has many things to soo. With help from our visitors we have dived a list of things to see in. If you have any sugestions or improvements for this list, please let us know.
Alanya Teleferik
Trip/Tour/Excursion
Throughout the Year
Alanya Teleferik is a cable car that offers some of the best views in the country. For an affordable ticket, you will enjoy a bird's eye view of the coast, cliff, castle, and Cleopatra beach.
Alanya new year market
Alanya's new year market is held about mid-December for a couple of days. You will find everything necessary to make your holidays fun, from edibles to home decor and gifts.
Alanya Harbor
Cultural
Throughout the Year
Alanya Harbor's views, history, and building are worth visiting. The shipyard and tower are part of Alanya Castle, dating back to the 13th century.
Dim Cave
Nature/Wild Life
Throughout the Year
Dim Cave is located in the Taurus Mountains and is the second widest cave in the country. There are beautiful stalagmites and stalactites open to the public.
Alanya Castle
Cultural
Throughout the Year
Alanya Castle has huge walls behind which the old town is worth exploring if you enjoy learning about the local lifestyle and culture.
Christmas Market Two Days
Christmas Market Two Days is held for a weekend in early December. You will enjoy your tour here with lots of shops and cafes.
Cleopatra Beach
Cleopatra Beach is ideal for sunbathing, snorkeling, swimming, diving, boating, and kayaking. The beach is overcrowded in the summer months.
Shopping in Alanya
Bounoa Boutique has some of the most stylish and elegant items you'll find anywhere in Alanya.
The Alanyum Shopping Mall is a great place to find the widest variety of stores in Alanya.
Catering for all the European tourists, almost everyone in Alanya accepts euros and US dollars.
Konakli Time Center in Alanya boasts a fabulous collection from a wide range of brands.
Cuma Pazari is the hottest place in Alanya on Friday mornings for the freshest fruits and vegetables.
Neva Outlet is the place to be for fantastic deals on all the biggest brands.
Activities in Alanya
City Center Markets
Visiting the beautiful markets in the city center is a whole other experience. You can learn so much about the locals and get a chance to interact with them.
Visiting nearby towns
There are many potential sightseeing places near Alanya. Visiting these nearby towns make for a pretty good day trip.
Exploring Caves
Many small caves are surrounding Alanya and several excursions take you to these miraculous caves. They are easily accessible and worth seeing.
Beaches
The city has some of the most spectacular beaches in the area. The most popular one is Kleopatra Beach.
Archeological sites
Most of the archeological sites are open throughout the year in Alanya. Winter season is the perfect time to explore these sites peacefully.
Winter Festivals
The city is quite festive even in winter. You will get a chance to witness many festivals including the winter carnival, live music, traditional Christmas markets, and many more.
Cruises
Multiple boat cruises and tours are organized in Alanya which takes you on a ride to explore the wonders of the Mediterranean Sea.
Turkish Hammam
The traditional Hammam (bath) is a popular cultural attraction that was inherited from the Romans. Don't miss the chance to relax and get that lavish spa treatment.
Restaurants in Alanya
Alanya's cuisine consists mainly of meat and vegetables and fish. If you choose a fish restaurant with alcohol and music, it's going to be a bit more expensive, with a much wider range of 'meze' (appetizers).
More things to see in Alanya
Alanya Castle
This outstanding landmark dates back to the 13th century and has a unique, prodigious structure which looks down upon the city. Today, it is an open museum for visitors who are interested in learning about the historic relevance of the area. It is well-preserved to date.
Kleopatra Beach
This beautiful sandy beach of Alanya is the most popular one among tourists for its cleanliness and accessibility. Even though you can't indulge in water-based activities in winter, the stunning views, multiple amenities, and the refreshing sea breeze make it all worth it at the end of the day.
Red Tower
In the Turkish language, this tower is referred to as the "Kizil Kule". This stunning structure is located on the harbor. From here, you can witness the marvelous views of the castle walls and the Mediterranean Sea. You can either walk up the tower or simply admire the views from below.
Alanya Archeological Museum
The Museum was inaugurated in 1967 and has two different sections highlighting the archeological and ethnographic artifacts. It is well-maintained and encourages visitors to dig deep into the fascinating history of Alanya.
Alanya City Center
The best place to learn about the culture and whereabouts of the people of Alanya. Here you get to interact with the locals and understand their way of life. Get a chance to visit the famous Cuma Bazaar (Farmer's Market) which is held every Friday.
More information about Alanya Turkey
What to do in Alanya Turkey in other months
Weather in Alanya Turkey for each month