What to do in December in St. George, Utah - 2024
St. George in Utah represents an excellent strategic point for all those who from Las Vegas start the tour of the parks between Utah and Arizona, but also for those who have planned a visit to northern Utah: St. George is in fact developed on the I-15, the road that from Las Vegas comes up to Salt Lake City and then continues up the Idaho to Montana, on the border with Canada.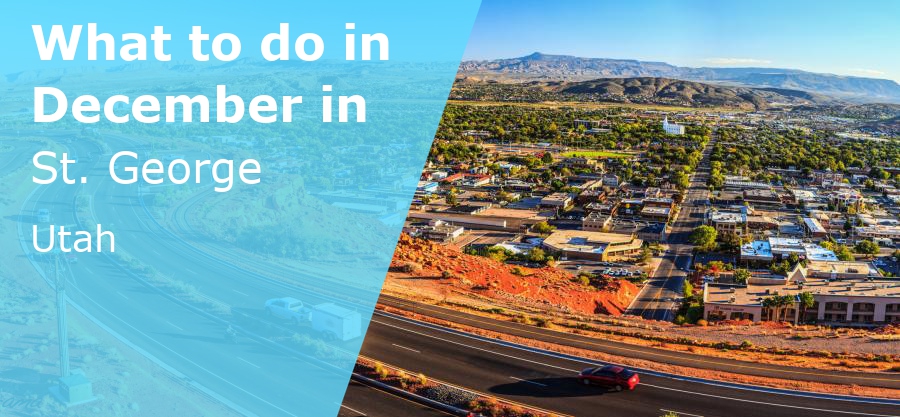 Before we have a look at what you can do in St. George, let's first look at the weather you can expect in December.


December weather in St. George Utah
To get a good overview of the type of weather you can expect in December in St. George Utah, we will look at the day and night temperature, and if December is comfortable or humid
Generally, December in St. George Utah will be slightly on the colder side. Historical data shows that you can expect an average temperature of around 53°F / 12°C. But due to the very dry air, it can feel somewhat uncomfortable for some people. During the night, it will cool down to around 33°F / 1°C.
St. George Utah has some rainy days in December. You can expect around 5 rainy days, with on average 1.1 inches / 28 mm of rain during the whole month.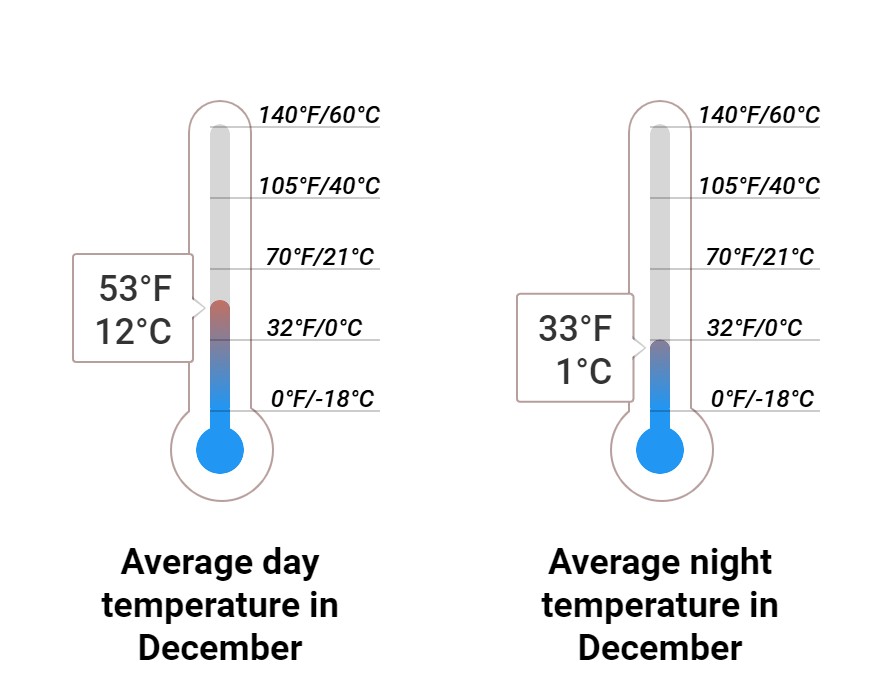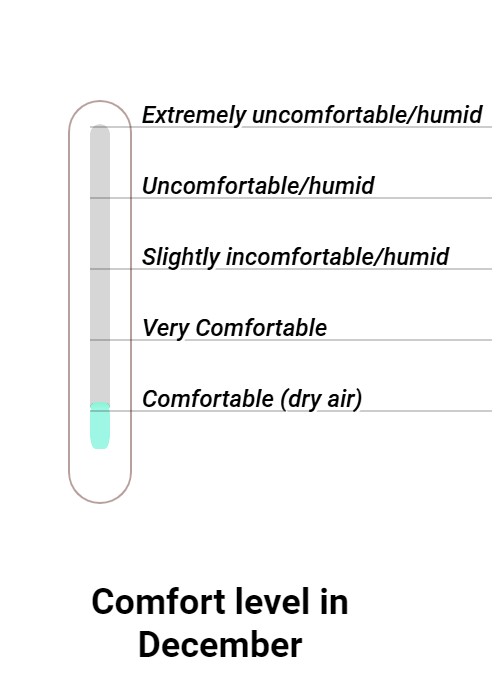 The forecast for December 2024 is based on historical data and are averages. They will give a good indication what you can expect, but the daily temperature and rain will fluctuate during the month.
Things to see and do in St. George
St. George has many things to soo. With help from our visitors we have dived a list of things to see in. If you have any sugestions or improvements for this list, please let us know.
Pioneer Park
Pioneer Park has canyons, a cave, walking trails, and a historical cabin.
Zion National Park
Zion National Park has hundreds of walking trails, canyons, and volcanic landscapes.
Sand Hollow State Park
Sand Hollow State Park has lakes and beaches with numerous biking, hiking, and riding trails and tracks.
Brigham Young Winter House
Museum
Throughout the Year
Brigham Young Winter House was the former resident of a Church president. It is now a museum open to the public.
St. George Children's Museum
Museum
Throughout the Year
St. George Children's Museum has twelve rooms, including a farm room, music room, and office room.
Shopping in St. George
The Outlets at Zion
Red Cliffs Mall
Cottonmill I & II's
Red Rock Commons
Activities in St. George
Walking/Jogging
Pick a nice trail in one of the parks and keep your healthy lifestyle in check by going out for a walk.
Christmas in the Canyon
This is an event held around Christmas time, at the Tuacahn Center for the Arts and is a live recreation of the "Festival of Lights".
Fishing
There are many lakes and reservoirs in St. George where you can go fishing. Sand Hollow Reservoir, Quail Lake, Lake Powell, and Gunlock Reservoir are common places for a great fishing experience.
Golfing
St George has many golf courses in close vicinity with spectacular views. Definitely a treat for the golfers.
Exploring the Parks
St. George has a large variety of beautiful parks and offers many activities for people of all ages. There are numerous tours available to explore the parks as well. Spending a day at the park is worth your time.
Exploring the Museums
St. George has quite a variety of museums that can be explored by visitors.
Hot Air Balloon Excursions
Several companies offer hot air balloon rides to enjoy the beautiful scenery of St. George.
Restaurants in St. George
You can easily find what you're looking for as the place entertains numerous varieties of cuisine like Mexican, Mediterranean, Indian, and Italian, etc.

Royal Thai Cuisine
Texas Roadhouse
Mad Pita Express
Bishop's Grill
More things to see in St. George
Quail Creek State Park
The perfect place to spend your afternoons. The park provides you with many different facilities and you can actively participate in boating, jogging, and fishing.
Snow Canyon State Park
Spending a day at this park is worth every second of your time. Picnicking, strolling, horseback riding, biking, and many other activities can be enjoyed amidst amazing breathtaking views.
St. George Art Museum
The museum offers multicultural and regional artworks from several eras, and hosts programs and events.
Red Hills Desert Garden
The garden is an utter delight for the nature lovers. It has around 5000 plants with bunches of flowers and also a stream laden with native fish species.
Rosenbruch World Wildlife Museum
If you love wildlife, you will cherish the display in this museum where many taxidermic animals from around the world are presented like they are living in their natural habitat.
Pioneer Park
The Park has a red rock landscape and is a great spot for outings. You can spend your afternoons participating in different activities like having a barbeque, a picnic, or simply taking a walk on the trails.
Tuacahn Center for the Arts
This place comprises of a scenic amphitheater, an indoor theater, and a shop. Countless visitors enjoy concerts and musicals at this place.
St George Utah Temple
This 175-feet high historic building should definitely be on the top of your list for St. George sightseeing. The temple's grounds are adorned with beautiful trees and plants, rendering the place much more attractive.
St. George Dinosaur Discovery Site at Johnson
This place contains a large collection of tracks of various creatures from the dinosaur-era. The exhibition center showcases the lifesize representation of dinosaurs responsible for these tracks.
More information about St. George Utah
What to do in St. George Utah in other months
Weather in St. George Utah for each month