What to do in February in Antalya, Turkey - 2024

Antalya being one of Turkey's most popular holiday destinations is hardly a surprise, thanks to its luxurious hotels, stunning beaches and an impressive collection of significant historical attractions to go with it.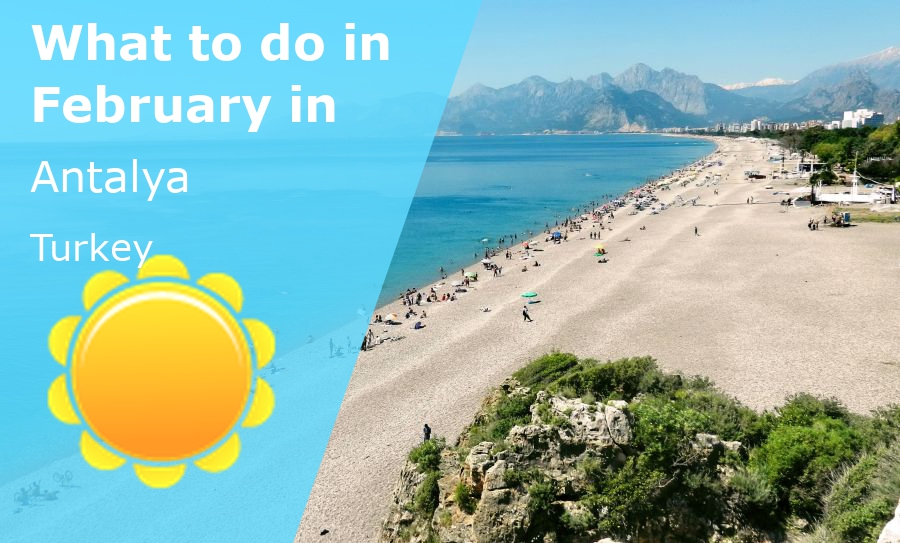 Before we have a look at what you can do in Antalya, let's first look at the weather you can expect in February.


February weather in Antalya Turkey
To get a good overview of the type of weather you can expect in February in Antalya Turkey, we will look at the day and night temperature, minimum and maximum water temperature, and if February is comfortable or humid
Generally, February in Antalya Turkey will be slightly on the colder side. Historical data shows that you can expect an average temperature of around 59°F / 15°C. But due to the very dry air, it can feel somewhat uncomfortable for some people. During the night, it will cool down to around 42°F / 6°C.
Antalya Turkey has its share of rainy days in February. You can expect around 12 rainy days, with on average 3.3 inches / 84 mm of rain during the whole month.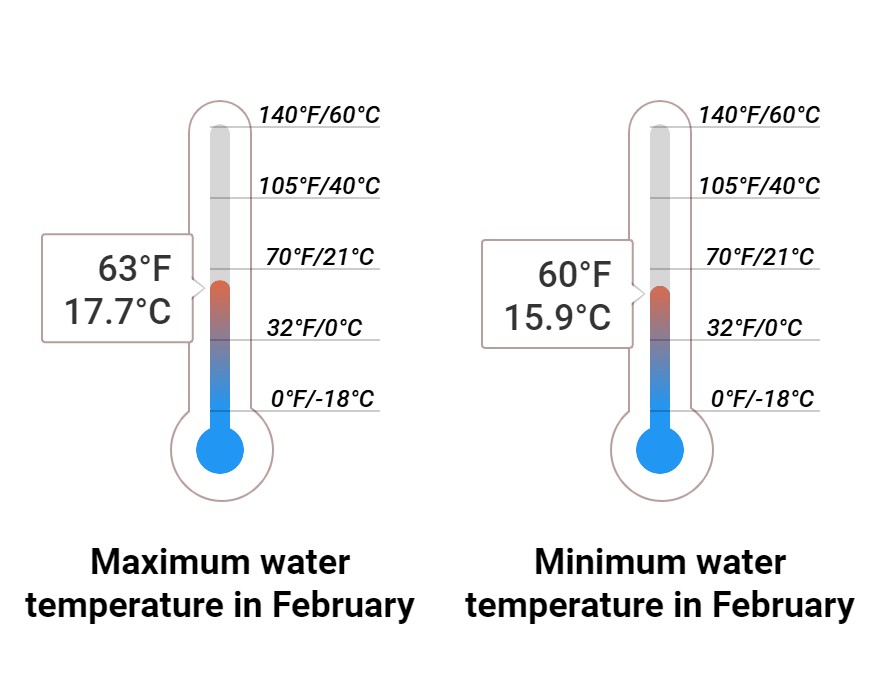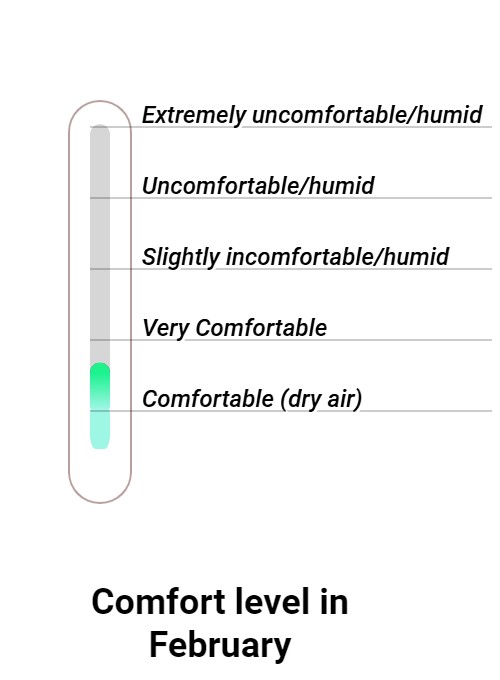 The forecast for February 2024 is based on historical data and are averages. They will give a good indication what you can expect, but the daily temperature and rain will fluctuate during the month.
Things to see and do in Antalya
Antalya has many things to soo. With help from our visitors we have dived a list of things to see in. If you have any sugestions or improvements for this list, please let us know.
Ruins of Termessos
Cultural
Throughout the Year
Ruins of Termessos is located amid the peaks of the Taurus Mountains.
Prophet's Ascension
Prophet's Ascension is held in February or March, but it is subject to change according to the moon's appearance. In Arabic, it is known as Isra'a Wal Miraj. Houses and streets are decorated. People spend much time listening to the Prophet's stories in the mosques. Food is served after prayers.
Hadrian's Gate
Cultural
Throughout the Year
Hadrian's Gate shows the Roman architecture, which is well-preserved even today.
Antalya Museum
Museum
Throughout the Year
Antalya Museum shows a lot about the Roman history of the country.
Antalya's old harbor
Antalya's old harbor is ideal for swimming, boat excursions, or simply sipping some Turkish coffee.
Yivli Minare
Landmark
Throughout the Year
Yivli Minare is located next to the ancient clock tower.
Antalya's Old Town
Cultural
Throughout the Year
Antalya's Old Town has well-restored Ottoman mansions, with a popular mosque, clock tower, and fortress.
Aspendos
Cultural
Throughout the Year
Aspendos is the world's best preserved Roman theatre. Each part of the building is restored and functional even today.
Konyaalti Beach
Konyaalti Beach is perfect for lazy days. Beach furniture rentals are quite affordable here.
Lara Beach
Lara Beach is ideal for paddleboarding, jet skiing, and sunbathing. There are cafes and restaurants in a large number here.
Shopping in Antalya
Several weekly bazaars are held around the center, where you can pick up cheap clothes or delicious walnuts, dried fruits or spices.
In the city you can also find several shopping centers, such as:

Antalya Migros Shopping Center
Tahtakale Spot Şarampol Şubesi
MarkAntalya AVM
TerraCity
Activities in Antalya
Old city
The beautiful old city of Antalya is a perfect place to witness the history of Antalya. You can never stop admiring the exquisite beauty of the old quarter's architecture, closed pathways, and a strong cultural vibe.
Cruises
There are multiple cruises and tours in Antalya which take you on a ride to explore the wonders of the Mediterranean Sea.
Golf
Get a chance to play a round of golf at one of the many golf courses located in and near the city. Antalya Golf Club is a great option if you want to stay in the city.
Shopping
Antalya is home to a large number of shopping malls and market places that feature both local and international brands. You would never want to stop exploring the fascinating Turkish bazaars.
Archeological sites
Get a chance to explore the fascinating history of Antalya by visiting the famous archeological sites in the area.
Antalya Piano Festival
Usually held in the first half of November. Experience the beautiful art of music as the locals celebrate with local artists, classical music, and large feasts.
Nightlife
The city features an incredible nightlife filled with live music, theatre plays, and delicious food.
Beaches
Antalya is home to the Blue Flag beaches which are perfectly suitable for a nice, relaxing beach day.
Restaurants in Antalya
Restaurants are much cheaper than their European and North American counterparts. You can find restaurants with typical dishes but there are also many international restaurants, here are some examples:

BigChefs Antalya Lara
Bi' Büyük Meyhane
Escobar Mexicano Restaurant
Fatty Ravioli
More things to see in Antalya
Konyaalti Beach
The spectacular beach located at the heart of the city is a great place to visit for a relaxing beach day. The site is well-maintained and offers many amenities to its visitors like nearby local shops and picnic spots, to mention a few.
Antalya Museum
The museum features an exceptional collection of artifacts and exhibitions which highlight the important events in Turkey's history. It is often referred to as one of the best museums in all of Turkey.
Karaalioğlu Park
The Park is located near the Mediterranean Sea and has breathtaking views to offer. Perfect place to relax on a nice winter afternoon. You can stroll around the park or casually lounge on a bench to admire the lovely sunset views.
Duden Falls
Located on the southeast of the town, this collection of waterfalls is a magnificent sight for visitors and also home to the local birds and wildlife. You can even book boat tours from Antalya Harbor to watch the falls up-close.
Kaleici Old Town
Better known as the old quarters of Antalya. The area has an interesting collection of historic sites and also features the stunning Hadrian's Gate which dates back to 130 CE. The large collection of local shops and restaurants here makes it an important tourist spot today. You will fall in love with the Old Town's charisma.
More information about Antalya Turkey
What to do in Antalya Turkey in other months
Weather in Antalya Turkey for each month