Spend your fall, winter, or spring in Antalya, Turkey: Is Antalya a good snowbird location?
The city of Antalya is easily the best resort town in Turkey. Resting along the shores of the Mediterranean Sea, Antalya has been a hot spot for tourists for the longest time. The spectacular beaches, rich history, and an attractive lifestyle leave the visitors in a state of awe. The city is full of adventures and regarded as the pearl of the Mediterranean. Antalya is the fourth most visited city in the world and its sheer, mystical beauty is just one of the reasons why it's so dearly loved by the visitors. If you're planning a visit to Antalya, you're definitely in for a treat.
Why should people visit during the winter?
One of the best things about Antalya is its year-round friendly climate which makes it a great spot for snowbirds who are eager to escape the harsh weather back home. The diversity in Antalya's people is the biggest attraction and a major reason why visitors find it easy to adjust to a foreign city. It is quieter in winters with fewer crowds and you can easily find the best rates at bargain prices. This is the perfect opportunity for you to dive into the fascinating culture and history of the city without a worry in the world.
Climate
Antalya is located above sea-level. It experiences hot, humid summers and cool, mild winters. There are almost 300 days of sunshine with an average temperature of 41°F - 94°F (5°C - 34°C) throughout the year with January being the coldest month. It is advised to pack appropriately as winter nights can get a bit chilly.

Things to see in Antalya, Turkey
Antalya is a beautiful city with a perfect blend of old and new. Here is a list of some of the best places you can visit during winter:
Kaleici Old Town: Better known as the old quarters of Antalya. The area has an interesting collection of historic sites and also features the stunning Hadrian's Gate which dates back to 130 CE. The large collection of local shops and restaurants here makes it an important tourist spot today. You will fall in love with the Old Town's charisma.
Karaalioğlu Park: The Park is located near the Mediterranean Sea and has breathtaking views to offer. Perfect place to relax on a nice winter afternoon. You can stroll around the park or casually lounge on a bench to admire the lovely sunset views.
Konyaalti Beach: The spectacular beach located at the heart of the city is a great place to visit for a relaxing beach day. The site is well-maintained and offers many amenities to its visitors like nearby local shops and picnic spots, to mention a few.
Antalya Museum: The museum features an exceptional collection of artifacts and exhibitions which highlight the important events in Turkey's history. It is often referred to as one of the best museums in all of Turkey.
Duden Falls: Located on the southeast of the town, this collection of waterfalls is a magnificent sight for visitors and also home to the local birds and wildlife. You can even book boat tours from Antalya Harbor to watch the falls up-close.
Things to see not far from Antalya, Turkey
There are many places and towns in the surrounding areas that one can visit. Some of these include:
Kurşunlu Falls: is located at a distance of 20.3 km (13 Miles)

from Antalya, just outside the city. The place makes for a perfect little picnic spot where you can enjoy the serene environment and take in the natural beauty of the surroundings.

The Ancient Theatre of Termessos: Located in Güllük Mountain National Park at a distance of 17 km (11 Miles)

from Antalya, ruins of the theatre are still present and haven't been altered to date. The city rests at an altitude of nearly and has a marvelous backdrop of the mountains.

Mount Tahtali Cable Car: Is located at a distance of 61 km (38 Miles)

from Antalya. Enjoy the stunning views of Mount Tahtali from the cable cars and get a chance to witness the incredible views of the Taurus mountain range and the Mediterranean Sea.

Alanya Castle: is located at a distance of 136 km (85 Miles)

from Antalya.This outstanding landmark dates back to the 13th century and is an open museum for visitors who are interested in learning about the historic relevance of the area. It is well-preserved to date.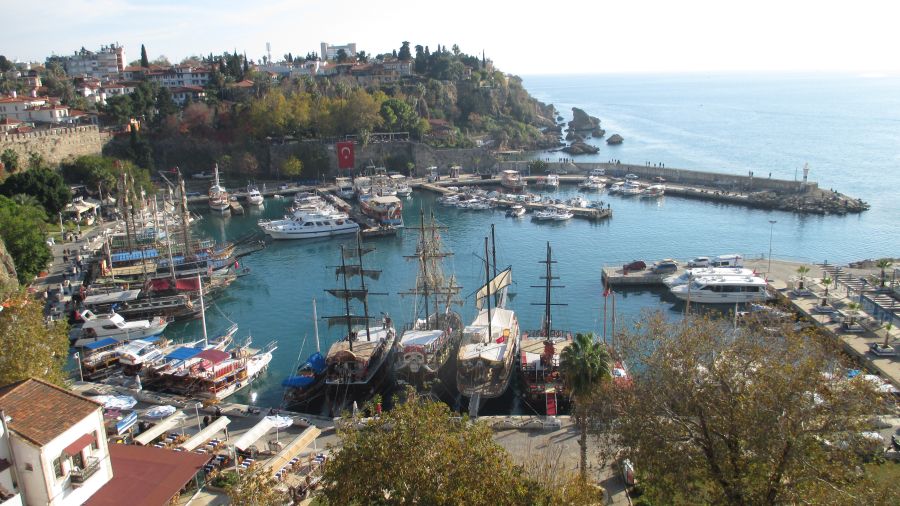 Activities in Antalya, Turkey in the fall, winter, or spring
You can spend a wonderful time at Antalya as the place is a delight for visitors. Here is a list of things you can do when visiting the beautiful city:
Cruises: There are multiple cruises and tours in Antalya which take you on a ride to explore the wonders of the Mediterranean Sea.
Golf: Get a chance to play a round of golf at one of the many golf courses located in and near the city. Antalya Golf Club is a great option if you want to stay in the city.
Old city: The beautiful old city of Antalya is a perfect place to witness the history of Antalya. You can never stop admiring the exquisite beauty of the old quarter's architecture, closed pathways, and a strong cultural vibe.
Beaches: Antalya is home to the Blue Flag beaches which are perfectly suitable for a nice, relaxing beach day.
Antalya Piano Festival: Usually held in the first half of November. Experience the beautiful art of music as the locals celebrate with local artists, classical music, and large feasts.
Archeological sites: Get a chance to explore the fascinating history of Antalya by visiting the famous archeological sites in the area.
Nightlife: The city features an incredible nightlife filled with live music, theatre plays, and delicious food.
Shopping: Antalya is home to a large number of shopping malls and market places that feature both local and international brands. You would never want to stop exploring the fascinating Turkish bazaars.
Shopping + Restaurants. Are they open in the fall, winter, or spring?
Antalya is every shopaholic's dream. Being a popular tourist destination, it comes as no surprise that the city is home to well-known retail stores and offers a large variety of products in the market. There are several shopping malls available in the city featuring both local and international brands. Visit the old district of Kaleici for the best local shopping and to find the perfect souvenir. The experience is therapeutic and one of a kind. You can never run out of things to buy when you're in Antalya. Here's a list of the top shopping districts you need to explore:
Antalya Min Bazaar
Laura Street Market
Terracity Mall
Turban Marina
Turkish cuisine is widely known for having the most unique and delightful flavors. Besides other local specialties like the Turkish Breakfast, Borek, and Turkish delights, you will also get a chance to taste their fresh fish from the sea. Antalya serves you with a variety of mouthwatering treats and you're bound to love the delicious blend of flavors.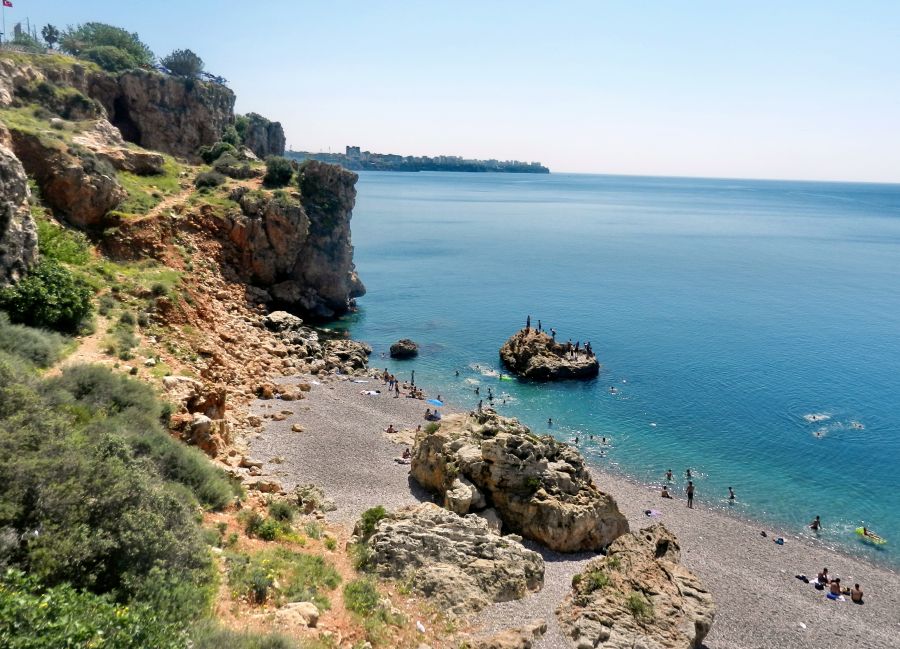 Transport
The nearest airport is the Antalya Airport, located at a distance of 10 km (6 Miles) from the city. You can easily get to the main area through the AntRay Tram which is both convenient and affordable. The tram leaves from Terminals 2 and 3 to the Otogar via the city center and old town.
The city has a well-developed public transport system. Here is a list of options available to choose from:
Antalya buses are extremely convenient and take you wherever you want. Multiple bus services are operating in the region. The bus terminals have their buses which are represented by blue stripes.
Trams are cheap, comfortable, and highly recommended. AntRay is a modern tram service operating in the city and the historic Tramway is also available if you want to travel from western Antalya towards the eastern parts of the city.
The Dolmus is a large cab and operates on a schedule. It will take you to your desired route and is easily accessible on almost every major public transportation station.
Taxi-cabs are readily available but quite expensive. You have to pay for the ride and the gas money as well.
Health
Antalya's medical community is internationally recognized and provides you with all the health services. Private hospitals are considered to be better than other healthcare units. Memorial Antalya Hospital (www.memorial.com.tr/ ) is a great hospital with well-trained medical staff and professional doctors. Emergency care units are also present at all times. You can also visit the Medical Park Hospital (www.medicalpark.com.tr/).
If you need to see a dentist, visit Dental Clinic Antalya (https://www.healthtourismantalya.com/).
Accommodation
If you are a visitor in Antalya, you can easily find a decent place to stay in the town during winters for $ 247.97 (approx. €236, £204, $338 CAD, $389 AUD) /month. The rates are quite cheap during this time of the year as it's offseason. With the right sources and research, you can find yourself the perfect second home for your stay. Some of the most commonly used websites are mentioned below:
Winter Camping
Secret Garden Bungalows: It is located at a distance of 80.5 km (50 Miles) from the city. The camping site is ideal for a nice, relaxing camping trip nearby. There is an English speaking staff present and they are super friendly with visitors. The place is well-maintained but a bit costly. You can look up more details on their website at www.ciralisecretgarden.com/.
Mavi Cennet Camping: It is located at a distance of 93.5 km (58 Miles) from the city. You're in for a wonderful experience at this campsite as there are many amenities available. The site is well maintained and you can easily visit the beach from here. Visit their website for more details. (www.mavicennetcamping.com/tr/)
RV/Campers/Motorhome
If you are traveling with a Motorhome, Lara Caravan Park and Karaalioglu Park (www.antalya.bel.tr/) are best suited for you as these parking grounds have decent locations to offer with a great number of amenities in affordable prices.
Packing List
Weather: The fall, winter, and spring weather in Antalya (Turkey) will normally be warm during the day and can be cold during the night. Of course in the fall and spring it will be warmer than in the winter. You have to pack accordingly.

Warm clothing: Even when you go to a warm location like Antalya (Turkey) you should not forget to take some things with you for your trip back home. When you return you are adapted to the warmer weather and need something to protect you from your hometown temperatures.

Consider the Weather: Always look at the type of weather in Antalya (Turkey). Things like humidity, wind, and rain do not show up in the temperature graph but can have a great impact on your wardrobe. There are several sites with long term forecasts and climate information. Is there often a short afternoon downpour like in the tropics, you maybe need to take a strong umbrella and shoos that can cope with the rain. If there is often a lot of wind you might need a more wind-resistant coat.

Check the local Shopping options: Try to find information about the local shopping options near your location in Antalya (Turkey). Are there stores where you can buy all your daily supplies, or are some things difficult to get? For some more remote locations, the options can be limited. If a certain item is really important for you might need to take it with you.

Look at the Local Culture: The local culture in Antalya (Turkey) can impact your wardrobe. If most activities are in more upscale locations you might take some more appropriate clothes with you. Or travelling if you travel to certain countries women need to cover themselves in certain areas.

Amenities: Know what's Included in your house or apartment. Is there a coffee maker, a toaster, a washer and dryer, an iron, what is in the kitchen, what kind of towels are there? Things that are there means you do not have to take them with you. A furnished apartment or house can mean something from a few pieces of furniture to a well-stocked place with all the things you have at home. But most of the time your rental will not be stocked.

Mix and match: Wear layers so you can use your wardrobe more efficiently. And do not worry about wearing something more often, probably only you will notice this.

Important for you: If there is something that is really important for you that you want to have present in your house or apartment, take it with you. This can be something like a special knife for the kitchen, or a small mirror that you use in the morning. You can also purchase it locally if it is not that expensive.

Pet supplies: If you take your pet with you don't forget to take supplies for a few days with you. And enough medication, vitamins, or other supplies if you can not purchase them in Antalya (Turkey) locally.

Food: Don't take a lot of food with you. Only when there is something you really can not live without you, and it is not too heavy you could consider taking it with you.

Towels: Not all locations include bigger towels for the swimming pool or a visit to the beach. If you have to take them and don't have a lot of room you can buy some big thin towels.

Office supplies: Normally you will not find any office supplies in your house or apartment. If you think you will use them you could pack some supplies like a scissor, notepaper, envelopes, some pens, and more depending on your needs.

Limit yourself: Don't take too many shoes and jackets, you will not need them that often.

Best-fitting: Bring your favorite and best-fitting items that can multi-function

Washer: Do you have a washer and dryer onsite, you don't need to pack a lot of clothes
Clothing
Basics
Casual
Smart
Footwear
Toiletries
Beauty
Hygiene
Clothing
Basics
Casual
Outdoor
Footwear
Accessories
Toiletries
Medicine
Miscellaneous
Other
Toiletries
Beauty
Hygiene
Hair
Other
Medicine
Miscellaneous
Technology
Travel and Free time
Travel
Free time
Important
Documents
Money
Other locations close to this location:
Travelers' Map is loading...
If you see this after your page is loaded completely, leafletJS files are missing.
If you have any additions, or comments on the content on this page, please use our contact form to let us know.
Detailed weather during the year for Antalya Turkey
What to do during the year in Antalya Turkey