What to do in February in Formentera, Spain - 2024
In the winter time it is a quiet place to visit. It makes it a relly good location to stay. There isn't the hustle and bustle of the summer months and most importantly there aren't as many tourists. This makes it an ideal destination for snowbirds.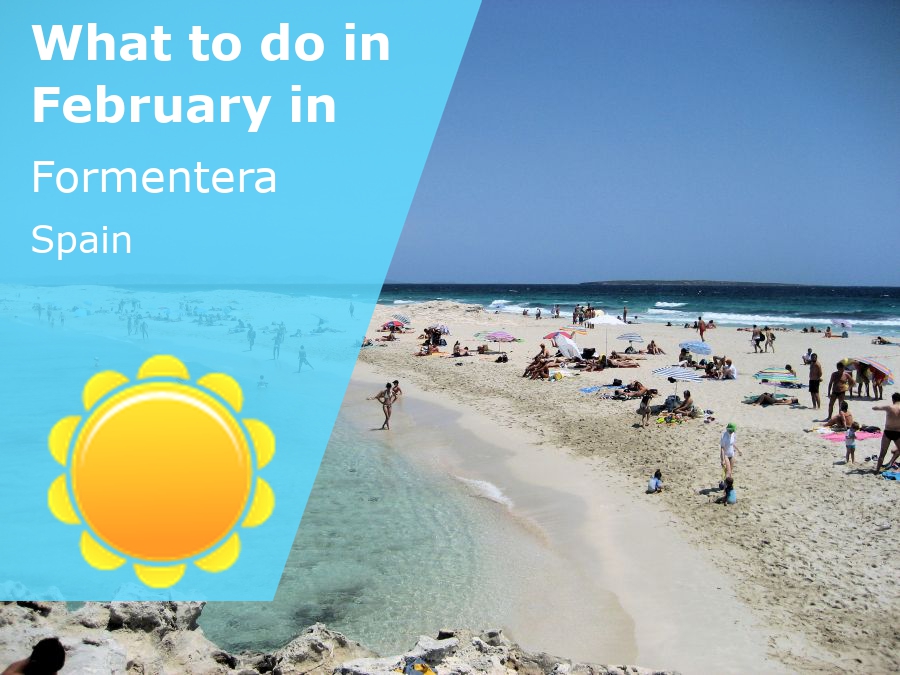 Before we have a look at what you can do in Formentera, let's first look at the weather you can expect in February.


February weather in Formentera Spain
To get a good overview of the type of weather you can expect in February in Formentera Spain, we will look at the day and night temperature, minimum and maximum water temperature, and if February is comfortable or humid
Generally, February in Formentera Spain will be slightly on the colder side. Historical data shows that you can expect an average temperature of around 62°F / 17°C. But due to the very dry air, it can feel somewhat uncomfortable for some people. During the night, it will cool down to around 42°F / 6°C.
Formentera Spain has rainy days in February. You can expect around 7 rainy days, with on average 1.1 inches / 29 mm of rain during the whole month.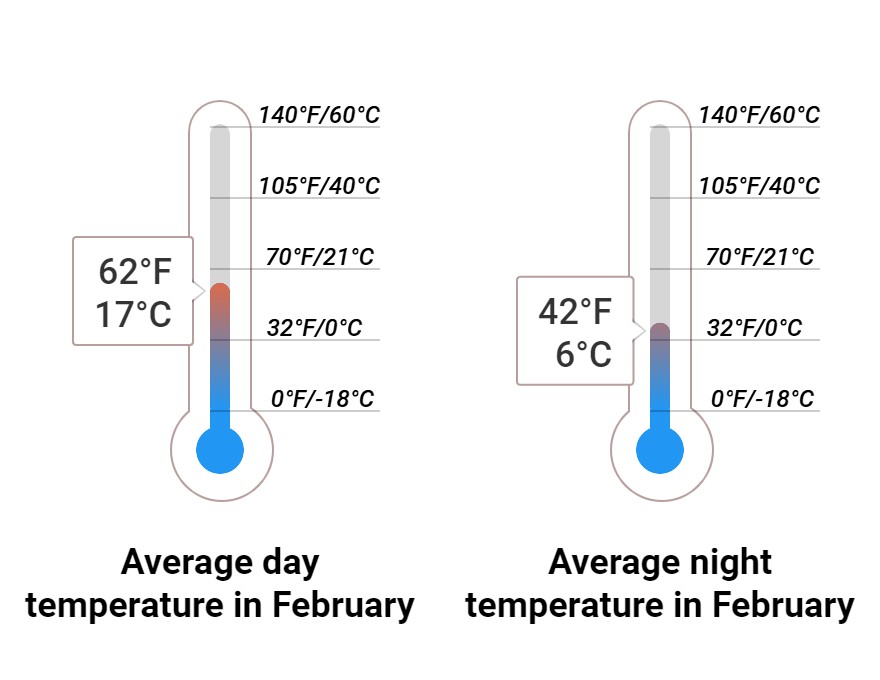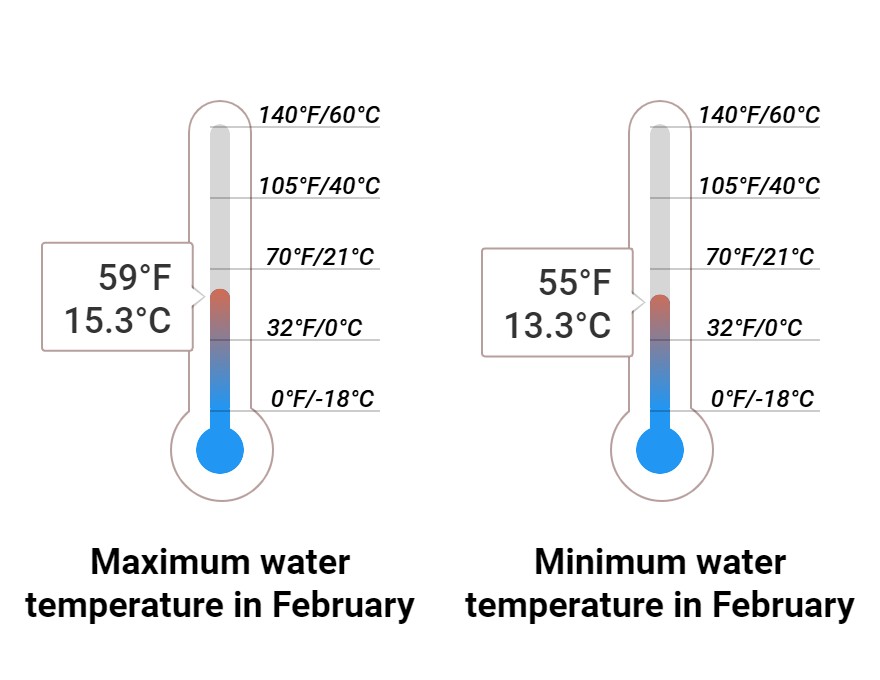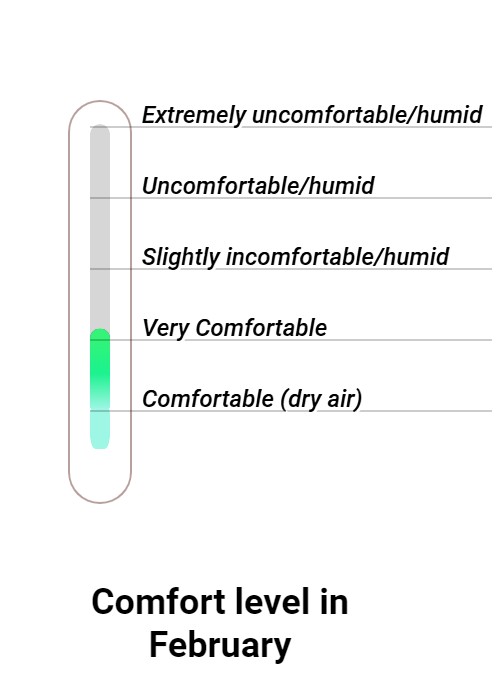 The forecast for February 2024 is based on historical data and are averages. They will give a good indication what you can expect, but the daily temperature and rain will fluctuate during the month.
Things to see and do in Formentera
Formentera has many things to soo. With help from our visitors we have dived a list of things to see in. If you have any sugestions or improvements for this list, please let us know.
Can Marroig
Landmark
Throughout the Year
Can Marroig has three coves that lead to the sea.
Cap de Barbaria
Landmark
Throughout the Year
Cap de Barbaria has 100 meters high lighthouse with views of the islet Es Vedra.
La Cova Foradada
Landmark
Throughout the Year
La Cova Foradada is a narrow cave that leads to a cliff's end allowing some best views of the Mediterranean.
Ses Illetes
Ses Illetes is a beach located inside Ses Salines de Eivissa and Formentera Natural Park. A small rocky path separates the water into two parts making a natural bridge to walk on.
Cala Saona
Landmark
Throughout the Year
Cala Saona is a cove that is easily accessible both by bike and car.
Faro de la Mola lighthouse
Landmark
Throughout the Year
Faro de la Mola lighthouse is the best viewing point as it is 120 meters high. You can see both the Southern and Northern ends of the island as it is also located on the highest point on the island.
Shopping in Formentera
These 5 places are where snowbirds can indulge themselves with style:

Majoral,
Atzavara-World Family,
Balafia,
Mercadillo de Es Mola.
Full Moon,
Activities in Formentera
Bird watching
If you like birds, Formentera is an excellent location for bird watching.
Beach
Relax on one of the many beaches.
Festivity of Sant Jaume
Attend the festivity of Sant Jaume (in Sant Francesc) and the festivity of Carmen, patron saint of the sea, with celebrations in La Savina and Es Pujols.
Island trip
A ferry trip to a nearby island called Espalmador
Walking
Take a walk around one of its small villages or a path near the sea.
Boat excursion
Join a boat excursion like the Aquabus ferry Playa d'en Bossa.
Chiringuito
Have lunch in a beachside chiringuito, a small bar selling drinks, a meal, and often tapas.
Water sports
There are many excelant location for swiming and Snorkeling.
Cycling
If you like cycling, Formentera is a good location. There are more than 30 signposted green routes where you can enjoy the landscape. Due to the cycle routes and lanes, Cycling is very safe.
Horse riding
Formentera has trails through pine and juniper forests with panoramic views of the island. Join a guided tour and discover some beautifull locations and secret roads.
Restaurants in Formentera
Restaurants open in winter time are:

Blue Bar,
Can Dani,
Acapulco,
Pelayo,
Piratabus.
Fonda Pepe,
More things to see in Formentera
The Beaches
the major beaches include Playa Illetes, Playa de Levante, Playa Pujols, Playa Migjorn, Playa es Arenals and Cala Saona.
Sites/ruins
Megalithic sites, a Roman road, some watch-towers (18th century), the 18th century chapel of Sant Francesc Xavier, and a small Ethnological museum.
The villages
snowbirds can visit the villages of San Fernando, Es Caló, and El Pilar de la Mola. All have their own distinct old-world Mediterranean charms and feel almost like they belong to another age.
More information about Formentera Spain
What to do in Formentera Spain in other months
Weather in Formentera Spain for each month