Spend your fall, winter, or spring in Formentera, Spain: is Formentera a good snowbird location?
Formentera belongs to the archipelago of Balearic Islands, composed of the main islands of Mallorca, Menorca, and Ibiza and the smaller ones of Cabrera, Conejera, Dragonera, Es Vedrà, Espalmador, Espardell, and Tagomago. Formentera is 20 km (12 Miles) long and only 2 km (1.2 Miles) wide at its smallest expanse.
Formentera's population centers are villages of varying sizes, unsurprising since there are only 12,000 inhabitants, most of which are based in the island capital, Sant Francesc Xavier. Whilst some of these villages have grown over the years, even the largest places are barely towns. People go to Formentera simply to relax, spend time lazing on one of its strikingly beautiful beaches, and bathing in its sparkling crystalline waters. It's no surprise that Formentera's beaches are regularly voted as Europe's best, also ranking in the top ten worldwide.
The blissful and bohemian island of Formentera can be said to be an unspoiled, peaceful paradise with gorgeous beaches, sparkling waters, and charming villages – it is one of the easiest spots for snowbirds to lose themselves in.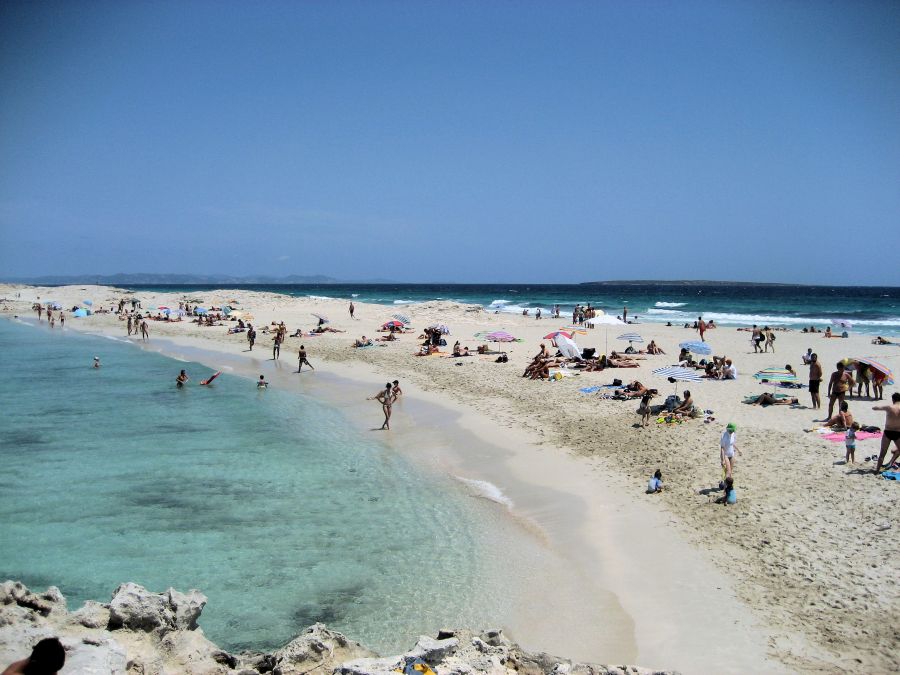 Why should people visit during the fall, winter, or spring?
Formentera is all about its beautiful beaches which consist of white sand and the clearest waters imaginable making it the perfect relaxing beach paradise. Formentera is a mecca for snowbirds as all beaches there have a status of "clothing optional". During the winter months, the climate is quite mild. The sun often shines on the island but alternates with a few days of rain with a consequent drop in temperatures.
Climate
Winter, from December to February, is mild and is characterized by sunny periods alternating with rainy periods. The wind blows frequently. Very cold days are rare, however, in the coldest periods the night-time temperature can sometimes approach freezing 0°F - 32°F (-17.8°C - 0°C).

Safety
There appears to be very little crime in Formentera (especially compared to Ibiza). Snowbirds do not have to worry about leaving their bags on the beach when they take a swim. However, they need to be careful with walking on the (asphalt) road in the dark. The island is notorious for people (often tourists) drinking and driving. In general, the car driving style on the island is not very subtle.
Communication in Formentera, Spain
The local Ibizan variant of the Balearic dialect of the Catalan language is spoken in Formentera. While the official languages are Catalan and Spanish, other major languages like English, Italian, German, French, and Dutch can also be heard extensively in the summer due to mass tourism.
European residents can use their mobile phones without any problems (roam like home). For non-EU residents, it is advised to check the rates, and if needed buy a local sim card.
Snowbird locations in Formentera
Es Pujols: This is the only real resort town on Formentera. Here snowbirds find a great variety of accommodation choices ranging from apartments and budget hotels to higher-end resorts. The town offers a good selection of restaurants, bars, shops, nightlife places, and market stalls to visit alongside its beautiful white sand beach. It is well suited for families.
La Savina: is a terrific base from which to see any other place on the island.
Sant Ferran de Ses Roques (also called San Fernando): This village lies in the island's heart. San Fernando offers peace and oozes charm when one is looking for quiet. It is encircled by farmhouses and vineyards.
Things to see in Formentera, Spain
Formentera has notable places that are worthwhile visiting:
The villages: snowbirds can visit the villages of San Fernando, Es Caló, and El Pilar de la Mola. All have their own distinct old-world Mediterranean charms and feel almost like they belong to another age.
The Beaches: the major beaches include Playa Illetes, Playa de Levante, Playa Pujols, Playa Migjorn, Playa es Arenals and Cala Saona.
Sites/ruins: Megalithic sites, a Roman road, some watch-towers (18th century), the 18th century chapel of Sant Francesc Xavier, and a small Ethnological museum.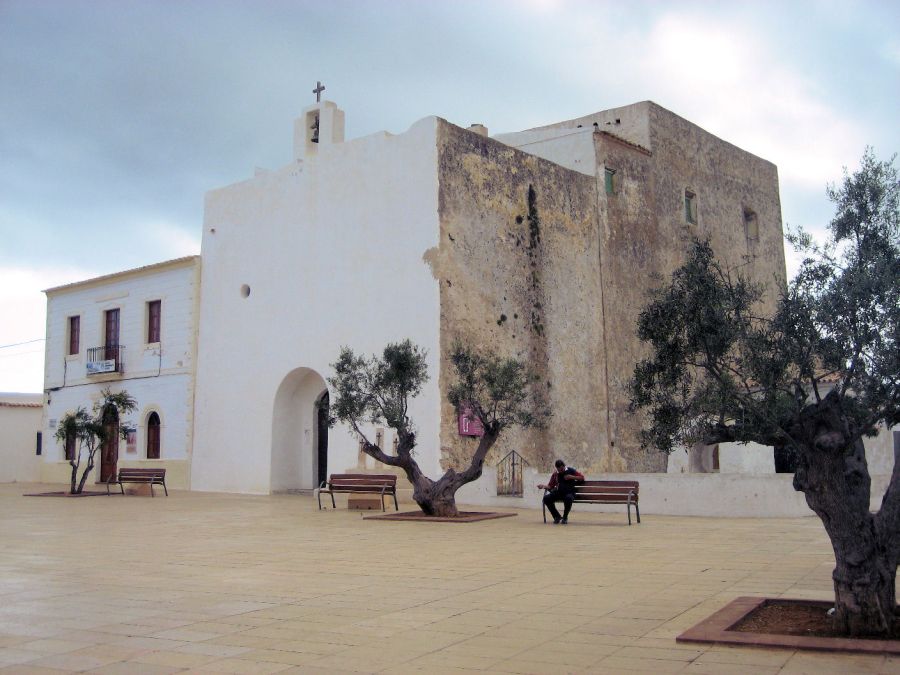 Activities in Formentera, Spain during winter
Relax on a beach
Have lunch in a beachside chiringuito
Take a walk around one of its small villages
Cycling
Snorkeling
Horse riding
Bird watching
A ferry trip to a nearby island called Espalmador
Boat excursions– Aquabus ferry Playa d'en Bossa, Ibiza town. Ticket cost about

€12 (approx. $13, £10, $17 CAD, $19 AUD)

.
Attend the festivity of Sant Jaume (in Sant Francesc) and the festivity of Carmen, patron saint of the sea, with celebrations in La Savina and Es Pujols.
Shopping + Restaurants. Are they open in the fall, winter, or spring?
Many restaurants and bars abound on Formentera, serving fine and fresh Mediterranean food, often with an Italian twist. There is an interesting mix of rustic meets modern understated luxury in many of these establishments, and most have efficient service. It's possible to find many good restaurants across the island with some great gastronomic offerings everywhere and by the beaches of Ses Illetes and Playa Migjorn. Formentera has many, many small restaurants, varying in price and quality. Most are run by hippies and are very cheap with medium quality. They include:
Cafe de Lago in La Savina the best choice in the isla
Sud on the road to Cala Sahona
No Stress, main street Es Pujols.
When snowbirds go shopping all around the island, they will find attractive proposals both in decoration and fashion complements. These 5 places are where snowbirds can indulge themselves with style:
Full Moon- Here snowbirds will find a fine selection of dresses, handbags, kaftans, sandals, bikinis, and other feminine whims.
Balafia- This shop located near to Sant Francesc church sells really nice decoration objects, beach bags, raffia carpets, complements, children's clothing.
Majoral- It is impossible not to fall in love with the original and stylish jewels created by Enric Majoral and his team.
Atzavara-World Family- Beatrice San Francisco, Loa, Ash, and Lola Cruz are some of the fashion labels snowbirds will find in this shop located in Pilar de la Mola.
Mercadillo de Es Mola- Everything which is sold in its market stalls is different, handmade, and, for the most part, inspired by the island. It opens from 4:00 pm to 9:30 pm on Wednesday and Sunday.
Transport
With no airport, access to Formentera is by sea to its only entry and exit point, the port of La Savina. Many snowbirds fly to Ibiza first, use taxis and a bus to go direct to the port of La Savina, then take a ferry across. A fast ferry can get one from Ibiza Town in just 30 minutes. Once snowbirds arrive at Formentera, it is easy to get around via bike, bus, scooter, or car, with electric versions available for most of these options, helping to keep the island pristine.
Bikes- One of the most popular and most sustainable ways of getting around Formentera is by bicycle and both manual and electric bikes are available for hire. Ferry companies like Aquabus allow snowbirds to take over bicycles from Ibiza for free, but it is better to hire one from the bike hire station Moto Rent Pujols which snowbirds will easily find when passing the ferry terminal of the port of La Savina.
Buses- Several regular bus routes take snowbirds from La Savina to the villages and beaches of the island as well as its resort, Es Pujols. There is also a special circuit bus for tourists, the L3, which offers a short circuit that covers La Savina, Ses Illetes beach, and Es Pujols or a long circuit that covers all stops. Services run throughout the year with additional summer services running from the middle of May to the end of October.
Taxis- Snowbirds will find taxi stops in all town centers as well as a radio taxi service. As Formentera is a small island they won't pay much using a taxi, especially when traveling in a group.
Scooter hire- Snowbirds who prefer automated transport, will find Moto Rent Pujols renting scooters in La Savina. When choosing this option, snowbirds might want to rent a scooter to take two people to minimize fuel and vehicle usage. They need to also look out for potholes and ruts on tracks that lead to the beaches, especially if they are new to this mode of transport. Also, snowbirds should note that not wearing a helmet risks an instant fine.
Car hire- There are many car rental companies in La Savina, great for when snowbirds need to transport more than two people. There are just two petrol stations available, one just outside La Savina and one between San Francisco and San Fernando. A car hire company called Pro Auto now also offers electric cars with 12 charging points dotted around the island. The speed limit on Formentera is 70 km/h and speed cameras are often used to catch motorists.
Beach ferries to Ses Illetes and Espalmador- There is a very useful small beach ferry service called La Bahía. Running during the summer, months it will take snowbirds from La Savina to the beach of Ses Illetes and the island just below it, Espalmador. There are normally three journeys in the morning to get there and three in the afternoon to get back, snowbirds can find out the times and prices in the port of La Savina.
Health
The Balearic Islands have a dense network of healthcare facilities, which provide guests with medical and pharmaceutical care during their visits. Both the public and private health care facilities are up to date. Please be sure to have the necessary documents for one of these services before you embark on your journey.
There is one hospital in Formentera called Hospital de Formentera, Can Gavinu (on the road between San Francisco and San Fernando) but the health care center (center de Salut) on the La Savina-Sant Francesc road can also deal with most medical problems. In emergency cases, patients are taken to Can Misses in Ibiza. Snowbirds can find doctors and dentists that speak English as well as other languages.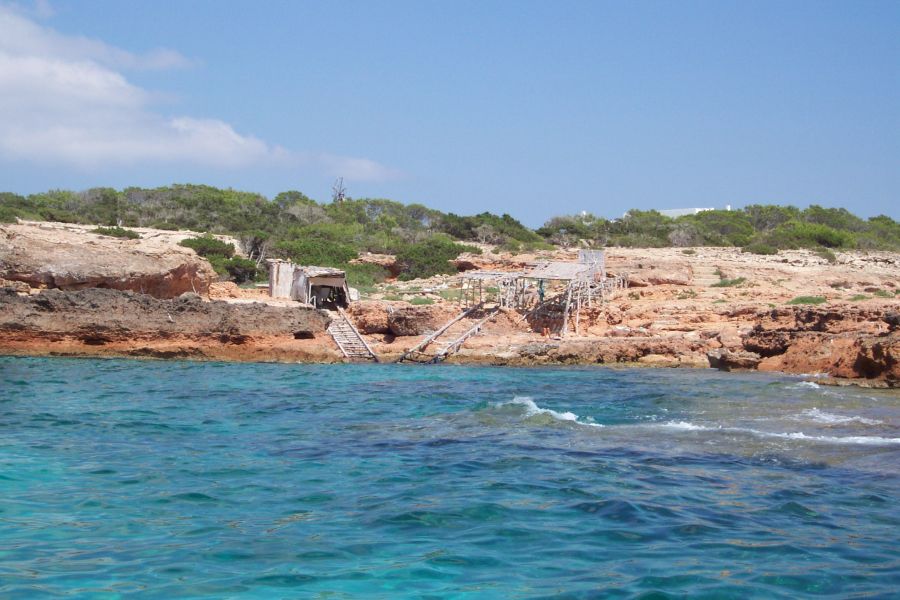 Accommodation
On Formentera, snowbirds will find a wide selection of low-key hotels, apartments, and hostels plus charming places in the middle of nature, where they will find absolute peace and tranquillity.
The only real holiday resort is Es Pujols, a small village with a beautiful beach and a very relaxed atmosphere. Here, there is a good selection of restaurants, bars, shops, and even some good nightlife, where snowbirds can dance the night away in some of the popular music bars. The hotels and apartments here are also of a smaller size – mass tourism has no place on Formentera.
On the south coast along Playa Migjorn, there are some larger hotel complexes that cater to holidaymakers who like a bit more comfort and facilities.
Budget hotels/hostels include:
Maysi Hostel
Rosamar Hotel
Mayans Hotel
Lago Playa Hotel and Bungalows
Sol i Mar Hostel
Roca Bella hotel
while the Luxury hotels include:
Hotel Club Sunway
Punta Prima
Five Flowers Hotel & Spa Formentera,
Gecko Hotel & Beach Club
Blanco Hotel Formentera
Packing List
Weather: The fall, winter, and spring weather in Spain (Formentera) will normally be warm during the day and can be cold during the night. Of course in the fall and spring it will be warmer than in the winter. You have to pack accordingly.

Warm clothing: Even when you go to a warm location like Spain (Formentera) you should not forget to take some things with you for your trip back home. When you return you are adapted to the warmer weather and need something to protect you from your hometown temperatures.

Consider the Weather: Always look at the type of weather in Spain (Formentera). Things like humidity, wind, and rain do not show up in the temperature graph but can have a great impact on your wardrobe. There are several sites with long term forecasts and climate information. Is there often a short afternoon downpour like in the tropics, you maybe need to take a strong umbrella and shoos that can cope with the rain. If there is often a lot of wind you might need a more wind-resistant coat.

Check the local Shopping options: Try to find information about the local shopping options near your location in Spain (Formentera). Are there stores where you can buy all your daily supplies, or are some things difficult to get? For some more remote locations, the options can be limited. If a certain item is really important for you might need to take it with you.

Look at the Local Culture: The local culture in Spain (Formentera) can impact your wardrobe. If most activities are in more upscale locations you might take some more appropriate clothes with you. Or travelling if you travel to certain countries women need to cover themselves in certain areas.

Amenities: Know what's Included in your house or apartment. Is there a coffee maker, a toaster, a washer and dryer, an iron, what is in the kitchen, what kind of towels are there? Things that are there means you do not have to take them with you. A furnished apartment or house can mean something from a few pieces of furniture to a well-stocked place with all the things you have at home. But most of the time your rental will not be stocked.

Mix and match: Wear layers so you can use your wardrobe more efficiently. And do not worry about wearing something more often, probably only you will notice this.

Important for you: If there is something that is really important for you that you want to have present in your house or apartment, take it with you. This can be something like a special knife for the kitchen, or a small mirror that you use in the morning. You can also purchase it locally if it is not that expensive.

Pet supplies: If you take your pet with you don't forget to take supplies for a few days with you. And enough medication, vitamins, or other supplies if you can not purchase them in Spain (Formentera) locally.

Food: Don't take a lot of food with you. Only when there is something you really can not live without you, and it is not too heavy you could consider taking it with you.

Towels: Not all locations include bigger towels for the swimming pool or a visit to the beach. If you have to take them and don't have a lot of room you can buy some big thin towels.

Office supplies: Normally you will not find any office supplies in your house or apartment. If you think you will use them you could pack some supplies like a scissor, notepaper, envelopes, some pens, and more depending on your needs.

Limit yourself: Don't take too many shoes and jackets, you will not need them that often.

Best-fitting: Bring your favorite and best-fitting items that can multi-function

Washer: Do you have a washer and dryer onsite, you don't need to pack a lot of clothes
Clothing
Basics
Casual
Smart
Footwear
Toiletries
Beauty
Hygiene
Clothing
Basics
Casual
Outdoor
Footwear
Accessories
Toiletries
Medicine
Miscellaneous
Other
Toiletries
Beauty
Hygiene
Hair
Other
Medicine
Miscellaneous
Technology
Travel and Free time
Travel
Free time
Important
Documents
Money
Other locations close to this location:
Travelers' Map is loading...
If you see this after your page is loaded completely, leafletJS files are missing.
If you have any additions, or comments on the content on this page, please use our contact form to let us know.
Detailed weather during the year for Formentera Spain
What to do during the year in Formentera Spain