What to do in January in Mazatlan, Mexico - 2024
Mazatlán is a city in western Mexico. The municipality of Mazatlán is bordered to the north by the municipality of San Ignacio, to the east by the state of Durango, to the south by the municipality of Rosario, and to the west by the Gulf of California.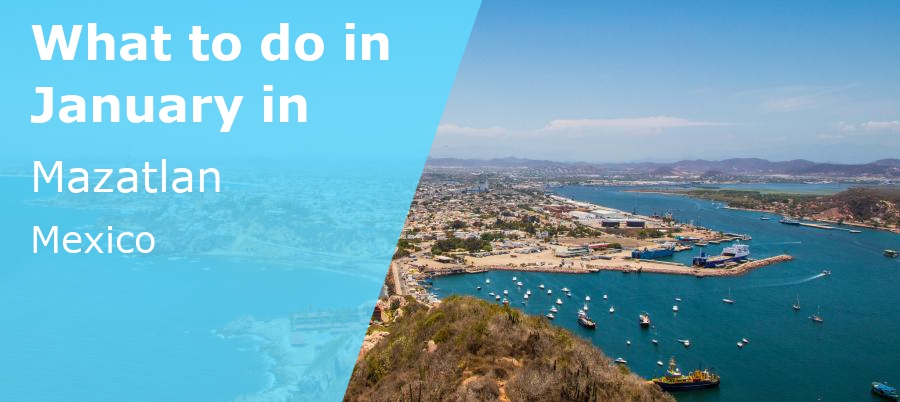 Before we have a look at what you can do in Mazatlan, let's first look at the weather you can expect in January.


January weather in Mazatlan Mexico
To get a good overview of the type of weather you can expect in January in Mazatlan Mexico, we will look at the day and night temperature, minimum and maximum water temperature, and if January is comfortable or humid
Generally, January in Mazatlan Mexico will be really nice. Historical data shows that you can expect an average temperature of around 82°F / 28°C. But due to the very dry air, it can feel somewhat uncomfortable for some people. During the night, it will cool down to around 59°F / 15°C.
Mazatlan Mexico does not have a lot of rainy days in January. You can expect around 1 rainy days, with on average 0.4 inches / 10 mm of rain during the whole month.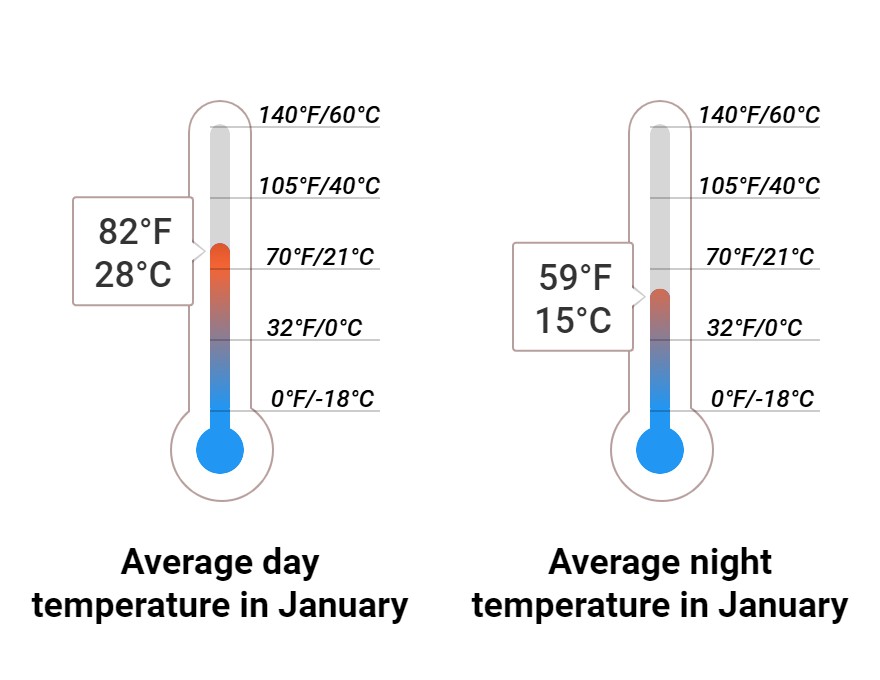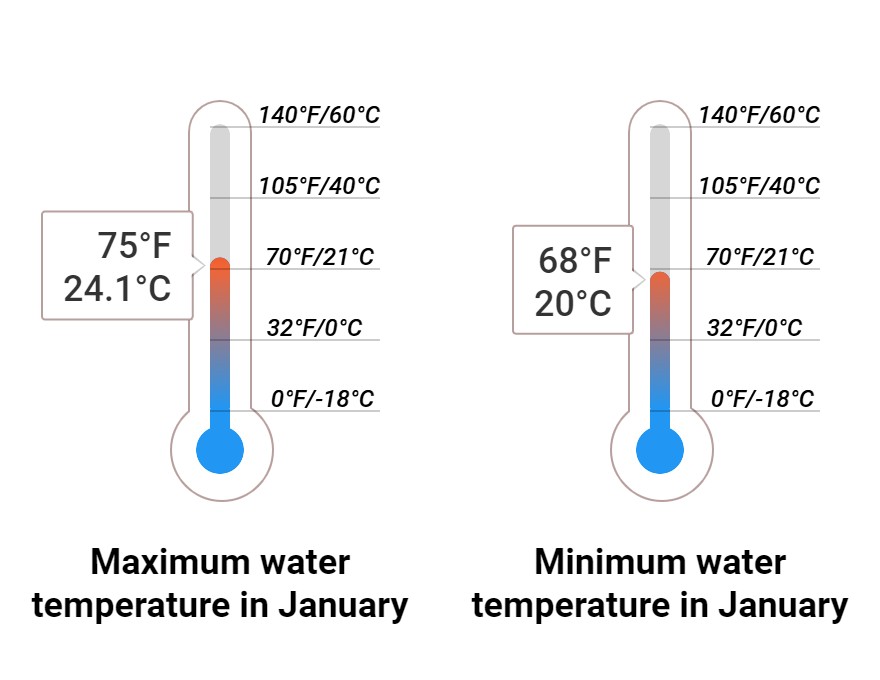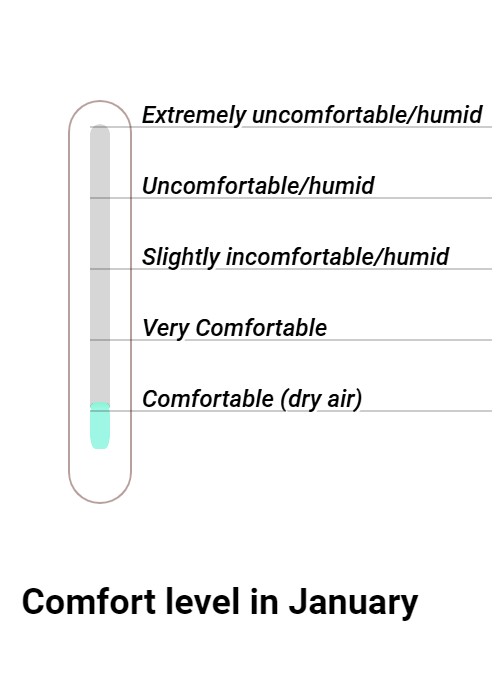 The forecast for January 2024 is based on historical data and are averages. They will give a good indication what you can expect, but the daily temperature and rain will fluctuate during the month.
Things to see and do in Mazatlan
Mazatlan has many things to soo. With help from our visitors we have dived a list of things to see in. If you have any sugestions or improvements for this list, please let us know.
El Faro
Landmark
Throughout the Year
El Faro is an iconic lighthouse dating back to the 19th century and guiding several sailors through its silent service.
New Year's Day (Año Nuevo)
On New Year's Day (Año Nuevo), food items including bacalao (salted dry codfish), buñuelos (dough ball fry dessert), and ponche (fruit punch) are cooked, shared, and eaten with family and friends. It is common for family and friends to get together later during the day to eat the leftovers.
Plaza Machado
Plaza Machado is surrounded on all sides by palm trees and people shopping and relaxing.
Stone Island
Nature/Wild Life
Throughout the Year
Stone Island is a peninsula at a very small distance from the city but with an entirely different and more peaceful atmosphere.
Three Kings Day (Día de Los Reyes)
Three Kings Day (Día de Los Reyes) brings children's gifts from the Kings.
Centro Historico
Cultural
Throughout the Year
Centro Historico is a brilliantly colorful neighborhood that looks glorious at sunrise and sunset when the colonial buildings start glowing.
Basilica Cathedral of Mazatlán
Cultural
Throughout the Year
Basilica Cathedral of Mazatlán is an ancient building with beautiful architecture. The interiors and the garden are very beautiful.
Malecon
Cultural
Throughout the Year
Malecon is the coastline ideal for cycling and running along restaurants and historical centers with live performances and shows.
Shopping in Mazatlan
There are lots of shopping plazas and boutiques in Mazatlan where you can satisfy your need for retail therapy as well as purchasing souvenirs you can take back home with you.

Galerías Mazatlán - Av. de la Marina 6204, Marina, 82103 Mazatlán
Gran Plaza Mazatlan - Av. Reforma s/n, Alameda, 82123 Mazatlán
Activities in Mazatlan
Explore the art scene
A visit to Mazatlan would not be complete without observing its local art scene. The Angela Peralta theatre, where many shows are staged, and the local art galleries where stunning pieces can be observed can be visited anytime during opening hours.
Carnival
The winter period sees lots of carnivals in Mazatlan. Don your brightly colored outfits and head over to the Malecon for some dancing, music, and delicious food as you celebrate some of the oldest carnivals in Mexico.
Whale watching
Humpback whales are known to frequent the waters around Mazatlan from December to March as they migrate for their calving season.
Observe local gastronomy
Mazatlan is famous for its culinary creations, including a local beer that is served everywhere you go.
Restaurants in Mazatlan
Restaurants are open all year round and seafood plays a major role in Mazatlán cuisine.
Just like the restaurants, there are plenty of bars to choose from, depending upon taste, budget and comfort.

Mariscos El Memín - Av. Rafael Buelna 103, Lomas de Mazatlán, 82110 Mazatlán
Hector's Bistro - Mariano Escobedo 409, Centro, 82000 Mazatlán
El Sinaloense - Av. Reforma 2009, Flamingos, 82149 Mazatlán
More things to see in Mazatlan
Cerro creston
Cerro creston is an impressive rock home to the Mazatlan Faro (lighthouse) and has been a navigation point since the 18th century. The views from the top of the rock are amazing, and you can see basically all of Mazatlan from that point.
Mazatlan Aquarium
With over 250 species of marine life in its over 50 tanks, the Mazatlan aquarium is one of the most impressive standalone aquariums. There is also a botanical garden and aviary in its surrounding environment, so nature lovers will have a full day exploring the varying ecosystems.
Malecon
The Malecon in Mazatlan is among the longest waterfront promenades in the world. It features street food vendors, street art, restaurants, and beaches, which are free to explore. During the winter, many of the carnivals are hosted on the Malecon.
Mazatlan historical center
The Mazatlan historical center is a historic landmark that was developed between 1820-1830 and restored in the early 2000s. The brightly colored colonial buildings feature art galleries, food stalls, and souvenir shopping while enjoying the historic neoclassical style of the building.
Cathedral of the immaculate conception
The cathedral of the immaculate conception is an amazing church that took over 45 years to build. It has neoclassical, neo-gothic, and baroque style architecture all rolled into one. There are sculptures of several saints and glittering stones arranged in an eye-catching manner adorning the outside of the building.
More information about Mazatlan Mexico
What to do in Mazatlan Mexico in other months
Weather in Mazatlan Mexico for each month