What to do in July in Cancun, Mexico - 2024
Cancún is a Mexican city on the Yucatán Peninsula, bordering the Caribbean Sea. It is famous for its beaches, many resorts and the vibrant nightlife.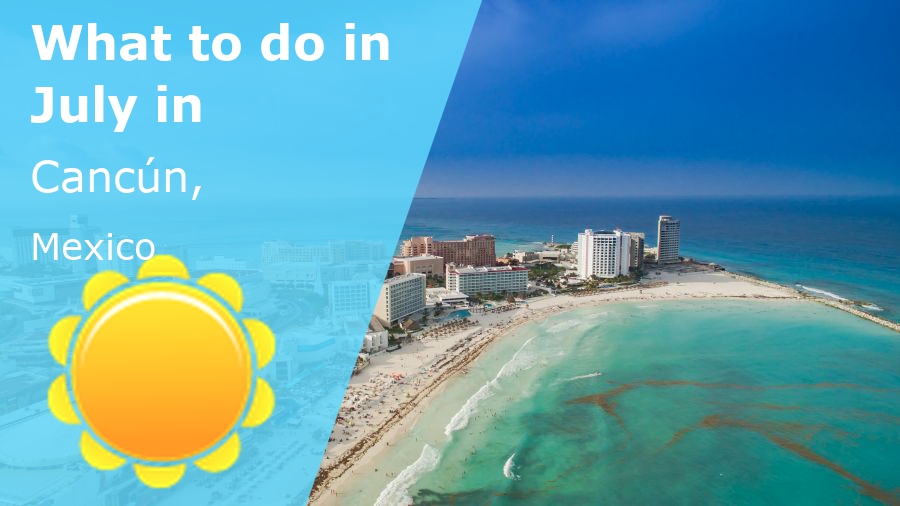 Before we have a look at what you can do in Cancun, let's first look at the weather you can expect in July.


July weather in Cancun Mexico
To get a good overview of the type of weather you can expect in July in Cancun Mexico, we will look at the day and night temperature, minimum and maximum water temperature, and if July is comfortable or humid
Generally, July in Cancun Mexico will be quite hot. Historical data shows that you can expect an average temperature of around 87°F / 31°C. But due to the extreme humidity it can feel extremely uncomfortable. During the night, it will cool down to around 77°F / 25°C. Many will prefer a location with air conditioning due to the night temperature, and the high humidity level.
Cancun Mexico has its share of rainy days in July. You can expect around 17 rainy days, with on average 1.7 inches / 44 mm of rain during the whole month.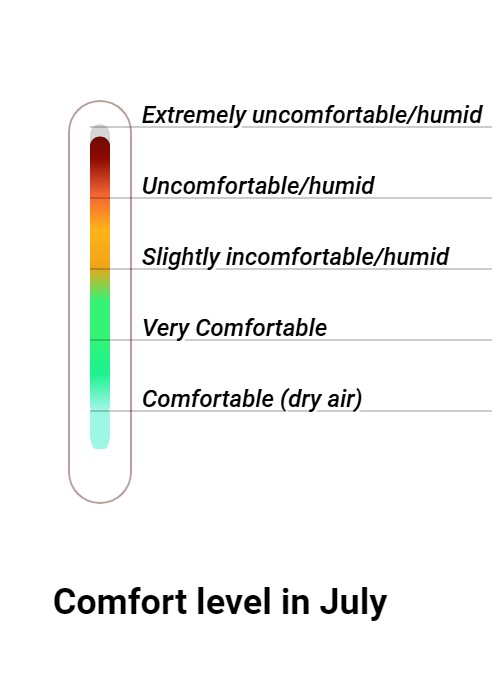 The forecast for July 2024 is based on historical data and are averages. They will give a good indication what you can expect, but the daily temperature and rain will fluctuate during the month.
Things to see and do in Cancun
Cancun has many things to soo. With help from our visitors we have dived a list of things to see in. If you have any sugestions or improvements for this list, please let us know.
Mayan Ruins of Chichén Itzá
Cultural
Throughout the Year
Mayan Ruins of Chichén Itzá have famous Chac-Mool statues. The day trips include a buffet lunch, a swim-in cenote, and pick/drop service.
De las Perlas
De las Perlas is one of the most popular beaches with crystal clear water.
El Rey Maya Ruins
Cultural
Throughout the Year
El Rey Maya Ruins are the remains of 47 rooms that date back to several centuries. The trips are affordable and enjoyable.
Maya Museum (Museo Maya de Cancún)
Museum
Throughout the Year
Maya Museum (Museo Maya de Cancún) has a huge collection of artifacts displayed in three big halls.
Scenic Tower and Xcaret
Scenic Tower is called Torre Escenica. You must climb it to get a bird's eye view of the area. The tower is located inside the Xcaret theme park.
Urbano Kabah Park
Urbano Kabah Park is an oasis with a zoo and a playground.
El Meco Archaeological Site
Cultural
Throughout the Year
El Meco Archaeological Site has pyramids and the remains of a temple. After climbing the steps of the temple, you will get a view of the nearby beach and island, Isla Mujeres.
Cancún's Interactive Aquarium
Nature/Wild Life
Throughout the Year
Cancún's Interactive Aquarium provides the opportunity to swim with stingrays and dolphins.
Cancun Underwater Museum
Museum
Throughout the Year
Cancun Underwater Museum was built after the destruction of Cancún National Marine Park. The place is ideal for both divers and snorkelers. If you can't dive or swim, then glass-bottomed boats provide a great view of art galleries on the seabed.
Shopping in Cancun
You can enjoy shopping at one of the many malls in the city, such as:.

Cancun Kabah multiplaza
Cancun Mall
Centro Comercial "Outlet"
Activities in Cancun
Cancun Banamex Triathlon Festival
Held in October, this triathlon draws athletes from around the globe. All three sports; swimming, cycling and running, can be watched by snowbirds.
Cancun International Film Festival
The Cancun International Film Festival takes place every year in November. CIFF attracts a huge number of film lovers from around the world.
Festival Internacional del Caribe Mexicano
Held in November, this is Cancun's annual food festival that is spread over one month. In addition to sampling delights created by Mexico's top chefs, there are competitions for the prestigious title of 'best chef' and 'best bartender'.
Xochimilco
is a popular attraction, where snowbirds enjoy the best of Mexican cuisine, music, and culture
Animal adventures
A good place to get a close-up view of the area's rich marine life is at Cancún's Interactive Aquarium, swimming with dolphins" experience, Similar programs are also offered at other nearby venues including Dolphin Discovery and Dolphinaris Cancún.
Day of the Dead (Dia de los Muertos)
Held in October/November, this is one of Mexico's most fascinating festivals. This intriguing festival is to celebrate the time-honored tradition. As a spectator, snowbirds get to see vibrant cultural plays and dances. It normally takes place at Xcaret Park.
Fishing Competitions
The City used to be a fishing village and still manages to keep that part of the culture intact through fishing competitions that are arranged quite often.
A trip up the Scenic Tower (Torre Escenica).
Mexican Revolution Day (Dia de la Revolucion Mexicana)
): This day commemorates the Mexican Revolution of 1910 with parades and celebrations.
Carnaval
Celebrated sometime in the month of February, this extravaganza is like a giant party. There are floats and festoons and delicious drinks. People dress up in costumes and join parades. The Carnaval is a major Cancun festival.
Water activities
like snorkeling, dancing on a catamaran, boat rides, or even paddleboard lessons.
A trip to the lovely Isla Mujeres (the Island of Women). Located about
13 km (8 Miles) from the mainland and just a short ride from the pier at the convention center (Cancún Center).

Restaurants in Cancun
There are plenty of restaurants you can try. You can find delicious local dishes but also international proposals.

Careyes
The White Box
Saint-Tropez
Chic Cabaret & Restaurant Costa Mujeres, Cancún
Restaurant Pipos (bufette)
More things to see in Cancun
Golf
Golf lovers will be pleased to know that there is an 18-hole public golf course known as Pok-ta-Pok.
Clubs
on their vacation to Cancun, snowbirds are encouraged to definitely include at least one night of partying, and there are many club options to choose from. Among the most popular nightclubs are Mandala, Coco Bongo, Congo Bar, Palazzo, La Vaquita, and the City.
The Beaches
snowbirds can enjoy the dazzling turquoise blue sea and white sand at the town's lovely beaches. E.g de las Perlas, Juventud, Linda, Langosta, Tortugas, Caracol, and Chac-mool.
Nature & Parks
in the heart of Cancún is Urbano Kabah Park (Parque Kabah), also known as the Kabah Ecological Park. This natural oasis is a popular spot for a stroll, a jog, or a picnic, Snowbirds can also see the coral reefs of Garrafon Natural Reef Park.
Art/Archeological sites/ museum
snowbirds can learn about the history of the town in some of these places El Rey (Las Ruinas del Rey), El Meco, Chichen Itza, the Maya Museum of Cancun and The Cancun Underwater Museum.
More information about Cancun Mexico
What to do in Cancun Mexico in other months
Weather in Cancun Mexico for each month