Spend your fall, winter, or spring in Cancún, Mexico: is Cancún a good snowbird location?
Cancún, a Mexican city on the Yucatán Peninsula bordering the Caribbean Sea, is known for its beaches, numerous resorts, and nightlife. It is composed of 2 distinct areas: the more traditional downtown area, El Centro, and Zona Hotelera, a long, beachfront strip of high-rise hotels, nightclubs, shops, and restaurants.
The city began as a tourism project in 1974 as an Integrally Planned Center, a pioneer of the National Fund for Tourism Development). Since then, it has undergone a comprehensive transformation from being a fisherman's island surrounded by virgin forest and undiscovered shores to being one of the two most well-known Mexican resorts.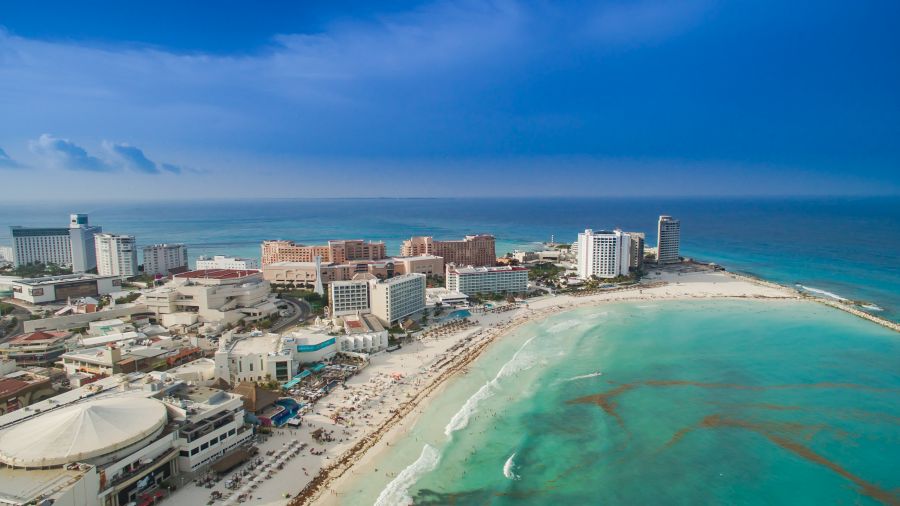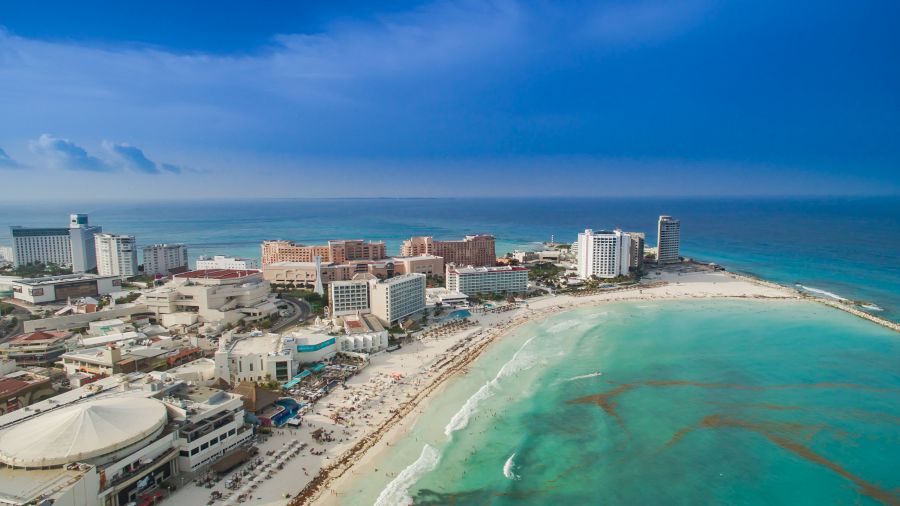 Why should people visit during the winter?
From the moment snowbirds wake up until the moment they go to bed, Cancun is the perfect place to experience nature, explore the city, or enjoy the nightlife. One of the main reasons this destination is so popular is because of its dazzling turquoise blue sea and white sand, which has led Cancun to be the most recognized Mexican tourist destination in the world. This destination also boasts plenty of culture and history. Snowbirds are encouraged to remember to bring their camera, as there are a lot of sights to capture.
Climate
In Cancun, the climate is generally tropical, with a muggy, rainy season from May to October and a cooler, relatively dry season from November to April. However, also in the latter season, rainfall may occur, in addition to wind and cloudiness, especially in December and January. The average temperature ranges from 23°C - 28°C (73°F - 82°F).

Safety
To a very large extent, Cancún is a safe place for snowbirds to visit. However, while there is a crime in Cancun, the place still has less crime than some of America's most famous cities and the crime is very localized to specific parts of the city. Some simple tips for snowbirds to ensure a safe visit to Cancun:
Avoid hailing cabs on the street. Instead, ask your hotel to arrange a taxi
Try to remain within the popular tourist zones, which includes the Hotel Zone
Stay up to date with the latest travel warnings by visiting the US State Department website: https://travel.state.gov/content/travel/en/international-travel/International-Travel-Country-Information-Pages/Mexico.html
In general, snowbirds should be alert, crime does still exist here, as it does nearly everywhere. Personal possessions should not be left unattended.
Communication, internet, and cellphone in Cancún, Mexico
The official language spoken in Cancun is Spanish. Most of the Mexicans working in the tourism industry speak English. Many of the local indigenous people still speak Mayan as their first language and Spanish as their second, you will often hear them speaking Mayan amongst themselves. However, most people still speak English.
There is Internet access in Cancun. There are kiosks in some of the malls. Most hotels offer it in the lobby area, and snowbirds can get Internet access in their room at most of the higher-end hotels. There is also a host of internet cafes and other assorted venues offering Internet access, the hotels being amongst the most expensive. Downtown, like most things in Cancun, offers the
cheapest access more often than not and has a good number of the cafes.
In order to use your cellular phone in Cancún, you must first contact your cell phone company and tell them you are going to Mexico and that you will require International Calling. Depending on your service you will be charged a set-up fee. The per-minute cost generally runs $1 (approx. €0.93, £0.81, $1.34 CAD, $1.51 AUD). Snowbirds can definitely find SIM cards in stores all over Cancun, most convenient stores. The best Telcel location would be at the Centro Maya Mall. They can also pre-purchase the SIM cards online from Telcel and have them ready before their flight.
Things to see in Cancún, Mexico
Cancún has notable places that are worthwhile visiting:
Art/Archeological sites/ museum: snowbirds can learn about the history of the town in some of these places El Rey (Las Ruinas del Rey), El Meco, Chichen Itza, the Maya Museum of Cancun and The Cancun Underwater Museum.
The Beaches: snowbirds can enjoy the dazzling turquoise blue sea and white sand at the town's lovely beaches. E.g de las Perlas, Juventud, Linda, Langosta, Tortugas, Caracol, and Chac-mool.
Nature & Parks: in the heart of Cancún is Urbano Kabah Park (Parque Kabah), also known as the Kabah Ecological Park. This natural oasis is a popular spot for a stroll, a jog, or a picnic, Snowbirds can also see the coral reefs of Garrafon Natural Reef Park.
Golf: Golf lovers will be pleased to know that there is an 18-hole public golf course known as Pok-ta-Pok.
Clubs: on their vacation to Cancun, snowbirds are encouraged to definitely include at least one night of partying, and there are many club options to choose from. Among the most popular nightclubs are Mandala, Coco Bongo, Congo Bar, Palazzo, La Vaquita, and the City.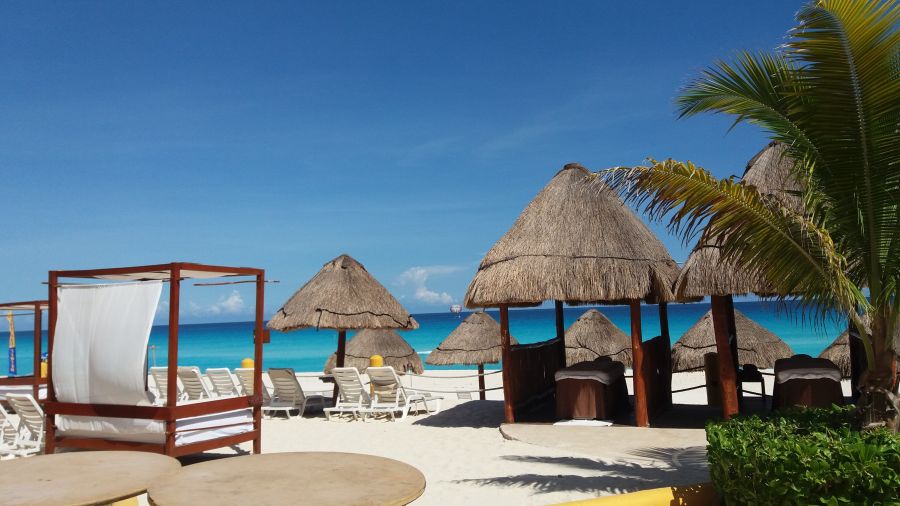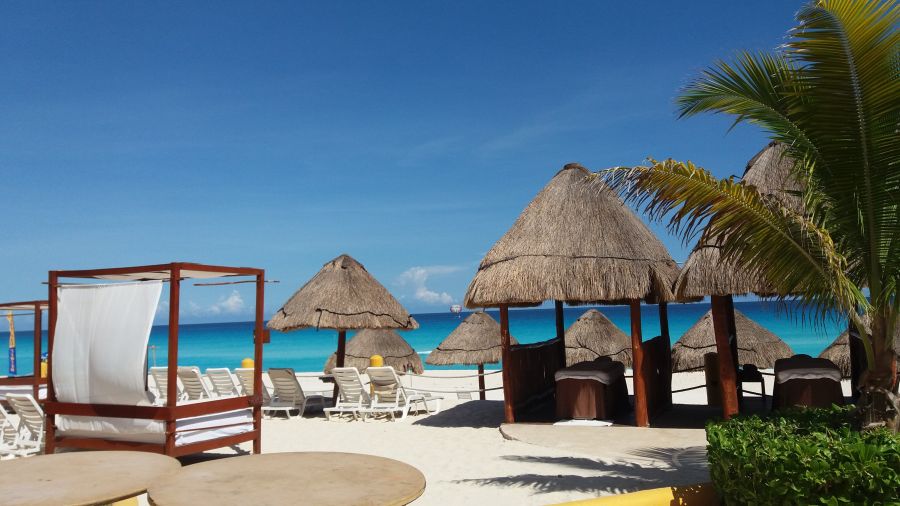 Activities in Cancún, Mexico in the fall, winter, or spring
A trip up the Scenic Tower (Torre Escenica).
A trip to the lovely Isla Mujeres (the Island of Women). Located about 13 km (8 Miles)

from the mainland and just a short ride from the pier at the convention center (Cancún Center).

Water activities: like snorkeling, dancing on a catamaran, boat rides, or even paddleboard lessons.
Animal adventures: A good place to get a close-up view of the area's rich marine life is at Cancún's Interactive Aquarium, swimming with dolphins" experience, Similar programs are also offered at other nearby venues including Dolphin Discovery and Dolphinaris Cancún.
Xochimilco: is a popular attraction, where snowbirds enjoy the best of Mexican cuisine, music, and culture
Carnaval: Celebrated sometime in the month of February, this extravaganza is like a giant party. There are floats and festoons and delicious drinks. People dress up in costumes and join parades. The Carnaval is a major Cancun festival.
Fishing Competitions: The City used to be a fishing village and still manages to keep that part of the culture intact through fishing competitions that are arranged quite often.
Cancun International Film Festival: The Cancun International Film Festival takes place every year in November. CIFF attracts a huge number of film lovers from around the world.
Cancun Banamex Triathlon Festival: Held in October, this triathlon draws athletes from around the globe. All three sports; swimming, cycling and running, can be watched by snowbirds.
Festival Internacional del Caribe Mexicano: Held in November, this is Cancun's annual food festival that is spread over one month. In addition to sampling delights created by Mexico's top chefs, there are competitions for the prestigious title of 'best chef' and 'best bartender'.
Day of the Dead (Dia de los Muertos): Held in October/November, this is one of Mexico's most fascinating festivals. This intriguing festival is to celebrate the time-honored tradition. As a spectator, snowbirds get to see vibrant cultural plays and dances. It normally takes place at Xcaret Park.
Mexican Revolution Day (Dia de la Revolucion Mexicana): ): This day commemorates the Mexican Revolution of 1910 with parades and celebrations.
Shopping + Restaurants. Are they open in the fall, winter, or spring?
Whether it's day or night, Cancun's shopping centers offer more than a traditional mall can offer and snowbirds can enjoy a great time catering to their shopping needs. Marina Town Center, Kukulcan Plaza, Luxury Avenue, and La Isla Shopping Village are the Hotel Zone's nicest and busiest malls. Some great shops selling handicrafts and unique items made by Mexican artists can be found in Plaza Caracol, an older mall that can seem like a ghost town compared to it's newer counterparts.
In addition to the malls in Cancun's Hotel Zone, there's the old favorite Coral Negro Flea Market, where Mexican souvenirs abound. At Market 28, these sellers mainly sell Mexican crafts, perfect for taking souvenirs back home, and snowbirds will definitely enjoy their time there.
Within Market 28, snowbirds will find some mouthwatering Yucatecan food, snacks, and seafood. They can order a sample dish that has a bit of all the region's traditional dishes. This way, they get the best-tasting true Mexican food in a friendly and fun environment and often at unbelievably super-low prices.
Some popular places that snowbirds can dine as locals include El Fish Fritanga, Blue Gecko Cantina, Tacos y Tequila, Tacun, Food stalls at Parque Las Palapas.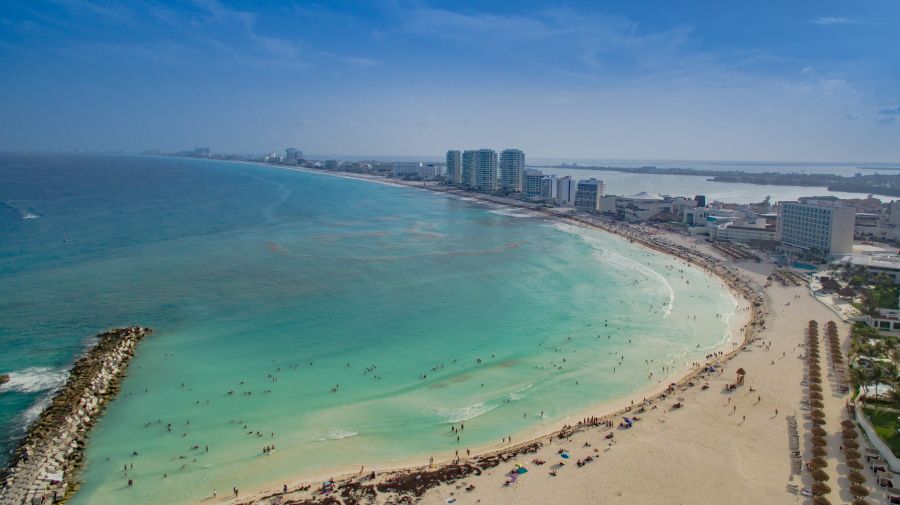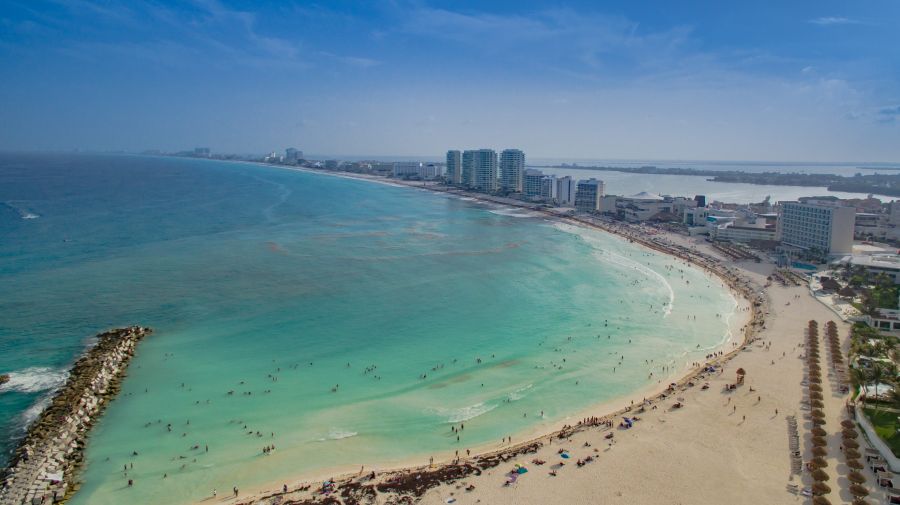 Transport
Cancun transportation is very straightforward and easy to manage. To get to Cancún, most snowbirds fly into Cancun International Airport (CUN) first. To reach the town, you can rent a car or hop in a taxi. Most people pre-reserve a private airport transfer to take them to Cancún These start at $52 (approx. €48, £41, $69 CAD, $78 AUD) round-trip per vehicle and go up from there depending on where you are staying and how many people you have.
Moving within the town, snowbirds will find buses that run around the clock, all the time, and run up and down the hotel zone every few minutes. They are safe and easy to ride and are the primary form of transportation within the Cancun city limits.
Renting a car in Cancun is unnecessary because of the great bus system, but if you are staying in the Riviera Maya or you want to explore outside the city, this is a very good option for snowbirds.
Taxis are readily available everywhere in Cancun. There are no official published prices so make sure to negotiate a price before getting in. On average, snowbirds will pay around $2 (approx. €1.87, £1.61, $2.69 CAD, $3.02 AUD) or so to go anywhere around downtown, while from the middle of the hotel zone to downtown will be about $10 (approx. €9, £8, $13 CAD, $15 AUD).
There are several ferries serving Cancun and the Riviera Maya. The most commonly used ones for tourists are the Cozumel Ferry in Playa del Carmen, about an hour drive south of Cancun and the Isla Mujeres Ferry in Puerto Juarez, about 10 minutes north of Cancun.
Health
Cancún's status as an international beach resort has attracted many top-quality doctors and dentists who provide a wide range of medical and dental services at a reasonable price, compared with similar services in the U.S. and other developed countries. There are a number of walk-in clinics and hospitals located throughout the area that are staffed with well-trained physicians. Most doctors are certified in both the United States and Mexico and many are bi-lingual.
Top hospitals for expats in Cancún are Amerimed Cancún, Galenia Cancún, Hospiten Cancún, and Victoria Medical Cancún. Snowbirds can review the profiles of each hospital at the International Patient Facilitators website.
Cancún also has many dental care options to choose from. The What Clinic website provides profiles for nearly 50 dentists. A list of recommended hospitals, doctors, and dentists can be obtained by contacting the U.S. Consulate in Cancún.
Accommodation
Most resorts in Cancún are fun and are located at the beachfronts.
Winter is peak travel time in Cancun and this is when rates for hotels and flights are at their priciest and crowds at their heaviest. Booking several months in advance, snowbirds can find better rates and occasional deals. To avoid crowds during high season, it is advisable to book your stay in Riviera Cancun, Playa Mujeres, and Isla Mujeres, which are all less populous than the main drag along the Hotel Zone.
Budget Hotels: A good option for those seeking a budget-friendly Cancun beachfront vacation, can check out Smart Cancun by Oasis, Ambiance Suites Cancun and Hotel Margaritas. They feature bright, clean rooms, and friendly staff.
Packing List
Weather: The fall, winter, and spring weather in Cancún (Mexico) will normally be warm during the day and warm during the night. Of course in the fall and spring it will be warmer than in the winter. You have to pack accordingly.

Warm clothing: Even when you go to a warm location like Cancún (Mexico) you should not forget to take some things with you for your trip back home. When you return you are adapted to the warmer weather and need something to protect you from your hometown temperatures.

Consider the Weather: Always look at the type of weather in Cancún (Mexico). Things like humidity, wind, and rain do not show up in the temperature graph but can have a great impact on your wardrobe. There are several sites with long term forecasts and climate information. Is there often a short afternoon downpour like in the tropics, you maybe need to take a strong umbrella and shoos that can cope with the rain. If there is often a lot of wind you might need a more wind-resistant coat.

Check the local Shopping options: Try to find information about the local shopping options near your location in Cancún (Mexico). Are there stores where you can buy all your daily supplies, or are some things difficult to get? For some more remote locations, the options can be limited. If a certain item is really important for you might need to take it with you.

Look at the Local Culture: The local culture in Cancún (Mexico) can impact your wardrobe. If most activities are in more upscale locations you might take some more appropriate clothes with you. Or travelling if you travel to certain countries women need to cover themselves in certain areas.

Amenities: Know what's Included in your house or apartment. Is there a coffee maker, a toaster, a washer and dryer, an iron, what is in the kitchen, what kind of towels are there? Things that are there means you do not have to take them with you. A furnished apartment or house can mean something from a few pieces of furniture to a well-stocked place with all the things you have at home. But most of the time your rental will not be stocked.

Mix and match: Wear layers so you can use your wardrobe more efficiently. And do not worry about wearing something more often, probably only you will notice this.

Important for you: If there is something that is really important for you that you want to have present in your house or apartment, take it with you. This can be something like a special knife for the kitchen, or a small mirror that you use in the morning. You can also purchase it locally if it is not that expensive.

Pet supplies: If you take your pet with you don't forget to take supplies for a few days with you. And enough medication, vitamins, or other supplies if you can not purchase them in Cancún (Mexico) locally.

Food: Don't take a lot of food with you. Only when there is something you really can not live without you, and it is not too heavy you could consider taking it with you.

Towels: Not all locations include bigger towels for the swimming pool or a visit to the beach. If you have to take them and don't have a lot of room you can buy some big thin towels.

Office supplies: Normally you will not find any office supplies in your house or apartment. If you think you will use them you could pack some supplies like a scissor, notepaper, envelopes, some pens, and more depending on your needs.

Limit yourself: Don't take too many shoes and jackets, you will not need them that often.

Best-fitting: Bring your favorite and best-fitting items that can multi-function

Washer: Do you have a washer and dryer onsite, you don't need to pack a lot of clothes
Clothing
Basics
Casual
Smart
Footwear
Toiletries
Beauty
Hygiene
Clothing
Basics
Casual
Outdoor
Footwear
Accessories
Toiletries
Medicine
Miscellaneous
Other
Toiletries
Beauty
Hygiene
Hair
Other
Medicine
Miscellaneous
Technology
Travel and Free time
Travel
Free time
Important
Documents
Money
Other locations close to this location:
Travelers' Map is loading...
If you see this after your page is loaded completely, leafletJS files are missing.
If you have any additions, or comments on the content on this page, please use our contact form to let us know.
Detailed weather during the year for Cancún Mexico
What to do during the year in Cancún Mexico