What to do in July in Lagos, Portugal - 2024
Lagos is a city in the Algarve region of southern Portugal. It is known for its walled old town, cliffs and Atlantic beaches.
Winters are mild but the weather is unpredictable. On average in Lagos in December the maximum temperature is 16°C (61°F) and the minimum is around 14°C (57°F) degrees. The sea temperature is around 16°C (61°F) degrees.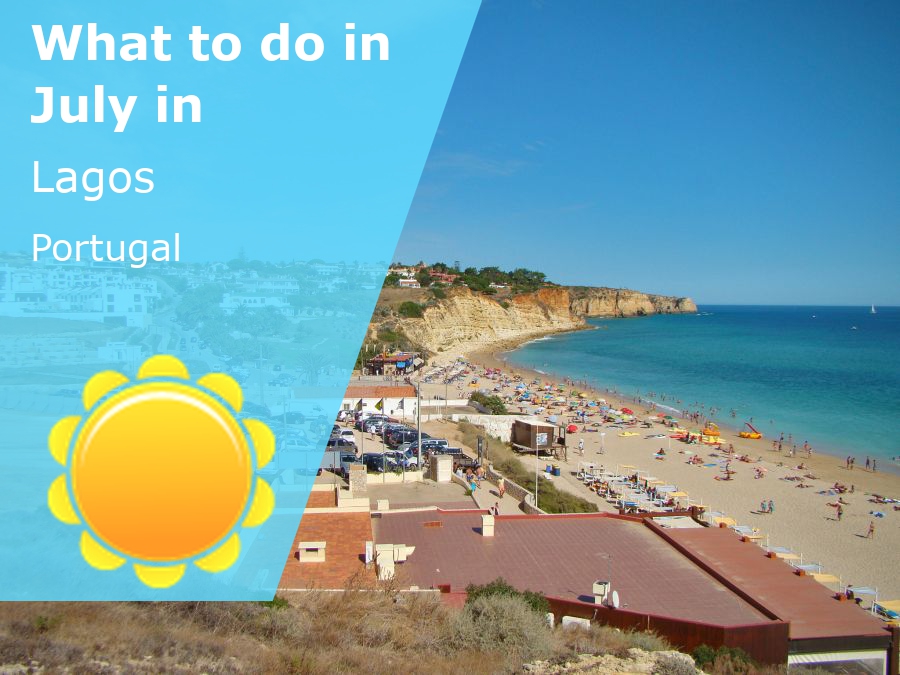 Before we have a look at what you can do in Lagos, let's first look at the weather you can expect in July.


July weather in Lagos Portugal
To get a good overview of the type of weather you can expect in July in Lagos Portugal, we will look at the day and night temperature, minimum and maximum water temperature, and if July is comfortable or humid
Generally, July in Lagos Portugal will be quite hot. Historical data shows that you can expect an average temperature of around 89°F / 32°C. As there is not a lot of humidity, it will feel comfortable. During the night, it will cool down to around 60°F / 16°C. Many will prefer a location with air conditioning due to the humidity level.
Lagos Portugal does not have a lot of rainy days in July. You can expect around 1 rainy days, with on average 0.1 inches / 2 mm of rain during the whole month.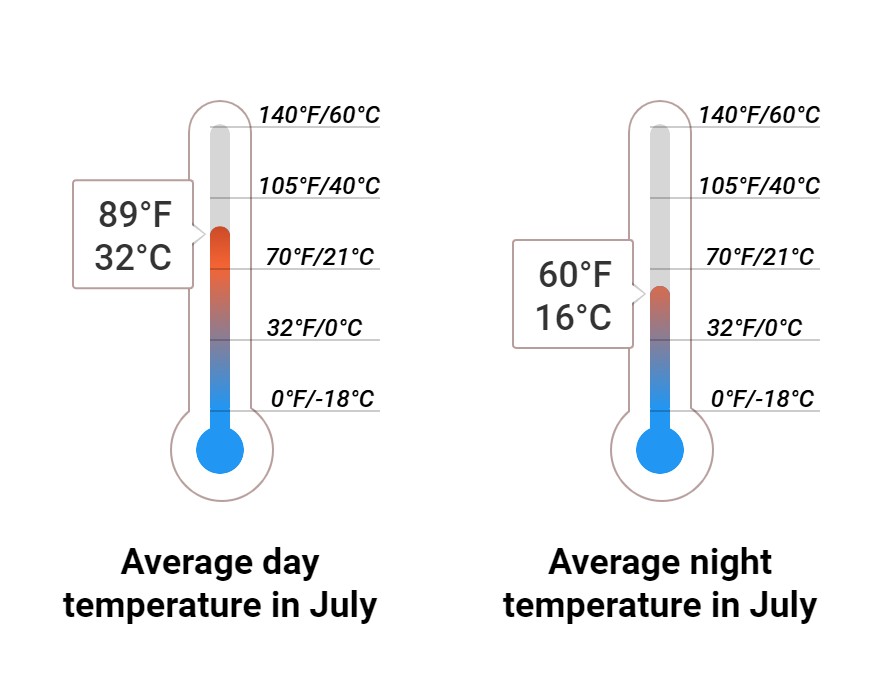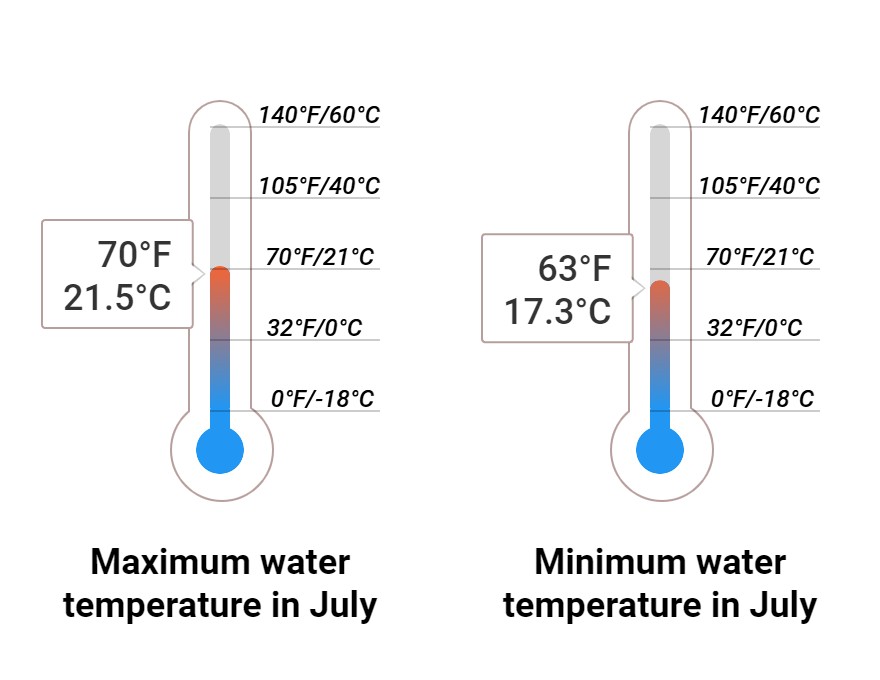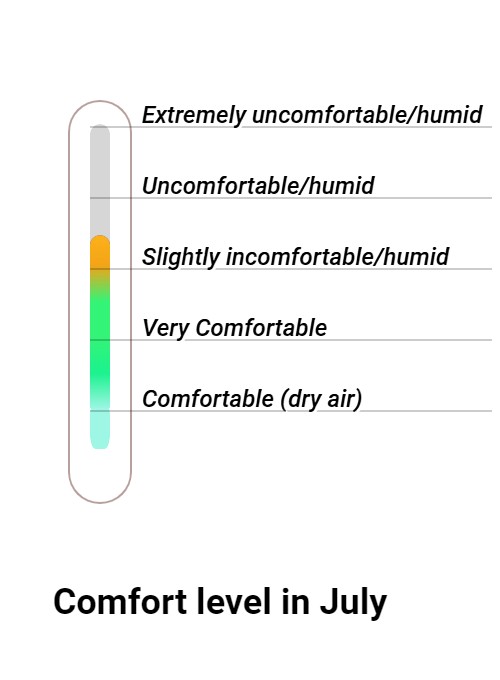 The forecast for July 2024 is based on historical data and are averages. They will give a good indication what you can expect, but the daily temperature and rain will fluctuate during the month.
Things to see and do in Lagos
Lagos has many things to soo. With help from our visitors we have dived a list of things to see in. If you have any sugestions or improvements for this list, please let us know.
Praia do Camilo
Landmark
Throughout the Year
Praia do Camilo is a cove located at the foot of a famous cliff. There is a wooden staircase two hundred steps high. There is a natural tunnel taking you to the next cove either by foot or by swimming.
Med Festival
Med Festival is an award-winning event that has international and national musicians performing different types of music concerts.
Faro Motorcycle Concentration
Faro Motorcycle Concentration has music concerts, performances, talent contests, and skill demos for the whole three days.
Old Lagos
Cultural
Throughout the Year
Old Lagos has many 16th-century buildings that are well-lit and give a bright hue in the evenings making the site ideal for photography.
Pirate Week
Pirate Week has many shows, activities, and stalls for food and other stuff.
FIESA – International Sand Sculpture Festival
Event/Festival
March, April, May, June, July, Aug, Sept, Oct, Nov
FIESA – International Sand Sculpture Festival has music concerts, theater performances, dance shows, and a circus.
Baixa Street Fest
Event/Festival
June, July, Aug
Baixa Street Fest has light shows, circus, theater, and concerts. Every Friday from late June to August, the event takes place for twenty-one hours each Friday evening.
Praia de Dona Ana
Praia de Dona Ana is a beach with rocky cliffs and shells of all sorts. The water is calm due to the size of the rocks.
Meia Praia
Meia Praia is a rocky beach that is never overcrowded. The tide pressure is ideal for kids, but it can be colder than the water inside the coves.
Ponta da Piedade
Landmark
Throughout the Year
Ponta da Piedade has many limestone cliffs with some caverns underneath and a raised staircase facing the ocean. From the top, you will get a bird's eye view of the nearby cape in the west.
Shopping in Lagos
Even in winter you can find stores and restaurants always open for any kind of need.
Activities in Lagos
Live Music
Visit Forte da Ponta da Bandeira and attractions like these to enjoy popular live music with panoramic views.
Boat Tour
Visit Ponta de Piedade and take a boat tour offered at the spot to cruise around and enjoy the scenic views.
Scuba Diving
Discover the beautiful marine life underwater with a large and uninterrupted coastline.
Hiking
Visit Serra de Monchique, Rota Vicentina, and similar attractions for an amazing hiking experience.
Spa & Fitness Clubs
There are various health clubs nearby along with spas and you can visit these clubs to have quality time as well as get involved in activities beneficial for health like yoga too.
Snorkeling
Visit the Costa D'Oiro and similar attractions for an amazing snorkeling experience. You can get a chance to witness the beautiful marine flora.
Kayaking/Canoe
You can rent a kayak or canoe and visit the beaches of the old walled town and other parks to enjoy nature as well as witness the beautiful views.
Swimming
You can go for a swim in these calm and clean waters to enjoy the summers again.
Night Fishing
Go on for fishing in the evening for a traditional squid fishing while you enjoy the beautiful sunset.
Barbecue Trip
Visit Costa D'Oiro for a barbecue trip and enjoy the barbecue surrounded by the calm waters.
Golf
Spend a nice day golfing in the Morgado Golf Club and nearby golf clubs in town to spend leisure time with friends and family.
Visit Ponta de Piedade
Visit this place and enjoy the mildly cold and windy weather as you capture the scenic views of the ocean and the cliffs in your memory.
Scenic Drives
Take scenic drives around the Walled Town and enjoy the startling views of Lagos.
Walking tour of the city
You can take a walking tour of the walled old town with a tour guide to watch the beautiful and ancient infrastructure of the city and taste the delicacies along the way.
Visit Other Beaches
Lagos has a variety of beaches each has a specialty of its own, visit all these beaches to get stunned by the beauty of the landscapes.
Fishing
You can visit Costa D'Oiro and similar charters for fishing.
Restaurants in Lagos
There are various types of restaurants that you can try even in the winter time. Typical restaurants, vegetarian restaurants, Indian restaurants and so on.
More things to see in Lagos
Beach Estudantes
A magnificent beach with a small cove accessible through a rock tunnel, a sandy beach with plenty of sandy space for seating. The beach also has scenic cliffs as well.
Forte da Ponta da Bandeira
This 17th-century historical landmark is located beyond the walls of Lagos. This naval fortress was used for the defenses of the city. The fortress has a chapel, panoramic views, a restaurant with live music, and delicious regional cuisine. There are art exhibitions hosted as well as it is home to one of the most traditional celebrations of Lagos; the 29th Swim. You should indeed visit this place.
Museu Municipal Dr. Jose Formosinho
A local history museum housed in the annex to the Church Igreja de Santo Antonio. The museum educates about the local history of the town and the church through archaeological and art exhibits. You can get to learn a lot about the town.
Castle of Lagos
It is an ancient medieval castle whose walls once surrounded the whole town. The castle has a remarkable heritage to offer its visitors. Visit the castle to witness the sublime primitive and medieval infrastructure as well as get acquainted with the history linked to it.
Ponta da Piedade
A headland with a group of yellow-golden cliff-like rock formations along the coastline of Lagos. These rock formations go up to 20 meters high and are considered as one of the most popular attractions in the whole of Portugal. You should visit these cliffs as you enjoy the strong winds heading your way as well as the view of the Atlantic. You can also take a boat tour offered at the spot.
More information about Lagos Portugal
What to do in Lagos Portugal in other months
Weather in Lagos Portugal for each month