The town of Lagos is located in southern Portugal's Algarve region and is primarily known for its historical infrastructure which consists of the walled old town, cliffs, and Atlantic beaches. The cliffs of Lagos provide scenic headland views of the sea which goes as far as your sight does. Lagos is recommended for snowbirds as the town offers all the facilities and amenities snowbirds search for, such as nice meekly warm weather, beaches, historic attractions, and many more. The town is known for its variety of beaches, rock formations, restaurants, and vibrant nightlife. Lagos offers all the exquisite resorting amenities to its visitors to spend a memorable winter in this historically significant and humble town.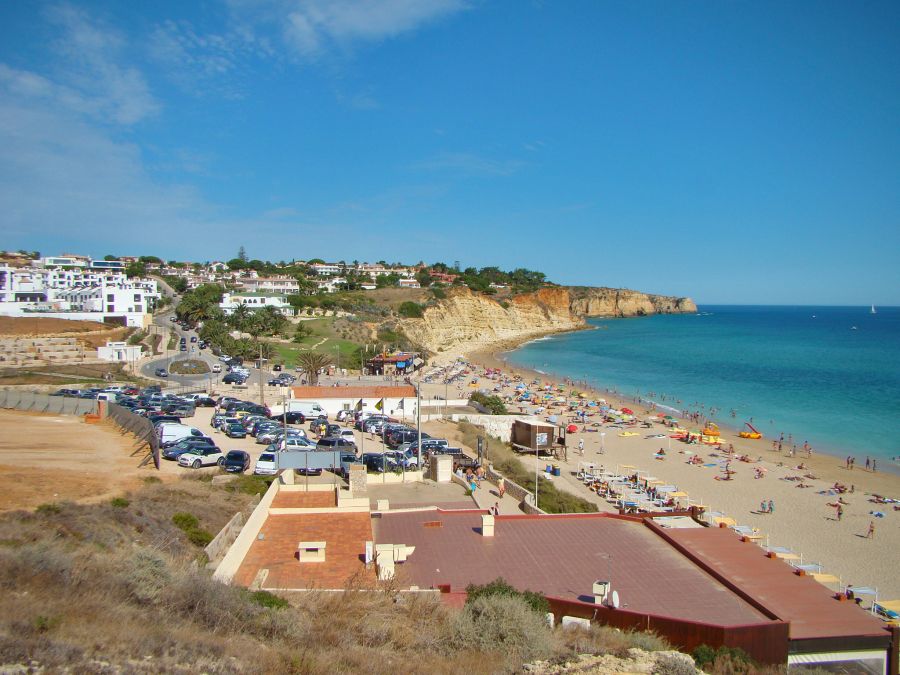 Why should people visit during the winter?
What better way to spend your winters than to spend it on the beaches of Lagos with a historical touch of the ancient Portuguese and a blend of other cultures which once prevailed in Lagos. You can head out on a sunny day to explore the intriguing stories associated with the walled city as well as spend a nice day visiting the beaches, cliffs, and bars. Get a chance to enjoy the delicacies of the popular town including its wonderful nightlife which is worth experiencing.
Climate
The weather of Lagos remains partly cloudy and mild in winter. The city has an average high temperature of 64°F (18°C) and an average low of 50°F (10°C) throughout the year. Heating systems in the residence are recommended due to cold weather at night.

Things to see in Lagos, Portugal
Lagos is a popular tourist location. There are many places that you can visit in the area. Some of these include:
Ponta da Piedade: A headland with a group of yellow-golden cliff-like rock formations along the coastline of Lagos. These rock formations go up to 20 meters high and are considered as one of the most popular attractions in the whole of Portugal. You should visit these cliffs as you enjoy the strong winds heading your way as well as the view of the Atlantic. You can also take a boat tour offered at the spot.
Museu Municipal Dr. Jose Formosinho: A local history museum housed in the annex to the Church Igreja de Santo Antonio. The museum educates about the local history of the town and the church through archaeological and art exhibits. You can get to learn a lot about the town.
Castle of Lagos: It is an ancient medieval castle whose walls once surrounded the whole town. The castle has a remarkable heritage to offer its visitors. Visit the castle to witness the sublime primitive and medieval infrastructure as well as get acquainted with the history linked to it.
Beach Estudantes: A magnificent beach with a small cove accessible through a rock tunnel, a sandy beach with plenty of sandy space for seating. The beach also has scenic cliffs as well.
Forte da Ponta da Bandeira: This 17th-century historical landmark is located beyond the walls of Lagos. This naval fortress was used for the defenses of the city. The fortress has a chapel, panoramic views, a restaurant with live music, and delicious regional cuisine. There are art exhibitions hosted as well as it is home to one of the most traditional celebrations of Lagos; the 29th Swim. You should indeed visit this place.
Things to see not far from the Lagos, Portugal
There are many neighboring towns and places in the surrounding areas that one can visit.
Serra de Monchique: It is a chain of mountains that offer astonishing views of the greenery and landscape from the top. The notable peak is the Fola Peak which stands as the highest peak with a height of . You can go on for a hike on a pleasant sunny day to test your hiking skills. The peak is located 34.8 km (22 Miles) from Lagos.
Morgado Golf & Country Club: A 4-star hotel and home to three 18-hole golf courses that offer the finest golf courses meeting the requirements of global golfing standards. You can spend a nice day at the hotel and enjoy the amenities or play golf with friends and family to spend leisure time. It is located 30 km (19 Miles) from Lagos.
Fonte Santa: A historical landmark located 44.1 km (27 Miles) from Lagos. It is a group of ancient buildings hidden in the mountain range of Monchique.
Rota Vicentina: Listed in one of the most beautiful coastal areas in Europe, Rota Vicentina has vast hiking trails with various villages and lakes along with centuries of history. You can visit this place to spend a nice day in a peaceful atmosphere. You can also go for a swim or just enjoy fishing after a hike. It is located 74.2 km (46 Miles) from Lagos.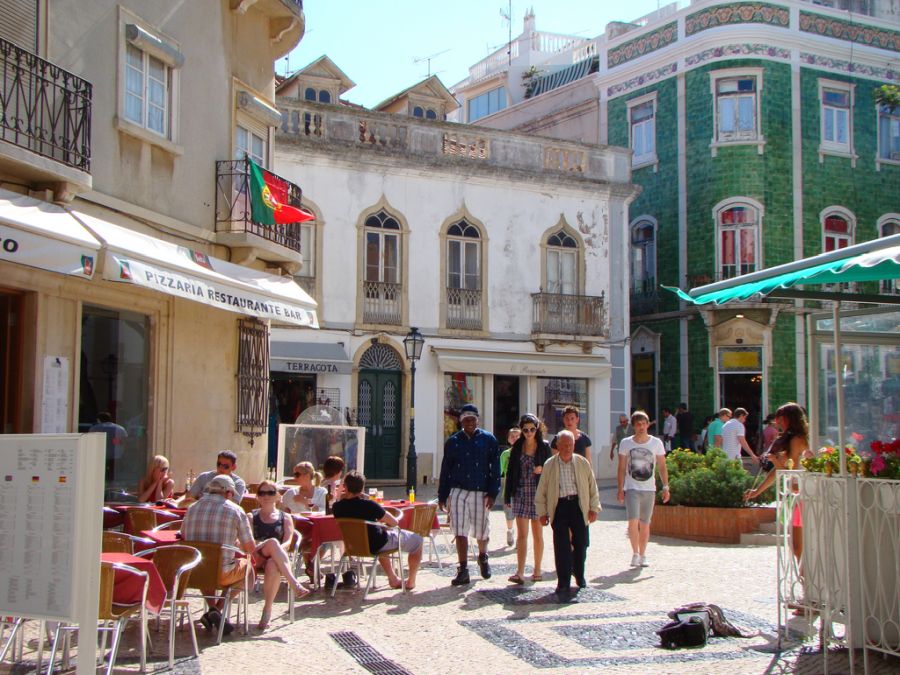 Activities in Lagos, Portugal in the winter
There are numerous activities you can participate in during your visit to Lagos. Some of them include:
Visit Ponta de Piedade: Visit this place and enjoy the mildly cold and windy weather as you capture the scenic views of the ocean and the cliffs in your memory.
Boat Tour: Visit Ponta de Piedade and take a boat tour offered at the spot to cruise around and enjoy the scenic views.
Barbecue Trip: Visit Costa D'Oiro for a barbecue trip and enjoy the barbecue surrounded by the calm waters.
Night Fishing: Go on for fishing in the evening for a traditional squid fishing while you enjoy the beautiful sunset.
Kayaking/Canoe: You can rent a kayak or canoe and visit the beaches of the old walled town and other parks to enjoy nature as well as witness the beautiful views.
Walking tour of the city: You can take a walking tour of the walled old town with a tour guide to watch the beautiful and ancient infrastructure of the city and taste the delicacies along the way.
Snorkeling: Visit the Costa D'Oiro and similar attractions for an amazing snorkeling experience. You can get a chance to witness the beautiful marine flora.
Swimming: You can go for a swim in these calm and clean waters to enjoy the summers again.
Scuba Diving: Discover the beautiful marine life underwater with a large and uninterrupted coastline.
Scenic Drives: Take scenic drives around the Walled Town and enjoy the startling views of Lagos.
Hiking: Visit Serra de Monchique, Rota Vicentina, and similar attractions for an amazing hiking experience.
Live Music: Visit Forte da Ponta da Bandeira and attractions like these to enjoy popular live music with panoramic views.
Spa & Fitness Clubs: There are various health clubs nearby along with spas and you can visit these clubs to have quality time as well as get involved in activities beneficial for health like yoga too.
Fishing: You can visit Costa D'Oiro and similar charters for fishing.
Golf: Spend a nice day golfing in the Morgado Golf Club and nearby golf clubs in town to spend leisure time with friends and family.
Visit Other Beaches: Lagos has a variety of beaches each has a specialty of its own, visit all these beaches to get stunned by the beauty of the landscapes.
Shopping + Restaurants. Are they open in the winter?
You can find a lot of fresh produce markets in Lagos such as Mercados de Portimao. The vendors gather at the marketplace from 7 AM to 2 PM every Saturday. You can find a great variety of freshly picked fruits, vegetables, and other fresh products. You can also get fresh meat and seafood from the market. You can find flowers, stationery, and crafts of the local artisans at the markets as well as enjoy the entertainment.
One of the popular starters in Lagos is Algarve Carrots denoted as "Zanahorias Aliñadas" served together with olives, before the meal. A Portuguese staple "Bifana" is popularly enjoyed as a snack. "Pastel de Nata" is the perfect fit for those who have a sweet tooth. In seafood, "Bacalhau", "Robalo", "Dourado", "Cataplana" and much more are popular in the streets of the old walled town. You can enjoy all these exquisites in the restaurants in Lagos at affordable prices.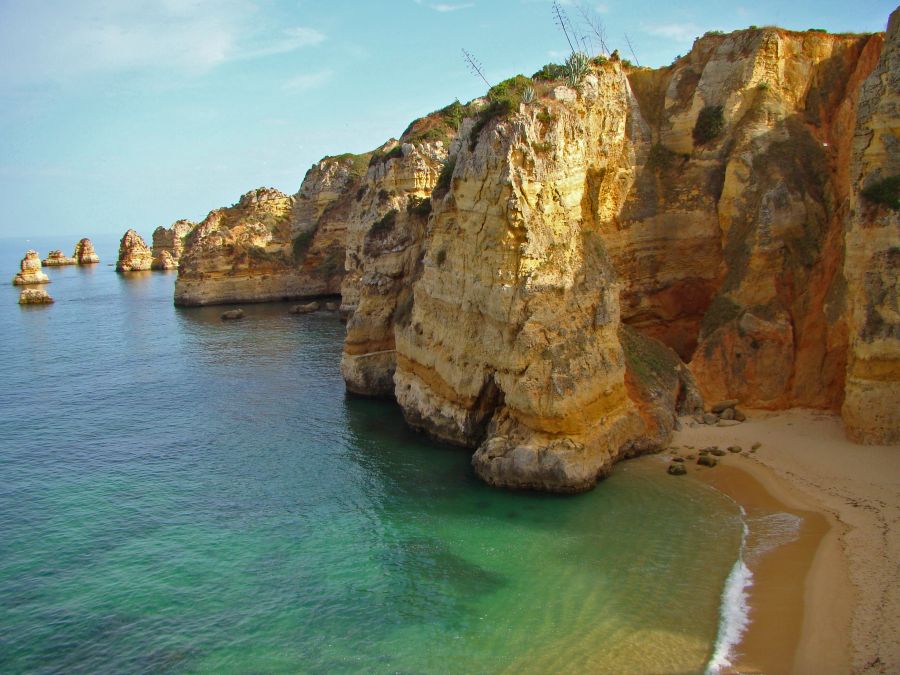 Transport
There are EVA Buses offered by the Algarve Public Transportation for local and regional traveling services. If you want to travel to Lisbon, you can use EVA Buses and Rede Nacional de Expressos as well. If you are traveling from Lagos to Onda or vice versa for an hour then the fare would be €1.20 (approx. $1.43, £1.07, $1.86 CAD, $1.94 AUD). Similarly, if you want a day pass with unlimited routes, the fare would be €3.60 (approx. $4, £3, $5 CAD, $5 AUD). The Express Bus charges €21 (approx. $25, £18, $32 CAD, $33 AUD) from Lagos to Seville one way and €35.70 (approx. $42, £31, $55 CAD, $57 AUD) for return. The Coastline Bus charges €6.20 (approx. $7, £5, $9 CAD, $10 AUD) from Lagos to Faro one way and €12.40 (approx. $14, £11, $19 CAD, $20 AUD) for return.
There are various shuttle services offered as well for traveling across the city.
The train service (Comboios De Portugal) is also available for inter-city traveling and it is a more relaxed way to reach your destination while enjoying the beautiful scenery along the journey. The one-way fare from Lagos to Regional Faro or vice versa is €7.40 (approx. $8, £6, $11 CAD, $11 AUD).
The nearest international airport to Lagos is Faro Airport located 92 km (57 Miles) to the east of Lagos. There are various airport shuttle services available which you can use and you can also take a taxi or a bus to reach the airport or get to your residence from the airport.
Health
In Lagos, public and private health facilities are located in the town and are easily accessible. The health sector is perfectly suitable for anyone who walks in with a problem. 24/7 emergency is available in hospitals. Emergency cases are handled well and you can find some of the most significant healthcare centers mentioned below:
Accommodation
There are several rental companies present in Lagos. Whether you're looking for an apartment, cottage, or a villa. Some of the most popular organizations that are commonly used include:
These prominent websites along with other websites connect you to the local real estate agents in Lagos. You can rent 2-bedrooms and 1-bath starting with a price of €550 (approx. $655, £491, $852 CAD, $890 AUD) per month.
Winter Camping
Orbitur Camping Park: There are a total of 23 campsites in the park and it costs nearly from €18.39 (approx. $21, £16, $28 CAD, $29 AUD) for camping, including the facilities. You can visit this website for more information (www.orbitur.com)
RV/Campers/Motorhome
Parking Autocaravanas Lagos: About 150 motorhomes can be parked at the site with a camping price of €3 (approx. $3.58, £2.68, $4.65 CAD, $4.85 AUD). For more information visit their website (www.campercontact.com).
Packing List
Weather: The winter weather in Lagos (Portugal) will normally be warm during the day, but can be chilly during the night. You have to pack accordingly.

Warm clothing: Even when you go to a warm location like Lagos (Portugal) you should not forget to take some things with you for your trip back home. When you return you are adapted to the warmer weather and need something to protect you from your hometown temperatures.

Consider the Weather: Always look at the type of weather in Lagos (Portugal). Things like humidity, wind, and rain do not show up in the temperature graph but can have a great impact on your wardrobe. There are several sites with long term forecasts and climate information. Is there often a short afternoon downpour like in the tropics, you maybe need to take a strong umbrella and shoos that can cope with the rain. If there is often a lot of wind you might need a more wind-resistant coat.

Check the local Shopping options: Try to find information about the local shopping options near your location in Lagos (Portugal). Are there stores where you can buy all your daily supplies, or are some things difficult to get? For some more remote locations, the options can be limited. If a certain item is really important for you might need to take it with you.

Look at the Local Culture: The local culture in Lagos (Portugal) can impact your wardrobe. If most activities are in more upscale locations you might take some more appropriate clothes with you. Or travelling if you travel to certain countries women need to cover themselves in certain areas.

Amenities: Know what's Included in your house or apartment. Is there a coffee maker, a toaster, a washer and dryer, an iron, what is in the kitchen, what kind of towels are there? Things that are there means you do not have to take them with you. A furnished apartment or house can mean something from a few pieces of furniture to a well-stocked place with all the things you have at home. But most of the time your rental will not be stocked.

Mix and match: Wear layers so you can use your wardrobe more efficiently. And do not worry about wearing something more often, probably only you will notice this.

Important for you: If there is something that is really important for you that you want to have present in your house or apartment, take it with you. This can be something like a special knife for the kitchen, or a small mirror that you use in the morning. You can also purchase it locally if it is not that expensive.

Pet supplies: If you take your pet with you don't forget to take supplies for a few days with you. And enough medication, vitamins, or other supplies if you can not purchase them in Lagos (Portugal) locally.

Food: Don't take a lot of food with you. Only when there is something you really can not live without you, and it is not too heavy you could consider taking it with you.

Towels: Not all locations include bigger towels for the swimming pool or a visit to the beach. If you have to take them and don't have a lot of room you can buy some big thin towels.

Office supplies: Normally you will not find any office supplies in your house or apartment. If you think you will use them you could pack some supplies like a scissor, notepaper, envelopes, some pens, and more depending on your needs.

Limit yourself: Don't take too many shoes and jackets, you will not need them that often.

Best-fitting: Bring your favorite and best-fitting items that can multi-function

Washer: Do you have a washer and dryer onsite, you don't need to pack a lot of clothes
Clothing
Basics
Casual
Smart
Footwear
Toiletries
Beauty
Hygiene
Clothing
Basics
Casual
Outdoor
Footwear
Accessories
Toiletries
Medicine
Miscellaneous
Other
Toiletries
Beauty
Hygiene
Hair
Other
Medicine
Miscellaneous
Technology
Travel and Free time
Travel
Free time
Important
Documents
Money