What to do in July in Venice, Florida - 2023
Venice is a city in Sarasota County, in Southwest Florida. It was voted as one of the top ten Happiest Seaside Towns by Coastal Living. Venice is known for its large "snowbird" population.
Before we have a look at what you can do in Venice, let's first look at the weather you can expect in July.


July weather in Venice Florida
To get a good overview of the type of weather you can expect in July in Venice Florida, we will look at the day and night temperature, minimum and maximum water temperature, and if July is comfortable or humid
Generally, July in Venice Florida will be quite hot. Historical data shows that you can expect an average temperature of around 89°F / 32°C. But due to the extreme humidity it can feel extremely uncomfortable. During the night, it will cool down to around 73°F / 23°C. Many will prefer a location with air conditioning due to the night temperature, and the high humidity level.
Venice Florida has its share of rainy days in July. You can expect around 21 rainy days, with on average 2.5 inches / 64 mm of rain during the whole month.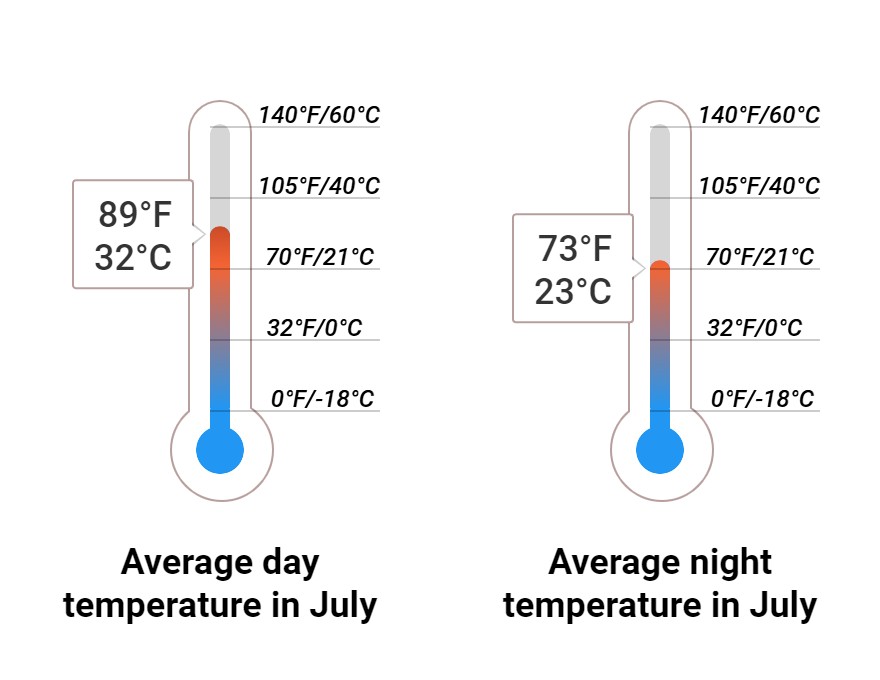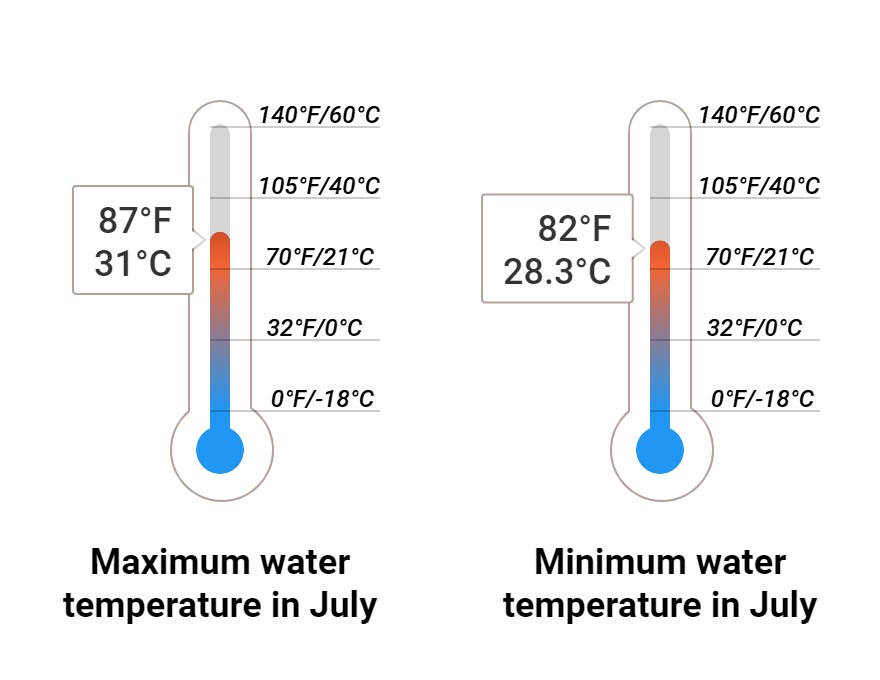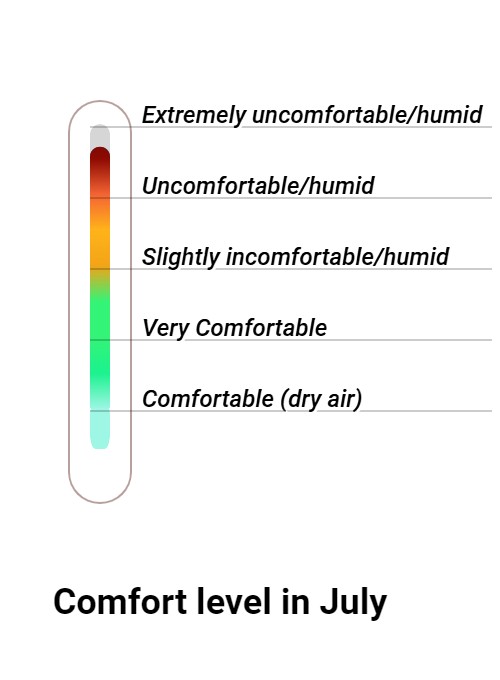 The forecast for July 2023 is based on historical data and are averages. They will give a good indication what you can expect, but the daily temperature and rain will fluctuate during the month.
Things to see and do in Venice
Venice has many things to soo. With help from our visitors we have dived a list of things to see in. If you have any sugestions or improvements for this list, please let us know.
Venice Museum and Archives
Museum
Throughout the Year
Venice Museum and Archives is a historic place that helps get a closer glimpse of the local culture.
Myakka River State Park
Myakka River State Park is a scenic place. People enjoy hiking, climbing, and camping here.
Venice Fishing Pier
Venice Fishing Pier is located near Brohard Park.
Historic Venice Train Depot
Historic Venice Train Depot is an interesting place that is renovated and well-preserved.
South Jetty
South Jetty is the best place for fishing and boating.
Oscar Scherer State Park
Oscar Scherer State Park is a beautiful park with lakes and creeks.
Centennial Park
Centennial Park is a public park with lots of greenery.
North Jetty Beach
North Jetty Beach is a great place for swimming and sunbathing.
Independence Day
Independence Day is celebrated on the 4th of July. Each year there are fireworks, laser shows, best-dressed costume concerts, drinks, and pool parties.
Shopping in Venice
In Venice you will find all major stores and some local ones.
We reccomend:

Bird Bay Plaza - 565 US-41 BYP, Venice, FL 34285
Bealls - 4251 S Tamiami Trail, Venice, FL 34293
Venice Village Shoppes - 4115 S Tamiami Trail, Venice, FL 34293
Activities in Venice
Fossil Hunting
it is always a good idea to enjoy something unique. Venice offers you an opportunity to collect some shark teeth at the Caspersen Beach as they are scattered widely along the shore.
Theatre plays
Catch a live show at this theatre with just some snacks and cocktails to accompany you. Endeavor to check the schedule before leaving for the show over here, https://venicetheatre.org/
Venice Christmas Boat Parade
Held on 1st Saturday of every December, it is the Christmas boat parade of lights and it is quite beautiful. One can view it from the intercostal waterway.
Museum Tour
Explore the history of the city at the Venice Museum and archives that offer a wide range of exhibits and artifacts.
Sunbathing
Spend a day at the Venice beach relaxing, sunbathing, and building sandcastles. Always keep a sunscreen with you.
Learn Arts
Venice Arts Center offers over 400 arts classes both for adults and children. If you are willing to explore the artist in you then you can go for one.
Picnic
Go for a picnic at the Venetian Water Way Park, either order food or take food from home and enjoy a day with your loved ones.
Day trips
Day trips have always been a great option. Visit and spend a day at the places nearby Venice.
Restaurants in Venice
In Venice many restaurants offer different varieties of cuisines, such as American, Italian and Asian to satisfy every palate.

Bonefish Grill - 1681 U.S. 41 Bypass S, Venice, FL 34293
Dockside Waterfront Grill - 509 N Tamiami Trail, Venice, FL 34285
Cassariano Italian Eatery - 313 W Venice Ave, Venice, FL 34285
More things to see in Venice
Venice Beach
The most popular beach in the city located at a very short distance from downtown Venice. The sand is soft, white, and it feels heavenly under the feet. You may sit and enjoy a beautiful sunset while watching the water waves touch the shore gently or you can go around explore shops, cafes, and restaurants that are alongside the beach.
Venice Theatre
Being one of the most popular and largest community theatres, it offers a variety of cultural shows, standup comedy acts, concerts, and events.
Venice Fishing Pier
Extending from the beach to hundred meters into the ocean, Venice Fishing Pier is a perfect place to enjoy the serene ocean and sunset.
Downtown Venice
Located at the center of the city, this place is home to many historic buildings dating back to the early 20th century along with plenty of shopping opportunities and restaurants to keep you engaged.
Venetian Waterway Park
Spend your day here and explore the city's waterways. The park has long walking trails connecting downtown Venice to Caspersen Beach. It offers a lot of facilities like picnic spots, benches, and many more.
Venice Museum and Archives
Visit this museum to know more about the history of the city. It is home to several exhibits that date back to the mid-19th Century.
More information about Venice Florida
What to do in Venice Florida in other months
Weather in Venice Florida for each month