What to do in June in Gibraltar - 2024
Gibraltar is an overseas territory of the United Kingdom.
It is considered by Spain as a real, and last, colony in European territory.
Since 2021 Gibraltar is part of the Schengen area. Winter in Gibraltar can be a mixture of mild, wet and cold weather. On average, only 30 % of the days are classified as "rainy".
Before we have a look at what you can do in Gibraltar, let's first look at the weather you can expect in June.


June weather in Gibraltar
To get a good overview of the type of weather you can expect in June in Gibraltar, we will look at the day and night temperature, minimum and maximum water temperature, and if June is comfortable or humid
Generally, June in Gibraltar will be really nice. Historical data shows that you can expect an average temperature of around 86°F / 30°C. As there is not a lot of humidity, it will feel comfortable. During the night, it will cool down to around 60°F / 16°C. Many will prefer a location with air conditioning due to the humidity level.
Gibraltar does not have a lot of rainy days in June. You can expect around 2 rainy days, with on average 0.2 inches / 6 mm of rain during the whole month.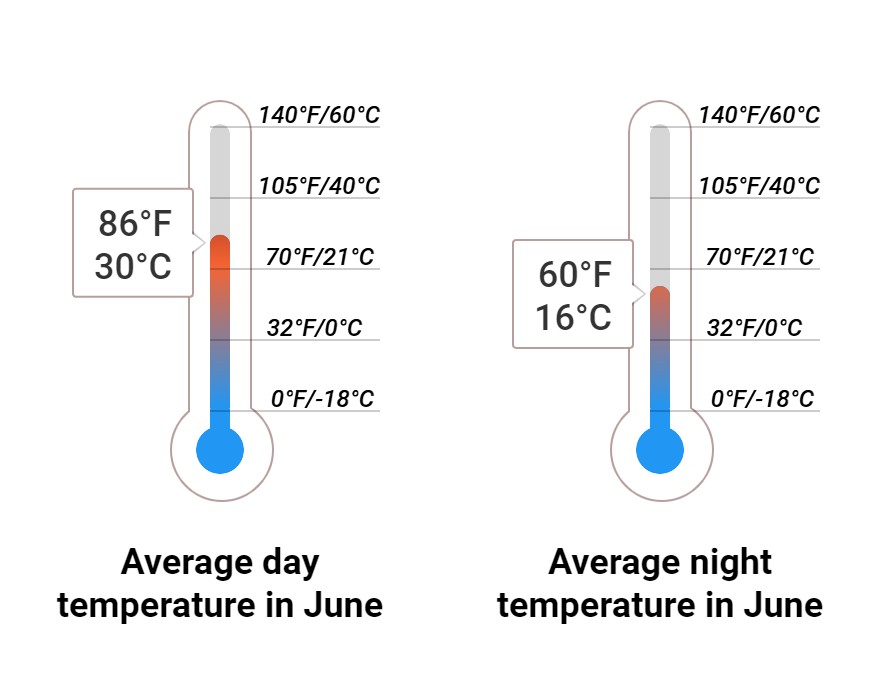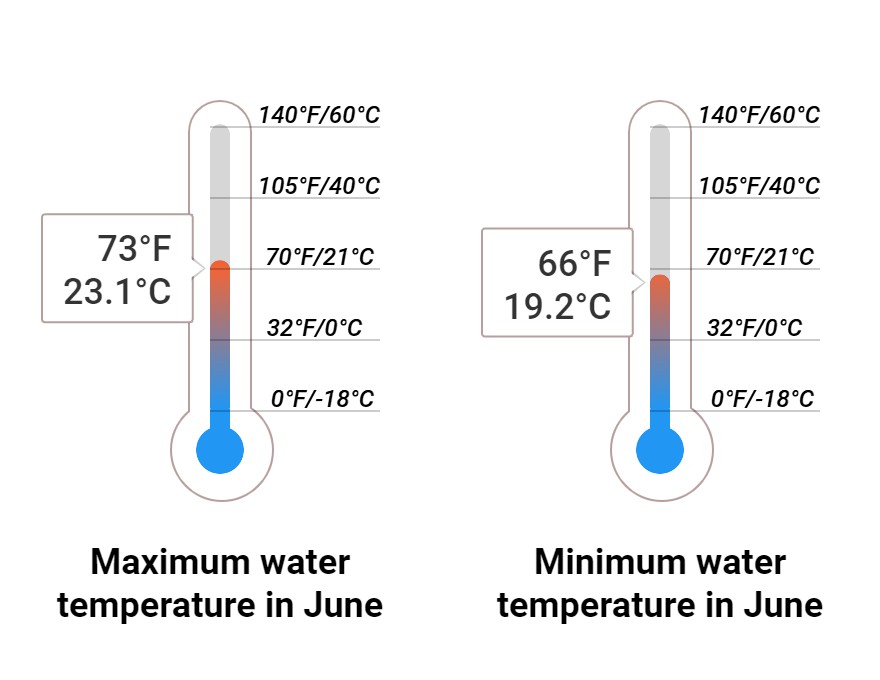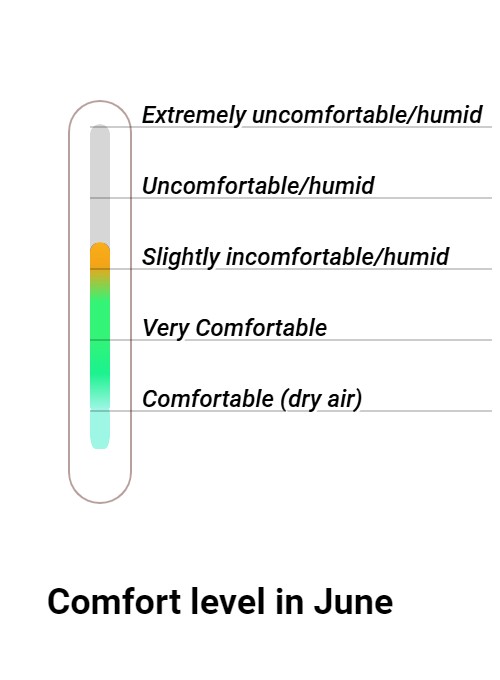 The forecast for June 2024 is based on historical data and are averages. They will give a good indication what you can expect, but the daily temperature and rain will fluctuate during the month.
Things to see and do in Gibraltar
Gibraltar has many things to soo. With help from our visitors we have dived a list of things to see in. If you have any sugestions or improvements for this list, please let us know.
Gibraltar Cable Car
Trip/Tour/Excursion
Throughout the Year
Gibraltar Cable Car covers 412 meters in only six minutes. It is located in the Upper Rock area.
Mediterranean Steps
Landmark
Throughout the Year
Mediterranean Steps were built by the British army some centuries ago. It takes an hour to climb from the contry's bottom to the top.
Europa Point
Landmark
Throughout the Year
Europa Point is the whole continent's southernmost point. A very popular lighthouse, mosque, memorial stadium, water well, and shrine are located here.
Highest Point and O'Hara's Battery
Landmark
Throughout the Year
The highest Point is 425 meters high and has breathtakingly beautiful and incredible views of the Mediterranean and Morroco. O'Hara's Battery was later called O'Hara's Folly as this artillery is useless.
Upper Rock Nature Reserve
Nature/Wild Life
Throughout the Year
Upper Rock Nature Reserve is the continent's only cageless natural habitat of wild apes. St. Michael's Cave is also located here.
Shopping in Gibraltar
Gibraltar is a great holiday destination and it is also popular among tourists for great shopping opportunities.

perfumes are some items preferred by tourists on their visit to Gibraltar. Even in winter time shops are open so you'll be able to find everything you're looking for.
Chocolates,
porcelain,
crystals, and
Activities in Gibraltar
Exploring prehistoric caves
The stunning caves of St. Michael is meant to be a top priority for visitors as it's an extremely rare sight to see. The cave is full of enormous stalactites and stalagmites.
Shopping
Gibraltar is a shopping paradise as the options available here are endless. VAT-free shopping makes it a lot more fun and helps you find the best value deals.
Gibraltarian Cuisine
You can find multiple bars and bistros throughout the town with plenty of small eateries spread out in every corner. Gibraltarian cuisine is influenced by many different foreign cultures and tastes which make it very amusing.
Visit nearby towns
Plan a nice, casual day trip to the nearby cities to explore the area.
Bird Watching
The Rock is said to have around 315 different species of birds, most of which are migrating. You can catch a glimpse of some of the most unique species of birds here at Gibraltar.
Dolphin Watching
Join in on one of the Dolphin Watching Excursions at Gibraltar for a fascinating experience with the marine wildlife. About 200 dolphins swim in the Strait of Gibraltar.
Golf
There is no golf course in Gibraltar, but you can find several not far away.
Visit the museums
Gibraltar's museums take you on an incredible journey where you learn about different cultures and intriguing history of the area.
Restaurants in Gibraltar
You'll be able to find restaurants that are open even in the winter.
The cuisine of the area is a mix of different cultures. Here are some typical dishes:

Panissa or Paniza is a variety of Calentita corresponding in every aspect to Ligurian panissa.
Fideos al horno is baked pasta similar to Greek pasticcio and Maltese imqarrun.
Calentita was imported by the Genoese and looks like a savory cake prepared with chickpea flour and baked in a pan.
Bollo de hornasso is a sweet similar to the Spanish hornazo. It is only available during Christmas and Easter holidays.
Rosto is another dish of Italian origin.
More things to see in Gibraltar
The Moorish Castle
This historic landmark dates back to the 8th century and looks down on the old town of Gibraltar. Although parts of the castle got destroyed over time, it still stands tall. The Castle is a significant part of the town till today as it depicts the bravery of the leaders of the ancient times through the battle scars inflicted during the numerous sieges.
Gibraltar Museum
Highlights the different cultural and historic aspects of Gibraltar. Established back in 1930, this museum features an outstanding collection of different exhibits including Roman anchors and geological origins from the Jurassic Period.
The Alameda
Gibraltar Botanic Gardens: The beautiful botanical gardens are perfect for a day out to relax and enjoy the peaceful atmosphere of the charming town. Spend your afternoons walking through the decorated lawns and admire the beauty of the luxuriant subtropical vegetation.
St. Michael's Cave
A large network of limestone caves located on the Rock with enormous stalactites and stalagmites. Known to the Romans and Greeks in ancient times, this mystical sight has many legends associated with it and is considered to be a top priority for Gibraltar visitors.
Apes of Gibraltar
The town is quite famous for its Barbary macaques which is a rare Moroccan breed of monkeys without tails. You can visit the Gibraltar Natural Reserve which is the best place to spot them. Try keeping a safe distance though because these monkeys can bite too.
The Great Siege Tunnels
These tunnels were initially carved by the British military when they were trying to protect The Rock from the Spanish forces. Even till today, these tunnels are considered an engineering marvel. There are guided tours that take you through the tunnels and enlighten you with its interesting history in detail.
More information about Gibraltar
What to do in Gibraltar in other months
Weather in Gibraltar for each month