What to do in June in Naples, Florida - 2024
Naples is a city and the county seat of Collier County, Florida, United States.
The economy of Naples is based largely on tourism.
Before we have a look at what you can do in Naples, let's first look at the weather you can expect in June.


June weather in Naples Florida
To get a good overview of the type of weather you can expect in June in Naples Florida, we will look at the day and night temperature, minimum and maximum water temperature, and if June is comfortable or humid
Generally, June in Naples Florida will be quite hot. Historical data shows that you can expect an average temperature of around 89°F / 32°C. But due to the very high humidity, it can feel very uncomfortable. During the night, it will cool down to around 73°F / 23°C. Many will prefer a location with air conditioning due to the night temperature, and the high humidity level.
Naples Florida has its share of rainy days in June. You can expect around 22 rainy days, with on average 3.4 inches / 87 mm of rain during the whole month.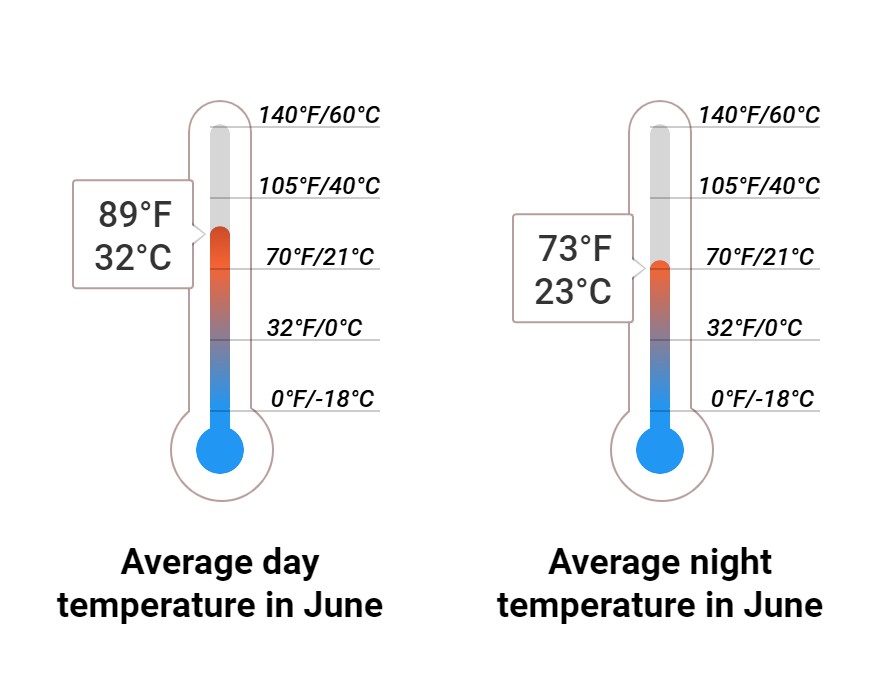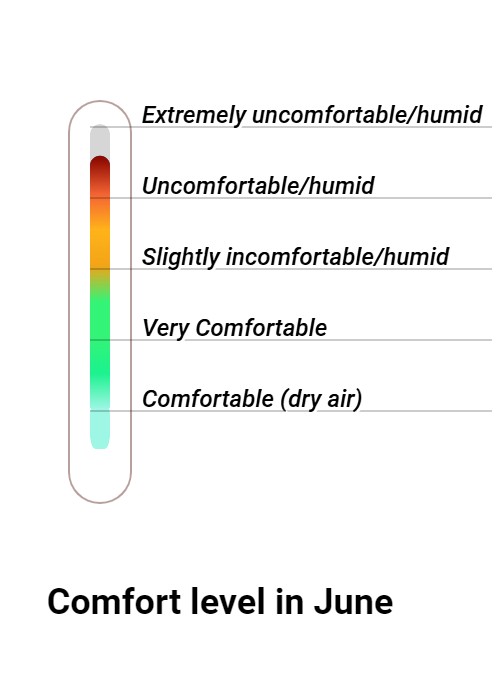 The forecast for June 2024 is based on historical data and are averages. They will give a good indication what you can expect, but the daily temperature and rain will fluctuate during the month.
Things to see and do in Naples
Naples has many things to soo. With help from our visitors we have dived a list of things to see in. If you have any sugestions or improvements for this list, please let us know.
Sanibel Island
Sanibel Island is known as the Shelling Capital of the World.
Norris Gardens
Norris Gardens is ideal for strolling in the evening breeze as you watch the sunset.
Naples Botanical Garden
Naples Botanical garden has more than 1000 plants.
The Baker Museum
Museum
Throughout the Year
The Baker Museum has different art collections.
Naples Beach brewery
Naples Beach brewery offers some tasty free samples.
Naples Pier
Naples Pier is used for fishing and dolphin watching.
Palm Cottage
Palm Cottage is the oldest building here. It is well-preserved and well-restored.
Barefoot Beach
Barefoot Beach is a nice place to find some shells.
Shopping in Naples
In Naples you will find many shopping malls which remain open all year round. There are also small craft and souvenir shops around the city.

5th Avenue Shopping Naples Florida
The Village Shops on Venetian Bay
Third Street South
Coastland Center
Tin City Waterfront Shops
Activities in Naples
Karaoke
You can participate in a karaoke event and sing with the locals in Naples. You can find several bars with different timings.
Yoga Retreats
You can find some top-class fitness and yoga retreats in Naples so that you can stay healthy.
Golf
you can find some of the top golf courses in and around the city like Naples Golf Course that also have other amusement activities.
Cruise Tiki Style
You can enjoy Naples Bay from the comfort of your stool. You can also enjoy food and beverages on this cruise.
Fishing
There are many preserves and beaches in the area where you can go fishing.
Walking Tour of Naples' Historic District
This tour takes you on a potted journey through Naples' most historic neighborhood and allows you to admire notable landmarks.
Day trips to other cities
there are many places worth visiting outside Naples. Small islands and preserves as well.
Helicopter Tour
You can take the aerial tour of the city and surrounding bays. Prices vary according to the duration of the tour.
Food Truck Park
You can spend time eating local foods from local vendors in this park.
Winter Wine Festival
It is one of the most successful charity events. The event will bring together renowned vintners, chefs, and Master Sommeliers with wine enthusiasts and philanthropists for a three-day festival
Car show
You can attend the Ferrari car show held on 5th avenue every year. You can also see a drive-off at 4 pm.
Restaurants in Naples
The dining experience in Naples will not leave you disappointed. You can enjoy typical American cuisine, in addition to restaurants with international cuisine.

Caffè Milano
Bha! Bha! Persian Bistro
Hob Nob
Brooks Burgers
D'Amico's The Continental
More things to see in Naples
Naples Depot Museum
You can witness the transportation history of Naples. You can ride the outdoor scale train that is pulled by a steam engine. There is also a multi-level train display.
Naples Historical Society's Historic Palm Cottage
This cottage dates back to 1895 and it has been restored to its original shape. It is filled with the aesthetic history of Naples along with paintings and antiques.
Delnor-Wiggins Pass State Park
It is one of the best beaches in the city with clear sand and water. You can enjoy a picnic at one of the soft spots. You can also observe flora and fauna in the nature park if you are fond of animals.
Von Liebig Art Center
The history of Naples stretches back to many hundred years but you will find modern and contemporary art in this art gallery. Its permanent exhibits feature a variety of works in different mediums that have many international influences.
Naples Botanical Garden
The 170-acre nature sanctuary showcases more than 1,000 species of flora throughout its nine tropical themed gardens and also untouched 90-acre preserve. Tours start at 11 am.
More information about Naples Florida
What to do in Naples Florida in other months
Weather in Naples Florida for each month