What to do in May in Haines City, Florida - 2024
Haines City is a city in Polk County, Florida. (Polk County is in the West Central region of Florida, occupying the space between Tampa and Orlando).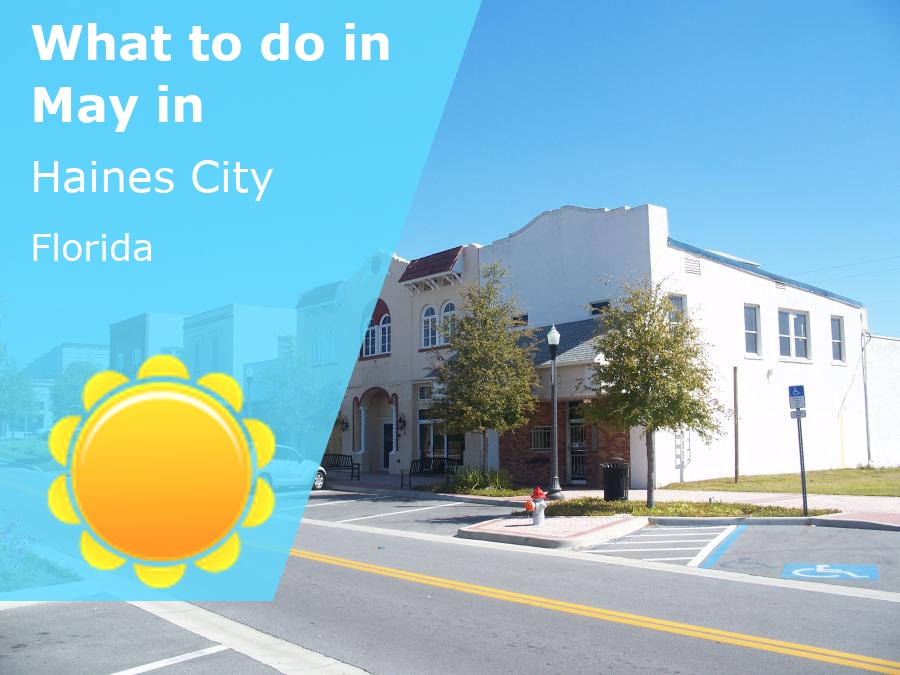 Before we have a look at what you can do in Haines City, let's first look at the weather you can expect in May.


May weather in Haines City Florida
To get a good overview of the type of weather you can expect in May in Haines City Florida, we will look at the day and night temperature, minimum and maximum water temperature, and if May is comfortable or humid
Generally, May in Haines City Florida will be quite hot. Historical data shows that you can expect an average temperature of around 87°F / 31°C. But due to the very high humidity, it can feel very uncomfortable. During the night, it will cool down to around 64°F / 18°C. Many will prefer a location with air conditioning due to the high humidity level.
Haines City Florida has its share of rainy days in May. You can expect around 11 rainy days, with on average 1.6 inches / 41 mm of rain during the whole month.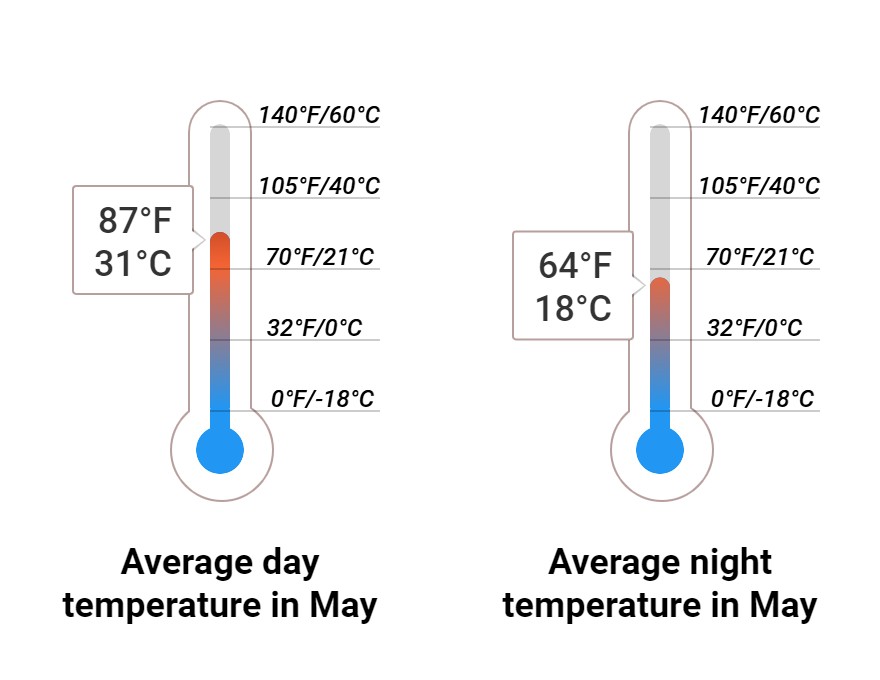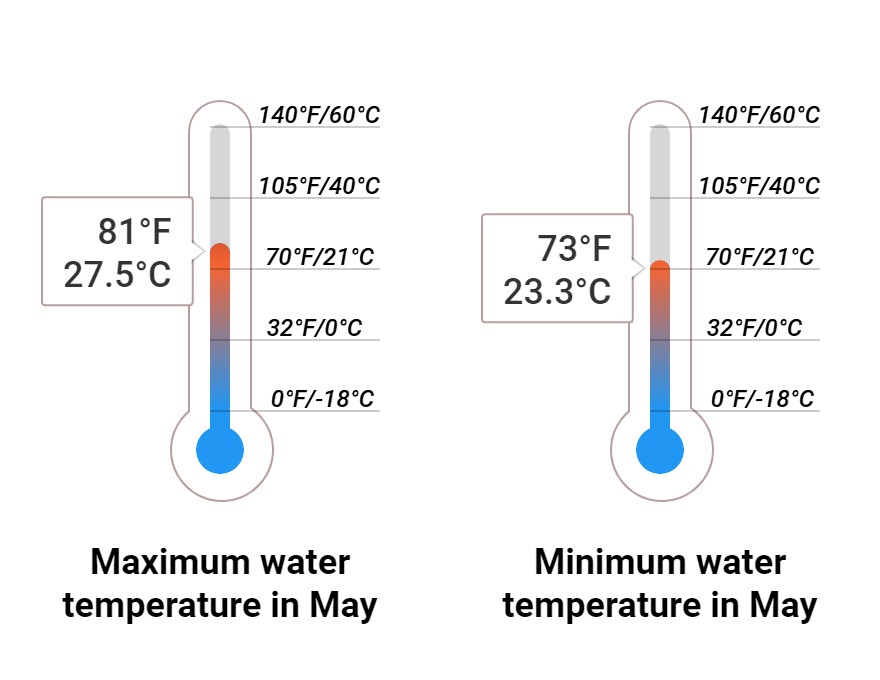 The forecast for May 2024 is based on historical data and are averages. They will give a good indication what you can expect, but the daily temperature and rain will fluctuate during the month.
Things to see and do in Haines City
Haines City has many things to soo. With help from our visitors we have dived a list of things to see in. If you have any sugestions or improvements for this list, please let us know.
Legoland Florida
Legoland Florida has a water park, botanical park, games, and rides.
Memorial Day
Memorial Day is celebrated on the 30th of May. It is also known as Decoration Day, as the graves of dead soldiers who passed away while keeping the nation safe are decorated with flowers. People gather in bars, fundraising parties are held, live music and food is served in casinos, and historical or literary shows are held in theaters.
Lake Eva Community Park
Lake Eva Community Park is the venue for many sports events. There are lakes, sports courts, and kids' play areas here.
Fantasy of Flight
Museum
Throughout the Year
The fantasy of Flight is a museum with various generations of war aircraft. Many exhibitions are organized here.
Southern Dunes Golf & Country Club
Southern Dunes Golf & Country Club has eighteen holes and variations in the elevation level making your game rounds even more enjoyable.
Ridge Island Groves
Nature/Wild Life
Throughout the Year
Ridge Island Groves has a large number of citrus fruit plantations bringing huge revenue to the economy of the country.
Universal Orlando
Universal Orlando is a theme park with live entertainment for kids and adults.
Lake Kissimmee State Park
Lake Kissimmee State Park has animals, plants, rivers, hammocks, and floodplains.
Shopping in Haines City
Haines City can can be quite busy during the winter period because it is considered high season so you will find stores and restaurants open.

Heart of Florida Shopping Center
Bealls Outlet
Dollar General Market
Winn-Dixie
Haines City Mall
Family Dollar
Walmart Supercenter
Activities in Haines City
Fishing
Spend your time fishing at any one of the lakes. You can visit Lake Eva or Lake Wales which is popular for this activity.
Art classes
Join an art class and learn how to paint, draw, or start with pottery.
Visit the parks
People of Haines city hold great pride in their parks. They are well maintained and offer a good place for a walk.
Walking/Cycling
Walking around the squares and enjoying the evening strolls in the park is something everyone looks forward to in this small town.
Community Theatre
Visitors can spend some time at the Community Theatre for some light comedy and remarkable performance. Even though it is a small theatre, the shows conducted here are incredible.
Cooking
Always wanted to improve your cooking? Join a cooking class and learn how to cook something special.
Golf
Visit the spectacular 18-hole Southern Dunes Golf Course for the perfect game of golf. There is excellent customer service and the place is widely known for its layout and elevation.
Ribs on the Ridge Festival
One of the largest barbeque festivals held in the town and lasts dor about two days. It takes place every year in February at Lake Eva Park.
Cuisine
Enjoy the local food and restaurants while living in Haines City to satisfy your taste buds.
Restaurants in Haines City
The dining experience in Haines City will not leave you disappointed. You can enjoy typical American cuisine and restaurants with international cuisine are also available.

Culver's
Little Caesars Pizza
Sonny's BBQ
Taqueria Don Gonzalo
Manny's Original Chophouse- Haines City
Li Garden of Haines City
More things to see in Haines City
Ridge Island Grooves
A citrus packinghouse and farm. Many tours are conducted for this place as it is an important landmark of the town with large orchards of fruits like oranges, lemons, and peaches.
Allen David Broussard State Park
Located on Lake Wales Ridge. This is a great place for visitors who would enjoy a nice hike in one of the trails here. It also provides you with an opportunity to enjoy fishing along with a nice wildlife watching experience.
Lake Eva Park
The most famous park in the area and is dearly loved by the locals and well maintained. Perfect to enjoy long strolls and beautiful weather. It is the center for numerous activities and is always full of life.
Southern Dunes Golf and Country Club
Ann 18-hole remarkable golf course with beautiful scenery and narrow fairways. Artistically built and well maintained, this gold course is must visit for all the golf lovers out there.
More information about Haines City Florida
What to do in Haines City Florida in other months
Weather in Haines City Florida for each month