What to do in May in Las Vegas, Nevada - 2024
Las Vegas is known for its casinos and world-class entertainment, but those are just two things to do in a city filled with attractions. On the Strip, you can take a spin on the world's largest observation wheel, the High Roller, ride on a Venetian gondola or watch the iconic Fountains of Bellagio.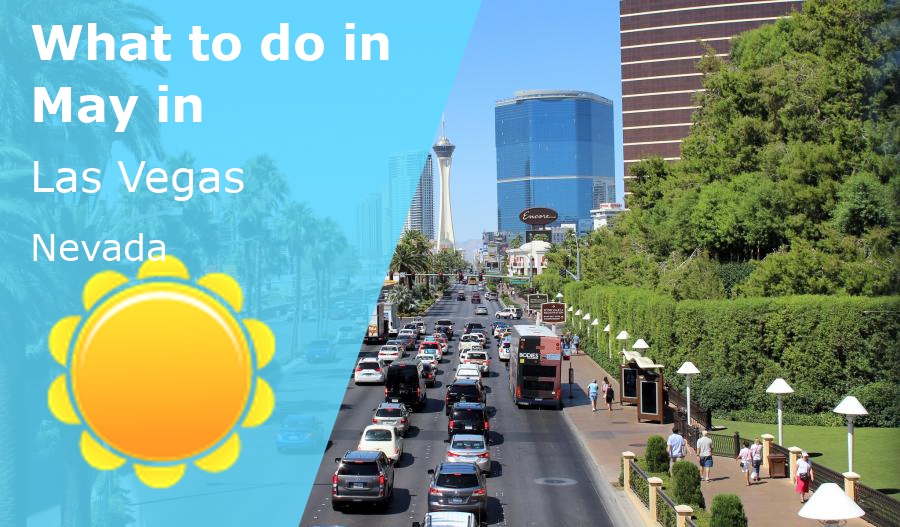 Before we have a look at what you can do in Las Vegas, let's first look at the weather you can expect in May.


May weather in Las Vegas Nevada
To get a good overview of the type of weather you can expect in May in Las Vegas Nevada, we will look at the day and night temperature, minimum and maximum water temperature, and if May is comfortable or humid
Generally, May in Las Vegas Nevada will be quite hot. Historical data shows that you can expect an average temperature of around 89°F / 32°C. But due to the very dry air, it can feel somewhat uncomfortable for some people. During the night, it will cool down to around 60°F / 16°C.
Las Vegas Nevada does not have a lot of rainy days in May. You can expect around 3 rainy days, with on average 0.3 inches / 7 mm of rain during the whole month.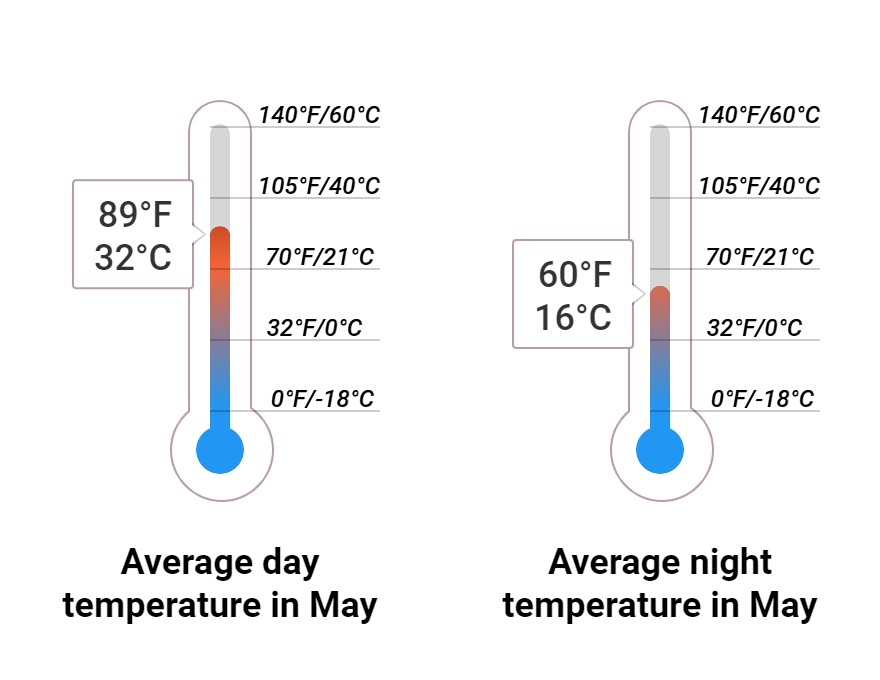 The forecast for May 2024 is based on historical data and are averages. They will give a good indication what you can expect, but the daily temperature and rain will fluctuate during the month.
Things to see and do in Las Vegas
Las Vegas has many things to soo. With help from our visitors we have dived a list of things to see in. If you have any sugestions or improvements for this list, please let us know.
The Reef Aquarium
Pool/Water Park
Throughout the Year
The Reef Aquarium gives a magical view.
Grand Canyon Skywalk
Trip/Tour/Excursion
Throughout the Year
The height of the Grand Canyon Skywalk is 1200 meters.
The Graceland Chapel
Cultural
Throughout the Year
The Graceland Chapel is ideal for a memorable wedding.
Black Canyon
Landmark
Throughout the Year
Emerald Cave is located in Black Canyon. The scenery is great for filming.
The Valley of Fire
Nature/Wild Life
Throughout the Year
The Valley of Fire is a magical place. Valley of Fire is famous due to its 2,000-years-old petroglyph formed on rust-colored sandstone figures.
The Linq
The Linq is the highest Ferris wheel in the world. You can get a bird's eye view of the entire city.
Escape room
Trip/Tour/Excursion
Throughout the Year
You can turn into a detective by playing some mysterious games and riddles in the Escape room.
Lost Spirits Distillery
Shopping/Eating
Throughout the Year
At Lost Spirits Distillery, you can taste some costly wine as a free sample.
The Grand Canyon
Nature/Wild Life
Throughout the Year
The Grand Canyon National Park has beautiful rock formations, ridges, cliffs, gorges, and a popular river. There are many hiking trails and helicopter or aircraft tours. You must try rafting on the Colorado River and skydiving. There are various camping sites and lodging options. Grand Canyon Village has free entry. There are shops, restaurants, and Grand Canyon Railway Depot. The South Rim has a geology museum. People enjoy riding horses or mules here. Some trails have no access to clean drinking water, so you must pack accordingly. There is a Grand Canyon IMAX Theater. Navajo Bridge is also a free site.
Antelope Canyon
Antelope Canyon is a magical place.
Shopping in Las Vegas
There are many malls where you can shop all year round. Many of these malls are open 24/7.

Downtown Container Park - downtowncontainerpark.com/
East Charleston Plaza - safcocapital.com/charlestonplaza_siteplan.html
Neonopolis - www.neonopolislv.com/
Activities in Las Vegas
Horseback riding
During the winter months, some ranches and equestrian centers offer guided horseback riding tours for visitors to bask in the natural landscape of the region.
Golfing
Golf is an iconic part of the city and there are many golf resorts in and close to Las Vegas.
Food and wine tours
These tours contain a wide range of options in Las Vegas and can be tailored to your needs.
Gambling classes
This city is primarily famous for gambling. There are some casinos that offer classes for those who wish to learn the art and tricks of gambling.
Night Tour by Open-Top Bus
This is an exciting way to discover and get acquainted with the history, culture, and architecture of Las Vegas. Visit /www.getyourguide.co.uk/las-vegas-l58/ for more information.
Walking and Hiking
The diverse landscape offers many trails for visitors to explore the city on foot.
Restaurants in Las Vegas
Large casinos will invariably offer a variety of dining options, ranging from the omnipresent buffet to simple cafes to gourmet restaurants to Michelin-star winning restaurants. The best buffets typically cost about $50 (approx. €47, £40, $67 CAD, $77 AUD) a person for a weekend dinner. You can also find many restaurants with international cuisines.


Hash House A Go Go
Carson Kitchen
Fusion Grille - Indian Food
Le Thai
More things to see in Las Vegas
Las Vegas Springs Preserve
Las Vegas Springs Preserve has historical significance and is also known as the birthplace of Las Vegas. The Nevada State Museum is located here, housing items from the development of Las Vegas as well as the natural history of the area. The 180-acre area includes botanical gardens displaying desert plants and a series of walking trails that can be explored on foot. Visit https://www.springspreserve.org/ for more information.
Fremont Street
emont Street is a famous and historic street located in downtown Las Vegas and has many attractions and famous casinos like the Golden Gate Hotel and Casino. It was named in honor of the late explorer John Charles Fremont.
Golden Gate Hotel and Casino
Golden Gate Hotel and Casino is located at Fremont Street and is the oldest attraction which opened its doors to the public in 1906. The hotel was also the first to serve cheap shrimp cocktails, a Las Vegas staple and icon to date.
The Mob Museum
The Mob Museum, also known officially as the National Museum of Organized Crime and Law Enforcement, is a history museum located in downtown Las Vegas. It features a display of artifacts, stories, and the history of organized crime in the United States, as well as the actions and initiatives by law enforcement to prevent such crimes. It is an interesting and educational museum to visit.
Las Vegas Strip
The Las Vegas Strip, also known as The Strip, has some of the largest hotels, casinos, restaurants, and extravagant resorts in the world. It is one of the world's most popular and iconic destinations and one of the driving forces of the state's economy.
Bellagio Hotel
The Bellagio Hotel on The Strip offers two interesting attractions for visitors. Bellagio Conservatory & Botanical Garden begets gorgeous and colorful floral arrangements and art. The fountains of the Bellagio are tall and impressive fountains that are choreographed to music for performances.
Stratosphere Tower
The Stratosphere Tower is located on The Strip and is a landmark of the Vegas skyline, offering a magnificent 360-degree view of the iridescent Las Vegas Strip and Valley.
More information about Las Vegas Nevada
What to do in Las Vegas Nevada in other months
Weather in Las Vegas Nevada for each month