What to do in May in Orange Beach, Alabama - 2023
Orange Beach is a city in Baldwin County, it has beautiful white sand beaches.
The city has a total area of , of which is land and , or 7.83%, is water.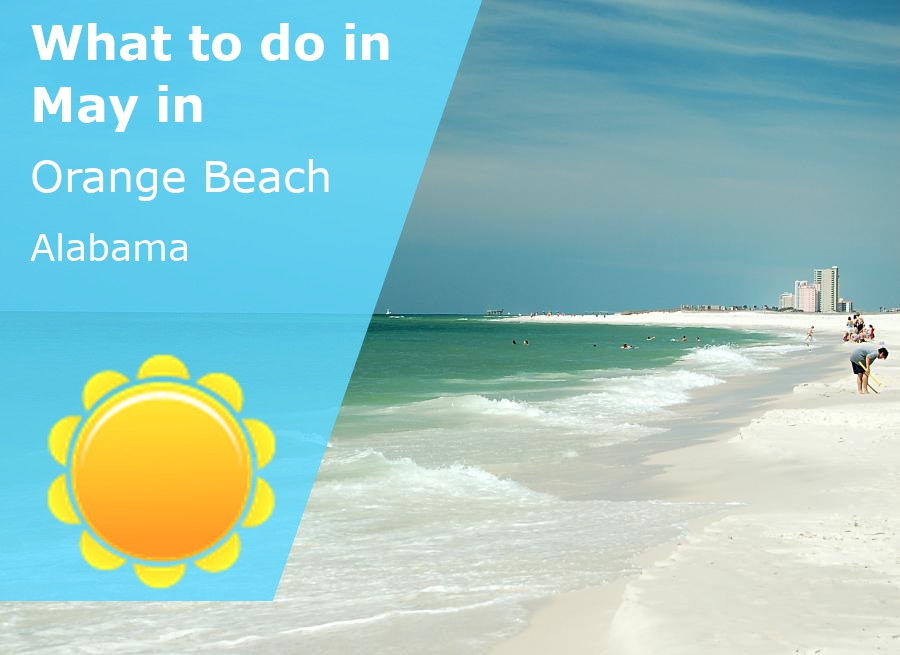 Before we have a look at what you can do in Orange Beach, let's first look at the weather you can expect in May.


May weather in Orange Beach Alabama
To get a good overview of the type of weather you can expect in May in Orange Beach Alabama, we will look at the day and night temperature, minimum and maximum water temperature, and if May is comfortable or humid
Generally, May in Orange Beach Alabama will be really nice. Historical data shows that you can expect an average temperature of around 82°F / 28°C. But due to the very high humidity, it can feel very uncomfortable. During the night, it will cool down to around 66°F / 19°C. Many will prefer a location with air conditioning due to the high humidity level.
Orange Beach Alabama has rainy days in May. You can expect around 10 rainy days, with on average 1.9 inches / 48 mm of rain during the whole month.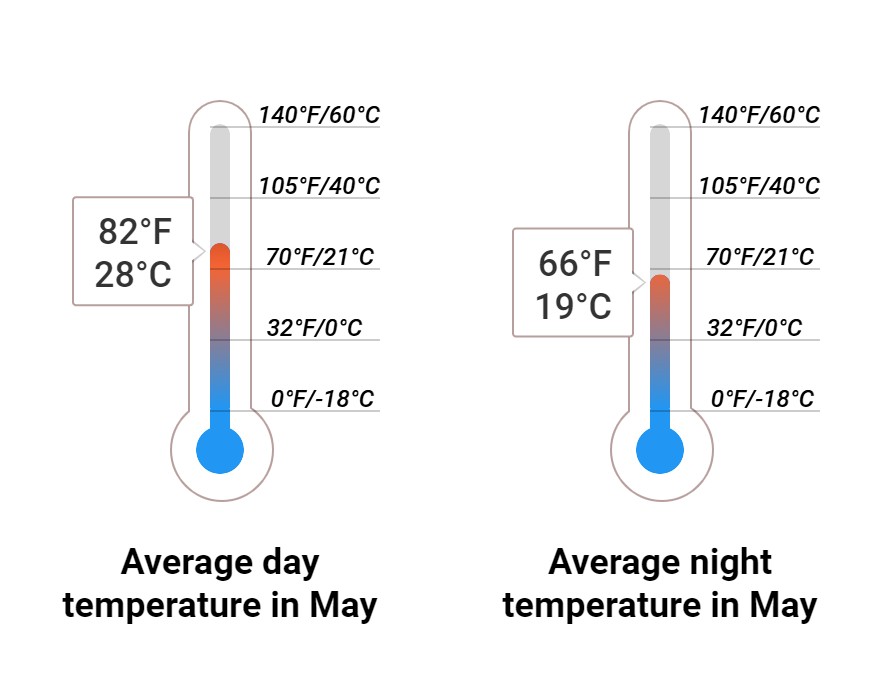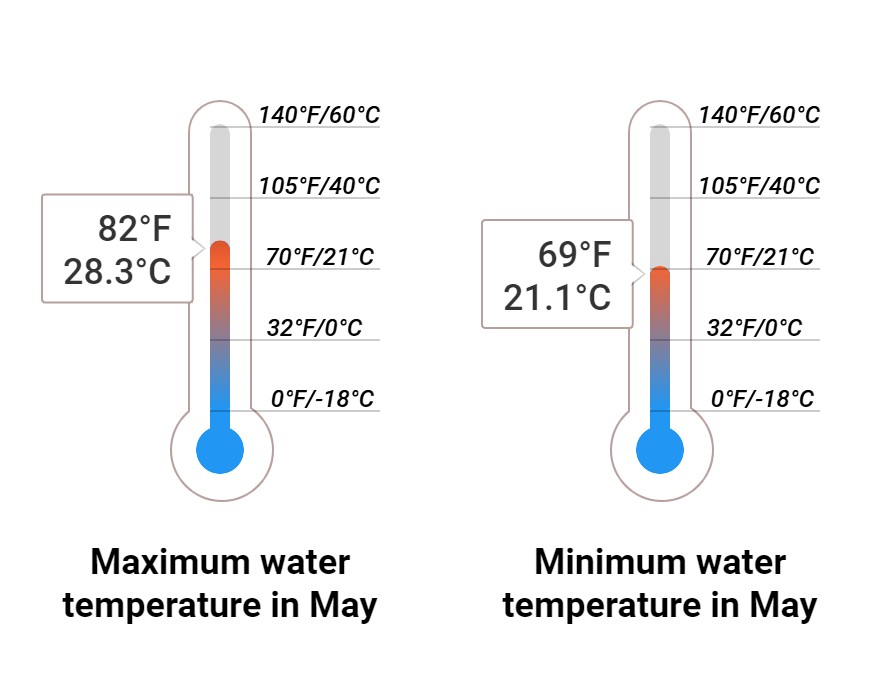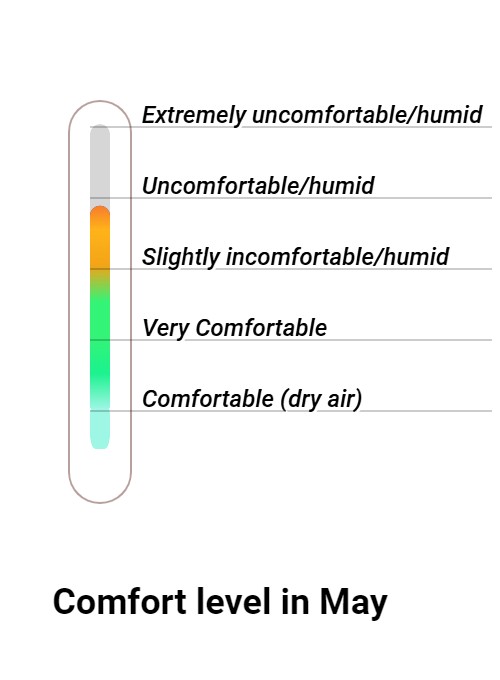 The forecast for May 2023 is based on historical data and are averages. They will give a good indication what you can expect, but the daily temperature and rain will fluctuate during the month.
Things to see and do in Orange Beach
Orange Beach has many things to soo. With help from our visitors we have dived a list of things to see in. If you have any sugestions or improvements for this list, please let us know.
Memorial Day
Memorial Day is celebrated on the 30th of May. It is also known as Decoration Day as the graves of dead soldiers who passed away while keeping the nation safe are decorated with flowers. People gather in bars, fundraising parties are held, live music and food is served in casinos and historical or literary shows are held in theaters.
Ferris Wheel ride
A Ferris Wheel ride is an affordable activity that gives a bird's eye view of the beach.
Gulf Coast Hot Air Balloon Festival
Gulf Coast Hot Air Balloon Festival is held annually in May, with thousands of spectators viewing the colorful hot air balloons soaring up the sky. There is fun, food and music.
Gulf State Park
Gulf State Park has many lakes and a beach ideal for much sun-based fun.
Cotton Bayou Beach
Cotton Bayou Beach is white sand, sunny beach ideal for swimming in the summer months as the temperature is moderate and the breeze is cool.
Shopping in Orange Beach
The Wharf is the Gulf Coast's most inviting shopping and dining destination with exciting retail and dining options. Shopping at The Wharf is a unique experience. Browse dozens of locally owned boutiques and one-of-a-kind shops-designed to delight the most seasoned shopper.

The Wharf - 23101 Canal Rd, Orange Beach, AL 36561
www.alwharf.com/
Activities in Orange Beach
Daytrips
Plan a nice, casual day-trip to the nearby cities to explore the area.
Arts and Crafts
Seize the opportunity to enroll in an art class at the Tails Art Gallery with the local artists of the city.
Dolphin Cruises
You can go on dolphin cruises with different tour guides. Among many others, the Gulf State Park also provides you with this wonderful opportunity.
Museums
There are a number of museums located in and around the city which highlight the important historic events of the area. If you're eager to learn about the area's history, you must visit these museums.
Beaches
The city is a popular beach destination and boasts miles of white sandy beaches with the most spectacular views.
Sunsets/Sunrises
Don't miss out on the breathtaking sunsets and sunrises which complement beautifully with the ocean.
Golf
If you're a lover of golf, you will be quite thrilled as there are numerous golf courses available within and outside the city. Gulf State Park has a pretty good golf course and is quite affordable.
Festivals
There is a wealth of festivity in the city throughout the year. Don't forget to take part in the Festival of Art which features a beautiful display of the intricate work of the local artists residing in the city.
Fishing
You can visit the Gulf State Park for a great fishing experience as it has the biggest fishing pier on the entire Gulf of Mexico.
Exercise Classes
Snowbirds can engage in exercise classes at Orange Beach which include dancing classes and different yoga retreats.
Restaurants in Orange Beach
The city is quite famous for the quality of its seafood. We reccomend:

Big Fish Restaurant
Voyagers
Villaggio Grille
Louisiana Lagniappe
Cobalt, The Restaurant
More things to see in Orange Beach
Orange Beach
it is known as one of the best beaches in the world. People from far away come to visit the Orange Beach for its spectacular views of the ocean, multiple amenities, and charming beach vibe.
Indian and Sea Museum
Features local artifacts and rich fishing heritage. The museum was inaugurated in 1995 and has since developed into a fairly good spot for history enthusiasts to learn about Native American history.
Gulf State Park
This Park has the largest fishing pier on the Gulf of Mexico and offers numerous activities to the visitors. You can even take a boat ride from here to see the dolphins and the area is surrounded by a number of cafes and bars.
Hugh S. Branyon Backcountry Trail
A
15 Miles (24 km)

long trail stretching all the way from Orange Beach to the Gulf Shores. A great place to explore if walking or riding a bike through the trail as the area features an interesting assortment of coastal swamps, marshes, and an abundance of wildlife.
The Wharf
The famous entertainment hub of Orange Beach which features all kinds of exciting activities for visitors. From shopping and dining to live music and a marina, this is where the city is liveliest. You should definitely plan on spending an entire day at the Wharf as the opportunities offered are endless.
More information about Orange Beach Alabama
What to do in Orange Beach Alabama in other months
Weather in Orange Beach Alabama for each month