Spend your fall, winter, or spring in Orange Beach, Alabama: Is Orange Beach a good snowbird location?
Casually resting on the southern shores of Alabama, Orange Beach calls out to people from far off lands to enjoy the mesmerizing beauty of the city. Originally named for the Satsuma oranges that once flooded the area, the Orange Beach of today has won the hearts of many through its widespread sandy beaches, serene atmosphere, and beautiful weather. If you're looking forward to a pleasant, laid-back vacation with striking spectacular views and a peaceful environment, this is the place for you. Orange Beach is no less than the perfect beach destination for your much-awaited winter getaway.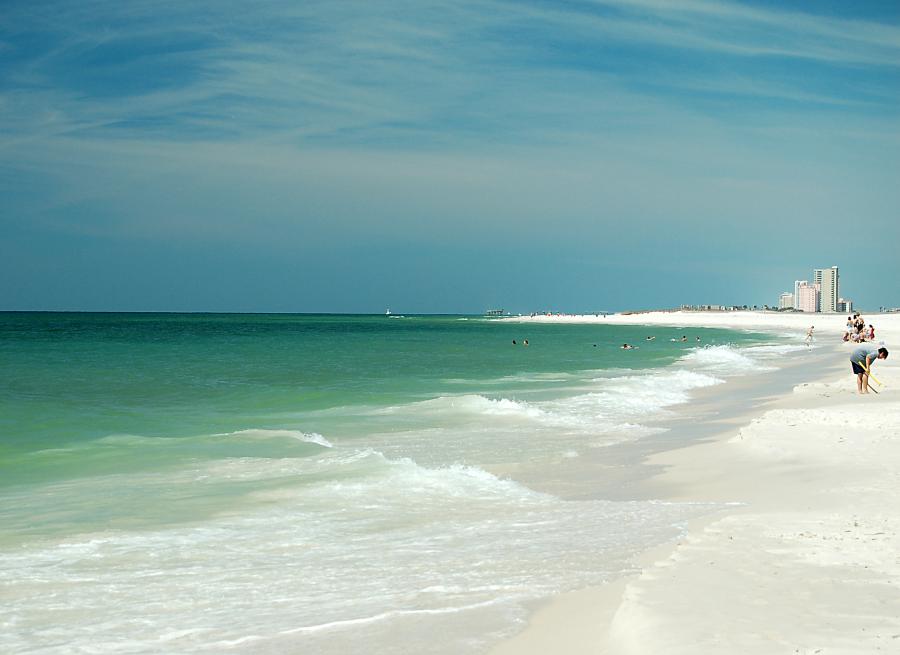 Why should people visit in the winter?
Many snowbirds escape their hometowns to avoid the cold, harsh winter. While Orange Beach provides a perfectly comfortable climate, on one hand, it also makes sure visitors aren't left void of entertainment in terms of comfort and recreational activities. Being an important tourist spot, the city offers numerous opportunities even in the winter months. In addition to being able to unwind in the easygoing environment, you will also be given the chance to engage in a number of activities like going on cruises, visiting museums, attending festivals, fishing, and many more. It may be quieter in winter but the town never sleeps.
Climate
Orange Beach is located near the sea and experiences hot and severe summer, whereas the winter is mild and windier. The average temperature stays around 44°F - 90°F (7°C - 32°C) throughout the year. It is advised to keep warm clothing in case you need to layer up when the temperature touches extreme lows.

Things to see in Orange Beach, Alabama
Orange Beach has many interesting sites for you to see and explore. Some of the most famous attractions in the city include:
Orange Beach: it is known as one of the best beaches in the world. People from far away come to visit the Orange Beach for its spectacular views of the ocean, multiple amenities, and charming beach vibe.
The Wharf: The famous entertainment hub of Orange Beach which features all kinds of exciting activities for visitors. From shopping and dining to live music and a marina, this is where the city is liveliest. You should definitely plan on spending an entire day at the Wharf as the opportunities offered are endless.
Hugh S. Branyon Backcountry Trail: A 15 Miles (24 km)

long trail stretching all the way from Orange Beach to the Gulf Shores. A great place to explore if walking or riding a bike through the trail as the area features an interesting assortment of coastal swamps, marshes, and an abundance of wildlife.

Indian and Sea Museum: Features local artifacts and rich fishing heritage. The museum was inaugurated in 1995 and has since developed into a fairly good spot for history enthusiasts to learn about Native American history.
Gulf State Park: This Park has the largest fishing pier on the Gulf of Mexico and offers numerous activities to the visitors. You can even take a boat ride from here to see the dolphins and the area is surrounded by a number of cafes and bars.
Things to see not far from Orange Beach, Alabama
There are many places and towns in the surrounding areas that one can visit. Some of these include:
Gulf Coast Zoo: It is located in Gulf Shores at a distance of 11.4 Miles (18 km)

from Orange Beach. The zoo is home to over 300 different species of animals and several themed parks. You can take a tour of the place and learn through their educational talks about the animals.

Fort Morgan: It is located at a distance of 28.7 Miles (46 km)

from Orange Beach. The Fort holds great value for the people as it was a significant piece of the Battle of Mobile Bay in 1864 and the Spanish American War. There are many tour group companies that take you through different parts of the Fort and enlighten you with its fascinating history and architecture.

Perdido Key: It is located at a distance of 10 Miles (16 km)

from Orange Beach. Take a day-trip to the beautiful town of Perdido Key in Florida and behold the remarkable views of the marshlands on one side and the Gulf of Mexico on the other.

Hog Wild Beach: It is located at a distance of 7.5 Miles (12 km)

from Orange Beach. If you run out of seafood options in the city, drive over to the Hog Wild Beach for a change and get a chance to savor their decadent Southern barbeque cuisine.

Gulf Shores Museum: It is located at a distance of 7.5 Miles (12 km)

from Orange Beach. A great place to learn about the experiences of the people who lived on the shores throughout the ages when the area was just a small fishing village.
Activities in Orange Beach, Alabama in the winter
You can spend a wonderful time at Gulfport as the place offers a number of activities for you to participate in.
Beaches: The city is a popular beach destination and boasts miles of white sandy beaches with the most spectacular views.
Exercise Classes: Snowbirds can engage in exercise classes at Orange Beach which include dancing classes and different yoga retreats.
Sunsets/Sunrises: Don't miss out on the breathtaking sunsets and sunrises which complement beautifully with the ocean.
Fishing: You can visit the Gulf State Park for a great fishing experience as it has the biggest fishing pier on the entire Gulf of Mexico.
Museums: There are a number of museums located in and around the city which highlight the important historic events of the area. If you're eager to learn about the area's history, you must visit these museums.
Dolphin Cruises: You can go on dolphin cruises with different tour guides. Among many others, the Gulf State Park also provides you with this wonderful opportunity.
Arts and Crafts: Seize the opportunity to enroll in an art class at the Tails Art Gallery with the local artists of the city.
Festivals: There is a wealth of festivity in the city throughout the year. Don't forget to take part in the Festival of Art which features a beautiful display of the intricate work of the local artists residing in the city.
Golf: If you're a lover of golf, you will be quite thrilled as there are numerous golf courses available within and outside the city. Gulf State Park has a pretty good golf course and is quite affordable.
Daytrips: Plan a nice, casual day-trip to the nearby cities to explore the area.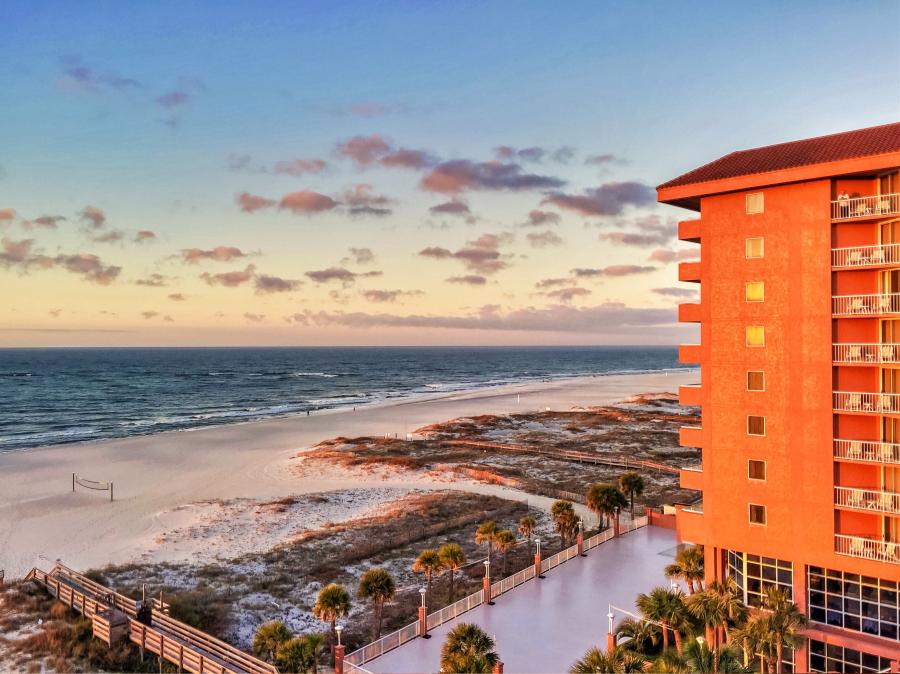 Shopping + Restaurants. Are they open in the fall, winter, or spring?
Orange Beach is quite an entertaining site in winter. Whether you're looking for a farmers market or thrift shop, you can fulfill all your shopping desires and find the perfect souvenir to take home with you. You can visit any of the places mentioned below for great shopping experience:
The city is quite famous for the quality of its seafood. Even though Orange Beach is comparatively quieter in winter, you can still find numerous food options in the town. Other than their local specialty, you should try out other cuisines as well. Make sure you try their local shrimp, crab and oysters, and fish.
Transport
The nearest airport to Orange Beach is the Pensacola International Airport which is a commercial airport located at a distance of 30.4 Miles (49 km) from the city. The most convenient forms of transport used to reach your destination are by hailing a cab or order an Uber. Having a car can be convenient during your stay. You can rent one at the airport easily, but there are also numerous other locations if you do not want to rent one all the time.
People of Orange Beach prefer moving around the city on foot as the beach is located close to the hotels and restaurants. Other common means of transport include rental car services and taxis. If you're planning to stay in the city for a longer period, renting a car is advised as the city does not have a proper public transport system. There are several options available for you to fulfill your transportation needs. The most commonly used services include:
Blue Dolphin Taxi
A-1 Taxi Service
Coastal Express Shuttle
If you want to use public transport, an easy way to find the best route is to use Google Maps. Find the directions from your starting point to the destination, and click on transit. It will then show you the public transport options.
Health
The medical community in the city is organized properly. The medical staff is well-trained and you will find professional doctors at your service. Emergency care units are present at all times and the hospitals are well-equipped and provide different services like vaccinations, X-rays, primary care, routine checkups, etc. The best medical centers in the area are:
Accommodation
If you are a visitor in Orange Beach, you can effortlessly find a suitable place to stay in town during winter for $1400 (approx. €1333, £1154, $1913 CAD, $2197 AUD) per month. Some of the most commonly used organizations for finding a nice second home are mentioned below: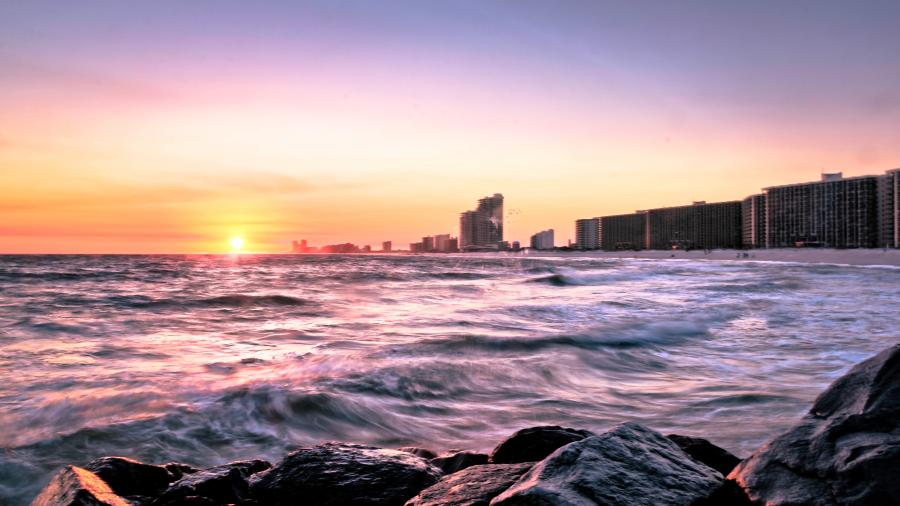 RV/Campers/Motorhome
RV Camping is also quite popular among the visitors in Orange Beach. These sites are well-maintained and perfectly suitable for visitors who are looking for a decent place to park their motorhomes. Therefore, you will find numerous options in the area. Some of the best options are listed below:
Packing List
Weather: The fall, winter, and spring weather in Orange Beach (Alabama) will normally be chilly during the day and cold during the night. Of course in the fall and spring it will be warmer than in the winter. You have to pack accordingly.

Warm clothing: Even when you go to a warm location like Orange Beach (Alabama) you should not forget to take some things with you for your trip back home. When you return you are adapted to the warmer weather and need something to protect you from your hometown temperatures.

Consider the Weather: Always look at the type of weather in Orange Beach (Alabama). Things like humidity, wind, and rain do not show up in the temperature graph but can have a great impact on your wardrobe. There are several sites with long term forecasts and climate information. Is there often a short afternoon downpour like in the tropics, you maybe need to take a strong umbrella and shoos that can cope with the rain. If there is often a lot of wind you might need a more wind-resistant coat.

Check the local Shopping options: Try to find information about the local shopping options near your location in Orange Beach (Alabama). Are there stores where you can buy all your daily supplies, or are some things difficult to get? For some more remote locations, the options can be limited. If a certain item is really important for you might need to take it with you.

Look at the Local Culture: The local culture in Orange Beach (Alabama) can impact your wardrobe. If most activities are in more upscale locations you might take some more appropriate clothes with you. Or travelling if you travel to certain countries women need to cover themselves in certain areas.

Amenities: Know what's Included in your house or apartment. Is there a coffee maker, a toaster, a washer and dryer, an iron, what is in the kitchen, what kind of towels are there? Things that are there means you do not have to take them with you. A furnished apartment or house can mean something from a few pieces of furniture to a well-stocked place with all the things you have at home. But most of the time your rental will not be stocked.

Mix and match: Wear layers so you can use your wardrobe more efficiently. And do not worry about wearing something more often, probably only you will notice this.

Important for you: If there is something that is really important for you that you want to have present in your house or apartment, take it with you. This can be something like a special knife for the kitchen, or a small mirror that you use in the morning. You can also purchase it locally if it is not that expensive.

Pet supplies: If you take your pet with you don't forget to take supplies for a few days with you. And enough medication, vitamins, or other supplies if you can not purchase them in Orange Beach (Alabama) locally.

Food: Don't take a lot of food with you. Only when there is something you really can not live without you, and it is not too heavy you could consider taking it with you.

Towels: Not all locations include bigger towels for the swimming pool or a visit to the beach. If you have to take them and don't have a lot of room you can buy some big thin towels.

Office supplies: Normally you will not find any office supplies in your house or apartment. If you think you will use them you could pack some supplies like a scissor, notepaper, envelopes, some pens, and more depending on your needs.

Limit yourself: Don't take too many shoes and jackets, you will not need them that often.

Best-fitting: Bring your favorite and best-fitting items that can multi-function

Washer: Do you have a washer and dryer onsite, you don't need to pack a lot of clothes
Clothing
Basics
Casual
Smart
Footwear
Toiletries
Beauty
Hygiene
Clothing
Basics
Casual
Outdoor
Footwear
Accessories
Toiletries
Medicine
Miscellaneous
Other
Toiletries
Beauty
Hygiene
Hair
Other
Medicine
Miscellaneous
Technology
Travel and Free time
Travel
Free time
Important
Documents
Money
Other locations close to this location:
Travelers' Map is loading...
If you see this after your page is loaded completely, leafletJS files are missing.
If you have any additions, or comments on the content on this page, please use our contact form to let us know.
Detailed weather during the year for Orange Beach Alabama
What to do during the year in Orange Beach Alabama