What to do in November in Anaheim, California - 2023
Anaheim is a city in Orange County, California. It is best known for being the home of Disneyland. Anaheim's name is a blend of 'Ana', after the Santa Ana River, and 'heim' meaning home in German.
The city was founded by fifty German families in 1857 and incorporated as the second city in Los Angeles County on March 18, 1876.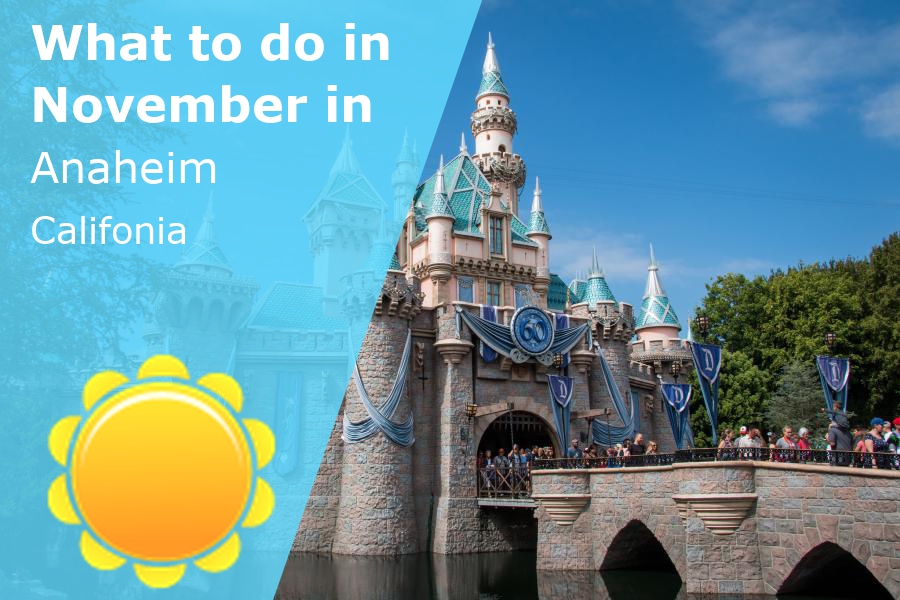 Before we have a look at what you can do in Anaheim, let's first look at the weather you can expect in November.


November weather in Anaheim California
To get a good overview of the type of weather you can expect in November in Anaheim California, we will look at the day and night temperature, minimum and maximum water temperature, and if November is comfortable or humid
Generally, November in Anaheim California will be really nice. Historical data shows that you can expect an average temperature of around 71°F / 22°C. But due to the very dry air, it can feel somewhat uncomfortable for some people. During the night, it will cool down to around 51°F / 11°C.
Anaheim California does not have a lot of rainy days in November. You can expect around 3 rainy days, with on average 0.7 inches / 17 mm of rain during the whole month.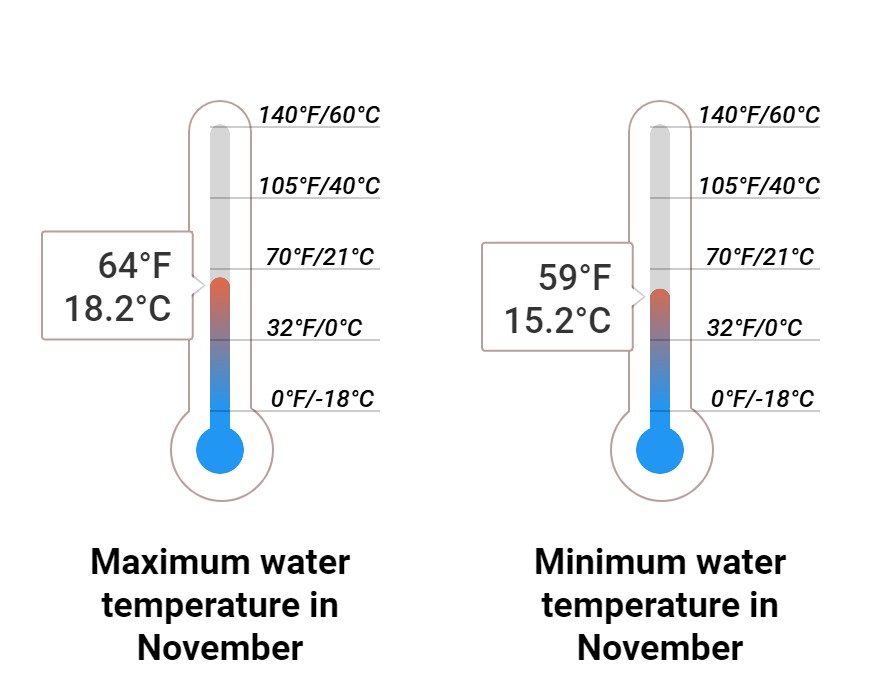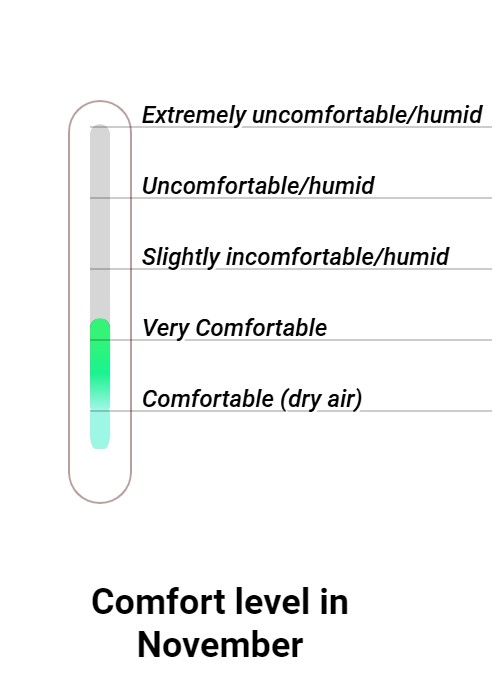 The forecast for November 2023 is based on historical data and are averages. They will give a good indication what you can expect, but the daily temperature and rain will fluctuate during the month.
Things to see and do in Anaheim
Anaheim has many things to soo. With help from our visitors we have dived a list of things to see in. If you have any sugestions or improvements for this list, please let us know.
Honda Center
Honda Center is a place for child-friendly performances, festival events, comedy shows, professional wrestling, concerts, and USA basketball.
CtrCity Anaheim
CtrCity Anaheim has a promenade with many brands, food courts, palm trees, and some historic blocks.
Anaheim Packing District
Cultural
Throughout the Year
Anaheim Packing District has a farmers' park, marmalade factory, and Anaheim Packing House Food Hall. You can enjoy some food and a stroll here.
Disneyland Resort
Disneyland Resort has two attractions Disney California Adventure Park combined with Disneyland Park. There are many more theme parks with the main venue suitable for kids and adults.
Angel Stadium
Angel Stadium has affordable tickets, with millions of viewers arriving each year. Some major leagues play here regularly.
Anaheim GardenWalk
Anaheim GardenWalk is lined with shops, bowling clubs, nightclubs, and hotels.
Shopping in Anaheim
Anaheim has many opportunities for visitors who enjoy shopping.
The Downtown Anaheim Farmers Market has a wide range of fresh fruit and vegetables, dairy, clothing, handmade goods by the local artisans.

Downtown Disney District
Anaheim Town Square
Anaheim Town Center
Anaheim Plaza
Activities in Anaheim
Farmer and Craft market
Farmer and Craft markets are a good opportunity for social interaction and can prove to be an interesting shopping experience.
Cycling
Cycling through the city, the central promenade, and the natural parks can be so much fun.
Gastronomy
Visitors can enjoy the local and international cuisine and also drink at various restaurants, cafes, and bars across the city.
Walking
You can enjoy one of the natural trails in the parks and the nearby hills.
Cooking
Have you always wanted to improve your cooking? You can join a cooking class and learn how to cook something special.
Horseback riding
Horseback riding is a very popular pastime in Anaheim, many Equestrian Centers provide well-trained horses for a wonderful riding experience both for beginners and trained riders.
Whale watching
Whale watching at the beaches near Anaheim is a treat because many species head to this region's beaches due to the favorable climatic conditions.
Golf
Anaheim Hills Public Golf Course also offers a leisurely golfing experience for its visitors along with a coaching facility.
Art classes
You can join an art class and learn how to paint, draw, or do some pottery.
Restaurants in Anaheim
There are lots of places to eat in and around Disneyland.

Carl's Jr.
Naples Ristorante E Bar
Benihana
Anaheim White House
Angelo's and Vinci's Ristorante
El Torito
More things to see in Anaheim
Grove of Anaheim
This is a theatre that hosts interesting shows. This theatre is a regular place for music concerts and other cultural events.
Muzeo Museum and Cultural Center
It has a collection of exhibits dedicated to the history of the city. Here, you can see some unique artifacts and old photographs.
Founders' Park
This is a small historic park. It houses the 1857 Mother Colony House, built by George Hansen, the German colonist known as the Father of Anaheim.
Disney California Adventure Amusement Park
This is one of the largest and oldest parks in the world. It is divided into thematic zones, each of which has a special attraction.
Anaheim Hills Golf Course
This is a modern golf course that provides a wonderful and leisurely experience to its visitors. If you are not experienced in golf and you want to learn, the golf school offers you an opportunity.
Yorba Regional Park
This is a large natural park filled with old trees and a lake where you can enjoy fishing or a boat ride. It is a good location to relax, take a walk, or do some cycling.
More information about Anaheim California
What to do in Anaheim California in other months
Weather in Anaheim California for each month