What to do in November in Los Cristianos, Spain - 2023
In the past, Los Cristianos was a quiet fishing village. Today, the beach is surrounded by luxury resorts and the pier is occupied by luxury yachts. Los Cristianos was one of the first beach resorts in Tenerife to establish itself as a destination for international tourism, starting in the 1960s.
Before we have a look at what you can do in Los Cristianos, let's first look at the weather you can expect in November.


November weather in Los Cristianos Spain
To get a good overview of the type of weather you can expect in November in Los Cristianos Spain, we will look at the day and night temperature, minimum and maximum water temperature, and if November is comfortable or humid
Generally, November in Los Cristianos Spain will be really nice. Historical data shows that you can expect an average temperature of around 75°F / 24°C. Due to the dry air, it will feel very comfortable. During the night, it will cool down to around 60°F / 16°C.
Los Cristianos Spain has some rainy days in November. You can expect around 5 rainy days, with on average 0.9 inches / 22 mm of rain during the whole month.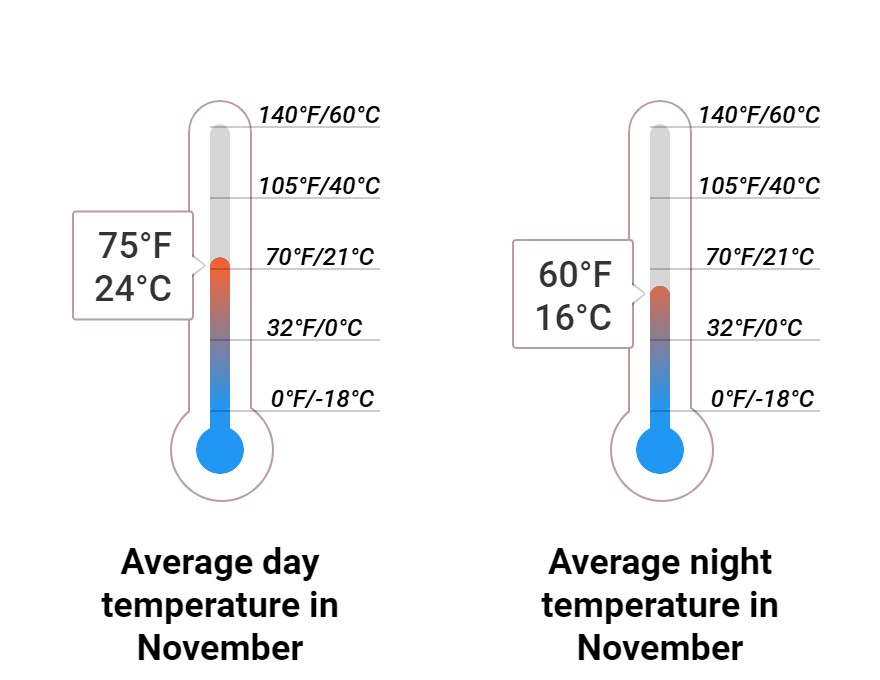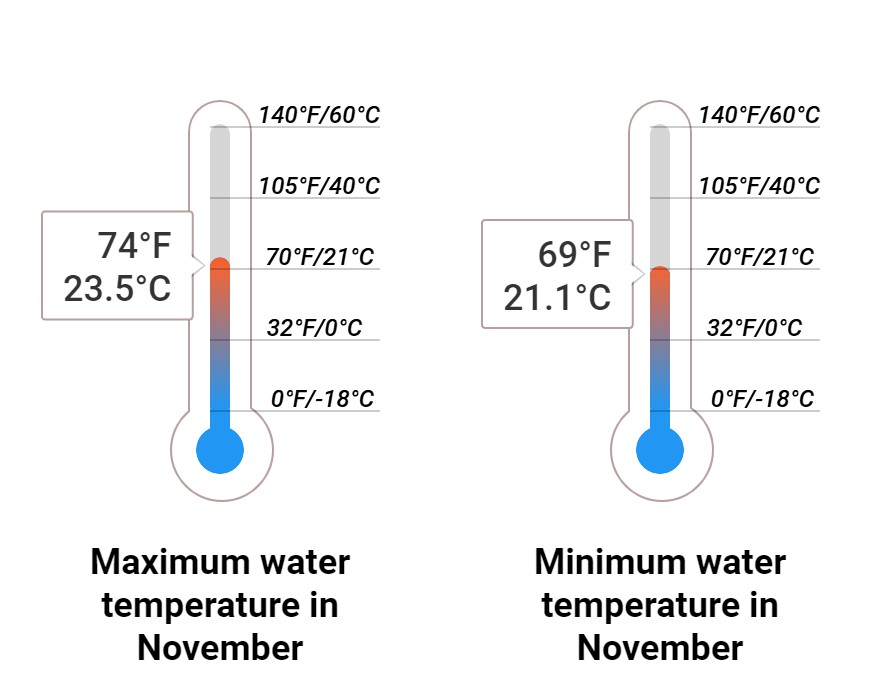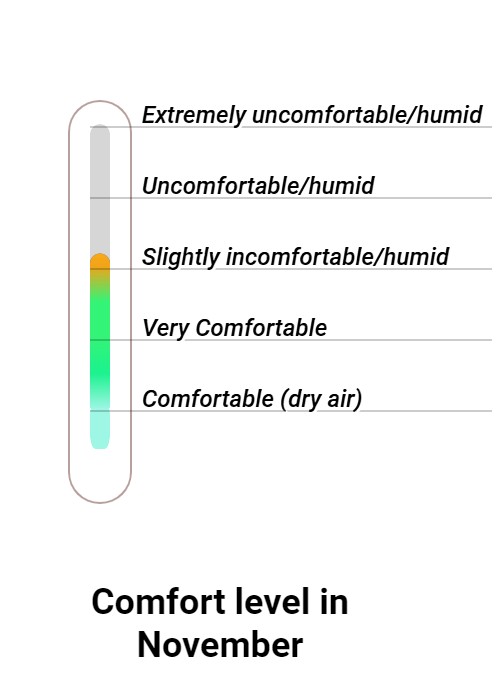 The forecast for November 2023 is based on historical data and are averages. They will give a good indication what you can expect, but the daily temperature and rain will fluctuate during the month.
Things to see and do in Los Cristianos
Los Cristianos has many things to soo. With help from our visitors we have dived a list of things to see in. If you have any sugestions or improvements for this list, please let us know.
Shopping in Los Cristianos
Just take a walk through the streets and experience the charm of the local shops.
Or we can suggest this shopping center:

Passarela Oasis Shopping Center: Av. San Francisco, 6, 38650 Los Cristianos.
Activities in Los Cristianos
Wildlife Parks
There are several wildlife parks in Los Cristianos where visitors can see different species of animals up close in their natural habitat.
Beaches
Los Cristianos has a few amazing beaches where visitors can relax, unwind, swim, or simply sunbathe next to the ocean.
Dolphin and whale watching
Los Cristiano's waters are among those that see whales and dolphin activity during the winter. These aquatic creatures are so important to the region that there is a mural dedicated to them here.
Restaurants in Los Cristianos
In Los Cristianos you will find a wide selection of restaurants and bars, where typical dishes of the island are offered, as well as international dishes.

Beat
Rosario Restaurante
TeD Trattoria Italiana - Los Cristianos
More things to see in Los Cristianos
Tenerife Zoo Monkey Park
Animal lovers can enjoy a view of different species of monkeys, marsupials, and other primates at the Tenerife Zoo Monkey Park.
Great whale and Dolphin Mural
Great whale and Dolphin Mural is an ode to the aquatic life that surrounds Los Cristianos and the need to protect it, this mural is one of the largest in the world that conservationists and environmentalists built.
Playa Las Vistas
Los Cristianos has a number of amazing beaches and Playa Las Vistas is one of the top sites to visit.
Los Cristianos market
Los Cristianos market is the largest market in all of the south of Tenerife, you can purchase locally made items, clothes, and other souvenirs.
More information about Los Cristianos Spain
What to do in Los Cristianos Spain in other months
Weather in Los Cristianos Spain for each month