Spend Your Fall, Winter, or Spring in Los Cristianos, Spain: Is Los Cristianos A Good Snowbird Location?
Snowbirds eager to spend some time in the warmer parts of Europe during the winter may consider Los Cristianos. Los Cristianos is located on the south coast of Tenerife, the largest of the Canary Islands. This small town is nestled between two mountains in the Arona Municipality, it was once a fishing village but is fast becoming one of the major tourist attractions of the island. It's older canary island-style architecture is evidenced in a number of buildings which contribute to the town's innate charm.
The town began to serve as a center of trade for the island after the turn of the century when threats of pirates and privateers were no longer present. Discovering the warm climate, a sickly Swedish TV commentator spread the news to his other ailing friends seeking warm weather to ease their health conditions as his time in Los Cristiano has helped improve his wellbeing. Soon, more people who preferred warmer weather began to flock here.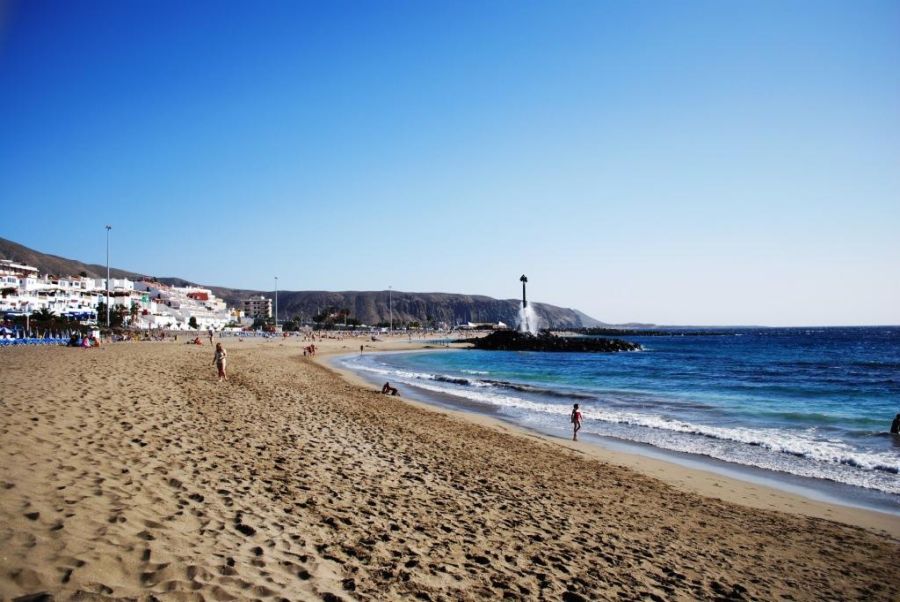 Why should people visit during the fall, winter, or spring?
The warm and extremely pleasant climate is just one of the many reasons why this town attracts a large number of visitors during the winter. There are endless attractions to see and the town has its own share of amazing beaches. A number of European settlers live here permanently so there are a few English speaking establishments and the language is widely spoken. The locals on the island are as warm as the weather and most people will feel welcome here.
Climate
The climate in Los Cristianos is warm and it has a stable year-round climate that is pleasant. It has a subtropical oceanic climate and during the winter in December, it tends to rain a lot however the sun quickly reappears and dries everywhere up. The temperature is usually warm in the summer with an average high of 28°C (82°F). In winter it gets a bit cooler with an average temperature of 20°C (68°F).

Safety
Los Cristianos is relatively safe for visitors. Just like with many destinations for tourists in the world, you are advised to be cautious and desist from excessive displays of wealth. Do not move around with a lot of money on you and keep your wallets and purses secure. Snowbirds are also reminded to be careful in crowded areas, avoid dark streets and alleys at night. Crime rates are low and there are few cases of mugging or pickpocketing. However, if you stay cautious, you'll be safe throughout your trip.
Communication internet, and cellphone in Los Cristianos, Tenerife
Spanish is the main language spoken here as the Canary Islands are part of Spain. Due to the high influx of tourists and settlers from other English speaking European countries, a good number of locals also speak English and German. You can get by with only English but it also helps to pick up a few Spanish words as you may run into a few people who only speak Spanish. You can buy a local SIM card when you land in the airport which comes with free text messages, data, and call time minutes for the first 28 days. When you exhaust this bonus, you can simply top up and continue using your sim. SIM cards cost around $11 (approx. €10, £9, $15 CAD, $17 AUD).
Things to see in Los Cristianos, Tenerife
Beach Playa Las Vistas – Los Cristianos has a number of amazing beaches and this man-made beach is one of the top sites to visit.
Los Cristianos market – the largest market in all of the south of Tenerife, you can purchase locally made items, clothes, and other souvenirs.
Great whale and Dolphin Mural – an ode to the aquatic life that surrounds Los Cristianos and the need to protect it, this mural is one of the largest in the world which was built by conservationists and environmentalists.
Monkey Park – animal lovers can enjoy a view of different species of monkeys, marsupials, and other primates.
Things to see not far from Los Cristianos, Tenerife, Spain
Siam park – self-proclaimed the most spectacular water attraction in all of Europe, this park is a siam themed water park with lots of attractions.
Eagle park – located 5 minutes away from Los Cristianos, this park is home to many large birds of prey such as a variety of Eagles and falcons. There are also other animals in the park.
Piramide de Arona – this stunning pyramid-shaped piece of architecture is an auditorium where both modern and traditional flamenco dances are staged.
Activities in Los Cristianos, Tenerife, Spain during winter
Dolphin and whale watching – Los Cristiano's waters are among those that see whales and dolphin activity during the winter. These aquatic creatures are so important to the region that there is a mural dedicated to them here.
Beaches – Los Cristianos has a few amazing beaches where snowbirds can relax, unwind, swim, or simply sunbathe next to the ocean.
Visit parks – there are a number of wildlife parks in Los Cristianos where snowbirds can see different species of animals up close in their natural habitat.
Shopping + Restaurants. Are they open in the fall, winter, or spring?
Thanks to the year-round warm and sunny weather, the shops and restaurants do not close during the winter months. In fact, some of the best shopping can be done in this quaint town. There is a mall with chain stores you may be familiar with selling clothing items and other basics as well as local markets where you can get things like locally grown food and handicraft items. Restaurants are also open and serve some of the most delicious seafood and local delicacies you absolutely have to try. The nightlife in Los Cristianos is also very vibrant and many bars play music, put on live performances, and serve wonderful cocktails.
Transport
To get to Los Cristianos, snowbirds would land in the Tenerife South airport which is about 15 minutes' drive away from Los Cristianos. From the airport, you can take a bus or taxi into the town.
Los cristianos has an extensive bus network that gets to most parts of the town. Bus fares are cheap and their vehicles are usually clean and on schedule. A great way to get a discount on bus fares is by purchasing a "Bono ticket"
There are also taxis available to take you around the town although they tend to cost more than using the bus. Car rental services are also available. The roads are motor-able and it is much convenient for exploring the town at your own pace. You can rent a small economy car for $12 (approx. €11, £9, $16 CAD, $18 AUD)
Health
Medical care in Los Cristianos is comparable with most places in Europe. The most modern hospital on the entire island is located here. The town has standard health facilities and well trained, qualified doctors and support staff. Many of the doctors speak English so communicating with them would not be a problem. In the event that your doctor does not speak English, you can have someone translate for you. There are also well-stocked pharmacies where you can buy over the counter prescriptions as well as specialty meds. Snowbirds should remember to always travel with comprehensive insurance that also covers medical costs.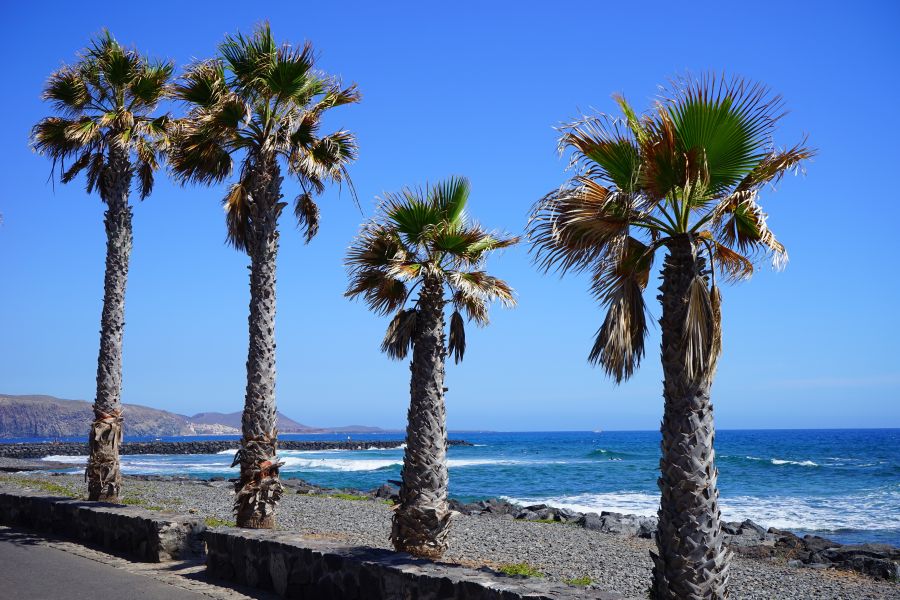 Accommodation
Getting a place to stay in Los Cristianos is quite easy as there are a number of short-stay homes and self-catering sublets available to chose from. The houses and flats up for lease are usually modern and fitted with the amenities you need like hot running water and a kitchen. Rent for a fully furnished one-bedroom apartment costs around $506 (approx. €482, £417, $691 CAD, $794 AUD).
RV/Camper/ Motorhome
There are hardly any official Motorhome parks and camping grounds in Los Cristianos. There are several open spaces where you can park your RV for the night but you will have to provide your own amenities like water and ensure you do not leave any traces behind like trash. There is only one actual campground for Motorhomes in Los Cristianos. The site is close to the beach and the town center. It has basic amenities like greywater and a chemical dump.
Packing List
Weather: The fall, winter, and spring weather in Los Cristianos (Tenerife) will normally be warm during the day, but can be chilly during the night. Of course in the fall and spring it will be warmer than in the winter. You have to pack accordingly.

Warm clothing: Even when you go to a warm location like Los Cristianos (Tenerife) you should not forget to take some things with you for your trip back home. When you return you are adapted to the warmer weather and need something to protect you from your hometown temperatures.

Consider the Weather: Always look at the type of weather in Los Cristianos (Tenerife). Things like humidity, wind, and rain do not show up in the temperature graph but can have a great impact on your wardrobe. There are several sites with long term forecasts and climate information. Is there often a short afternoon downpour like in the tropics, you maybe need to take a strong umbrella and shoos that can cope with the rain. If there is often a lot of wind you might need a more wind-resistant coat.

Check the local Shopping options: Try to find information about the local shopping options near your location in Los Cristianos (Tenerife). Are there stores where you can buy all your daily supplies, or are some things difficult to get? For some more remote locations, the options can be limited. If a certain item is really important for you might need to take it with you.

Look at the Local Culture: The local culture in Los Cristianos (Tenerife) can impact your wardrobe. If most activities are in more upscale locations you might take some more appropriate clothes with you. Or travelling if you travel to certain countries women need to cover themselves in certain areas.

Amenities: Know what's Included in your house or apartment. Is there a coffee maker, a toaster, a washer and dryer, an iron, what is in the kitchen, what kind of towels are there? Things that are there means you do not have to take them with you. A furnished apartment or house can mean something from a few pieces of furniture to a well-stocked place with all the things you have at home. But most of the time your rental will not be stocked.

Mix and match: Wear layers so you can use your wardrobe more efficiently. And do not worry about wearing something more often, probably only you will notice this.

Important for you: If there is something that is really important for you that you want to have present in your house or apartment, take it with you. This can be something like a special knife for the kitchen, or a small mirror that you use in the morning. You can also purchase it locally if it is not that expensive.

Pet supplies: If you take your pet with you don't forget to take supplies for a few days with you. And enough medication, vitamins, or other supplies if you can not purchase them in Los Cristianos (Tenerife) locally.

Food: Don't take a lot of food with you. Only when there is something you really can not live without you, and it is not too heavy you could consider taking it with you.

Towels: Not all locations include bigger towels for the swimming pool or a visit to the beach. If you have to take them and don't have a lot of room you can buy some big thin towels.

Office supplies: Normally you will not find any office supplies in your house or apartment. If you think you will use them you could pack some supplies like a scissor, notepaper, envelopes, some pens, and more depending on your needs.

Limit yourself: Don't take too many shoes and jackets, you will not need them that often.

Best-fitting: Bring your favorite and best-fitting items that can multi-function

Washer: Do you have a washer and dryer onsite, you don't need to pack a lot of clothes
Clothing
Basics
Casual
Smart
Footwear
Toiletries
Beauty
Hygiene
Clothing
Basics
Casual
Outdoor
Footwear
Accessories
Toiletries
Medicine
Miscellaneous
Other
Toiletries
Beauty
Hygiene
Hair
Other
Medicine
Miscellaneous
Technology
Travel and Free time
Travel
Free time
Important
Documents
Money
Other locations close to this location:
Travelers' Map is loading...
If you see this after your page is loaded completely, leafletJS files are missing.
If you have any additions, or comments on the content on this page, please use our contact form to let us know.
Detailed weather during the year for Los Cristianos Spain
What to do during the year in Los Cristianos Spain