What to do in November in Manzanillo, Mexico - 2024
Manzanillo is a city and seat of Manzanillo Municipality, in the Mexican state of Colima.
Manzanillo has developed as a destination for international tourism.
Manzanillo is also a beach resort, and is one of many locations to promote themselves as the "sailfish capital" of the world.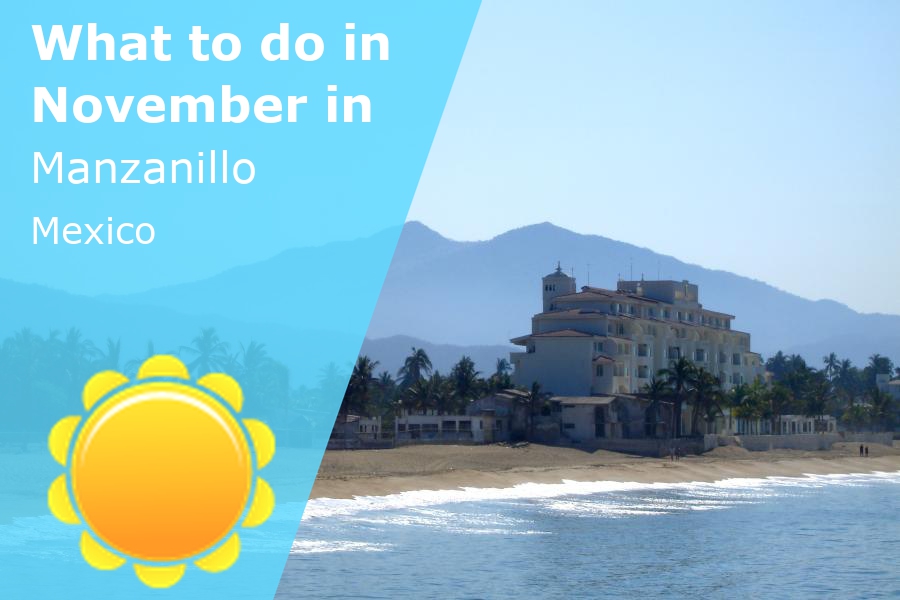 Before we have a look at what you can do in Manzanillo, let's first look at the weather you can expect in November.


November weather in Manzanillo Mexico
To get a good overview of the type of weather you can expect in November in Manzanillo Mexico, we will look at the day and night temperature, minimum and maximum water temperature, and if November is comfortable or humid
Generally, November in Manzanillo Mexico will be quite hot. Historical data shows that you can expect an average temperature of around 91°F / 33°C. But due to the moderate humidity it can feel slightly uncomfortable for some. During the night, it will cool down to around 66°F / 19°C. Many will prefer a location with air conditioning due to the high humidity level.
Manzanillo Mexico does not have a lot of rainy days in November. You can expect around 1 rainy days, with on average 0.1 inches / 2 mm of rain during the whole month.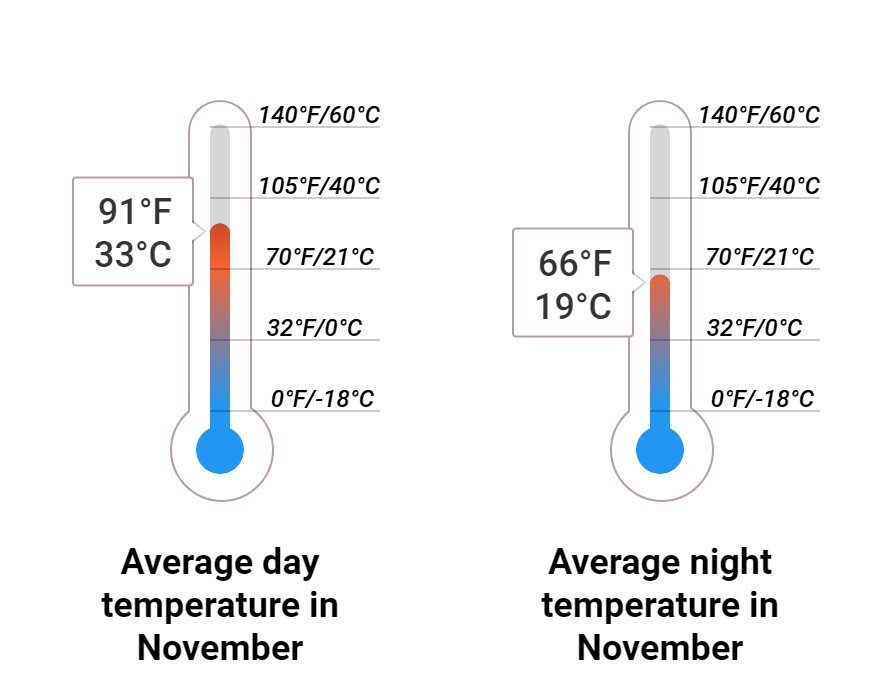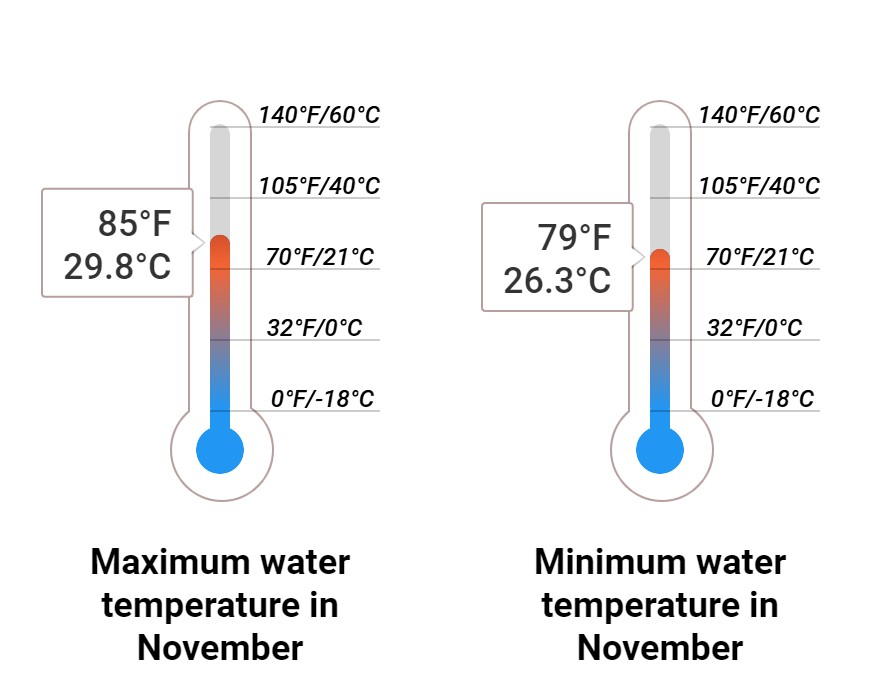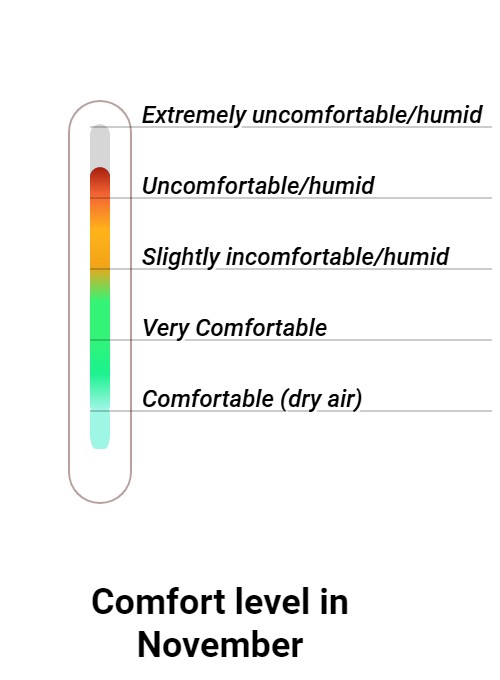 The forecast for November 2024 is based on historical data and are averages. They will give a good indication what you can expect, but the daily temperature and rain will fluctuate during the month.
Things to see and do in Manzanillo
Manzanillo has many things to soo. With help from our visitors we have dived a list of things to see in. If you have any sugestions or improvements for this list, please let us know.
Mariscos
Shopping/Eating
Throughout the Year
Mariscos is a tasty seafood dish you must try if you are health conscious.
Miramar Playa
Miramar Playa is a surfer's spot.
Natura Camp
Natura Camp is a seashore ideal for strolling, sunbathing, and swimming.
Downtown Manzanillo
Nature/Wild Life
Throughout the Year
Downtown Manzanillo is busy with shipping. It can be a great source of knowledge for small kids.
International Sailfish Tournament
International Sailfish Tournament is a great gathering where sailors and fishers exhibit their skills.
Barra de Navidad
Nature/Wild Life
Throughout the Year
Barra de Navidad is a peaceful place to relax.
Chantilly
Shopping/Eating
Throughout the Year
Chantilly is an unbeatable place for some breakfast.
Oasis Ocean Club
Nature/Wild Life
Throughout the Year
Oasis Ocean Club has an extraordinarily beautiful view.
Botanero
Shopping/Eating
Throughout the Year
Botanero are outdoor bars where you can enjoy beer and breeze while staring at the stars.
Shopping in Manzanillo
Within the town, you can easily find major stores and international brands.
Most resort hotels have boutiques or shopping arcades.

If you like shopping centres you can go here:

Point Plaza Bahia - Blvd. Miguel de la Madrid 1555, Playa Azul Salagua, 28218 Manzanillo.
Activities in Manzanillo
Tour to Iguana Sanctuary
You could visit yourself or go on tours to an animal sanctuary to see protected Iguana habitats.
Go Snorkeling
You could snorkel in the warm, calm waters around Manzanillo and explore coral reefs and shipwrecks in the ocean.
Visit the Largest Sailfish Statue
Snowbirds can find probably the largest sailfish statue they will ever see, in Zocalo.
Go to the beaches
Manzanillo is located on the Pacific coast and is blessed with sandy beaches that snowbirds can spend time taking in some.sun, or enjoy the view of the ocean.
Shopping
Snowbirds can take advantage of the amazing shopping scene in Manzanillo. With great stores, boutiques, and hotels to choose from, they all have the most basic needs and other items.
Restaurants in Manzanillo
Most of the fancier restaurants are located on or quite close to beaches.
There is an abundance of fresh seafood dishes you have to try, like

Mariscos El Pelon
Cocteles de Camaron (shrimp cocktail),
Restaurante Juanitos
Restaurante El Marinero Manzanillo
pescado a la Plancha (delicious grilled fish fillet) and
the divine Tostadas de Ceviche (fish, onion, tomato, chilli, cilantro and lemon all together on a crunchy Tostada).
Poco Pazzo
More things to see in Manzanillo
Zocalo
This is Manzanillo's stunning historic square. There's a large blue sailfish monument here. It is also home to some amazing views of the bay and some of the town's best restaurants.
Las Hadas Golf Course
Snowbirds can visit the Las Hadas golf course in the Peninsula de Santiago. It has splendid beaches and top quality restaurants to enjoy.
Playa San Pedrito
This is the closest beach to Manzanillo's town center. Here, snowbirds can swim in its calm, warm waters, relax under the shade of palm trees, or enjoy delicious seafood cuisines.
Playa La Audiencia
Swimming, kayaking, diving to feed octopuses and eels, are some of the interesting things at this beautiful Manzanillo beach.
More information about Manzanillo Mexico
What to do in Manzanillo Mexico in other months
Weather in Manzanillo Mexico for each month