Spend Your Fall, Winter, or Spring in Manzanillo, Mexico: Is Manzanillo A Good Snowbird Location?
Manzanillo is a resort and Pacific Ocean port city in the state of Colima, Mexico. There are two bays here; The Bahia de Santiago and Bahia de Manzanillo. Its proximity to the Pacific Ocean makes it home to some really delightful beaches like the Playa La Audiencua beach that is known for its calm surf and watersports. There are shipwrecks, numerous coral reefs, and other dive sites located in the waters off the coast. Also, an abundance of marine life creates a rich diverse & relaxing scene for snowbirds that choose to experience Mexico in Manzanillo.
It is a bustling industrious seaport and thriving tourist location with a couple of attractions and activities to engage in. Its dual identity as a commercial and tourist hub allows it to be Mexico's busiest commercial seaport with trade routes as old as 1531. It is a splendid destination for snowbirds looking to enjoy beaches and colonial architecture.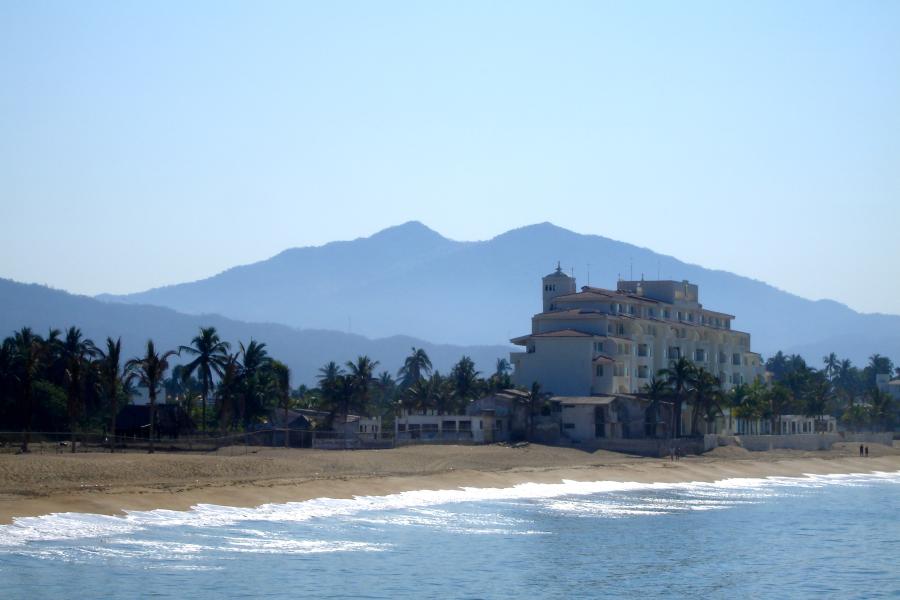 Why should people visit in the winter?
Manzanillo is actually a great place to visit at any time of the year because it has consistently warm weather. There are also activities to keep you entertained throughout their stay, from stunning beaches, wonderful archaeology, and sea life to explore. Snowbirds will also not be missing out on Mexican hospitality and culture.
Climate
The climate of Manzanillo is a tropical one. You can have about 350 sunny days. May has the most sunshine. August is the warmest month with an average high temperature of 90.5°F (33°C) and an average low of 77°F (25°C). Winter in Manzanillo is much warmer than it is in western countries. There's much less rainfall in winter, so you can enjoy your days without worrying about nature interrupting.

Safety
Being a tourist and port area, Manzanillo is mostly crowded, and there are some criminal activities. Pickpocketing, bag snatching, are common forms of crime here. Scams also do happen, but not frequently. Snowbirds ate advised to keep valuables safe at home, instead of flaunting it around town. Be vigilant and aware of your surroundings at all times.
Communication, internet, and cellphone in, Manzanillo, Mexico
Spanish is the official and most popular language spoken in Manzanillo. Given the tourist population, English is also widely spoken among locals and business owners. Town signage and Menus in restaurants are usually in Spanish, but there's usually English alternatives.
Once in Manzanillo, you can choose to roam with your phones, but it is advised you know the costs beforehand. Snowbirds from the U.S. and Canada using Bell, Fido, AT & T, Nextel and Verizon can use their sim cards.
A local sim card can be purchased at stores easily. Some of the network service providers are TelCel, Movistar, and IUSACEL. A son card costs about $6 (approx. €5, £4, $8 CAD, $9 AUD) and a phone could cost as little as $15 (approx. €13, £11, $20 CAD, $22 AUD). These network service providers offer both call and data plans you could select from.
Things to see in Manzanillo, Mexico
Looking to feed your eyes and curiosity in Manzanillo, there are a bunch of things snowbirds will enjoy seeing across the city. However, in no particular order, here are some suggestions for what snowbirds could see while in Manzanillo.
Las Hadas Golf Course: Snowbirds can visit the Las Hadas golf course in the Peninsula de Santiago. It has splendid beaches and top quality restaurants to enjoy.
Zocalo: This is Manzanillo's stunning historic square. There's a large blue sailfish monument here. It is also home to some amazing views of the bay and some of the town's best restaurants.
Playa San Pedrito: This is the closest beach to Manzanillo's town center. Here, snowbirds can swim in its calm, warm waters, relax under the shade of palm trees, or enjoy delicious seafood cuisines.
Playa La Audiencia: Swimming, kayaking, diving to feed octopuses and eels, are some of the interesting things at this beautiful Manzanillo beach.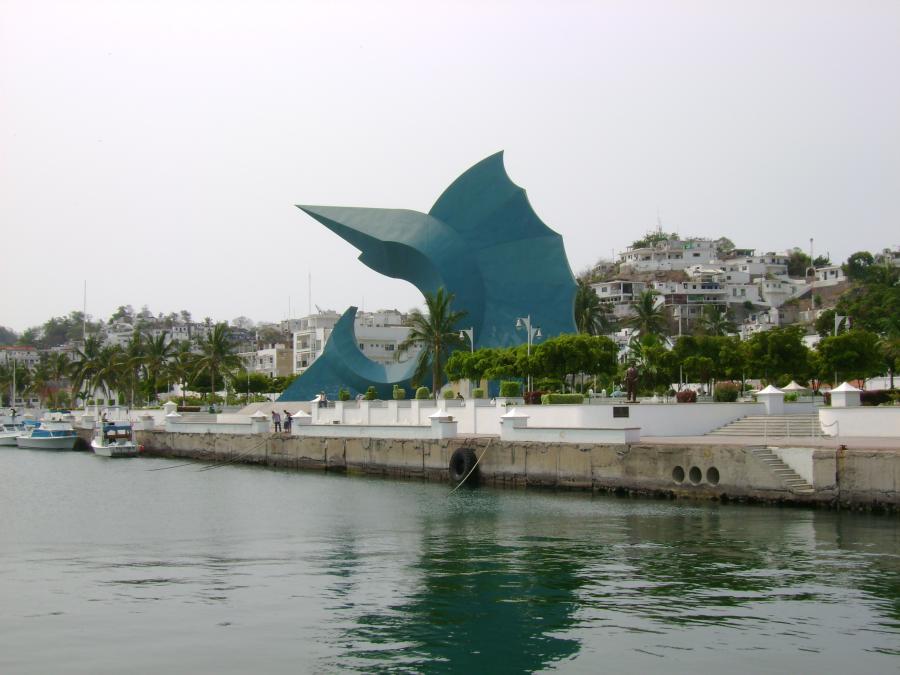 Things to see not far from Manzanillo, Mexico
Surrounding Manzanillo, are other interesting things snowbirds can have a great time exploring. You can make a day-trip or weekend fun off these places. Some if them are:
Colima: The city has a really thriving shopping scene in Colima state. Snowbirds can enjoy nature around, like the Colima volcano. There's also the mysterious Zona Magica, where cars & water actually do roll upwards rather than downwards.
Melaque: Melaque is a beautiful small beachfront town that's a closely-knit community. It is a popular location for other snowbirds. There's an interesting traditional carpet maker's shop where you can watch his handcraft colorful works of art, and other little restaurants overlooking the seafront and other boutique hotels. The town is also RV friendly.
Activities in Manzanillo, Mexico in the winter
In Manzanillo, you can engage in some thrilling, fun, and relaxing activities. From land to the ocean, snowbirds are going to have a great time with activities in the area. Some of these activities are:
Visit the Largest Sailfish Statue: Snowbirds can find probably the largest sailfish statue they will ever see, in Zocalo.
Shopping: Snowbirds can take advantage of the amazing shopping scene in Manzanillo. With great stores, boutiques, and hotels to choose from, they all have the most basic needs and other items.
Go to the beaches: Manzanillo is located on the Pacific coast and is blessed with sandy beaches that snowbirds can spend time taking in some.sun, or enjoy the view of the ocean.
Tour to Iguana Sanctuary: You could visit yourself or go on tours to an animal sanctuary to see protected Iguana habitats.
Go Snorkeling: You could snorkel in the warm, calm waters around Manzanillo and explore coral reefs and shipwrecks in the ocean.
Shopping + Restaurants. Are they open in the fall, winter, or spring?
In terms of shopping and dining, Manzanillo has you covered! Within the town, you can easily find major stores and international brands. In the markets and other smaller stores also, Snowbirds can shop to meet their needs at a cheaper rate than back home.
Restaurants in Manzanillo offer delicious tasty dishes, both local and international. There are restaurants you may have to make a reservation and there are some that offer take-away services.
Most shops and restaurants stay open year-round, except those that are solely servicing tourists.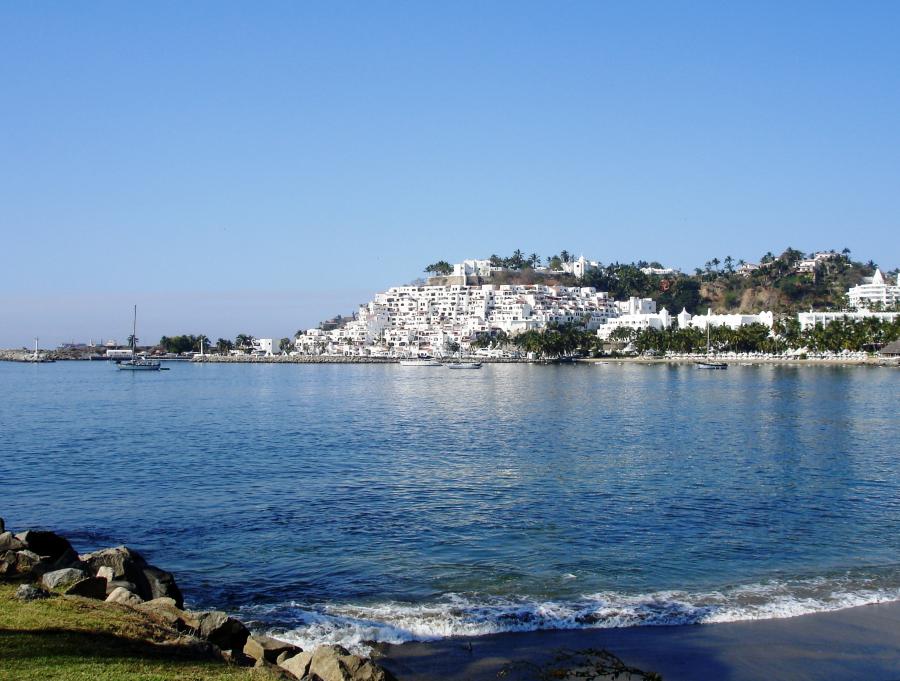 Transport
You will most likely arrive at the Playa de Oro International Airport, which is about a thirty minutes drive northwest of Manzanillo.
Buses are the most prominent means of transportation around town, and they are also the cheapest. They can take you to most locations in the town. Taxis are also available. It is a more convenient and faster way to move around town. Care hire or Driver hire services also operate in Manzanillo and in towns close by.
Health
There are many outstanding hospitals, dentists, pharmacies, and clinics all around Manzanillo that can handle the minor issues, up to treatment for more serious cases.
While many doctors and dentists have had training in the U.S and speak English, other staff will most likely speak English, so it will be helpful to speak some Spanish yourself.
In terms of costs, Private health services in Manzanillo are more exorbitant than government services. However, they're usually more efficient and faster. Some notable hospitals are, Hospital General Manzanillo, Central Médica Quirúrgica Manzanillo, and Hospital Médica Pacífico.
Accommodation
Living in Manzanillo, as expected in concentrated areas, is usually busy and expensive. For snowbirds, staying in less busy parts of town is advisable in terms of cost and crowd. Most accommodations have basic amenities. Some places you stay might have amazing views or even a beach. Rent could range from $250 (approx. €227, £197, $339 CAD, $377 AUD) to as high as $1000 (approx. €910, £790, $1358 CAD, $1509 AUD).
Packing List
Weather: The fall, winter, and spring weather in Manzanillo (Mexico) will normally be warm during the day, but can be chilly during the night. Of course in the fall and spring it will be warmer than in the winter. You have to pack accordingly.

Warm clothing: Even when you go to a warm location like Manzanillo (Mexico) you should not forget to take some things with you for your trip back home. When you return you are adapted to the warmer weather and need something to protect you from your hometown temperatures.

Consider the Weather: Always look at the type of weather in Manzanillo (Mexico). Things like humidity, wind, and rain do not show up in the temperature graph but can have a great impact on your wardrobe. There are several sites with long term forecasts and climate information. Is there often a short afternoon downpour like in the tropics, you maybe need to take a strong umbrella and shoos that can cope with the rain. If there is often a lot of wind you might need a more wind-resistant coat.

Check the local Shopping options: Try to find information about the local shopping options near your location in Manzanillo (Mexico). Are there stores where you can buy all your daily supplies, or are some things difficult to get? For some more remote locations, the options can be limited. If a certain item is really important for you might need to take it with you.

Look at the Local Culture: The local culture in Manzanillo (Mexico) can impact your wardrobe. If most activities are in more upscale locations you might take some more appropriate clothes with you. Or travelling if you travel to certain countries women need to cover themselves in certain areas.

Amenities: Know what's Included in your house or apartment. Is there a coffee maker, a toaster, a washer and dryer, an iron, what is in the kitchen, what kind of towels are there? Things that are there means you do not have to take them with you. A furnished apartment or house can mean something from a few pieces of furniture to a well-stocked place with all the things you have at home. But most of the time your rental will not be stocked.

Mix and match: Wear layers so you can use your wardrobe more efficiently. And do not worry about wearing something more often, probably only you will notice this.

Important for you: If there is something that is really important for you that you want to have present in your house or apartment, take it with you. This can be something like a special knife for the kitchen, or a small mirror that you use in the morning. You can also purchase it locally if it is not that expensive.

Pet supplies: If you take your pet with you don't forget to take supplies for a few days with you. And enough medication, vitamins, or other supplies if you can not purchase them in Manzanillo (Mexico) locally.

Food: Don't take a lot of food with you. Only when there is something you really can not live without you, and it is not too heavy you could consider taking it with you.

Towels: Not all locations include bigger towels for the swimming pool or a visit to the beach. If you have to take them and don't have a lot of room you can buy some big thin towels.

Office supplies: Normally you will not find any office supplies in your house or apartment. If you think you will use them you could pack some supplies like a scissor, notepaper, envelopes, some pens, and more depending on your needs.

Limit yourself: Don't take too many shoes and jackets, you will not need them that often.

Best-fitting: Bring your favorite and best-fitting items that can multi-function

Washer: Do you have a washer and dryer onsite, you don't need to pack a lot of clothes
Clothing
Basics
Casual
Smart
Footwear
Toiletries
Beauty
Hygiene
Clothing
Basics
Casual
Outdoor
Footwear
Accessories
Toiletries
Medicine
Miscellaneous
Other
Toiletries
Beauty
Hygiene
Hair
Other
Medicine
Miscellaneous
Technology
Travel and Free time
Travel
Free time
Important
Documents
Money
Other locations close to this location:
Travelers' Map is loading...
If you see this after your page is loaded completely, leafletJS files are missing.
If you have any additions, or comments on the content on this page, please use our contact form to let us know.
Detailed weather during the year for Manzanillo Mexico
What to do during the year in Manzanillo Mexico