What to do in November in Riviera Nayarit, Mexico - 2023
The Riviera Nayarit is an over stretch of Coastline.
The large coastline that occupies the Riviera Nayarit is characterized by major hotels and a vast flora and fauna along the coastline.
Before we have a look at what you can do in Riviera Nayarit, let's first look at the weather you can expect in November.


November weather in Riviera Nayarit Mexico
To get a good overview of the type of weather you can expect in November in Riviera Nayarit Mexico, we will look at the day and night temperature, minimum and maximum water temperature, and if November is comfortable or humid
Generally, November in Riviera Nayarit Mexico will be really nice. Historical data shows that you can expect an average temperature of around 73°F / 23°C. But due to the moderate humidity it can feel slightly uncomfortable for some. During the night, it will cool down to around 62°F / 17°C. Many will prefer a location with air conditioning due to the high humidity level.
Riviera Nayarit Mexico has its share of rainy days in November. You can expect around 11 rainy days, with on average 1.2 inches / 30 mm of rain during the whole month.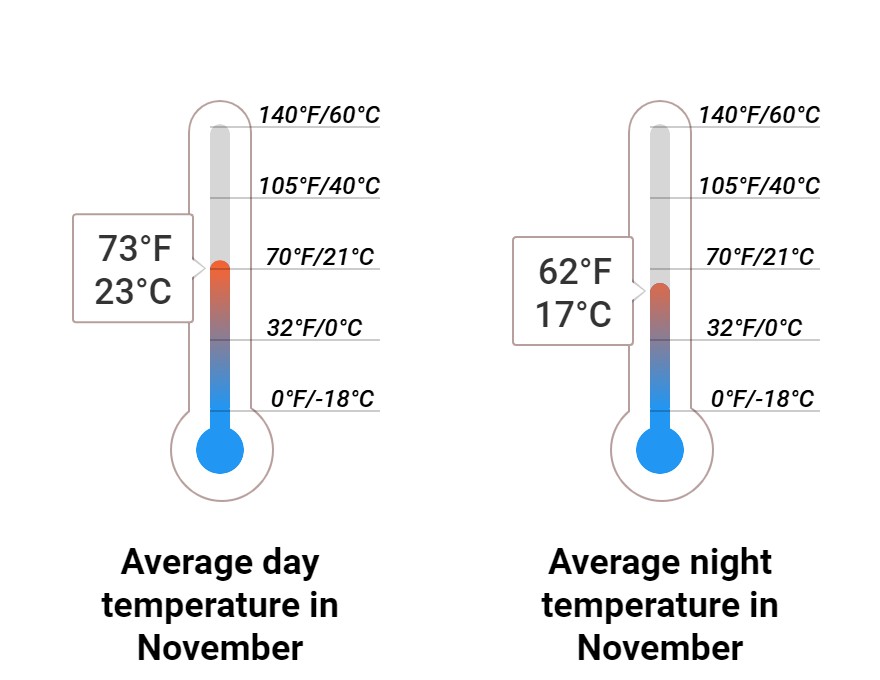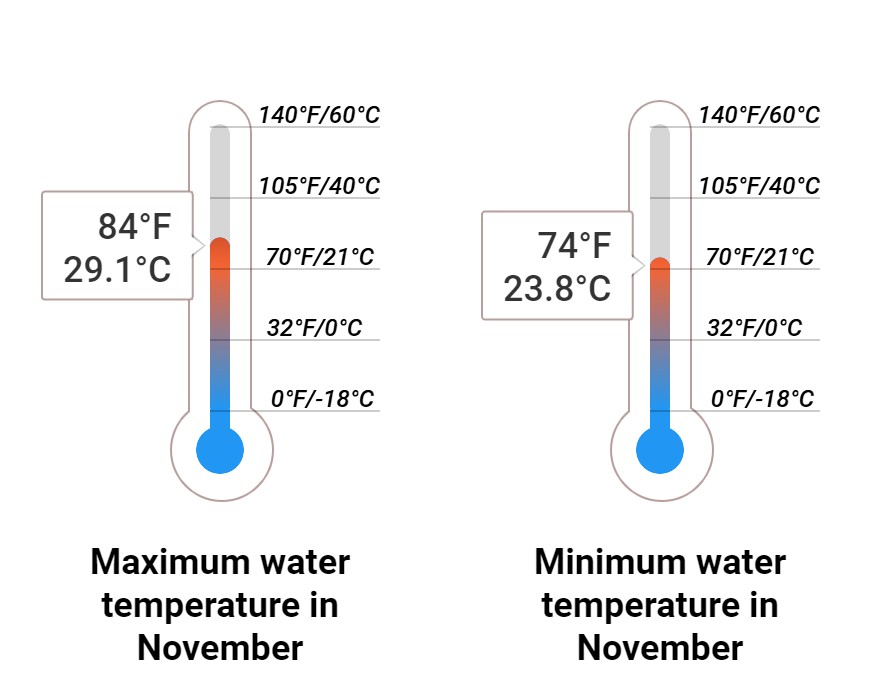 The forecast for November 2023 is based on historical data and are averages. They will give a good indication what you can expect, but the daily temperature and rain will fluctuate during the month.
Things to see and do in Riviera Nayarit
Riviera Nayarit has many things to soo. With help from our visitors we have dived a list of things to see in. If you have any sugestions or improvements for this list, please let us know.
San Pancho
San Pancho is a town that is ideal for sunset watching.
Rincon de Guayabitos
Rincon de Guayabitos beach is best for fishing.
Bucerias
Bucerias beach has turtles. It is great fun for kids to see these friendly little creatures crawling amid high waves.
Destiladeras
Destiladeras beach is ideal for whale watching and other water activities.
Nuevo Vallarta
Nuevo Vallarta is a beautiful beach nearby where many cultural and community events are held almost every weekend in the peak season.
Litibu
Litibu beach is great for swimming, diving, and surfing.
Marietas Islands National Park
At Marietas Islands National Park you will experience dolphin encounters.
Lo de Marcos
Lo de Marcos beach is great for snorkeling.
Sayulita
Sayulita is a beach that is ideal for surfing and kiteboarding.
Shopping in Riviera Nayarit
Visitors can find everything from crafts and popular souvenirs to fine jewelry and designer clothing from all over the world.
You'll find boutique shops and galleries all along the Pacific Coast of Nayarit.
Activities in Riviera Nayarit
Turtle releases
This activity is one of the most memorable events in the area. The Caguama turtles are an endangered species, so their population is being protected. At turtle releases, you get to watch the first moments of the little hatchlings as they walk towards the sea. The hatchings happen all year long, and you can experience it while at the beach, or you can contact turtle camps for tours.
Whale watching
Every year, large herds of humpback whales visit the bay, in search of warmer seas. Through special tours, the gigantic whales can be seen casually swimming and playing with their calves or performing mating rituals.
Golfing
Riviera Nayarit has some beautiful green courses. Snowbirds who are golf enthusiasts or just interested in shooting some holes can choose a golf course to visit.
Swimming with dolphins
Through organized tours or just paying a visit, snowbirds have the opportunity to visit dolphin sanctuaries. There, they can swim with fun friendly creatures.
Restaurants in Riviera Nayarit
Seafood lovers will also have a great time because seafood is abundant in the country. You can enjoy delicious local meals at many restaurants in the country.

Kilometro 5 Surf Bar y Restaurant
Trattoria Toscana Sayulita
Bistro Organico
Restaurante El Oasis
More things to see in Riviera Nayarit
Riviera Farmers Market
Located just by the waters, the farmers market is a great place to see locals come and sell their products which typically range from handcrafted arts to organic food.
Nuevo Vallarta Beach
This is one of the most popular beaches in Riviera Nayarit. It is a great place to sunbath, mingle with other tourists, swim, or just watch the sunset.
Sayulita Farmers Market
This wonderful market provides excellent food options. You can easily find fresh organic products, baked goods, as well as handcrafted goods by the locals and entertainment.
Chacala
This is a quiet beach area with a wide stretch of warm sands. Further inland, there are waterfalls, rivers, lush vegetation, and fine dining options.
More information about Riviera Nayarit Mexico
What to do in Riviera Nayarit Mexico in other months
Weather in Riviera Nayarit Mexico for each month