What to do in November in Sri Lanka - 2023
Sri Lanka formerly known as Ceylon, is located in the Indian Ocean just south of India,
The tropical climate, beautiful beaches and incredible food of Sri Lanka are just some of the many reasons to visit this country. Sri Lanka is a great place to visit for water sport and wildlife enthusiasts and a haven for history passionate.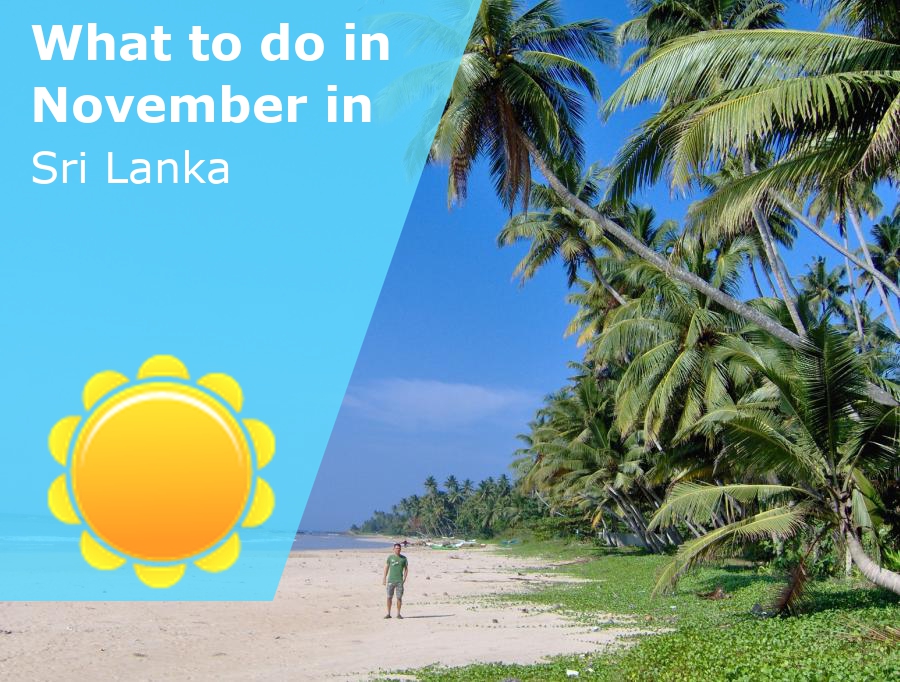 Before we have a look at what you can do in Sri Lanka, let's first look at the weather you can expect in November.


November weather in Sri Lanka
To get a good overview of the type of weather you can expect in November in Sri Lanka, we will look at the day and night temperature, minimum and maximum water temperature, and if November is comfortable or humid
Generally, November in Sri Lanka will be really nice. Historical data shows that you can expect an average temperature of around 82°F / 28°C. But due to the very high humidity, it can feel very uncomfortable. During the night, it will cool down to around 71°F / 22°C. Many will prefer a location with air conditioning due to the high humidity level.
Sri Lanka has its share of rainy days in November. You can expect around 20 rainy days, with on average 6.3 inches / 159 mm of rain during the whole month.
But remember that rain can be short and heavy for many tropical locations, particularly during the rainy season. It means that the number of days with rain and the amount of rain can be high, but you will still see many lovely days with a short period of heavy rain.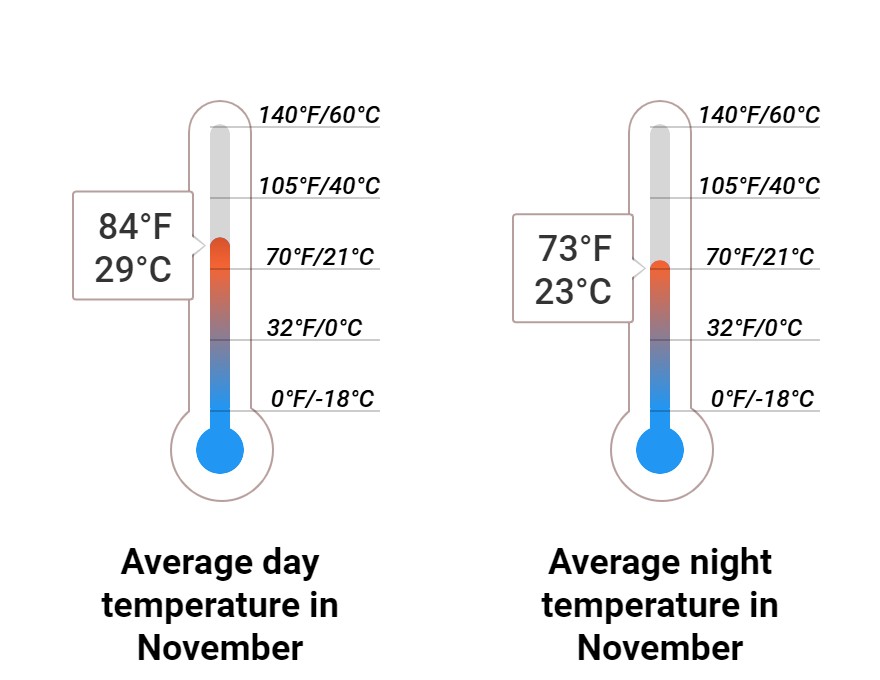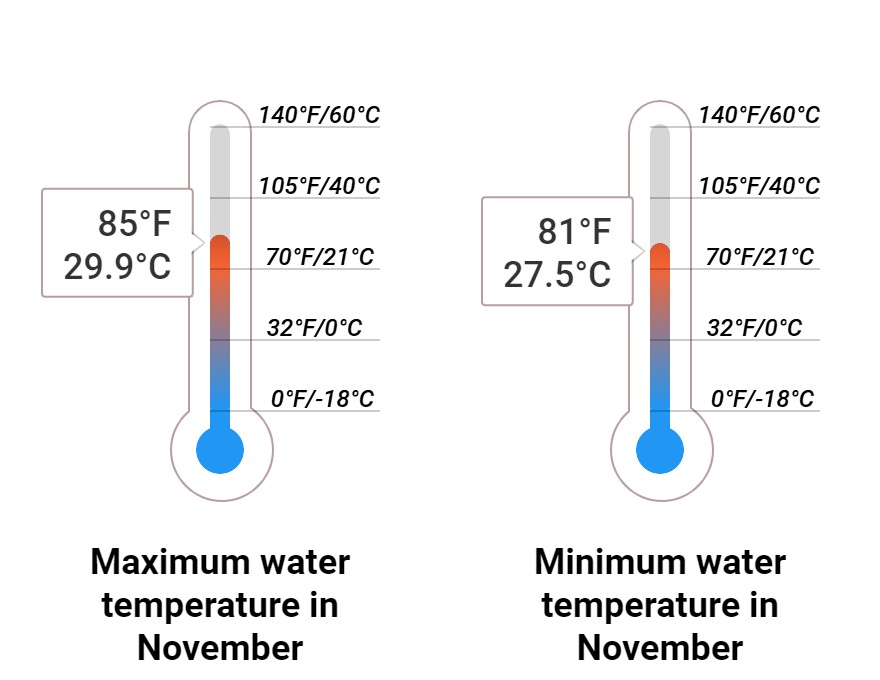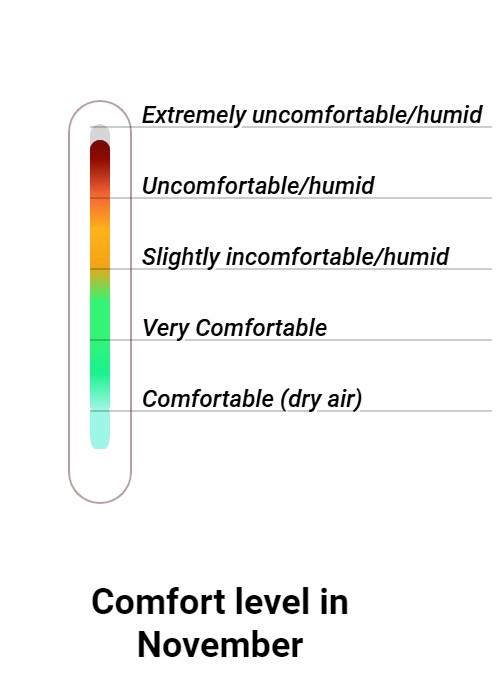 The forecast for November 2023 is based on historical data and are averages. They will give a good indication what you can expect, but the daily temperature and rain will fluctuate during the month.
Things to see and do in Sri Lanka
Sri Lanka has many things to soo. With help from our visitors we have dived a list of things to see in. If you have any sugestions or improvements for this list, please let us know.
Seema Malaka Temple, Beira Lake
Seema Malaka Temple is located in the capital city, Colombo, near Beira Lake and a famous tower. The place has immense international geographical importance.
Galle Face Green
Nature/Wild Life
Throughout the Year
Galle Face Green is ideal for sightseeing, kiteflying, walking, jogging, and all sorts of sports.
Kandy
Cultural
Throughout the Year
Kandy was the historic capital of the emperor's era. There are temples, museums, shrines, and remains of buildings great for history lovers.
Galle
Cultural
Throughout the Year
Galle has a seventeenth-century seafront fort with dozens of markets, hotels, and resorts inside the walls and beautiful beaches outside them.
Udawalawe National Park
Udawalawe National Park is the best and unparalleled site for bird and elephant lovers.
Hikkaduwa Beach
Hikkaduwa Beach is ideal for surfing in the winter months. There is a national park located next to the shore.
Anuradhapura
Cultural
Throughout the Year
Anuradhapura is a historic place with pools, statues, temples, and the world's oldest tree.
Yala National Park
Yala National Park has thousands of elephants and some leopards living here, making it great for families with kids.
Deepavali Festival
Deepavali Festival has firecrackers, oil baths, gift exchanging, lantern decorations, and dressing in new clothes.
Shopping in Sri Lanka
Sri Lanka has many shopping centres in both rural and urban areas. Colombo is known to be the shopping capital, with a large collection of malls and plazas selling items of both modern and cultural origins. The malls are exquisitely constructed and well maintained. While the rural areas tend to sell handicrafts of Sri Lanka.
Activities in Sri Lanka
Beach hopping
There are numerous tropical beaches with crashing waves to conquer such that you may never have your fill of relaxing and sinking your feet into their soft sands.
Whale spotting
Sri Lanka's waters are often referred to as a highway for whales because of the sheer number of different whale species that frequent the area. The port of Mirissa is a great place to glimpse these sea giants. Dolphins and sea turtles also frequent the area.
Visiting temples
There are numerous temples in almost every city in Sri Lanka. The population of the country is predominantly Buddhist, and so there are beautiful temples available for your exploration.
Restaurants in Sri Lanka
Food is generally very cheap, with a cheap meal costing about a US dollar. The staple food of Sri Lankans is rice and curry - a massive mound of rice surrounded by various curries and delicacies. There are many upscale restaurants to choose from in the city of Colombo. There are several fine dining restaurants at the 5-star hotels which offer both local and international cuisine.

Pradeep Restaurant- Sigiriya
Curry Leaf
Chutneys
More things to see in Sri Lanka
Dagoba's
Some of the most ancient and impressive Dagoba's are located in Sri Lanka. These impressive dome-shaped buildings stand out with their brilliant architecture.
Sigiriya Fortress
Sigiriya Fortress is also known as the lion rock, this fortress helps you gain some insight into Sri Lanka's mystic history. Once the fortress of king Kassapa stood tall on this monolith, but now all that remains are the foundation walls.
Tea plantations
Tea plantations adorn Sri Lanka's countryside and provide an interesting attraction for many visitors. Some plantations will let you join in and learn the art of tea picking.
Gangaramaya Temple
The Gangaramaya Temple is also a museum and one of the most beautiful places to see in the capital city of Colombo. There is a selection of locally made crafts, art, and even old cars on show.
Temple of the sacred tooth relic
Temple of the sacred tooth relic houses one of the most important Buddhist relics within its golden roofed walls. - one of Buddha's tooth
Yala national park
Sri Lanka is blessed with abundant wildlife, and with its 35 feline residents, Yala national park park has the largest population of leopards in the world. There are also many other animals to be seen, like crocodiles, monkeys, and elephants.
More information about Sri Lanka
What to do in Sri Lanka in other months
Weather in Sri Lanka for each month