What to do in November in Torremolinos, Spain - 2023
Torremolinos is a municipality in Andalusia, southern Spain, west of Málaga. It was the first of the Costa del Sol resorts to be developed and is still the most popular in the region.
Before we have a look at what you can do in Torremolinos, let's first look at the weather you can expect in November.


November weather in Torremolinos Spain
To get a good overview of the type of weather you can expect in November in Torremolinos Spain, we will look at the day and night temperature, minimum and maximum water temperature, and if November is comfortable or humid
Generally, November in Torremolinos Spain will be slightly on the colder side. Historical data shows that you can expect an average temperature of around 68°F / 20°C. But due to the very dry air, it can feel somewhat uncomfortable for some people. During the night, it will cool down to around 51°F / 11°C.
Torremolinos Spain has rainy days in November. You can expect around 8 rainy days, with on average 3.2 inches / 81 mm of rain during the whole month.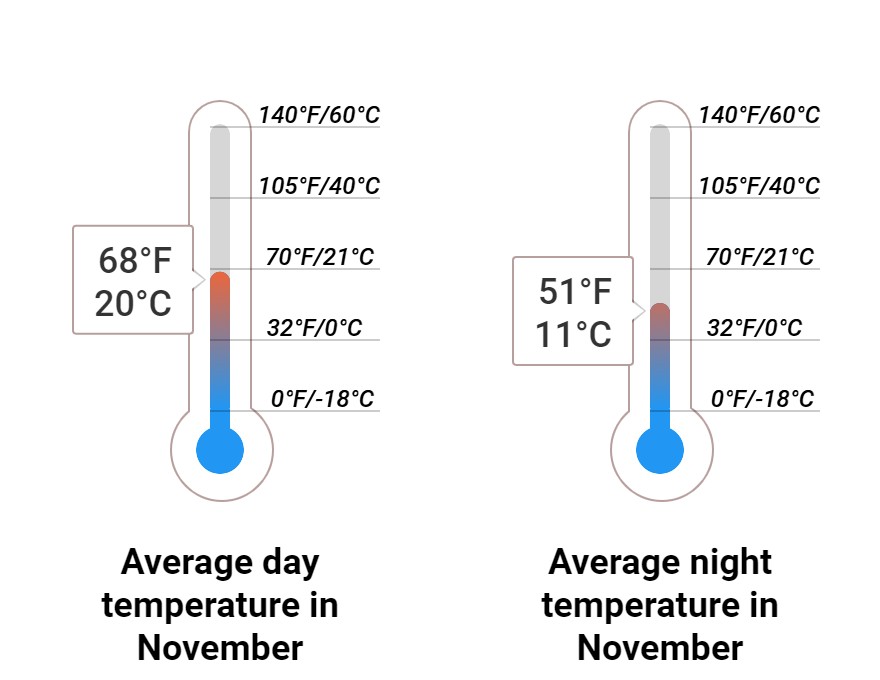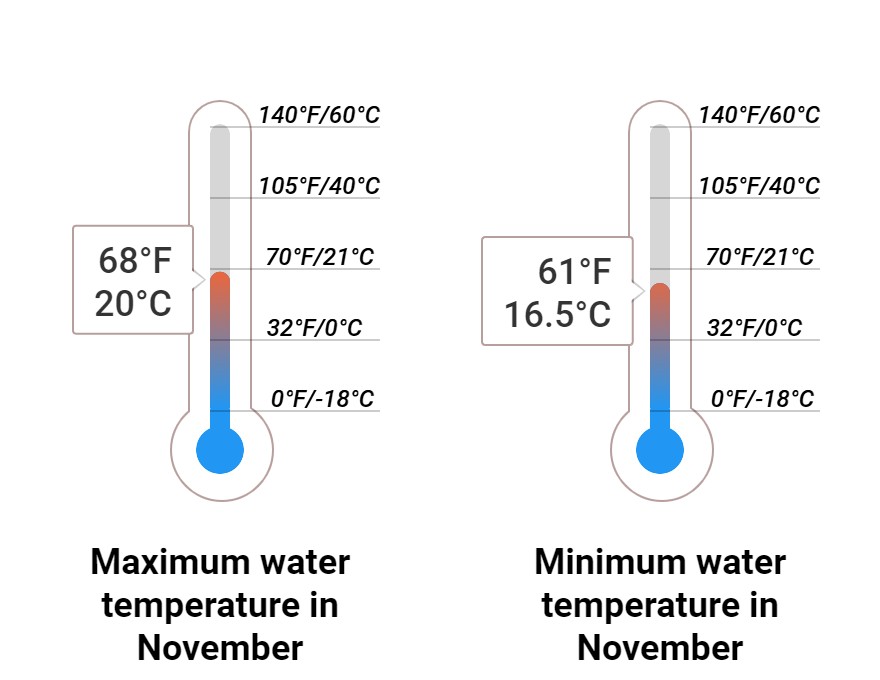 The forecast for November 2023 is based on historical data and are averages. They will give a good indication what you can expect, but the daily temperature and rain will fluctuate during the month.
Things to see and do in Torremolinos
Torremolinos has many things to soo. With help from our visitors we have dived a list of things to see in. If you have any sugestions or improvements for this list, please let us know.
Parador de Málaga Golf
Parador de Málaga Golf is a historic golf course with many facilities.
La Carihuela
Nature/Wild Life
Throughout the Year
La Carihuela is a fishing spot where people come to catch some good seafood.
Jardín Botánico Molino de Inca
Jardín Botánico Molino de Inca is a park with ponds and lakes.
Calle San Miguel
Shopping/Eating
Throughout the Year
Calle San Miguel is a shopping area with many brands.
Playa de Bajondillo
Playa de Bajondillo is a beach that has several hotels nearby. It is ideal for swimming, diving, and boating.
Parque La Batería
Parque La Batería is a beautiful park with flowers, trees, and birds.
Crocodile Park
There are 300 crocodiles in Crocodile Park with Europe's largest one weighing about 600 kilos.
Shopping in Torremolinos
Due to the many winter visitors most shops and restaurants will be open in the winter. The main tourist shops are on Calle San Miguel and the stairs down to the beach. Around town the principle supermarkets are

Supersol.
Maskom,
Aldi,
Mercadona,
Dia and
Lidl,
Activities in Torremolinos
Golf
You will never be deprived of an opportunity to play golf in the area as the facilities are endless and you can easily enjoy a beautiful day playing the sport.
Calle San Miguel
A beautiful street lined with different shops and cafes. The main shopping area of the city and ideal for visitors who are looking for the perfect souvenirs.
Yoga Retreats
There are many options for some Yoga
Walking/ Cycling
Enjoy a nice walk. Check with the local tourist office for different options.
Guapatini's Show Bar
You will find yourself enjoying one of the best nights of your stay as the bar show is spectacular with stunning performances and outstanding customer service. Definitely worth your time.
Beaches
The town is well known for its widespread beautiful sandy beaches. You can spend a lovely day at any of the beaches.
RITMO A CABALLO
Visitors can attend the famous horse show of the town which is conducted throughout the year. A great place for entertainment as the show is well organized and full of amazing performances.
Chamber of Secrets
This theatre show is one thing you should not miss if you are a visitor in Torremolinos. The place guarantees quality time and entertainment and is the ideal place to visit for a joyful evening.
Restaurants in Torremolinos
In Torremolinos over 300 restaurants serving every kind of food, from fast food to gourmet and representing all nationalities can be found.

Matahambre Bar and Restaurant
Tiki Restaurant
Chiringuito El Velero
Bodega Quitapenas
Mesón Galego Antoxo
More things to see in Torremolinos
Crocodile Park
Zoo in Torremolinos.
Casa de los Navajas
This building is a beautiful cultural landmark of the city. The architecture is great and the top of the building has beautiful views of the seafront. You can look around the house for free.
Parque La Bateria
A lovely park located within the city. Perfect for a nice day out in the fresh air, with plenty of beautiful sights to see as it is well maintained and ideal for a relaxing day. You also get to see some amazing views from the tower.
Playa de Bajondillo
The most famous beach in the city with many amenities like restaurants, bars, picnic spots, etc. to entertain the visitors. The views are spectacular and the promenade is great for a stroll along the coast.
Plaza De La Nogalera
You can easily satisfy your food cravings here as the square is loaded with options. The place is easily accessible through the main train station of the area and full of life as it is very popular among the visitors and locals.
Mujeres Corriendo por la Playa
This striking landmark was sculpted by Salvador García in 2004. It was inspired by Picasso's painting "Two Women Running on the Beach". Located on the roundabout near Plaza del Lido and is definitely worth seeing.
More information about Torremolinos Spain
What to do in Torremolinos Spain in other months
Weather in Torremolinos Spain for each month