What to do in October in Dallas, Texas - 2023
Dallas, the ninth largest city in the United States and the third largest in the state of Texas, is an impressive melting pot of culture and character. Dominant sectors of its diverse economy include defense, financial services, information technology, telecommunications, and transportation.
Before we have a look at what you can do in Dallas, let's first look at the weather you can expect in October.


October weather in Dallas Texas
To get a good overview of the type of weather you can expect in October in Dallas Texas, we will look at the day and night temperature, minimum and maximum water temperature, and if October is comfortable or humid
Generally, October in Dallas Texas will be really nice. Historical data shows that you can expect an average temperature of around 80°F / 27°C. But due to the very dry air, it can feel somewhat uncomfortable for some people. During the night, it will cool down to around 57°F / 14°C.
Dallas Texas has rainy days in October. You can expect around 8 rainy days, with on average 2.3 inches / 59 mm of rain during the whole month.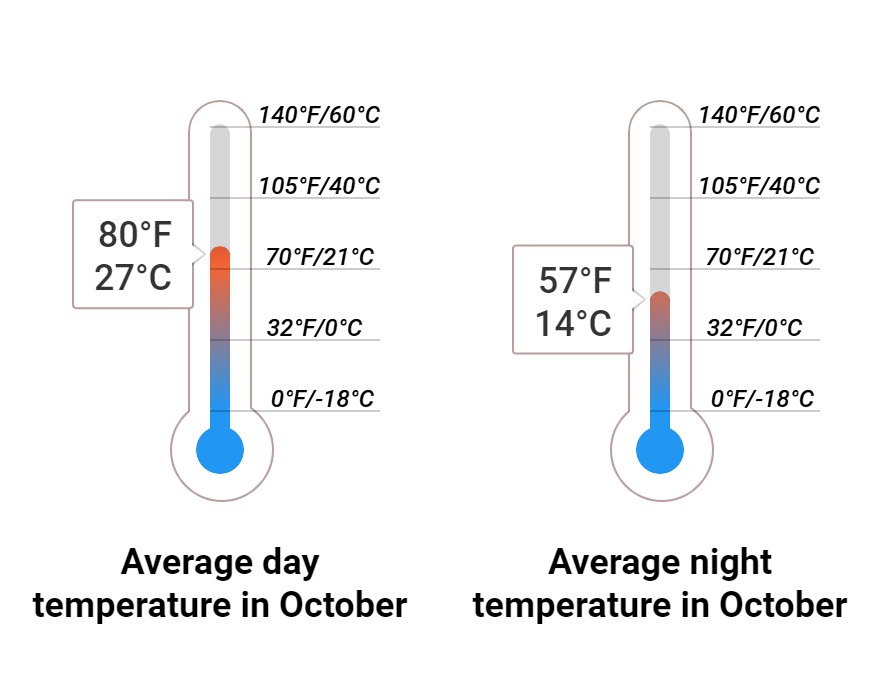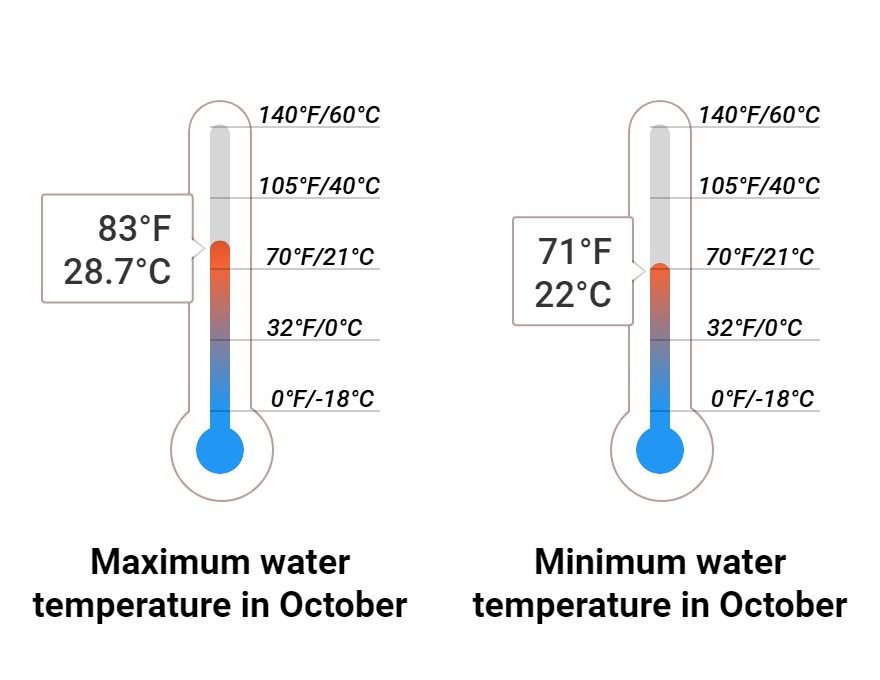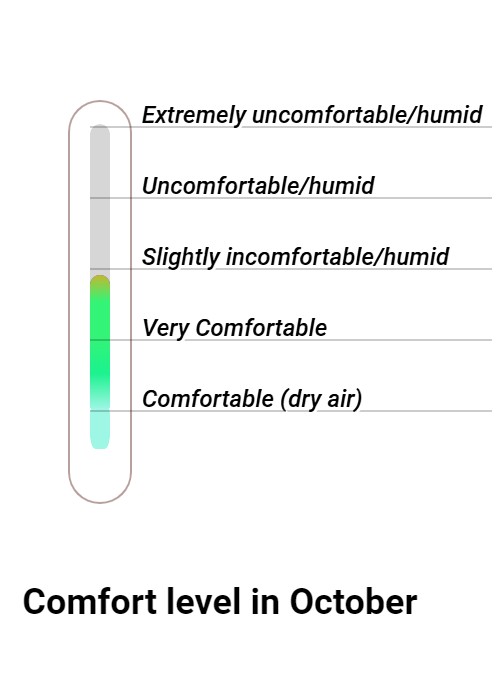 The forecast for October 2023 is based on historical data and are averages. They will give a good indication what you can expect, but the daily temperature and rain will fluctuate during the month.
Things to see and do in Dallas
Dallas has many things to soo. With help from our visitors we have dived a list of things to see in. If you have any sugestions or improvements for this list, please let us know.
Dallas Arboretum & Botanical Garden
You will get a peaceful sensation here. Amid fragrances and colors, the place is next to heaven on Earth.
Dallas Museum of Art (DMA)
Museum
Throughout the Year
Dallas Museum of Art (DMA) will take you 5000 years back in time. It is the largest art museum in the USA. Famous authors and artists are usually visiting the museum for exhibitions.
The State Fair of Texas
The State Fair of Texas has live music, food stalls, rides, shops, and animal shows.
Dealey Plaza
Landmark
Throughout the Year
This is National Historic Landmark. This monument is the birthplace of Dallas. John F. Kennedy was killed here. The place is great for history lovers and sightseers.
Arts District
There is a museum, opera house, and park in this area.
Shopping in Dallas
Dallas can offer the widest range of activities for relaxation and sightseeing. However, the most unexpected thing about this city is the shopping experience. Moreover, Texas has more shopping malls than any other city in the United States!

Cityplace Market - 2417 Lemmon Ave, Dallas, TX 75204
West Village - 3699 McKinney Ave, Dallas, TX 75204
NorthPark Center - 8687 N Central Expy, Dallas, TX 75225
Activities in Dallas
Big D fun
Enjoy Dallas sightseeing on a hop-on trolley with 16 stops.
Medieval Times Dinner & Tournament
There is so much this event has to offer that you would never want to miss it.
Festivals
Be a part of festivals like Kwanzaa Fest and lights all night festival in Dallas that happen in winter.
Golf
Play golf at one of the most exquisite golf courses, Cedar Crest Golf Course. It has an 18-course ground and is one of the best in the city.
Yoga Retreats
Enroll for top-class fitness and yoga retreats in Dallas to help you stay healthy.
Day trips to other cities
There are many places worth exploring outside Dallas. You can visit the nearby preserves as well.
Dallas Party Bike
One of the best ways to enjoy a tour around Dallas is through the party bike. You get to meet people, see the incredible history and taste the delicacies of Dallas.
Escapology
Solve a plethora of complex puzzles and interact with people.
Helicopter tours
Catch a helicopter tour of the city of Dallas.
Walk around the city
The best way to explore Dallas is on foot. Its rich history is engrained in every nook and cranny, you would not want to miss out on anything.
Celebration Center
Visit the entertainment center and enjoy indoor and outdoor activities for all ages.
Nightlife
Dallas has one of the best nightlife. You can visit multiple places, like the foundation room, to experience undeniable fun and excitement.
Restaurants in Dallas
Gastronomy occupies an important role in Dallas culture in which Tex-Mex cuisine certainly holds a prominent place. Gastronomy occupies an important role in Dallas culture in which Tex-Mex cuisine certainly holds a prominent place. Moreover, as in every city of the USA, there are many places where to taste hamburgers, fried chicken and hot dogs.
Dallas is indeed full of fast food and diners where you can have a meal at very low prices.
Even gourmet cuisine and French cuisine can be found in Dallas.

Luckys Café
Chipotle Mexican Grill
Frankie's Downtown
E Bar Tex-Mex
More things to see in Dallas
George W. Bush Presidential Center
The George W. Bush Presidential Center is a state-of-the-art facility on the campus of Southern Methodist University in Dallas, Texas. It is home to the George W. Bush Library and Museum and the George W. Bush Institute.
Irving Arts Center
The performing and fine arts community in Irving embraced a new home in 1990 with the completion of the Irving Arts Center. The Arts Center features two fully-equipped theaters, four galleries: meeting, classroom, reception and rehearsal facilities, and a verdant sculpture garden.
Perot Museum of Nature and Sciences
This extraordinary building and outdoor space serve as a living science lesson, offering provocative illustrations of engineering, technology, and conservation. The five floors house-11 permanent exhibit halls and contain state-of-the-art video and 3-D computer animation.
Old Red Museum
Dedicated to inspire and educate visitors on the rich and varied cultural, economic, political, and social history of the area, the Old Red Museum serves as a symbol of the Dallas heritage. Constructed in 1892, the beautifully restored Old Red Courthouse contains some of Dallas' most fascinating historical artifacts.
Texas Discovery Gardens
Texas Discovery Gardens is a 7.5-acre organic botanic garden featuring native and adapted plants. The Rosine Smith Sammons Butterfly House and Insectarium transport you to a tropical rainforest, complete with hundreds of free-flying butterflies.
More information about Dallas Texas
What to do in Dallas Texas in other months
Weather in Dallas Texas for each month