What to do in October in Ensenada, Mexico - 2023
Ensenada is a coastal city in Mexico, the third-largest in Baja California. It is an important commercial and fishing port as well as a cruise ship port of call. Ensenada is part of the UNESCO Creative Cities Network since 2015.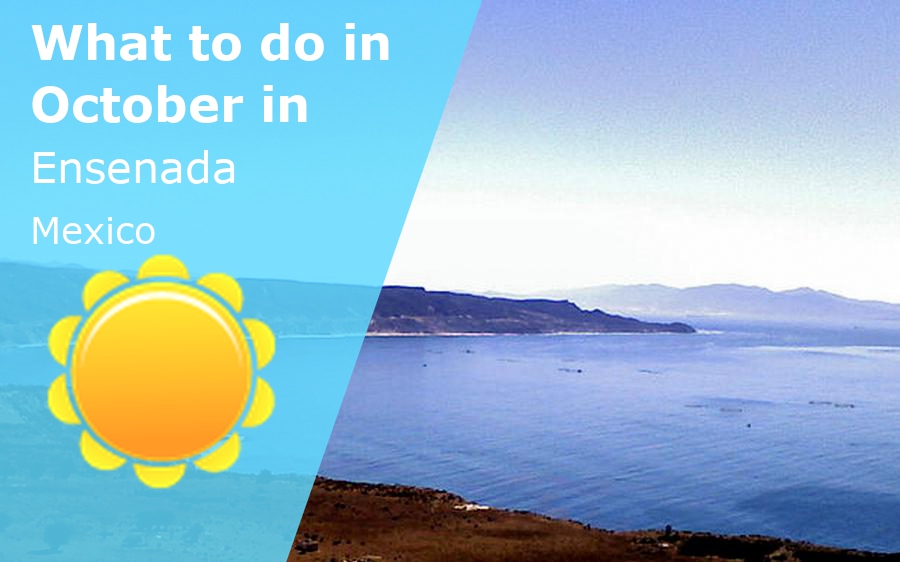 Before we have a look at what you can do in Ensenada, let's first look at the weather you can expect in October.


October weather in Ensenada Mexico
To get a good overview of the type of weather you can expect in October in Ensenada Mexico, we will look at the day and night temperature, minimum and maximum water temperature, and if October is comfortable or humid
Generally, October in Ensenada Mexico will be really nice. Historical data shows that you can expect an average temperature of around 82°F / 28°C. But due to the very dry air, it can feel somewhat uncomfortable for some people. During the night, it will cool down to around 59°F / 15°C.
Ensenada Mexico does not have a lot of rainy days in October. You can expect around 2 rainy days, with on average 0.3 inches / 8 mm of rain during the whole month.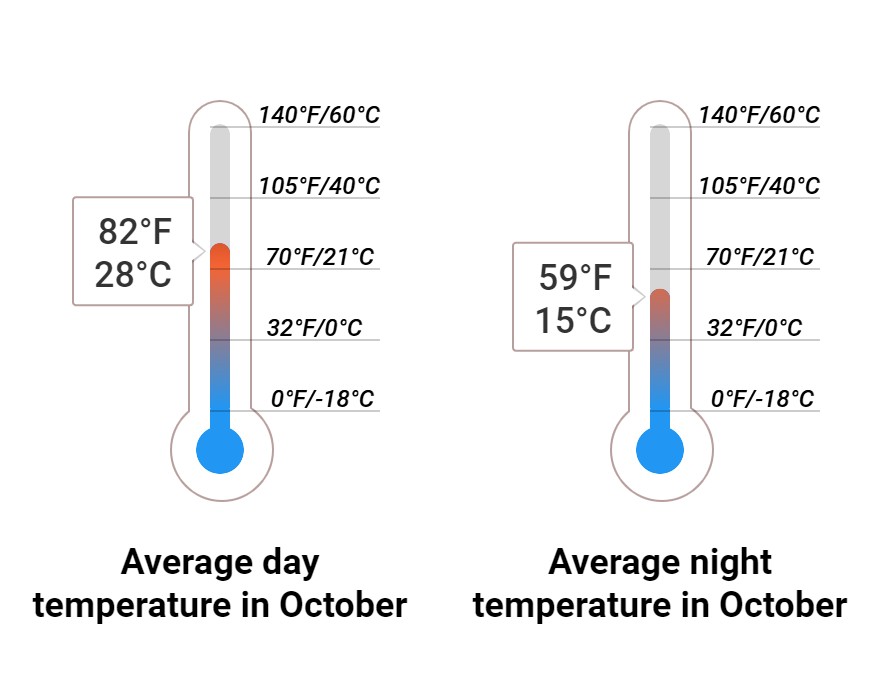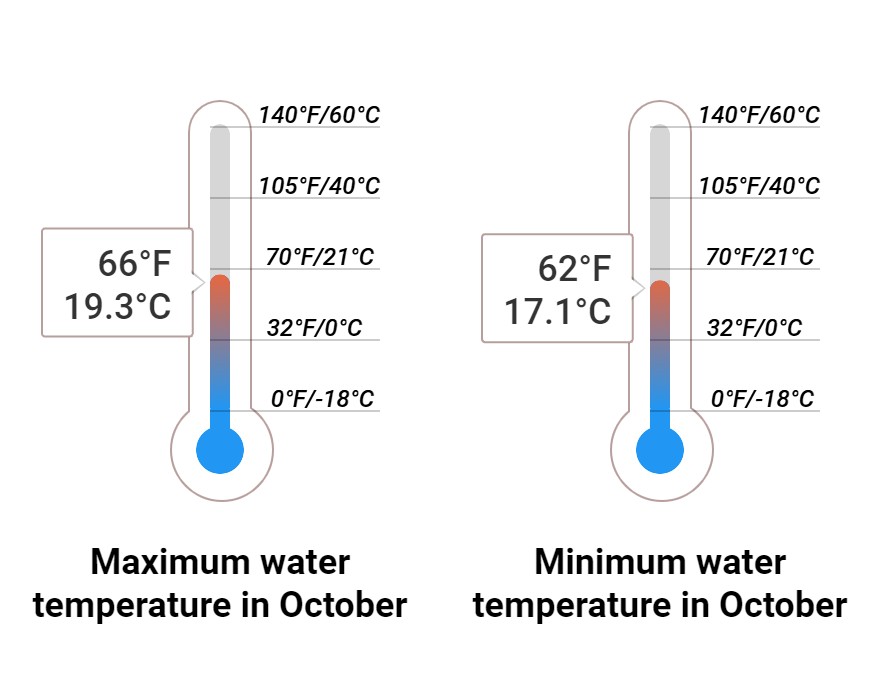 The forecast for October 2023 is based on historical data and are averages. They will give a good indication what you can expect, but the daily temperature and rain will fluctuate during the month.
Things to see and do in Ensenada
Ensenada has many things to soo. With help from our visitors we have dived a list of things to see in. If you have any sugestions or improvements for this list, please let us know.
Rancho Los Bandidos
Nature/Wild Life
Throughout the Year
Rancho Los Bandidos is the place where the horse riders enjoy some leisure time. Each ride lasts twenty minutes with a matching horse to your skill level.
Plaza Civica
Landmark
Throughout the Year
Plaza Civica has three states of former national heroes. It is the main square offering views of the ocean.
Avenida Lopez Mateos
Avenida Lopez Mateos has hotels, shopping hubs, and restaurants. Every afternoon the air is filled with live music to create some energetic vibes.
Museo de Historia
Cultural
Throughout the Year
Museo de Historia is a museum showing the Spanish colonial era. Even the building has its historic significance and an interesting story to tell.
Parque de la Bandera
Landmark
Throughout the Year
Parque de la Bandera is translated as the Park of the Flag, as it has a very high flagpole that can be seen several miles from both the land and sea.
Shopping in Ensenada
Shopping is one of the major things to do while visiting Ensenada. You can also easily find essential items you need for your stay.
We reccomend:

Plaza Marina - 22800, Macheros, Zona Centro, 22800 Ensenada
Plaza AAA - Av. Reforma s/n, Bahia, 22880 Ensenada
Activities in Ensenada
Bird watching
Nature lovers can watch various birds in their natural habitat at the Canon De Dona Petra Ecological Park. There are also amazing views of the town from the park's location.
Visit the beach
Ensenada has its fair share of amazing beaches where you can relax, sunbathe or swim in the ocean.
Sportfishing
A number of fishes like barracuda and marlins can be found in the waters around Ensenada. Those who enjoy sport fishing will have a great time flexing their fishing skills and enjoying time on the water.
Wine tasting
Several vineyards in and around Ensenada produce some of the best wines in the Americas. You can combine wine tours with picnics and learn how wines are made.
Restaurants in Ensenada
There's no better way to experience a culture than through the food.
So why you don't try these super tasty restaurants in Ensenada:

El Primo Nava - Castillo 645, Zona Centro, 22800 Ensenada
Restaurante la Forchetta - Av. Blancarte 7, Zona Centro, 22800 Ensenada
La Avioneta - C. Séptima 1840, Obrera, 22880 Ensenada
More things to see in Ensenada
Riviera of Ensenada
Riviera of Ensenada was once a hotel, now this palatial building is a museum and cultural center. Their visitors can purchase souvenirs, learn about the city's history and also have margarita tastings!
Vinisterre Vitivinicola
Ensenada is one of the leading wine regions in Mexico and features in many wine route tours. The Vinisterre Vitivinicola vineyard offers visitors a look into how some of their favorite wines are made during guided tours and also wine tastings.
Ensenada regional history museum
The Ensenada regional history museum shows off pieces celebrating local artists' talent and craftsmanship. There are often special exhibitions and displays, and if you visit the museum at the right time, you may get to witness one.
Tara Garden
Tara Garden is a brightly colored, stunning garden with tons of native flora and other flowers. They are excellent city views and a giant statue that serves as a backdrop for many amazing pictures.
Malecon
The Malecon in Ensenada provides you with a great opportunity for a leisurely stroll down the side of the harbor. You can also watch the ocean while seated at any of the restaurants here or explore the stalls and shops in the surrounding area.
Bufadora Geyser
The Bufadora Geyser must be one of the most majestic natural wonders the area has to offer. This geyser's clear, calm waters provide a scenic view, and there is also the option to kayak over its waters.
More information about Ensenada Mexico
What to do in Ensenada Mexico in other months
Weather in Ensenada Mexico for each month