What to do in October in Hermosa Beach, California - 2024
Hermosa Beach is a beachfront city in Los Angeles County, California, United States.
Hermosa is a Spanish word meaning "beautiful". The city's beach is popular for sunbathing, beach volleyball, surfing, paddleboarding, bars, cycling and running.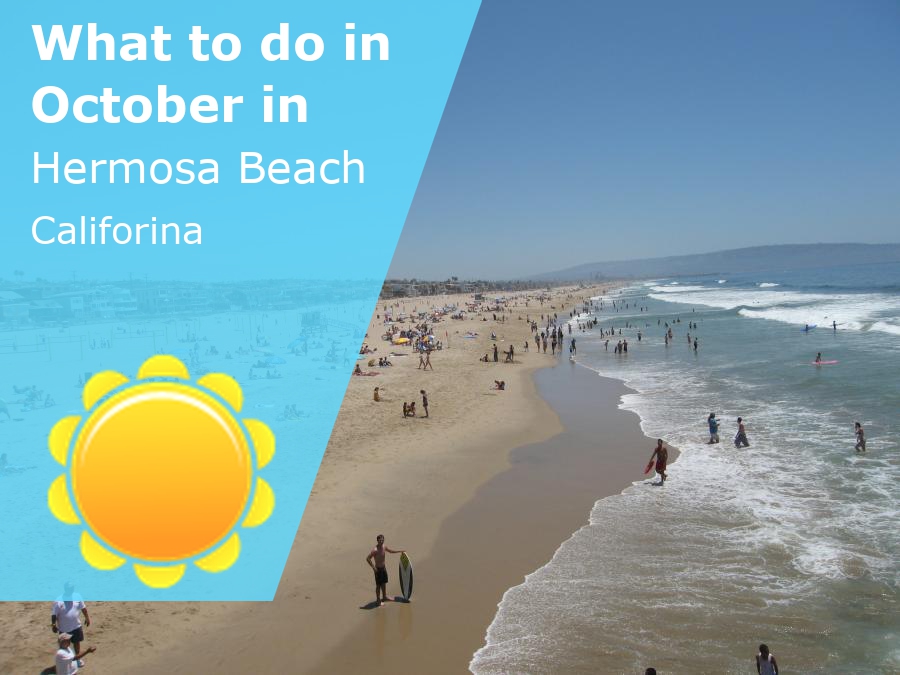 Before we have a look at what you can do in Hermosa Beach, let's first look at the weather you can expect in October.


October weather in Hermosa Beach California
To get a good overview of the type of weather you can expect in October in Hermosa Beach California, we will look at the day and night temperature, minimum and maximum water temperature, and if October is comfortable or humid
Generally, October in Hermosa Beach California will be really nice. Historical data shows that you can expect an average temperature of around 78°F / 26°C. But due to the very dry air, it can feel somewhat uncomfortable for some people. During the night, it will cool down to around 59°F / 15°C.
Hermosa Beach California does not have a lot of rainy days in October. You can expect around 2 rainy days, with on average 0.4 inches / 9 mm of rain during the whole month.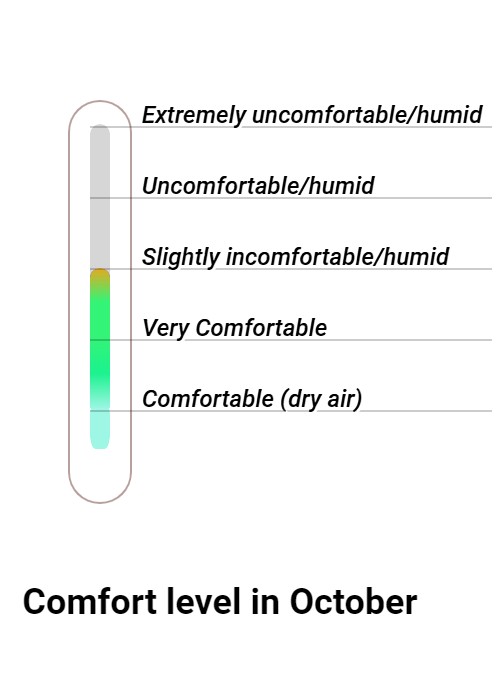 The forecast for October 2024 is based on historical data and are averages. They will give a good indication what you can expect, but the daily temperature and rain will fluctuate during the month.
Things to see and do in Hermosa Beach
Hermosa Beach has many things to soo. With help from our visitors we have dived a list of things to see in. If you have any sugestions or improvements for this list, please let us know.
The Strand
Landmark
Throughout the Year
The Strand is a pavement between Pacific Palisades and Torrance. It is also known as Marvin Braude Bike Trail and is a 22-mile bike path passing by Santa Monica and Venice, then heading inland at Marina Del Rey, coming back on the beach at Playa del Rey, Manhattan, Hermosa beach, and Redondo ending in Torrance Beach.
Noble Park
The noble park is never crowded making it ideal for many people who need to escape the hustle and bustle of the city.
Halloween
Halloween is held on the 31st of October, but the festivities begin on the 21st. People wear spooky costumes, trick-or-treat is played, and people visit haunted houses and tell scary stories.
Hermosa Beach Cyclery
Hermosa Beach Cyclery is ideal for walking and jogging. People visit it for some fresh air.
The Hermosa Beach Pier
The Hermosa Beach Pier is the most scenic place here ideal for walking, birdwatching, fishing, and daydreaming.
The Hermosa Beach Historical Society & Museum
Museum
Throughout the Year
You can learn a lot about the local culture at the Hermosa Beach Historical Society & Museum.
Indigenous People's Day
Indigenous People's Day is held on the 10th of October showing the hardships of tribal people in the past.
Manhattan Beach piers
Landmark
Throughout the Year
Manhattan Beach piers are best for an evening walk with friends or simply with your camera.
Pier Avenue
There are many shops, hotels, and bars on Pier Avenue.
The Greenbelt
Landmark
Throughout the Year
The Greenbelt is also called Veterans Parkway. It is ideal for an evening stroll, jogging, running, and cycling.
Shopping in Hermosa Beach
If you love shopping we can recommend:

Plaza Hermosa
Park Pacific Shopping Center
Redondo Shores Shopping Center
Activities in Hermosa Beach
Walking the Pier
The Hermosa Beach Pier is famous for its location and breathtaking views. Many other activities like fishing and watching sunsets and sunrise can be done from this pier.
Picnic and visits to the park
The city has many parks to enjoy a day away from the beach. The parks are perfect for walks, picnics, and other fun activities.
Visiting the beach
The beaches offer not only walks along the beach, but it is also famous for cyclists who rent a bicycle and cycle to neighboring beaches.
Cooking
Always wanted to improve your cooking? Join a cooking class and learn how to cook something special.
Cruises
To enjoy the sea, there are many cruises available from Hermosa and nearby beaches. Some dinner cruises that can also be enjoyed.
Visit the farmer's market
A definite go-to place for those who are interested in crafts as well as fresh produce of seasonal vegetables and fruits.
Beaches
Hermosa Beach is a popular destination and it has two beaches within walking distance. Many types of beach activities are available at almost all of the beaches.
Art classes
Join an art class and learn how to paint, draw, or start with pottery.
Restaurants in Hermosa Beach
There are many restaurants in Hermosa Beach open all year round and offering a large variety of cuisines to please everyone.

Good Stuff Hermosa Beach
Oki Doki Sushi
Playa Hermosa Fish & Oyster Co.
The Bottle Inn Hermosa
More things to see in Hermosa Beach
Parks in Hermosa Beach
There are many parks to spend a good day, such as Noble Park, Valley Park, and South Park to name a few.
Hermosa Beach Museum
This place is perfect for enjoying the local heritage and enjoying the artifacts on display.
The Strand
This path extends all along the beach, and it is one of the iconic parts of Hermosa Beach with its breathtaking views.
Hermosa Beach Pier
The Hermosa Beach pier is a signature of the beach, the pier gives a breathtaking view of Santa Monica Bay and Palos Verdes Peninsula. As you walk along the Pier you can see the names of legendary surfers embedded in the 'Surfer's Walk of Fame'.
The Comedy and Magic Club
for a light and enjoyable time, this place is famous for its high standard comedians.
More information about Hermosa Beach California
What to do in Hermosa Beach California in other months
Weather in Hermosa Beach California for each month