What to do in October in Tenerife, Spain - 2023
Tenerife is the largest of the Canary Islands and is a great place to travel. British, Nordic and German tourists come in their tens of thousands every year to visit its spectacular beaches and lively nightlife.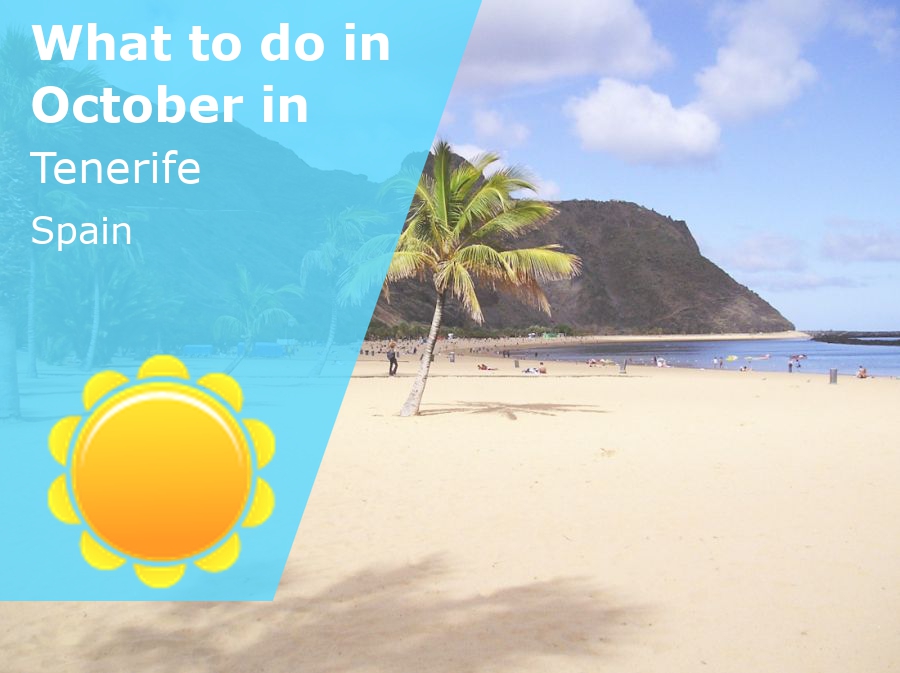 Before we have a look at what you can do in Tenerife, let's first look at the weather you can expect in October.


October weather in Tenerife Spain
To get a good overview of the type of weather you can expect in October in Tenerife Spain, we will look at the day and night temperature, minimum and maximum water temperature, and if October is comfortable or humid
Generally, October in Tenerife Spain will be really nice. Historical data shows that you can expect an average temperature of around 80°F / 27°C. As the humidty is low, it will feel very comfortable. During the night, it will cool down to around 64°F / 18°C.
Tenerife Spain has some rainy days in October. You can expect around 4 rainy days, with on average 0.6 inches / 16 mm of rain during the whole month.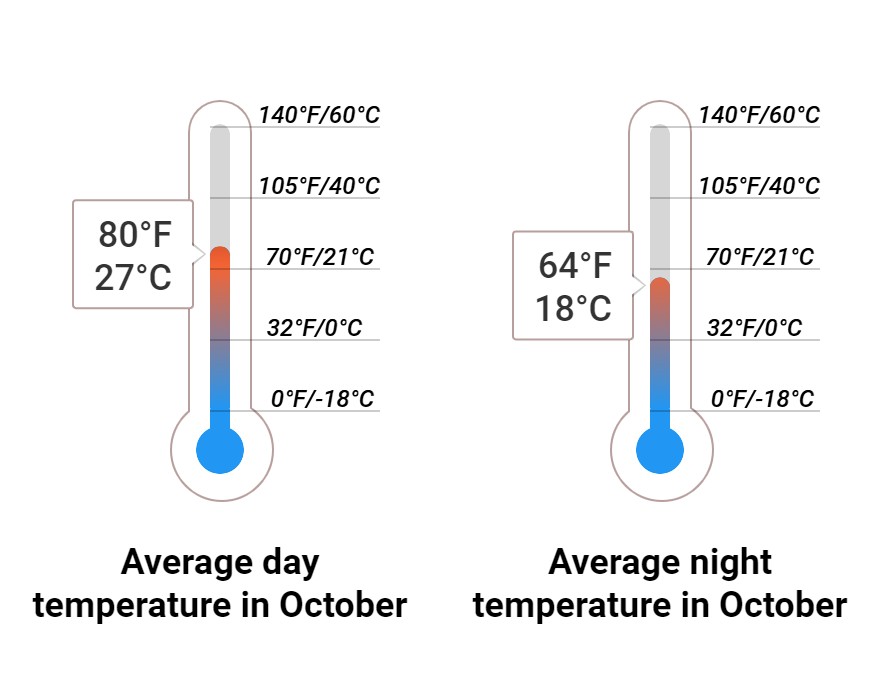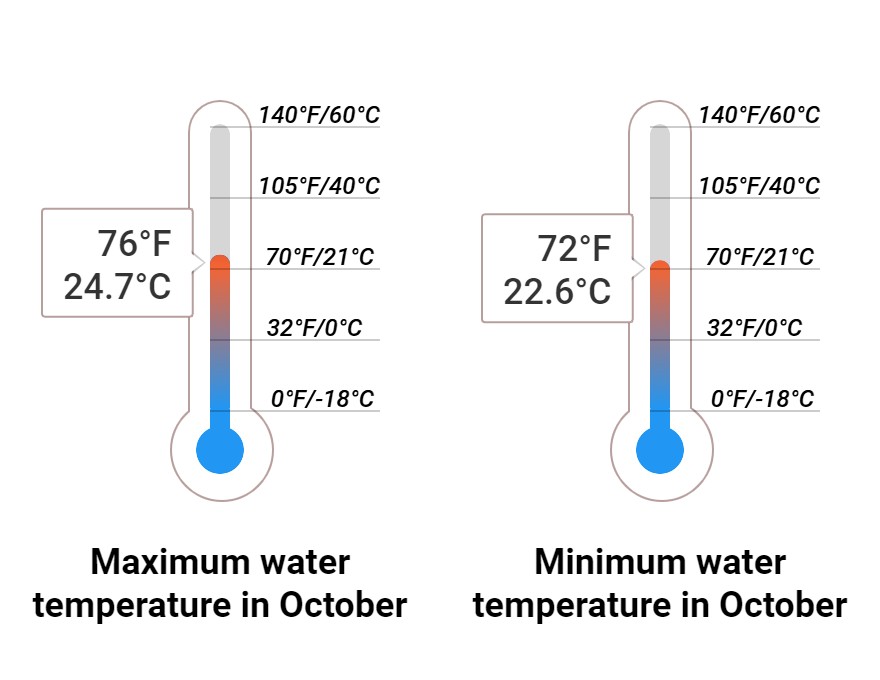 The forecast for October 2023 is based on historical data and are averages. They will give a good indication what you can expect, but the daily temperature and rain will fluctuate during the month.
Things to see and do in Tenerife
Tenerife has many things to soo. With help from our visitors we have dived a list of things to see in. If you have any sugestions or improvements for this list, please let us know.
Loro Park
Loro Park is a zoo with an aquarium where many shows are held.
Aqualand Costa Adeje
Pool/Water Park
Throughout the Year
Aqualand Costa Adeje has a dolphin show making it attractive for kids.
Teide National Park
Teide National Park has a cable car that provides a bird's eye view of the entire landscape.
Los Gigantes Cliffs
Nature/Wild Life
Throughout the Year
Los Gigantes Cliffs are located along a beach making them attractive for sightseers and adventure lovers.
Siam Park
Pool/Water Park
Throughout the Year
Siam Park is a water park with many slides, pools, and embellishments.
Shopping in Tenerife
Santa Cruz has a big market by the station on Sunday mornings, and a local picturesque market Mercado Municipal Nuestra Señora de África (open daily until 14:30). Las Americas has one Thursdays and Saturdays and Los Cristianos on Sundays and Tuesdays.

Keep in mind that almost all goods with the exception of fish and fruits must be imported, so buying clothes or electronics is neither economical nor ecological.
Activities in Tenerife
Sailing
For a small fee, you can go sailing across the waters in yachts or sailboats and explore the fringes of the island from the sea.
Whale Watching
The sea around Tenerife is rich in marine life. Snowbirds can go on cruises and tours to see the magnificent creatures in their natural habitat.
Beach hopping
Snowbirds will have a great time exploring all the wonderful beaches that are all over the island. From black to yellow sands, you can choose whichever beach you will like to spend your day in, sunbathe or swim.
Carnaval de Santa Cruz
The Carnival of Santa Cruz de Tenerife is a colorful parade that's held each February in the Capital of Tenerife Island, Santa Cruz de Tenerife. It is thought to be the second most popular carnival in the world. It attracts people from all over the world.
Cable Car ride to Mt. Teide
You can take cable car rides to the highest point on the island. For a small fee, you can go on your own or in groups.
Restaurants in Tenerife
Local taverns are called guachinches, typical for the Canarias and particularly common on Tenerife.
Fish is a large part of the local diet with restaurants that allow you to choose a fish from their selection (often hand caught) which they will cook for you.
As in the rest of Spain, tapas are eaten a lot with local specialties including garlic sauces, fried beans and squid. Typical Spanish meals such as tortilla (potato omelette) and paella (rice dishes) are common too.

Mesón El Monasterio
Guachinche El Pino
More things to see in Tenerife
Pyramids of Guimar
Snowbirds can visit this incredible ethnology park & terraced stone pyramids to get a feel of the island's archaeological history.
Siam Park
This is a splendid Thai-themed adventure water park that has lots of activities suitable for younger children and also adults.
Mount Teide
Mount Teide is a dormant volcano on Tenerife. Its summit is the highest point in Spain and also the highest point above sea level in the islands of the Atlantic. At
7500 meter (24608 feet)

, it is the fourth highest volcano in the world. Snowbirds can go on cable car rides to the top of this UNESCO world heritage site and experience what it is like to be on what NASA describes as the third-tallest volcanic structure.
Santa Cruz de Tenerife
This is a fun resort town known for Conception Church, Palacio de Carta & the architectural wonder of Tenerife Auditorium.
Los Gigantes
Snowbirds can enjoy the stunning sandy beaches in Los Gigantes. There are high cliffs around the area that tourists sometimes go to the cliffs to watch the sunset on the ocean. Snowbirds can also go whale-watching.
Playa de Las Teresitas
This is a stunning man-made beach that has fine yellow sand.
Loro Park
For nature lovers, you could have an excellent time seeing this zoo that has some exotic animals like Tigers, dolphins & penguins
More information about Tenerife Spain
What to do in Tenerife Spain in other months
Weather in Tenerife Spain for each month