What to do in September in Funchal, Portugal - 2024
Funchal is a Portuguese municipality of 104,129 inhabitants, capital of the autonomous region of Madeira. Funchal is the largest city on the island.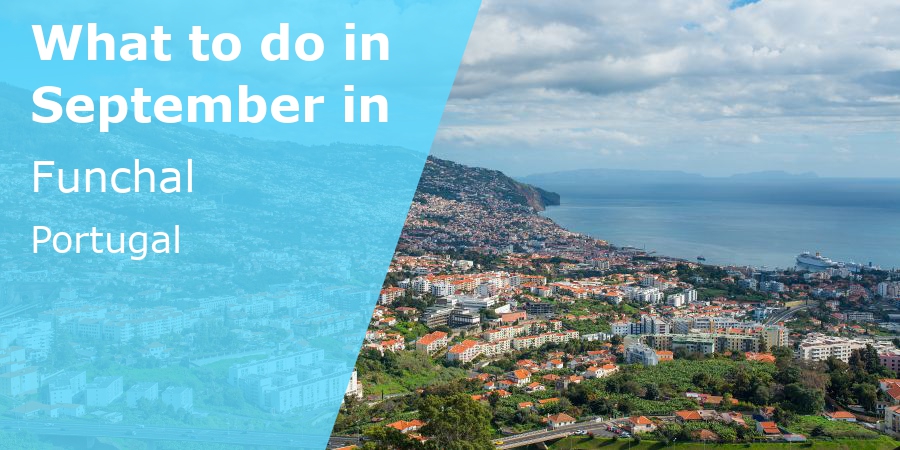 Before we have a look at what you can do in Funchal, let's first look at the weather you can expect in September.


September weather in Funchal Portugal
To get a good overview of the type of weather you can expect in September in Funchal Portugal, we will look at the day and night temperature, minimum and maximum water temperature, and if September is comfortable or humid
Generally, September in Funchal Portugal will be really nice. Historical data shows that you can expect an average temperature of around 69°F / 21°C. As there is not a lot of humidity, it will feel comfortable. During the night, it will cool down to around 66°F / 19°C.
Funchal Portugal has some rainy days in September. You can expect around 4 rainy days, with on average 0.5 inches / 12 mm of rain during the whole month.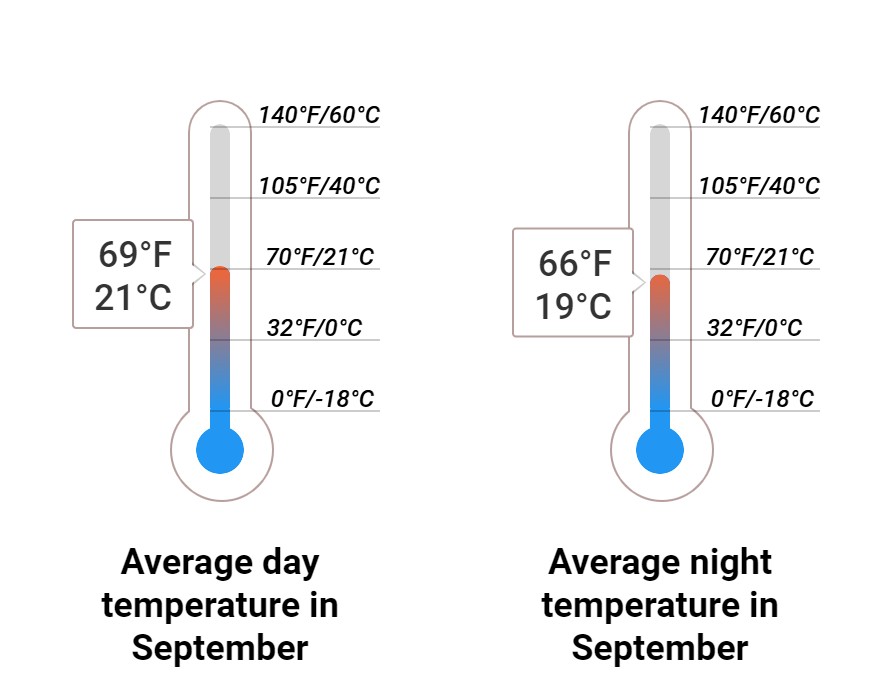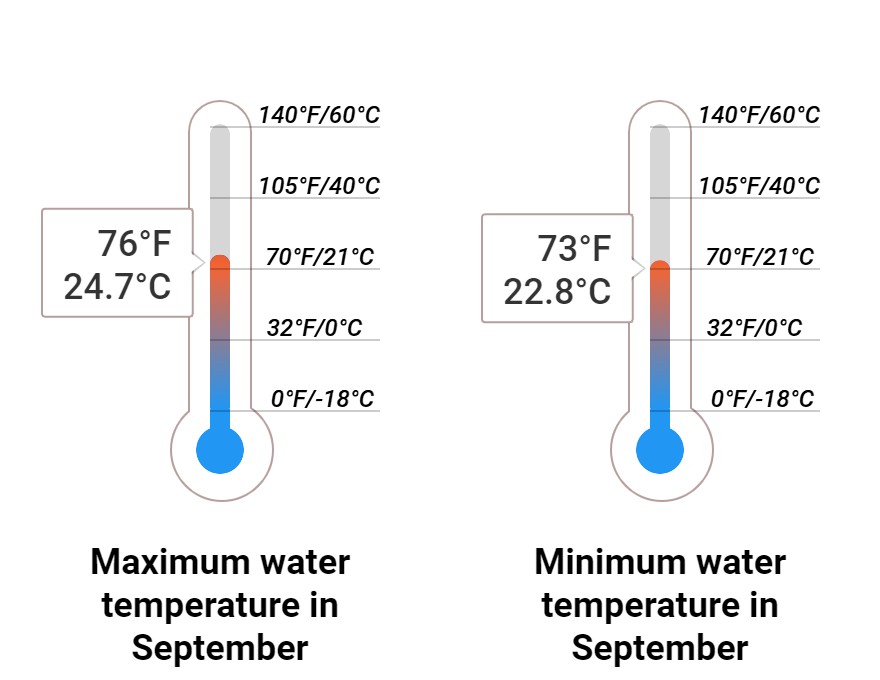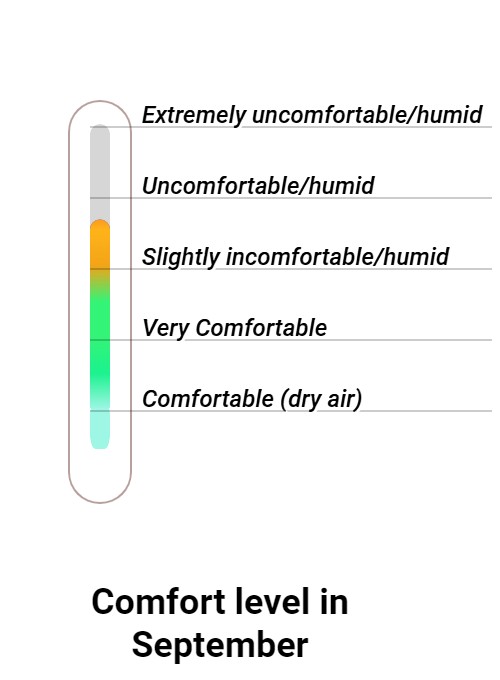 The forecast for September 2024 is based on historical data and are averages. They will give a good indication what you can expect, but the daily temperature and rain will fluctuate during the month.
Things to see and do in Funchal
Funchal has many things to soo. With help from our visitors we have dived a list of things to see in. If you have any sugestions or improvements for this list, please let us know.
Monte Cable Car
Trip/Tour/Excursion
Throughout the Year
Monte Cable Car is 600 meters above sea level. The ride is two miles long. It takes twenty minutes on one way.
Rua Santa Maria
Cultural
Throughout the Year
Rua Santa Maria is a narrow historical street. There are colorful paintings inside many glass doors and windows. It is full of restaurants with tasty menus.
Funchal Cathedral
Cultural
Throughout the Year
Funchal Cathedral is a sixteenth-century building. The woodwork on the ceiling, the sculptures, and the paintings are all extraordinarily beautiful.
Quinta do Palheiro Ferreiro
Quinta do Palheiro Ferreiro is an evergreen garden. It needs a half-day tour to fully view the exotic plants and trees here.
Igreja do Monte
Cultural
Throughout the Year
Igreja do Monte is a church. This 18th-century building is located next to the Monte cable car.
Monte Palace Tropical Garden
Monte Palace Tropical Garden is the prettiest place here. It is located outside the upper station of the Monte cable car.
Shopping in Funchal
You will have so much fun doing shopping, we highly recommend going to these places:

Forum Madeira
MadeiraShopping
La Vie
Activities in Funchal
Golf
Spend a nice day golfing in the Palheiro Golf Club and nearby golf clubs in town.
Hiking
Visit Pico Ruivo and similar attractions for hiking.
Black Swans
Black swans are one of the rarest ones of their kind. You can find them in Santa Catarina Park and Monte Palace Madeira. They are surely a pretty sight.
Night Market
Attend the Night Market on 23rd December held at Funchal Farmer's Market where the market and the streets are overrun by the people who sing and dance as well as eat festively.
Fishing
You can visit multiple charters available in Madeira for fishing.
Walking tour of the city
You can take a walking tour of the city with a tour guide to watch the beautiful and historic Roman-Gothic infrastructure of the city and taste the delicacies.
Boat Tours
Take boat tours for an amazing experience along the Atlantic Ocean.
Monte Palace Madeira
Visit this place to discover the beautifully detailed contemporary Zimbabwean sculptures and one of the rarest minerals across the globe.
Visit Rua De Santa Maria
Visit the oldest and the most beautiful street in the city filled with magnificent art.
Visit the Beaches
Visit Praia de Machico and similar beaches to spend a nice day by getting involved in water activities and visit the restaurants nearby for a quick bite.
Spa & Fitness Clubs
There are various health clubs nearby along with spas and you can visit these clubs to have quality time as well as get involved in activities beneficial for health like yoga too.
Pico Ruivo
Visit the highest peak of Madeira and witness one of the most spectacular views from the top on a pleasant day.
Scuba Diving
Discover the beautiful marine life underwater with a large and uninterrupted coastline. Visit Nautilus Dive Center Inc. for diving gear, rentals, and lessons as well as gear repairs.
Restaurants in Funchal
Funchal has an abundance of good eating places. Most places serve traditional Madeiran and Portuguese food like espada com banana (scabbard fish with banana). A bit more expensive is bacalhau (dried, salted codfish), which is also served in many restaurants.
More things to see in Funchal
Santa Catarina Park
The Park offers many species of flora from around the globe to the nature lovers with an enchanting lake with a small island as well. The park also offers stunning views of the Funchal Bay and has several walking paths too. The Park is a perfect place for a picnic or just relax there for a while. There are playgrounds, art rooms for children as well as sculptures of famous personalities.
Monte Palace Madeira
The Palace has an exotic plant collection and is famous for the black swans in the central lake and ponds of the Palace. The Monte Palace Madeira Museum with three floors in which the top two are dedicated to the contemporary Zimbabwean sculptures and others. The lower floor is dedicated to the finest private collection of minerals from all around the world. The lower floor goes by the name of "Mother Nature's Secrets".
Portugal's CR7 Museum
It is that time where almost everybody is familiar with the term "CR7", a nickname given to one of the greatest players in football history. Visit this museum to find out about the great exploits of Cristiano Ronaldo, a Portuguese icon.
Rua De Santa Maria
It has been recommended as one of the most romantic narrow cobbled streets. Rua De Santa Maria is the oldest street in the city. The street is home to many buildings of traditional architecture. The cafes and restaurants are decorated with typical art as well as traditional interiors. One of the notable things in the street would be the entrances and doors of various restaurants, cafes, or buildings in the street.
Funchal Cathedral
The finest example of the Roman-Gothic architecture, it is one of the few examples of the 15th century which have survived till date. You can visit the church to say your prayers or to just simply witness this historical masterpiece.
More information about Funchal Portugal
What to do in Funchal Portugal in other months
Weather in Funchal Portugal for each month