Spend your fall, winter, or spring in Funchal, Portugal: Is Funchal a good snowbird location?
The city of Funchal is the capital of Portugal's Madeira Archipelago and is often referred to as the "Flower City" for its scenic beauty. It is famous for its harbors, colorful gardens, and Madeira wine cellars. The city is backed by hills and is home to the historic Gothic Romanesque Infrastructure. It has also served as a fortress built in the 1600s which entails greater historic significance. Bordered by the islands and offering almost all the resorting amenities, Funchal is the place to be for a wonderful winter escape.
Why should people visit during the winter?
Madeira's archipelago has always served its visitors with the best resorting destinations. The Flower City has pleasant weather all year-round and provides snowbirds with countless options to spend winters in peace and tranquility. There is so much to see in this small city that you can never run out of places to explore. From fascinating food choices and rich history to the lush botanical gardens, Funchal is unquestionably one of the most beautiful cities of Madeira.
Climate
Gibraltar is located above sea-level and has a temperate climate overall. It experiences cool and mild winters with an ample amount of rainy days which are quite unpredictable. The average temperature stays around 10°C - 18°C (50°F - 64°F) in winters. It is quite comfortable in general but traveling with an umbrella is essential.

Things to see in Funchal, Portugal
Funchal is a popular tourist location with many places worth visiting. Some of the best ones are listed below:
Portugal's CR7 Museum: It is that time where almost everybody is familiar with the term "CR7", a nickname given to one of the greatest players in football history. Visit this museum to find out about the great exploits of Cristiano Ronaldo, a Portuguese icon.
Santa Catarina Park: The Park offers many species of flora from around the globe to the nature lovers with an enchanting lake with a small island as well. The park also offers stunning views of the Funchal Bay and has several walking paths too. The Park is a perfect place for a picnic or just relax there for a while. There are playgrounds, art rooms for children as well as sculptures of famous personalities.
Monte Palace Madeira: The Palace has an exotic plant collection and is famous for the black swans in the central lake and ponds of the Palace. The Monte Palace Madeira Museum with three floors in which the top two are dedicated to the contemporary Zimbabwean sculptures and others. The lower floor is dedicated to the finest private collection of minerals from all around the world. The lower floor goes by the name of "Mother Nature's Secrets".
Funchal Cathedral: The finest example of the Roman-Gothic architecture, it is one of the few examples of the 15th century which have survived till date. You can visit the church to say your prayers or to just simply witness this historical masterpiece.
Rua De Santa Maria: It has been recommended as one of the most romantic narrow cobbled streets. Rua De Santa Maria is the oldest street in the city. The street is home to many buildings of traditional architecture. The cafes and restaurants are decorated with typical art as well as traditional interiors. One of the notable things in the street would be the entrances and doors of various restaurants, cafes, or buildings in the street.
Things to see not far from the Funchal, Portugal
There are many neighboring towns and places in the surrounding areas that one can visit.
Praia de Machico: Visit this beach in Machico and enjoy a nice sunny day on the beach with lots of water activities to get involved in or you just go on for a nice swim. There are also lots of restaurants nearby for a quick bite. The beach is located 24 km (15 Miles)

from Funchal.

Pico Ruivo: It is the highest peak located in Madeira and it is only accessible by foot. Different trails lead to different parts of the island. Once you reach the top, you will be blown away by the views of the mountain ranges and the atmosphere. It is located 51 km (32 Miles)

from Funchal.

Maisons typiques de Santana: It is a cultural site which features quaint, thatched roof-dwellings. The site is about an hour and a half drive due to its cultural significance and you can also buy the locally made products from there as souvenirs. It is located 41.7 km (26 Miles)

from Funchal.

Parque Florestal das Queimadas: A beautiful picnic spot and national park which is an epitome of tranquility. You will also get the opportunity to observe the magnificent flora of the Laurisilva Forest. You can also find the Santana house styled Queimadas shelter house with its beautiful shelter in particular. It is located 45.2 km (28 Miles)

from Funchal.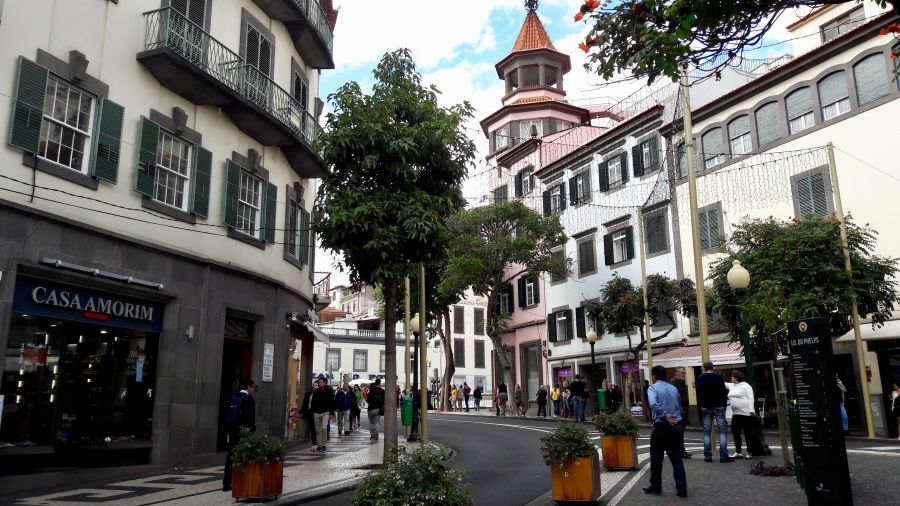 Activities in Funchal, Portugal in the fall, winter, or spring
There are several activities you can participate in during your visit to Funchal. Some of these include:
Visit Rua De Santa Maria: Visit the oldest and the most beautiful street in the city filled with magnificent art.
Walking tour of the city: You can take a walking tour of the city with a tour guide to watch the beautiful and historic Roman-Gothic infrastructure of the city and taste the delicacies.
Scuba Diving: Discover the beautiful marine life underwater with a large and uninterrupted coastline. Visit Nautilus Dive Center Inc. for diving gear, rentals, and lessons as well as gear repairs.
Pico Ruivo: Visit the highest peak of Madeira and witness one of the most spectacular views from the top on a pleasant day.
Hiking: Visit Pico Ruivo and similar attractions for hiking.
Spa & Fitness Clubs: There are various health clubs nearby along with spas and you can visit these clubs to have quality time as well as get involved in activities beneficial for health like yoga too.
Fishing: You can visit multiple charters available in Madeira for fishing.
Golf: Spend a nice day golfing in the Palheiro Golf Club and nearby golf clubs in town.
Visit the Beaches: Visit Praia de Machico and similar beaches to spend a nice day by getting involved in water activities and visit the restaurants nearby for a quick bite.
Monte Palace Madeira: Visit this place to discover the beautifully detailed contemporary Zimbabwean sculptures and one of the rarest minerals across the globe.
Black Swans: Black swans are one of the rarest ones of their kind. You can find them in Santa Catarina Park and Monte Palace Madeira. They are surely a pretty sight.
Boat Tours: Take boat tours for an amazing experience along the Atlantic Ocean.
Night Market: Attend the Night Market on 23rd December held at Funchal Farmer's Market where the market and the streets are overrun by the people who sing and dance as well as eat festively.
Shopping + Restaurants. Are they open in the fall, winter, or spring?
You can find a lot of fresh produce markets in Funchal such as Mercados Dos Lavradores. The vendors gather at the marketplace from 8 AM to 7 PM from Monday to Thursday from 7 AM to 8 PM on Friday and, from 7 AM to 2 PM on Saturday. You can find a great variety of freshly picked fruits, vegetables, and other fresh produce. You can also get fresh meat and seafood from the market. You will find a great variety of artwork, flowers as well as local spices from the market too. You should also attend the Night Market on 23rd December held at Funchal Farmer's Market where the market and the streets are overrun by the people who sing and dance as well as eat festively.
There is no particular dish belonging to Funchal but you should not miss the chance to try out the cuisine of Madeira. If you want to try the cookies, go for the Broas de Mel, a traditional Portuguese cookie hailing from Madeira. For dessert, try out the oldest dessert of the island, Bolo de Mel, it is a cake made with honey, almonds, walnut, cinnamon, and other spices. If you are a beef lover, you must check the Espatada, these are big pieces of beef marinated in salt and garlic, skewed on a bay leaf stick, and then placed over hot coals until the meat is properly cooked. Verdelho, a traditional Portuguese grape used in wines must be tasted as the wines of Madeira are popular.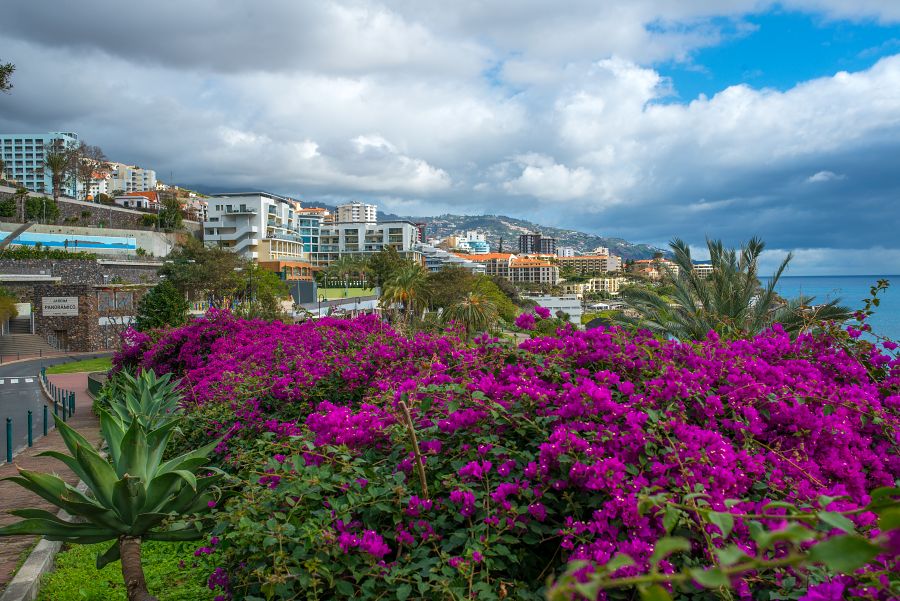 Transport
Madeira International Airport is located directly on the island and it is located 21 km (13 Miles) from Funchal. There are various airport shuttle services and aero bus services available which you can use and you can also take a taxi or a bus to reach the airport or get to your residence from the airport.
There is a Horarios do Funchal public bus service which provides transportation services to the commuters in and around the city. The SAM (Aerobus Service) provides transport services from the airport to Funchal. If you just want to travel within the city, Rodoeste (minibus) option would be more suitable. If you want to take a cab, there are AITRAM taxis available as well.
There are no train stations nearby in the cities which would connect to Madeira, but there is a Porto Santo Line ferry service that can be used to travel to Santo Porto Island or other places.
Health
In Funchal, public and private health facilities are located in the town and are easily accessible. The health sector is perfectly suitable for anyone who walks in with a problem. 24/7 emergency is available in hospitals. Emergency cases are handled well and you can find some of the most significant healthcare centers mentioned below: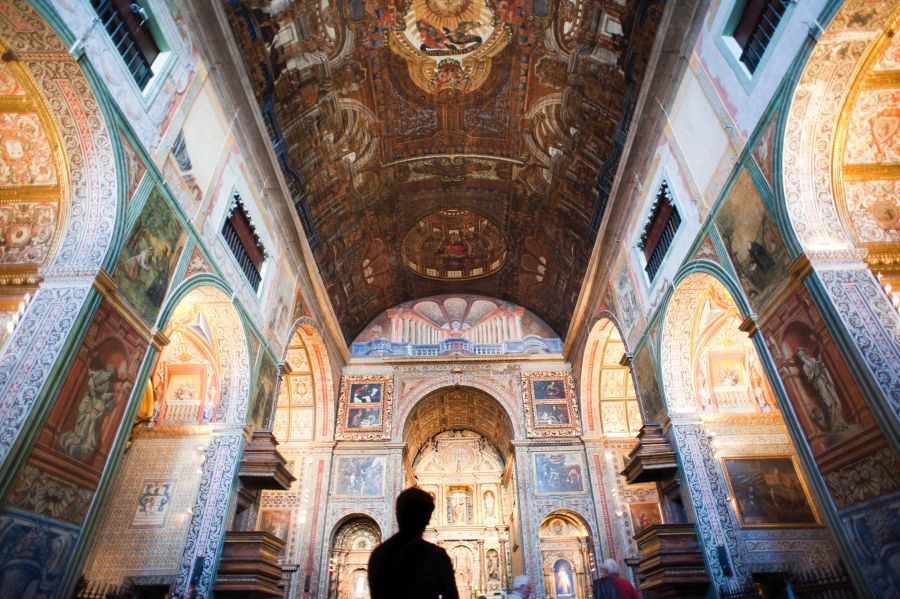 Accommodation
There are several rental companies present in Funchal whether you're looking for an apartment, cottage, or villa. Some of the most popular organizations that are commonly used include:
These prominent websites along with others connect you to the local real estate agents in Funchal. With the right research, you can easily find a nice, small place with rates starting from €375 (approx. $407, £329, $551 CAD, $608 AUD)/month.
Packing List
Weather: The fall, winter, and spring weather in Portugal will normally be warm during the day, but can be chilly during the night. Of course in the fall and spring it will be warmer than in the winter. You have to pack accordingly.

Warm clothing: Even when you go to a warm location like Portugal you should not forget to take some things with you for your trip back home. When you return you are adapted to the warmer weather and need something to protect you from your hometown temperatures.

Consider the Weather: Always look at the type of weather in Portugal. Things like humidity, wind, and rain do not show up in the temperature graph but can have a great impact on your wardrobe. There are several sites with long term forecasts and climate information. Is there often a short afternoon downpour like in the tropics, you maybe need to take a strong umbrella and shoos that can cope with the rain. If there is often a lot of wind you might need a more wind-resistant coat.

Check the local Shopping options: Try to find information about the local shopping options near your location in Portugal. Are there stores where you can buy all your daily supplies, or are some things difficult to get? For some more remote locations, the options can be limited. If a certain item is really important for you might need to take it with you.

Look at the Local Culture: The local culture in Portugal can impact your wardrobe. If most activities are in more upscale locations you might take some more appropriate clothes with you. Or travelling if you travel to certain countries women need to cover themselves in certain areas.

Amenities: Know what's Included in your house or apartment. Is there a coffee maker, a toaster, a washer and dryer, an iron, what is in the kitchen, what kind of towels are there? Things that are there means you do not have to take them with you. A furnished apartment or house can mean something from a few pieces of furniture to a well-stocked place with all the things you have at home. But most of the time your rental will not be stocked.

Mix and match: Wear layers so you can use your wardrobe more efficiently. And do not worry about wearing something more often, probably only you will notice this.

Important for you: If there is something that is really important for you that you want to have present in your house or apartment, take it with you. This can be something like a special knife for the kitchen, or a small mirror that you use in the morning. You can also purchase it locally if it is not that expensive.

Pet supplies: If you take your pet with you don't forget to take supplies for a few days with you. And enough medication, vitamins, or other supplies if you can not purchase them in Portugal locally.

Food: Don't take a lot of food with you. Only when there is something you really can not live without you, and it is not too heavy you could consider taking it with you.

Towels: Not all locations include bigger towels for the swimming pool or a visit to the beach. If you have to take them and don't have a lot of room you can buy some big thin towels.

Office supplies: Normally you will not find any office supplies in your house or apartment. If you think you will use them you could pack some supplies like a scissor, notepaper, envelopes, some pens, and more depending on your needs.

Limit yourself: Don't take too many shoes and jackets, you will not need them that often.

Best-fitting: Bring your favorite and best-fitting items that can multi-function

Washer: Do you have a washer and dryer onsite, you don't need to pack a lot of clothes
Clothing
Basics
Casual
Smart
Footwear
Toiletries
Beauty
Hygiene
Clothing
Basics
Casual
Outdoor
Footwear
Accessories
Toiletries
Medicine
Miscellaneous
Other
Toiletries
Beauty
Hygiene
Hair
Other
Medicine
Miscellaneous
Technology
Travel and Free time
Travel
Free time
Important
Documents
Money
Other locations close to this location:
Travelers' Map is loading...
If you see this after your page is loaded completely, leafletJS files are missing.
If you have any additions, or comments on the content on this page, please use our contact form to let us know.
Detailed weather during the year for Funchal Portugal
What to do during the year in Funchal Portugal