What to do in September in Sugar Land, Texas - 2023
Sugar Land is a city in the United States, in Fort Bend County, in the state of Texas. It is part of the Greater Houston urban area. The city has been recognized as one of America's Best Places to Live .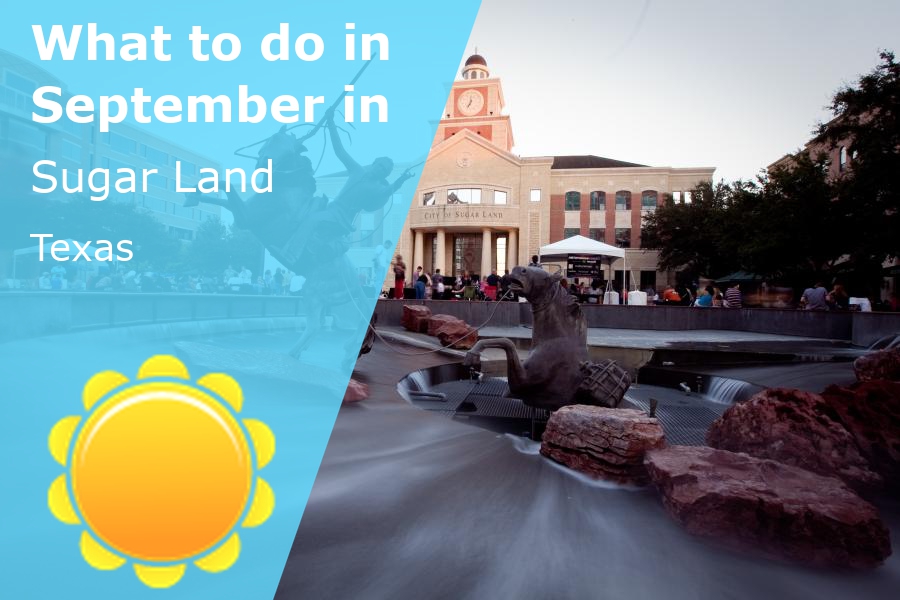 Before we have a look at what you can do in Sugar Land, let's first look at the weather you can expect in September.


September weather in Sugar Land Texas
To get a good overview of the type of weather you can expect in September in Sugar Land Texas, we will look at the day and night temperature, minimum and maximum water temperature, and if September is comfortable or humid
Generally, September in Sugar Land Texas will be quite hot. Historical data shows that you can expect an average temperature of around 89°F / 32°C. As there is not a lot of humidity, it will feel comfortable. During the night, it will cool down to around 69°F / 21°C. Many will prefer a location with air conditioning due to the humidity level.
Sugar Land Texas has its share of rainy days in September. You can expect around 11 rainy days, with on average 2 inches / 52 mm of rain during the whole month.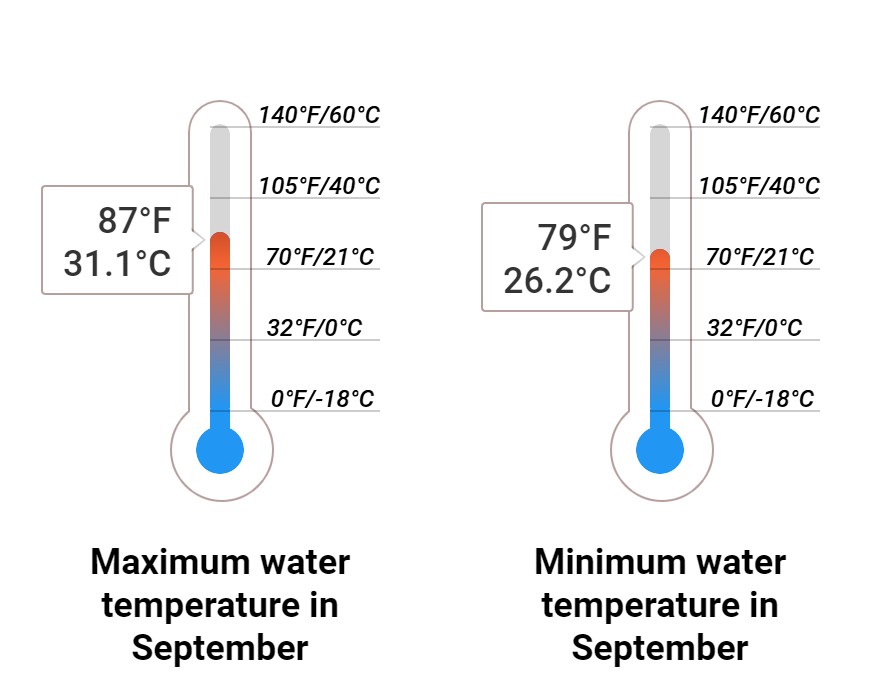 The forecast for September 2023 is based on historical data and are averages. They will give a good indication what you can expect, but the daily temperature and rain will fluctuate during the month.
Things to see and do in Sugar Land
Sugar Land has many things to soo. With help from our visitors we have dived a list of things to see in. If you have any sugestions or improvements for this list, please let us know.
Fall Fest
Fall fest has art demos, kids' zones, food, drinks, dance, crafts, and live music.
Labor Day
Labor Day is celebrated on the 5th of September. There is a Iive makeup competition, pool parties, day parties, brunches, parades, BBQ, and drinks.
Cullinan Park
Nature/Wild Life
Throughout the Year
Cullinan Park is a waterhole with several ponds, lakes, creeks, and ducks. It is a nature lover and birdwatcher's heaven.
Shopping in Sugar Land
First Colony Mall, a major regional shopping mall that recently expanded from its original indoor design to include an outdoor lifestyle component, several parking garages, and new signage that blends in with the surrounding area. The mall is anchored by two Dillard's stores, Macy's, JCPenney, and Barnes & Noble, along with over 130 stores.
Activities in Sugar Land
Hiking
Go hiking in the surroundings of Sugar Land like Oyster Creek Park and enjoy the refreshing atmosphere as well as majestic views.
Visit the City
Roam around the Sweetest City of Texas to explore and get acquainted with the people of the city. Visit various shopping malls, parks, and witness the infrastructure of the city. You can take a tour guide as well.
Horse Riding
Visit Hickman Ranch for a horse riding experience. You can also take horse riding and training lessons at the Ranch.
Shooting Range
Visit Top Gun Range which is known as the "Best Gun Club in Houston" for an ultimate shooting experience.
Fishing
Visit BuffaloRun Park and similar fishing piers for a great fishing experience.
Boating
Visit Buffalo Run Park and similar attractions to experience boating.
Visit Rienzi, Museum of Fine Arts
Visit the center of European decorative arts, paintings, and more. Bless your eyes with some of the most amazing European furnishings, porcelain, and miniatures.
Spa & Fitness Clubs
There are various health clubs nearby equipped with spas. You can visit these clubs to have quality time as well as get involved in activities beneficial for health like yoga.
River Oaks International Tennis Tournaments
Attend the River Oaks International Tennis Tournament hosted at River Oaks Country Club since 1931 and witness the nail-biting contests.
Music Performances
Attend the music performances hosted by the Rienzi, Museum of Fine Arts.
Golf
Spend a nice day golfing at the "Classiest Club in Houston" located in the River Oaks Country Club.
Walking Trails
Go on morning jogs or walks in the Oyster Creek Park, Buffalo Run Park, and other parks to have a nice start of the day or you can even visit these places in the evening.
Restaurants in Sugar Land
Nestled in the heart of one of the most ethnically diverse counties in the United States, Sugar Land boasts a global food scene that rivals cities three times its size.

Olive Garden Italian Restaurant
State Fare Kitchen & Bar
Dimassi's Mediterranean Buffet
More things to see in Sugar Land
Buffalo Run Park
The Park is located on four lakes with an observation tower, boat launch, fishing piers, sand volleyball court, and trails. You can spend quality time with the family on sunny days as there are numerous options to spend a healthy and productive day.
Oyster Creek Park
The Park is considered as one of the city's most scenic areas with its iconic rock-lined pond and water features along with a bridge overlooking Oyster Creek. The park is home to an amphitheater as well. Other features include; hiking & walking trails, public art, restrooms, picnic areas, and a drinking fountain.
BAPS Shri Swaminarayan Mandir
It is a magnificent historic Mandir, one of its kind in North America. Its traditional Hindu Mandir was built according to the ancient architectural scriptures of India dating back 5000 years. You should visit this place to get educated about the great historical importance linked to this place.
River Park Splash Pad
This water park is a perfect getaway from the hot and sunny day. The water park features water fountains, dumping buckets, and a misting rainbow.
The Houston Museum of Natural Science
A natural history museum featuring a saltwater aquarium and a digital dome theater. The museum is dedicated to preserving and advancing the general public's knowledge in the light of natural science. The museum provides adult-education opportunities through lectures, cultural dinners, behind-the-scenes tours, day excursions, travel programs, and hands-on classes.
More information about Sugar Land Texas
What to do in Sugar Land Texas in other months
Weather in Sugar Land Texas for each month