Spend your fall, winter, or spring in Sugar Land, Texas: Is Sugar Land a good snowbird location?
Sugar Land is a city located in Fort Bend County southwest of Houston, Texas. The city of Sugar Land is well-known for its sugarcane production as the name of the city suggests. The city provides heaps of recreational parks and activities, medical facilities, a safe environment and it is classified as one of the safest cities in the US since 2008. The city has been recognized as one of America's Best Places to Live and has been named as a Community of Respect by the Anti-Defamation League, which pretty much explains the culture of the city. The city is also recognized as "The Sweetest City in Texas" as it is dedicated to interfaith harmony. Along with the above-stated facts, Sugar Land is more than a beautiful society to reside in. It is a perfect match for the snowbirds and the weather of the city is perfectly benign for the snowbirds.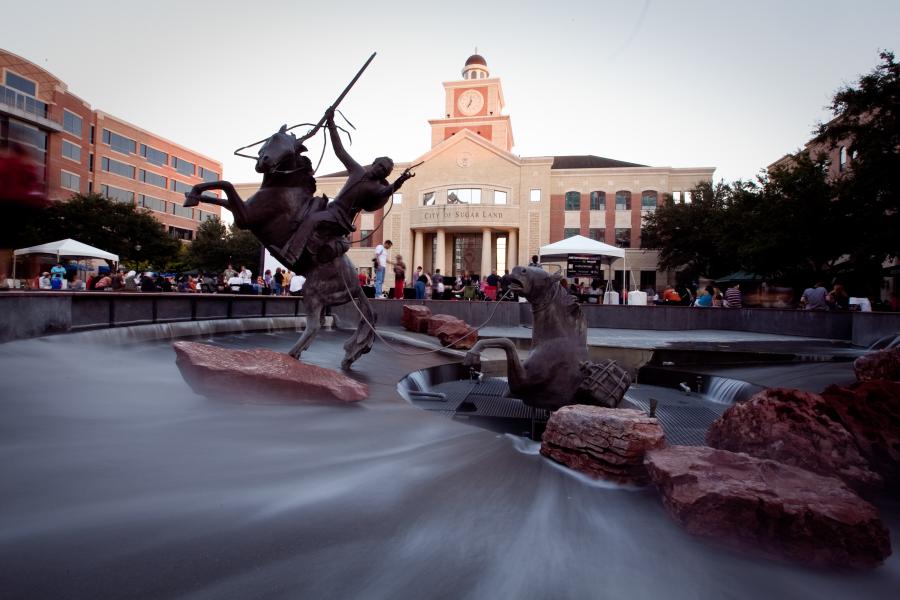 Why should people visit during the fall, winter, or spring?
The Sweetest City of Texas welcomes its visitors with mildly warm weather in winter. The climate of the city remains pleasant most of the year and it has the 35th percentile in pleasant weather compared to other tourist destinations worldwide. The city offers various activities that thrive in a soothing climate. The climate of the city averages 208 sunny days per year. The city boasts numerous beautiful attractions to visit and to spend your leisure time.
Climate
The climate of Sugar Land is relatively colder than the rest of the cities in Texas. The city has an average high temperature of 69°F (21°C) and an average low temperature of 45°F (7°C). Heating systems in the residence are therefore recommended due to the frosty weather at night.

Things to see in Sugar Land, Texas
Sugar Land is a prominent tourist attraction. There are numerous places to visit in the area:
The Houston Museum of Natural Science: A natural history museum featuring a saltwater aquarium and a digital dome theater. The museum is dedicated to preserving and advancing the general public's knowledge in the light of natural science. The museum provides adult-education opportunities through lectures, cultural dinners, behind-the-scenes tours, day excursions, travel programs, and hands-on classes.
Oyster Creek Park: The Park is considered as one of the city's most scenic areas with its iconic rock-lined pond and water features along with a bridge overlooking Oyster Creek. The park is home to an amphitheater as well. Other features include; hiking & walking trails, public art, restrooms, picnic areas, and a drinking fountain.
Buffalo Run Park: The Park is located on four lakes with an observation tower, boat launch, fishing piers, sand volleyball court, and trails. You can spend quality time with the family on sunny days as there are numerous options to spend a healthy and productive day.
BAPS Shri Swaminarayan Mandir: It is a magnificent historic Mandir, one of its kind in North America. Its traditional Hindu Mandir was built according to the ancient architectural scriptures of India dating back 5000 years. You should visit this place to get educated about the great historical importance linked to this place.
River Park Splash Pad: This water park is a perfect getaway from the hot and sunny day. The water park features water fountains, dumping buckets, and a misting rainbow.
Things to see not far from Sugar Land, Texas
There are enough neighboring towns and places in the surrounding areas that one can visit:
Hickman Ranch: It is a family-owned horse ranch that specializes in boarding, Western riding lessons, and horse training. If you already are a skilled horse rider, you can visit the Ranch to have a great horse riding experience, or else you can get horse riding lessons for yourself and your kids as well. It is located 20.2 Miles (33 km)

from Sugar Land.

Top Gun Range: It is a 15-lane gun-range located 15 Miles (24 km) from Sugar Land. It is recognized as the "Best Gun Club in Houston". You can visit this gun range to test your shooting skills and try out multiple weapons with economic rental prices.
River Oaks Country Club: It is a golf, tennis & country club and has hosted the River Oaks International Tennis Tournament since 1931. It is also known as the "Classiest Club in Houston". The club offers all the resort facilities along with a clubhouse and sensational views. It is located 18.9 Miles (30 km)

from Sugar Land.

Rienzi, Museum of Fine Arts: The Museum is home to an immense collection of European decorative art, paintings, furnishings, porcelain, and miniatures. The Museum also provides tours, music performances, family programs, lectures, and numerous special events. It is located 20.2 Miles (33 km)

from Sugar Land.
Activities in Sugar Land, Texas in the winter
There are numerous activities you can participate in during your visit to Sugar Land:
Visit the City: Roam around the Sweetest City of Texas to explore and get acquainted with the people of the city. Visit various shopping malls, parks, and witness the infrastructure of the city. You can take a tour guide as well.
Boating: Visit Buffalo Run Park and similar attractions to experience boating.
Horse Riding: Visit Hickman Ranch for a horse riding experience. You can also take horse riding and training lessons at the Ranch.
Visit Rienzi, Museum of Fine Arts: Visit the center of European decorative arts, paintings, and more. Bless your eyes with some of the most amazing European furnishings, porcelain, and miniatures.
Music Performances: Attend the music performances hosted by the Rienzi, Museum of Fine Arts.
River Oaks International Tennis Tournaments: Attend the River Oaks International Tennis Tournament hosted at River Oaks Country Club since 1931 and witness the nail-biting contests.
Spa & Fitness Clubs: There are various health clubs nearby equipped with spas. You can visit these clubs to have quality time as well as get involved in activities beneficial for health like yoga.
Fishing: Visit BuffaloRun Park and similar fishing piers for a great fishing experience.
Golf: Spend a nice day golfing at the "Classiest Club in Houston" located in the River Oaks Country Club.
Hiking: Go hiking in the surroundings of Sugar Land like Oyster Creek Park and enjoy the refreshing atmosphere as well as majestic views.
Walking Trails: Go on morning jogs or walks in the Oyster Creek Park, Buffalo Run Park, and other parks to have a nice start of the day or you can even visit these places in the evening.
Shooting Range: Visit Top Gun Range which is known as the "Best Gun Club in Houston" for an ultimate shooting experience.
Shops & Restaurants. Are they Open in winters?
You can find a lot of fresh produce markets in Sugar Land which is Farmer's Market at Imperial and several others. A large number of vendors gather around at this commonplace on Saturdays all year-round from 9 AM to 1 PM. You can purchase freshly picked fruit & vegetables, grass-fed meat, free-range chickens & eggs, local honey, small-batch foods, and bakery items. The market features cooking demonstrations, live music, and other seasonal entertainment for family fun. You can also browse art from local artisans and try delicious, ready-to-eat meals from local chefs and food trucks as well.
There are no signature dishes particularly belonging to Sugar Land but you can enjoy the signature Texan dishes and Asian Cuisine in Sugar Land as Asian Cuisine is highly popular in the city. There are a variety of food places where you can enjoy the Texan & Asian exquisites at affordable prices.
Transport
There is no mass-transit system in Sugar Land at the moment but a number of taxi services are available within the city like Sugar Land Taxi, Sugar Land Transporter, and several others. These taxi services can also be used for inter-city or inter-county travels. There are alternative means to commute provided by the Houston-Galveston Area Council in Sugar Land. These services include Guaranteed Ride Home, NuRide rewards program, RideShare carpool commuter matching, Vanpooling, and Telework incentives.
The nearest Light Rail Station to Sugar Land is located 22.5 Miles (36 km) in Fannin South and the nearest Amtrak Station to Sugar Land is located 24.2 Miles (39 km) in Houston, Texas. You can take a taxi or other shuttle services to travel to and fro the stations or you can opt for carpooling.
The nearest airport to Sugar Land is George Bush Intercontinental Airport located 41 Miles (66 km) from Sugar Land. There are various airport shuttle services available for use or you can also take a taxi to reach the city if you wish.
Health
In Sugar Land, public and private health facilities are located in the town and are easily accessible. The health sector is perfectly suitable for anyone who walks in needing assistance. 24/7 emergency is available in hospitals. Emergency cases are handled properly and you can find some of the most significant healthcare centers mentioned below:
Accommodation
There are different rental companies present in Sugar Land, whether you're looking for an apartment, cottage, or villa. Some of the most popular organizations that are commonly used include:
These prominent websites along with other websites connect you to the local real estate agents in Sugar Land. You can rent a one-bedroom and one-bath starting with a price of $625 (approx. €595, £515, $854 CAD, $980 AUD).
RV/Campers/Motorhome
Highway 6 RV Resort: There are approximately 218 sites in the Park. It costs about

$62 (approx. €59, £51, $84 CAD, $97 AUD)

for camping, including the facilities. You can visit this website for more information (www.qualityrvresorts.com)
Brazos Bend State Park: There are around ninety-seven campsites in the Park. The prices start from for camping, including the facilities. You can visit their website for more information (www.tpwd.texas.gov)
Packing List
Weather: The fall, winter, and spring weather in Texas will normally be warm during the day and can be cold during the night. Of course in the fall and spring it will be warmer than in the winter. You have to pack accordingly.

Warm clothing: Even when you go to a warm location like Texas you should not forget to take some things with you for your trip back home. When you return you are adapted to the warmer weather and need something to protect you from your hometown temperatures.

Consider the Weather: Always look at the type of weather in Texas. Things like humidity, wind, and rain do not show up in the temperature graph but can have a great impact on your wardrobe. There are several sites with long term forecasts and climate information. Is there often a short afternoon downpour like in the tropics, you maybe need to take a strong umbrella and shoos that can cope with the rain. If there is often a lot of wind you might need a more wind-resistant coat.

Check the local Shopping options: Try to find information about the local shopping options near your location in Texas. Are there stores where you can buy all your daily supplies, or are some things difficult to get? For some more remote locations, the options can be limited. If a certain item is really important for you might need to take it with you.

Look at the Local Culture: The local culture in Texas can impact your wardrobe. If most activities are in more upscale locations you might take some more appropriate clothes with you. Or travelling if you travel to certain countries women need to cover themselves in certain areas.

Amenities: Know what's Included in your house or apartment. Is there a coffee maker, a toaster, a washer and dryer, an iron, what is in the kitchen, what kind of towels are there? Things that are there means you do not have to take them with you. A furnished apartment or house can mean something from a few pieces of furniture to a well-stocked place with all the things you have at home. But most of the time your rental will not be stocked.

Mix and match: Wear layers so you can use your wardrobe more efficiently. And do not worry about wearing something more often, probably only you will notice this.

Important for you: If there is something that is really important for you that you want to have present in your house or apartment, take it with you. This can be something like a special knife for the kitchen, or a small mirror that you use in the morning. You can also purchase it locally if it is not that expensive.

Pet supplies: If you take your pet with you don't forget to take supplies for a few days with you. And enough medication, vitamins, or other supplies if you can not purchase them in Texas locally.

Food: Don't take a lot of food with you. Only when there is something you really can not live without you, and it is not too heavy you could consider taking it with you.

Towels: Not all locations include bigger towels for the swimming pool or a visit to the beach. If you have to take them and don't have a lot of room you can buy some big thin towels.

Office supplies: Normally you will not find any office supplies in your house or apartment. If you think you will use them you could pack some supplies like a scissor, notepaper, envelopes, some pens, and more depending on your needs.

Limit yourself: Don't take too many shoes and jackets, you will not need them that often.

Best-fitting: Bring your favorite and best-fitting items that can multi-function

Washer: Do you have a washer and dryer onsite, you don't need to pack a lot of clothes
Clothing
Basics
Casual
Smart
Footwear
Toiletries
Beauty
Hygiene
Clothing
Basics
Casual
Outdoor
Footwear
Accessories
Toiletries
Medicine
Miscellaneous
Other
Toiletries
Beauty
Hygiene
Hair
Other
Medicine
Miscellaneous
Technology
Travel and Free time
Travel
Free time
Important
Documents
Money
Other locations close to this location:
Travelers' Map is loading...
If you see this after your page is loaded completely, leafletJS files are missing.
If you have any additions, or comments on the content on this page, please use our contact form to let us know.
Detailed weather during the year for Sugar Land Texas
What to do during the year in Sugar Land Texas