What to do in September in Tarifa, Spain - 2023
Tarifa is a Spanish municipality of 18 162 inhabitants located in the autonomous community of Andalusia, known for being the southernmost municipality in the whole of continental Europe.
The city is located in the province of Cadiz, just 14 km (9 Miles) from Morocco: the African coast is clearly visible with the profile of the mountain called Jebel Moussa.
Before we have a look at what you can do in Tarifa, let's first look at the weather you can expect in September.


September weather in Tarifa Spain
To get a good overview of the type of weather you can expect in September in Tarifa Spain, we will look at the day and night temperature, minimum and maximum water temperature, and if September is comfortable or humid
Generally, September in Tarifa Spain will be really nice. Historical data shows that you can expect an average temperature of around 84°F / 29°C. As the humidty is low, it will feel very comfortable. During the night, it will cool down to around 64°F / 18°C.
Tarifa Spain has some rainy days in September. You can expect around 4 rainy days, with on average 0.8 inches / 20 mm of rain during the whole month.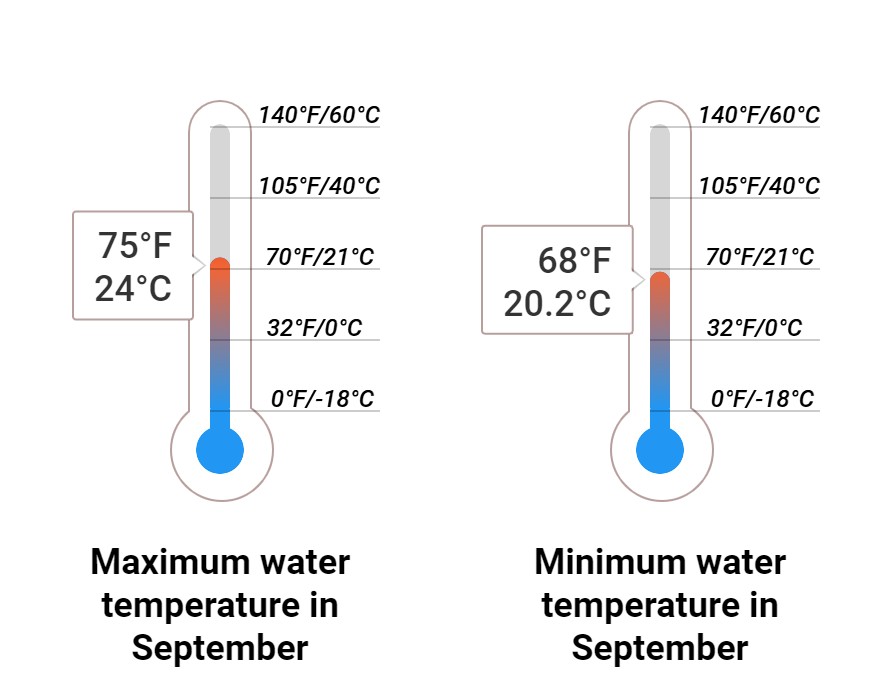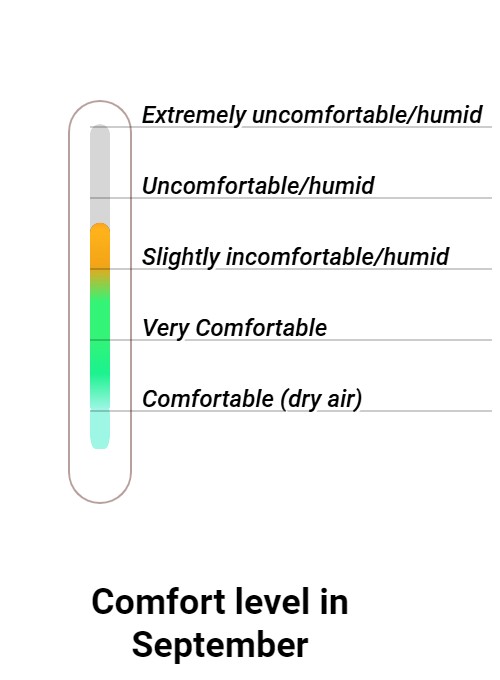 The forecast for September 2023 is based on historical data and are averages. They will give a good indication what you can expect, but the daily temperature and rain will fluctuate during the month.
Things to see and do in Tarifa
Tarifa has many things to soo. With help from our visitors we have dived a list of things to see in. If you have any sugestions or improvements for this list, please let us know.
Castillo de Santa Catalina
Cultural
Throughout the Year
Castillo de Santa Catalina is an ancient watchtower. Only the exteriors are accessible to the public nowadays.
Plaza de la Ranita
Cultural
Throughout the Year
Plaza de la Ranita means little frog square. It is a must-visit place with lots of cafes and bars giving a better local feel.
Puerta de Jerez
Cultural
Throughout the Year
Puerta de Jerez was one of the four entryways to the town. It is the only one still preserved today.
Playa de Los Lances
Playa de Los Lances is a golden sand beach suitable for sunbathing and other sun-based fun.
Castillo de Guzman el Bueno
Cultural
Throughout the Year
Castillo de Guzman el Bueno is a 10th-century castle that is sturdy even today. Upon our visit, you will get a better idea of how it defended the town against the foreign attacks.
Shopping in Tarifa
Not all stores stay open during the winter period, but if you need something, surely in Tarifa you will find what you need... from clothes stores to grocery stores, in the city there is everything you are looking for!

Colore & Calore
Mercado Publico de Tarifa
Alimentacion An Ca Lolo
Tarifa Soul Concept Store
Activities in Tarifa
Kite Surfing and Wind Surfing
If you are interested, Tarifa is because of the wind conditions, basically a kite surfing haven. Besides kite surfing, you can also learn how to windsurf in Tarifa in a ton of good schools around town.
Walking
There are a lot of interesting walks for visitors to enjoy the landscape. Check with the local tourist office for more information.
Nature walks
There are several organizations that organize nature walks in various parks in the region.
Horse riding
Several stables offer horseback riding. Explore the rocky landscape and coastal area around the region.
Cycling
There are many nice routes.
Yoga retreats
A refreshing and healthy way to enjoy and connect to nature.
Bird Watching
Because of its location near Africa, Tarifa is host to several bird species migrating to or from Africa.
Nightlife
The nightlife in Tarifa is vibrant and interesting with often musical concerts by local Flamenco singers in local bars.
Wine tours
for an exclusive taste of the Spanish way of life.
Language Schools
Learn the Spanish language in language centers to make your experience more interesting and widen your horizon.
Nautical activities
Sailing, scuba diving, kayaking, and recreational fishing on the sea.
Whale Watching
Not into high-adrenalin wetsuit experiences? Tarifa is also one of Europe's top whale-watching destinations.
Restaurants in Tarifa
Tarifa is famous for its wonderful seafood dishes. There are many cafés and restaurants where visitors can enjoy authentic Spanish cuisine. You can also find restaurants with international cuisine here in Tarifa.

BoccaBuena Tarifa
Mama llena
Restaurante Yiyuan
Restaurante La Pescadería
Restaurante Pizzeria Perbacco
Fubuki Bar Tarifa
More things to see in Tarifa
Iglesia de San Mateo is located on a street in the old town named after the Christian King who captured Tarifa from the Moors in 1292 (Sancho IV "The Brave"). The stunning Baroque façade dates from the late 18th century, whilst the church itself was built during the early 1500s.
Playa de Valdevaqueros
Playa de Valdevaqueros is connected to the Los Lances beach. It has a bizarre landscape due to the strong winds, which make the sand dunes change their shape almost like a desert.
The old town
The old town with its narrow streets, white houses, and typical Andalusian courtyards with bright blue doors and window frames. It gives you a glimpse of the Moroccan Influence.
Plaza de Santa Maria
Plaza de Santa Maria is located in the old town and has many famous architectural monuments and buildings like the city hall and the local library.
Puerta de Jerez
Puerta de Jerez is the only surviving medieval entrance to the city.
Playa de los Lances
Playa de los Lances is famous for being the best kite and windsurfing spot in Europe. Los Lances morphs into Valdevaqueros beach further up north.
Castillo de Guzman el Bueno
Castillo de Guzman el Bueno is one of the most well-preserved medieval buildings in Spain. From the tower, you have beautiful 360 degrees views over Tarifa and the Strait of Gibraltar.
Iglesia San Francisco de Asis
Iglesia San Francisco de Asis was built between 1794 and 1797. It has been extensively renovated and now has resulted in the Baroque and Neoclassical hybrid we see today.
More information about Tarifa Spain
What to do in Tarifa Spain in other months
Weather in Tarifa Spain for each month